We used ChatGPT to help us poll Americans about AI. Here's what we found.
In less than five minutes of reading time, we'll give you all the data and context you need to get you up to speed on Ipsos' latest wave of the Coronavirus Consumer Tracker.
Here's what we know today from the Ipsos Coronavirus Consumer Tracker:
The IPAC, Ipsos' measure of how consumers are dealing with the pandemic, slipped back toward "coping" at the end of last year and has stuck there now.
In a holiday miracle, we have asked people to rate how "intolerable" the pandemic is and in wave 66 it finally, finally, dropped to 2.1. It's never gone below 2.2 in any wave. But alas, it was short-lived. Back to 2.2 we go in wave 67.
Mask wearing has ticked up slightly, with 28% saying they always/often wear masks indoors.
About half of Americans think gas prices are going up.
Read on for data about: AI, return-to-office, "Buy American," reward points and more.
How good is AI at writing survey questions?
Why we asked: We were curious how people felt about AI given all the news. So we had AI write some questions about itself. Wait? What? There's a lot of news and chatter these days about ChatGPT from OpenAI. As it should be. There's been a lot of hype around things like crypto, NFTs, the metaverse, Goncharov and drinking liquid nitrogen candy to blow "dragon breath" out of your ears. But this sort of AI technology is the most likely, in my opinion, to have a long-term impact on our daily lives and work.
So, we asked ChatGPT to write a survey about public opinion related to AI and its uses and effectiveness. Wisely, it suggested starting with a familiarity question. And with some trial and error, it did a pretty decent job at giving us a baseline. It wasn't perfect by any means but as a starting point it wasn't bad. Have we seen the future of bots and humans working together to be more efficient?
What we found: Most people believe they are familiar with the concept of AI. About three in four said they're familiar, with 18% saying they were very familiar. Then we asked the AI for an agree-disagree battery and again, it gave us a good starting point. Some well-trained humans at Ipsos massaged the questions, and the resulting data showed that people are still a little skeptical, but not all that skeptical of AI.
43% say that AI-generated written work can be as good as something written by a human. Fewer (but still a lot for something this new, 36%) think it can outperform a human's writing. Nearly half (48%) think that AI can replace certain work activities, which certainly seems to be in the cards and people are already learning how to work with it across a variety of tasks and sectors. Even more (62%) think it can save time and resources.
Finally, the AI suggested we ask about how AI can be inaccurate and biased, which, well, it can. More than half (56%) say they think work from an AI can have issues like this. All of this technology is new and accelerating at a crazy rate so these questions will be fun to trend.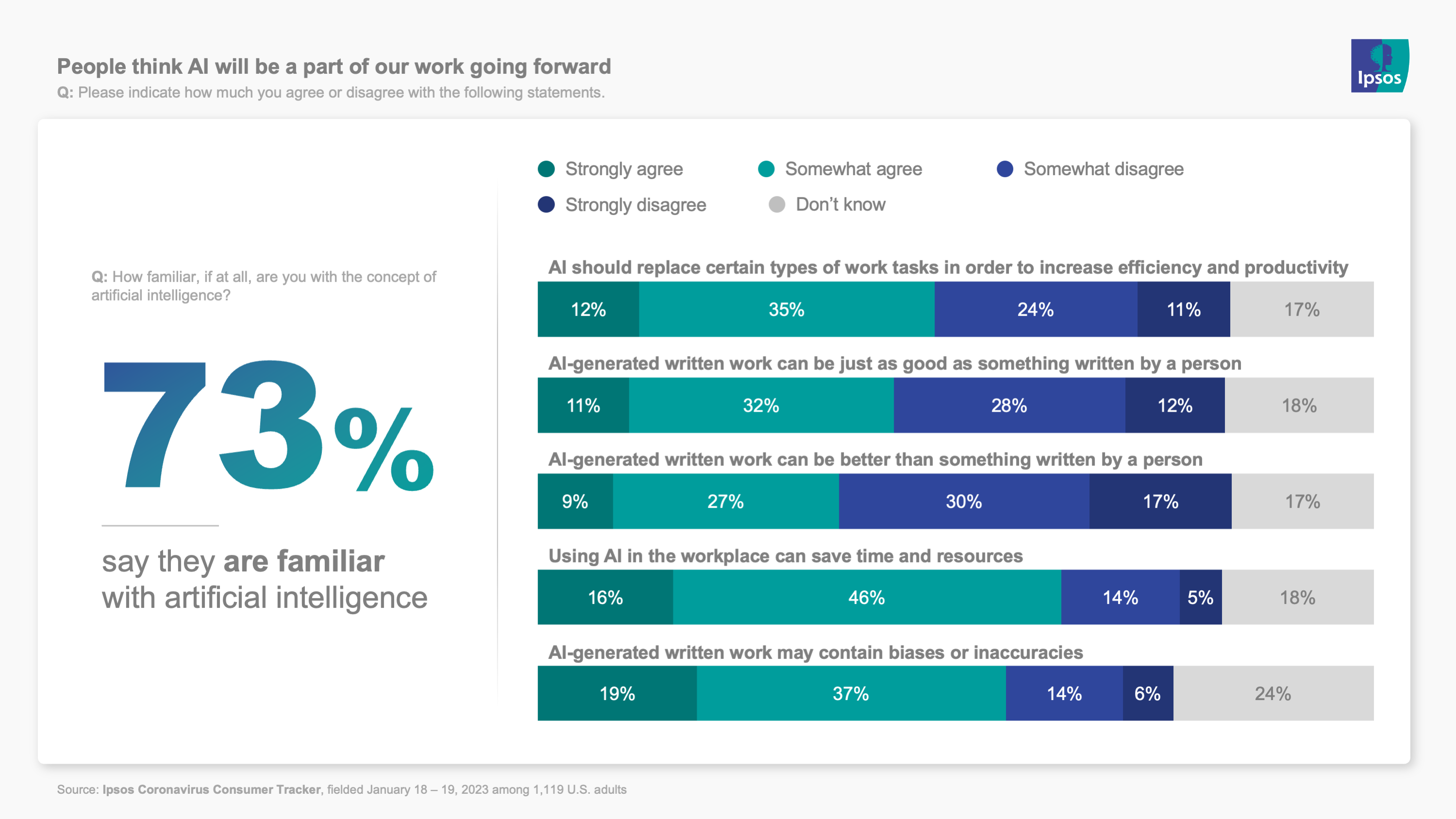 We are less comfortable with our finances than last year
Why we asked: A year ago, we asked a series of questions about economic situations. Headed into 2023 and a plausible recession, it seemed like a good time to take a year-over-year look at the consumer so we asked again last wave. And confidence had taken a big hit. Wanting to see if this was signal or noise we asked again in W66 and W67.
What we found: It's a little bouncy but only a third of folks say they comfortable with their economic situation. They're outnumbered by the 44% who say they are uncomfortable. This fits with the overall feeling of uncertainty people are feeling in today's world of polycrisis. 
How are gas prices doing?
Why we asked: Gas prices are one of those things people pay a lot of attention to. Except for EV owners, who will tell you within seconds of meeting them that they have no idea what gas costs. Note: we changed up the wording our gas price tracker and will use this version moving forward.
What we found: About half of Americans (47%) feel that gas prices are going up. Interestingly, there's some regional difference. Those in the South are much more likely to say prices are going up (55%) than those in the Northeast (37%), for instance. One in three in the Northeast and West say prices are going down.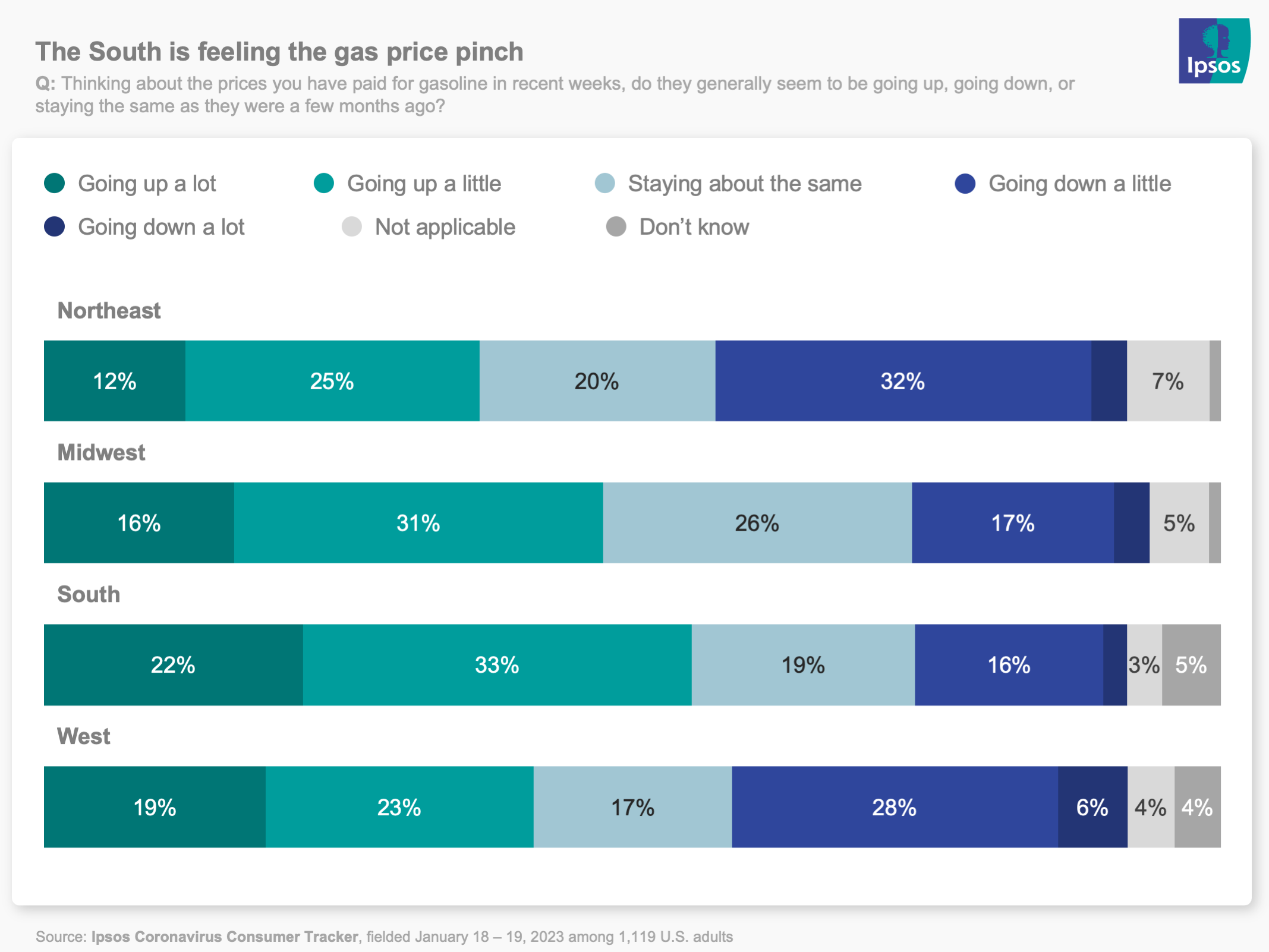 Outlook for 2023
Why we asked: As we start a new year, it's good to look ahead. So for the third year, we are asking people to rate the current year and their outlook for the next year (2023).
What we found: A year ago, we reported that "On a scale of 1 to 10, with 10 being an extremely good year, people rated 2021 a 5.7 for themselves, personally. Mediocre, but up from 5.1 in 2020."
This year, we rated 2022 a 5.9 for ourselves personally. Continued progress! In 2021, our outlook for this year, however, was a 6.4. The fact that we rated it a 5.9 shows 2022 didn't quite live up to our expectations. That's pretty normal. But the numbers keep going up. Our outlook numbers continue to improve. Americans think 2023 will be a 6.5 for ourselves, 6.8 for our jobs and 5.4 for the nation.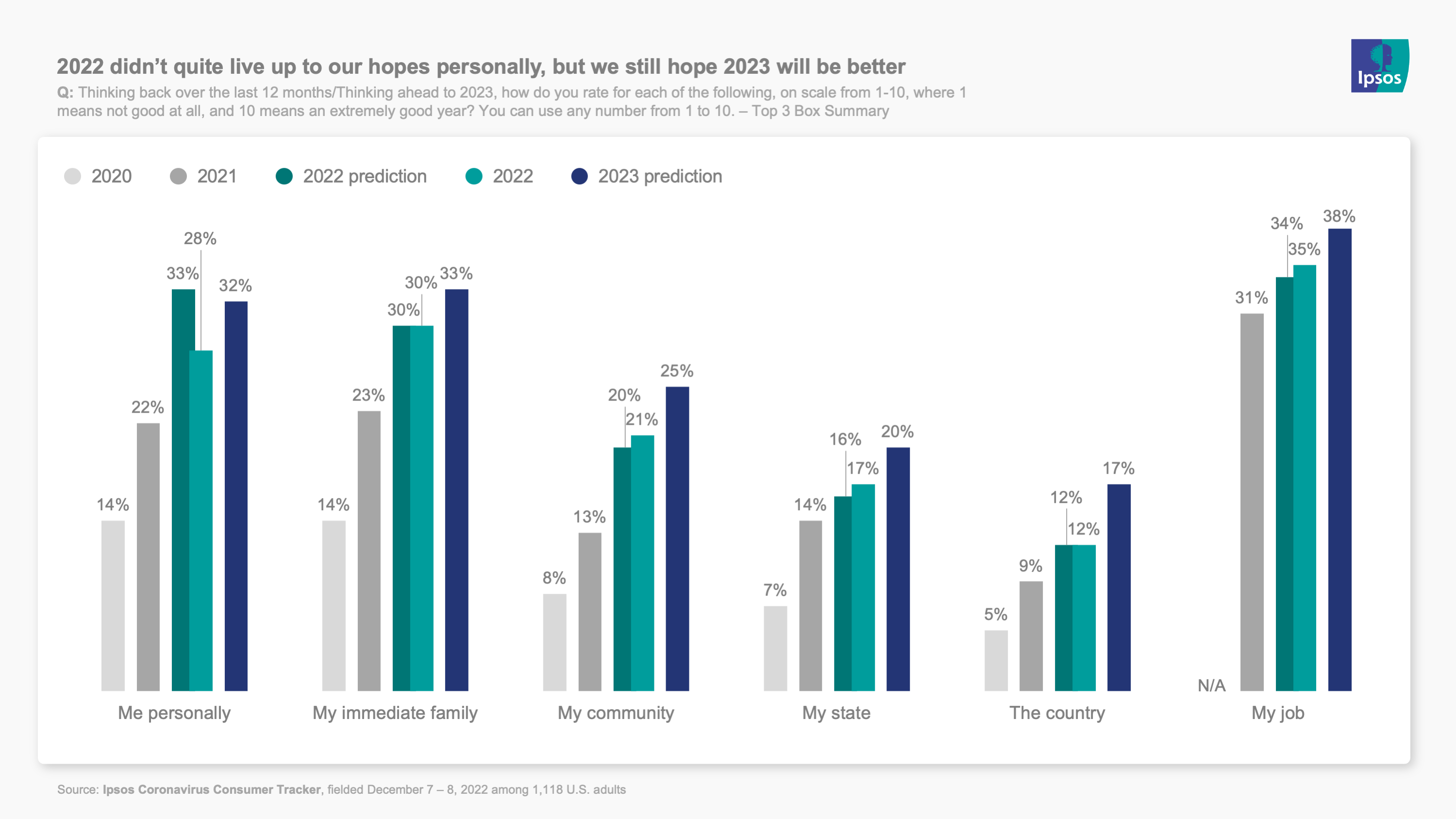 How is inflation impacting our credit card and loyalty reward points?
Why we asked: The points economy is a robust one. But with retailers and airlines devaluing points, and inflation making things like vacations cost more, what are people doing with their point balances? Spending down balances to save money? Hoarding points for a big purchase?
What we found: Most people (61%) take part in some sort of rewards program. Good for them.
Most people are using their points to save money (74%) and many are also using them for a big purchase like travel or hotels (42%). Only 36% feel that their points have lost value. About one in three say that they prefer cash back over rewards. About 23% say they are signing up for new credit cards to get additional or different kinds of points.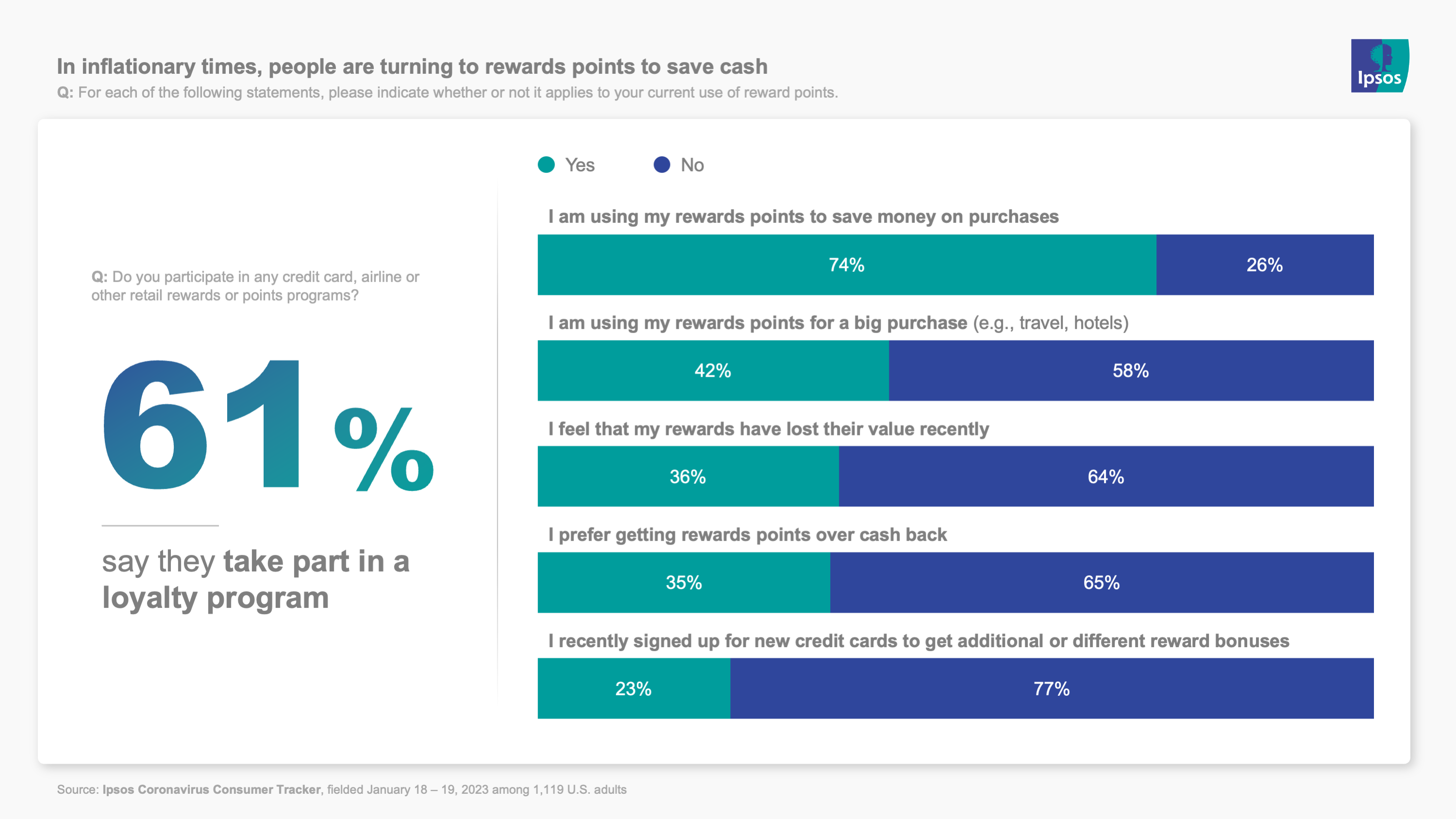 What's the state of 'Buy American?'
Why we asked: During the pandemic, there was a rise in sentiment around buying American, shopping local and supporting small businesses. Partially it was an effort to keep the local and very local economies going during a time of crisis. Partially it was a reaction to supply chain issues. As time has gone on, there is some evidence that the pendulum is swinging back as people missed the national and global brands they had previously been loyal too. Inflation plays in as well.
What we found: About half of Americans say that buying American is more important now than before the pandemic. Only 5% say it's less important. That's roughly the same numbers as when we last asked this question way back in June, 2020. Two in three say that whether a product is made in American or by an American company plays into their purchase decision (23% say it plays into their decision-making process often). Only 30% say it rarely or never plays in. And we added a new question about what it is that drives people to buy American. There are both economic and patriotic reasons to do so. 80% say they want to support American values with the purchase they make. A similar number say it's about keeping money in their community. Slightly fewer, but still about two in three, say that they think American products are better quality (68%) and more sustainable (63%) due to shorter supply chains and related factors. Republicans are more likely to respond to the patriotic points than Democrats, but support is high across party lines.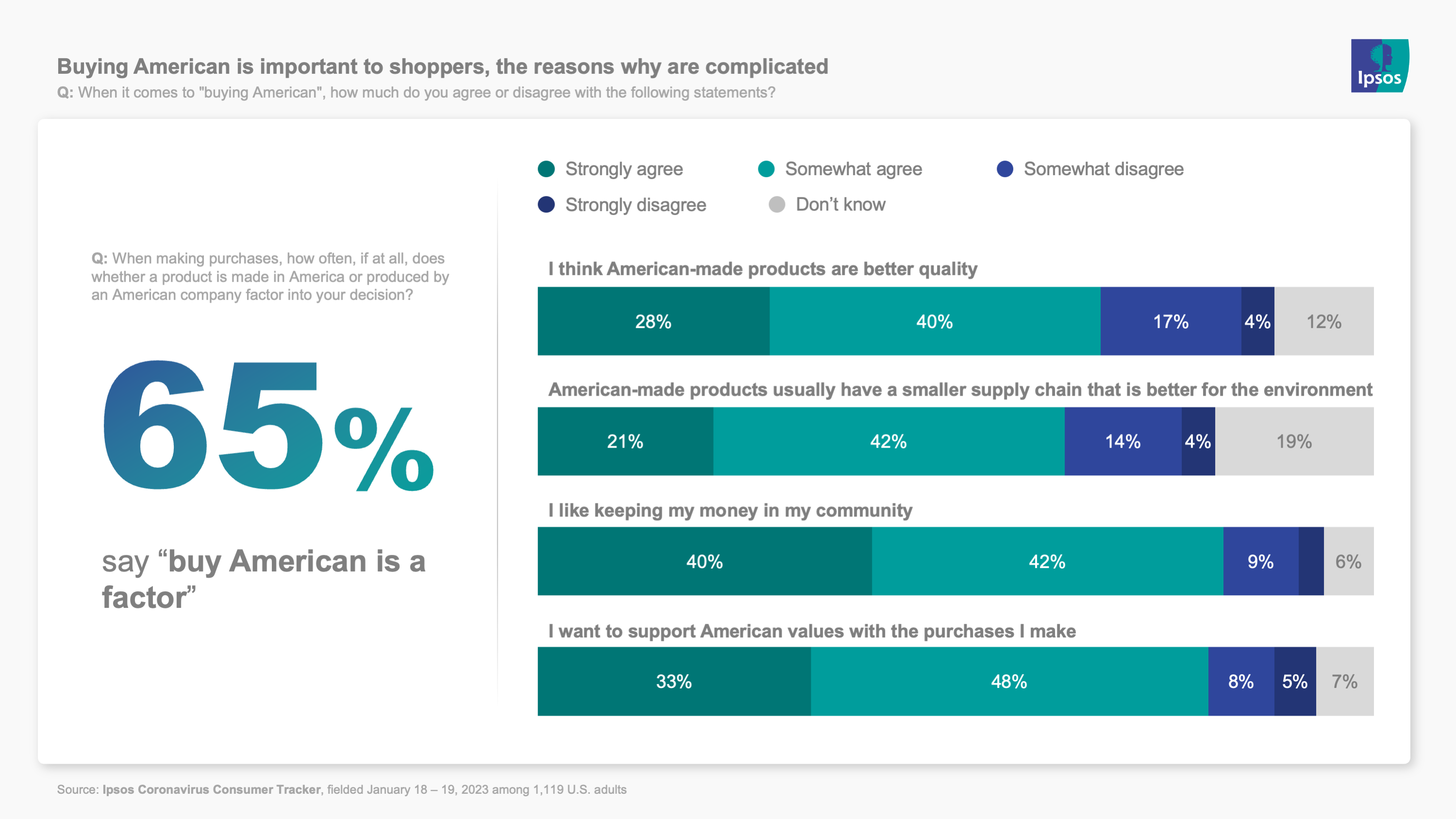 How are we feeling about the office these days?
Why we asked: Some high-profile companies have called workers back to the office more frequently of late, so it seemed a good time to check back in. January saw an uptick in in-office days in many markets, although still below pre-pandemic rates.
What we found: The mix of how people are working today remains consistent, with 22% fully at home, 22% hybrid and 56% at the workplace full time. The preferred mix also remains steady with people pretty evenly split between wanting to work mostly at home or mostly at the office, with slightly fewer wanting to be evenly split. 37% say their employers have set guidelines for how often they should be in the workplace. Whatever situation people are working in, they think they will be able to keep it up, with 90% saying it's unlikely to change in the next few months (70% very likely).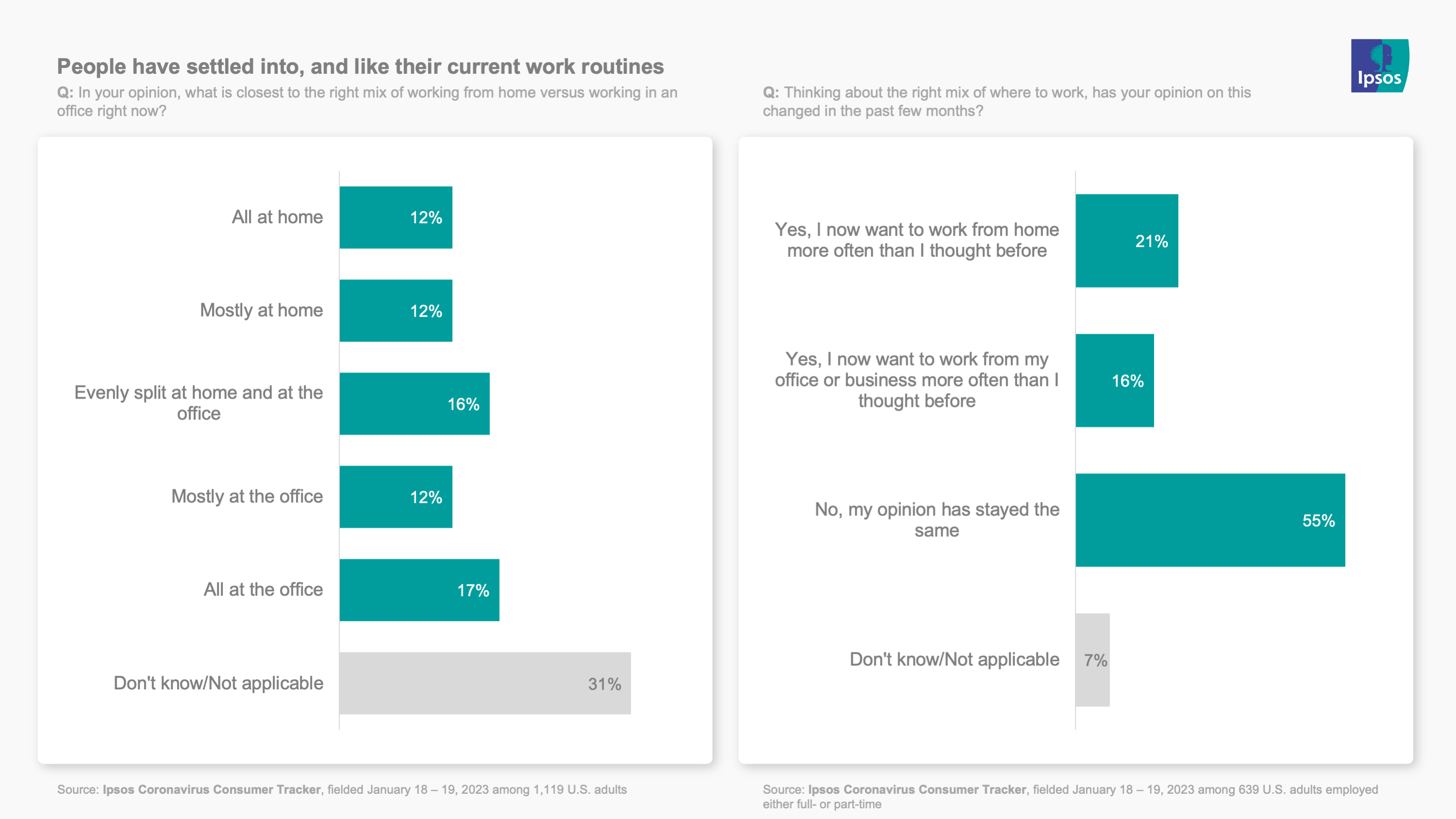 Signals 
Here's what we're reading this week that has us thinking about the future.
For complete toplines for all waves, please see the full data and methodology.