COVID travel concerns haven't left us
In less than five minutes of reading time, we'll give you all the data and context you need to get you up to speed on Ipsos' latest wave of the Coronavirus Consumer Tracker.
Here's what we know today from the Ipsos Coronavirus Consumer Tracker:
Read on for data about: Travel concerns, mask wearing and the value of college degrees.
Travelers are evenly split on COVID concerns
Why we asked: As cases are dropping steadily, how are people feeling about travel?
What we found: Turns out, they're split pretty evenly. About a third expressed concern. About a third didn't. And a third haven't gone anywhere recently. But… if you had to guess between the vaccinated and the non-vaccinated as to which group is more concerned, which would you guess? 40% of the vaccinated said they are concerned about travel as opposed to just 16% of the non-vaccinated.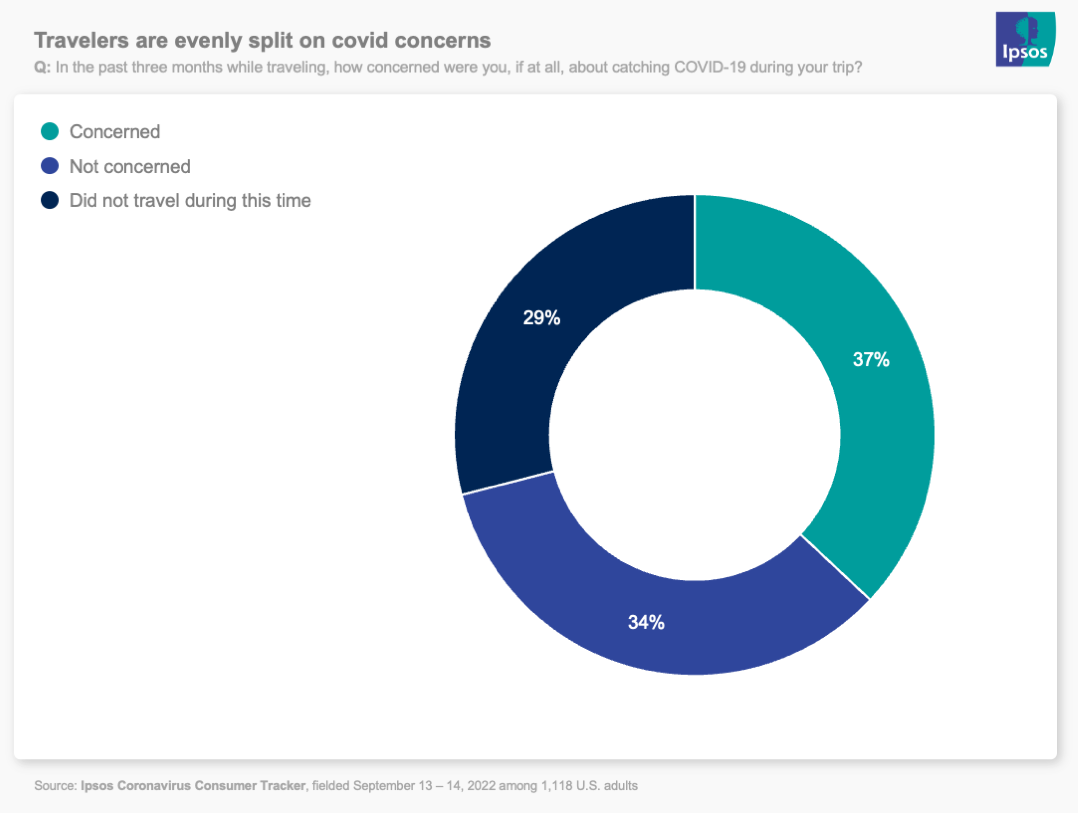 What are travelers concerned about?
Why we asked: If travelers are concerned, we wondered what aspects of the trip most concern them. Or put another way, where do folks most need to be reassured?
What we found: While the risk of catching COVID on a plane isn't very high from what we know today, the flight was the cause of concern for the most travelers (37%), with a similar number worried about the airport itself (31%). But some destination activities like bars (34%) and large-scale events (29%) also caused relatively high levels of concern among those who have traveled. Business meetings (8%) and taxi / ride-share services (10%) were seen as relatively safe. All of this has broad implications for business travel, tourism and hospitality.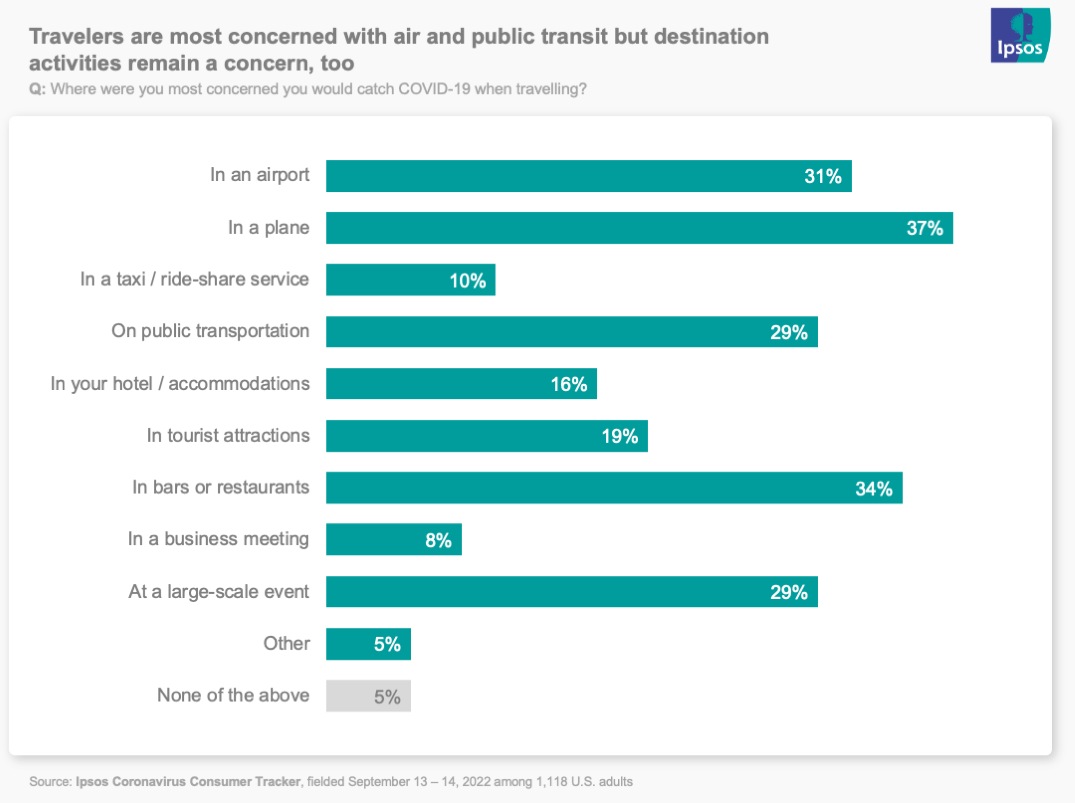 Mask wearing seems to have leveled off
Why we asked: Cases are falling. The NYT reports we are down to 64,000 daily cases, a low we haven't seen since early May. So are we reducing our masking?
What we found: Nope. Things seem to have leveled off. About one in three are wearing masks indoors frequently. Just under half are infrequently wearing them. And one in five never wear a mask.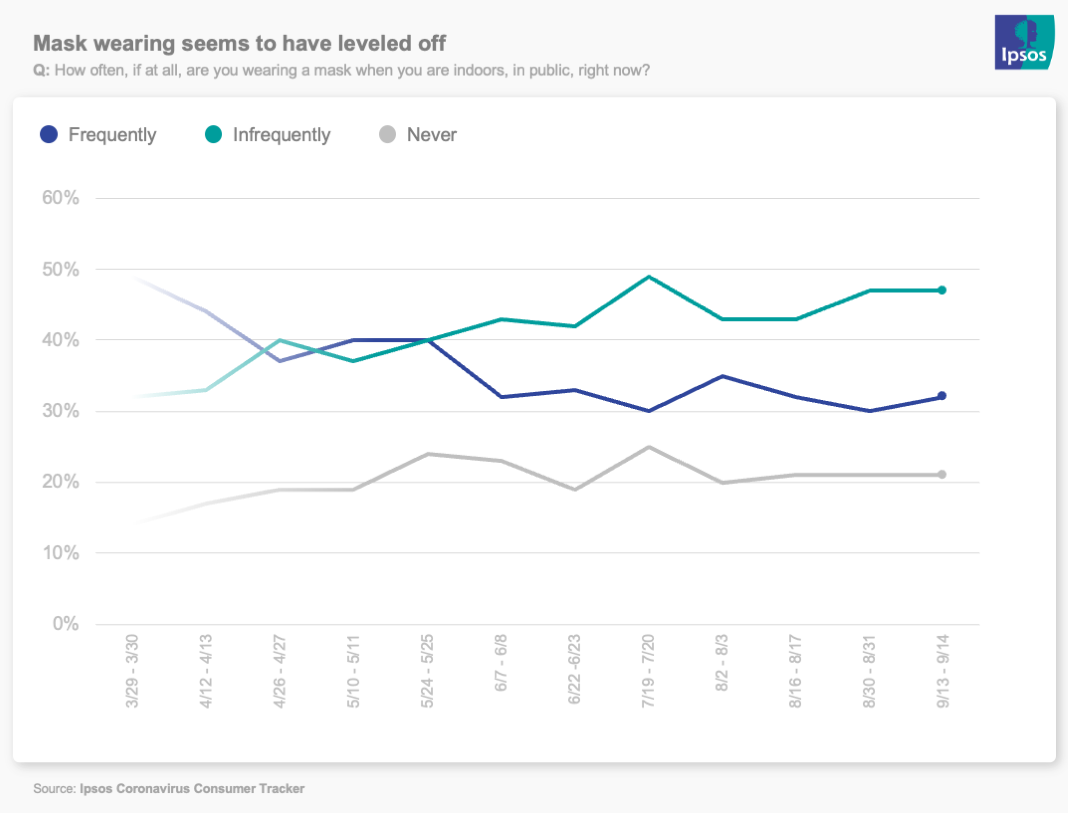 Most find college worth it
Why we asked: With all of the discussion about student loan forgiveness and the underlying costs of college, we wondered if graduates think it's all worth it.
What we found: For the most part, graduates across incomes think college was worth it in a number of ways. Solid majorities say that going to college improved their lives overall and would recommend that others go to college. Most feel they chose the right major and many think they made connections that helped their career. More feel they made lifelong friends. There were definitely age-related differences: Older graduates (55+) were much more likely to say that college improved their lives and recommend college than younger graduates. Is that because they had a different experience with the often-crushing debt today's graduates face, or because of changes in the world around us, or because they have seen those dividends pay out over their careers? It's difficult to unpack, from one question, but certainly fodder for future research.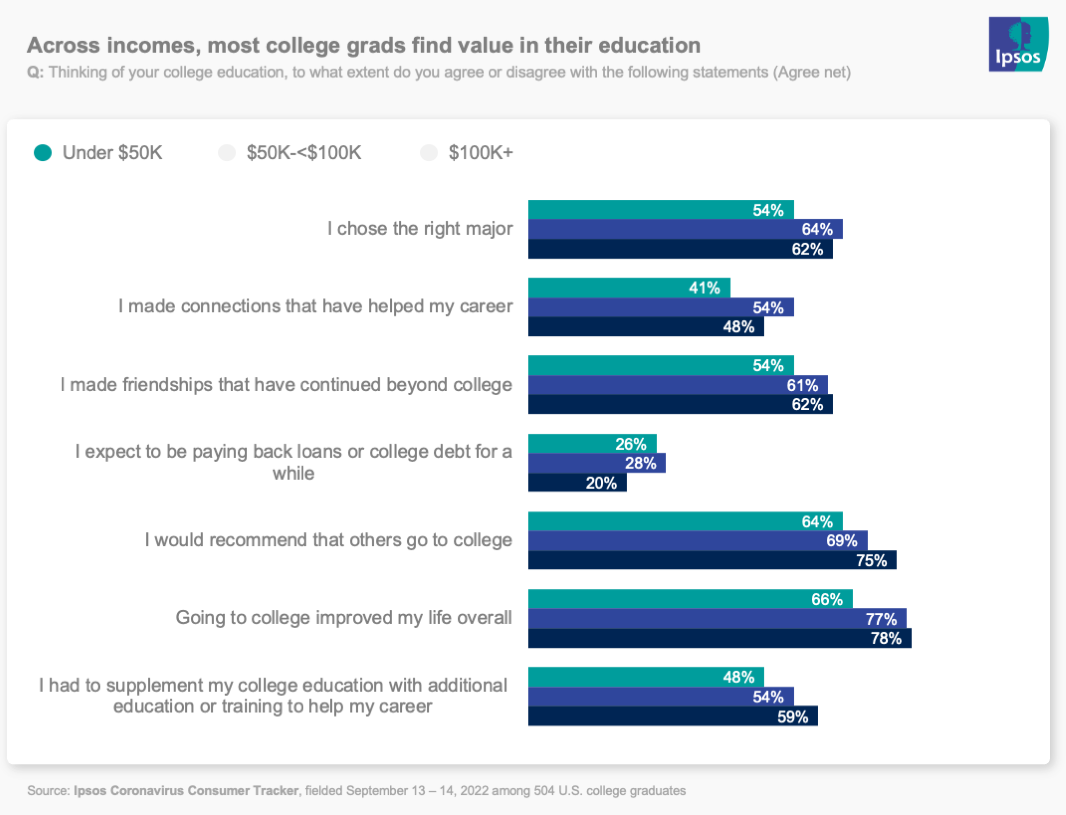 Signals
Here's what we're reading this week that has us thinking about the future.
New Pirate tool: Fake GPS (via NYT)
Workplace surveillance Whac-A-Mole (via CNBC)
Promising water news (via NYT)
For complete toplines for all waves, please see the full data and methodology.
Download