It is well known that Brazil is a country that had seen and that this history is rooted directly and indirectly in our culture even now. But on the other hand, little has been said about African culture, which also has roots in our culture and thinking in Brazil. Why is this culture not highlighted too?
Gilberto Freyre's book, published by Casa Grande and Senzala, takes a look at the social relations of the colonial era and presents a vision of structural racism that pervades all spheres of society, including cultural. Afro-Brazilian culture is vast and rich, though little talked about or validated. As Pereira (2012) states, Brazil has the largest population of African origin outside of Africa.[8] Half the population of the country is self-declared black or brown. So it is quite impossible not to deduce from this that Brazilian culture is majority Afro.
A lot of what the world consumes today, in terms of music has its origins in a culture that has its origin in Africa. Brazil is no different: axé, jazz, rock, electronic music, blues, hip-hop and even forró have their origins in black culture. It is clear that Afro culture pervades Brazil, as the contemporary singer Baco Exu do Blues states in his song, "Bluesman": "Everything that when I was black was of the devil, after it became white and was accepted, I am going to call blues..."
This relationship is intrinsic and present in Brazilians' day-to-day life not just in music, but in many other cultural forms.
---
Africans contribute to Brazilian culture in many, many ways - dance, music, religion, cuisine and language. This influence is seen all over the country, in some states, such as Bahia, Maranhão, Pernambuco,Alagoas, Minas Gerais, Rio de Janeiro, São Paulo and Rio Grande do Sul, Afro-Brazilian culture is particularly present because of slave migration [9]
---
For a long time, black culture has been neglected in Brazil, seen only as marginal. Samba, rap and even funk are examples of black culture and have, for many years, suffered prejudice and rejection.
Today, we can see black culture entering spaces where there was previously no room for it. There are huge national black artists having success in Brazil and abroad, a recent phenomenon that we can analyse to identify the nuances that are bringing Afro-Brazilian culture into a Eurocentric culture.
Afro-Brazilian culture has occupied other spaces beyond music. One example of this is how black beauty, once unappreciated by the masses, has now become a product. Big companies have profited with cosmetics and beauty products aimed at the black population and/or the white population, but with strategies to reach the white population through products that are typically black products. Companies such as Quem disse Berenice?, Make B, Vult, amongst others, are investing more and more in these products.
The search for traits that originate in the black population is also growing amongst aesthetic procedures, according to the magazine O Tempo, which states that in the first quarter of 2022 alone there was a 390% growth in demand for aesthetic procedures. Procedures designed to enhance/create traits that were originally black, such as lip fillings and silicone bum implants, are more and more common and more and more in demand.
What does all this mean? Can we put all of this down to cultural appropriation?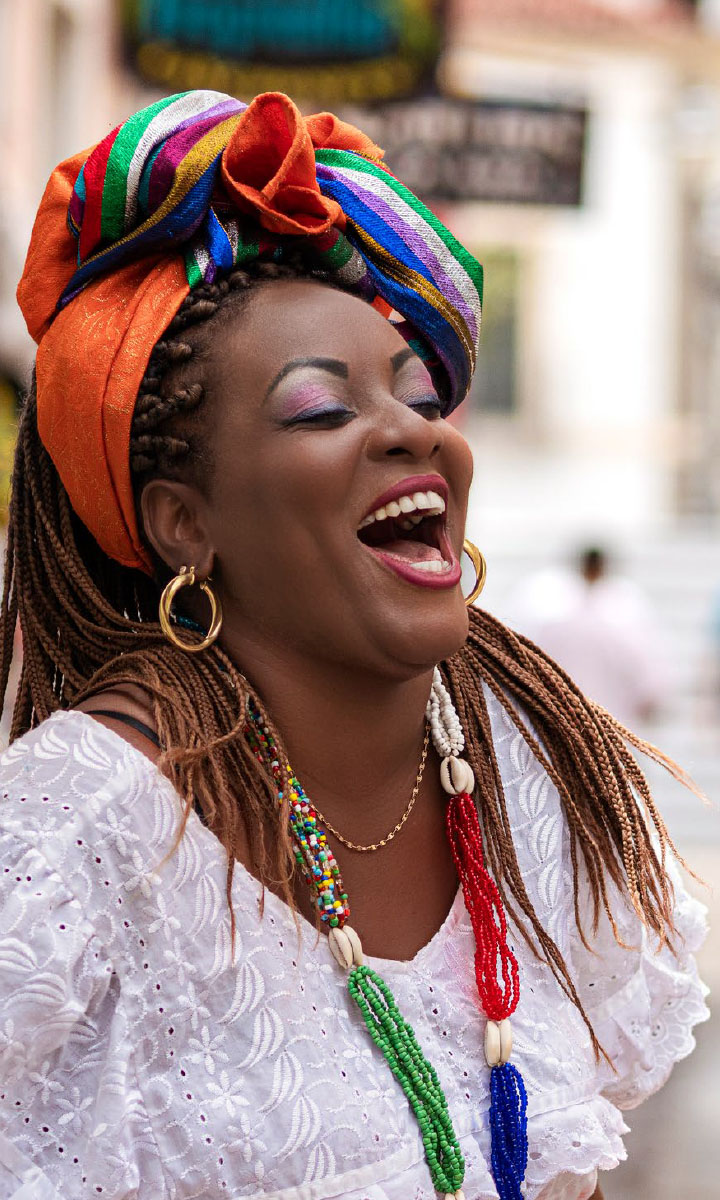 We frequently link the rescue and valuation of Afro-Brazilian cultural identities to what we call cultural appropriation. After all, this term is used when a said culture possesses some elements that are very different from others.
It is understandable and reasonable that we should see this valuation of black culture this way in Brazil, given that a lot of what we currently consume from black culture was disseminated by white people and/or was only considered relevant in our country when said white people started to sympathise with these cultural identities.
However, we believe that there could be another perspective on this matter: the perspective of valuation of the efforts of the Afro-Brazilian population to ensure that their culture continues to exist, often with resilience and fighting against media oppression which has tried to cancel the memory of and/or take away the merits of these people. Paraphrasing Emicida in the song "Dedo na Ferida" [Finger in the Wound]: "It's our noble blood, that the skin covers, we're not running, better days, no lobby...."
---
As Pereira (2012) states, Brazil has the largest population of African origin outside of Africa.
---
The black population has already resisted the cancelling of its history and experience. In Brazil, we have living examples of this culture such as Carnaval, Capoeira and other manifestations.
---
The perspective of appropriation ends up labelling other black cultural producers and mediators as mere victims of history who either quietly observed the usurping of their rich material and immaterial culture, or were misled. (Pereira, 2021)[10]
---
The Afro-Brazilian population are the true agents of the continuity, construction and adaptation of this ancestral culture that is part of our country. Taking away all the merits of this population and directing the rescue and valuation of black culture only towards cultural appropriation is a way of silencing the personalities of this culture.
The success and relevance of black culture cannot and should not be minimised only when another looked with interest and value upon it, but should be understood and valued by its historical and modern personalities who have resisted their identities being cancelled. One of the great names in Brazilian music, the samba artist Jorge Aragão, reinforces the way we should look with affection and pride on this cultural heritage:
---
We are also the front line of this history, we are from the times of Samba without money or glory. Talent is not up for discussion, but your argument, please. Respect those who can get to where we have.
---
However, showing and crediting the reach and relevance of Afro-Brazilian culture and cultural appropriation is to look at history in a simplistic and common way. We must, above all, value the fight of all those who have always sought and still seek a bigger and better place for Afro culture. We must not again neglect the story of black people and summarise their victories using the perspective of another.
Beyond this, how has the market incorporated and assimilated Afro-Brazilian culture?
In a country where social inequality is more and more obvious and on the increase, there is a movement to bring glamour to poverty and all that it involves.
Clothing companies like Osklen and Reserva have created collections called "Favela", with shirts picturing a space that always was and still is on the margins of society and viewed badly. Both brands target the middle and higher income shoppers and have looked to reference a place that doesn't fit the consumers' reality.
However, this is just one example of how the market has turned its eyes to Afro culture in general. Over the last few years, we have seen an aesthetic change in personalities who increasingly value traits that were once considered to be black traits, who try to become like the Afro population by using aesthetic procedures. Some celebrities have even been accused more than once of using "blackface"
As well as "blackface" we also have "blackfishing", in which white artists and celebrities try to imitate the appearance of black people. They have aesthetic procedures and even use clothes and hairstyles that make reference to black culture. The biggest question with these practices is understanding again that whether it is the beauty, the culture or the style of black people, all of this is recognised and valued when a white person uses it for themselves.
A social class (poor) and a culture (Afro) that were excluded now make money for big brands and personalities. The "blackface", or "blackfishing" flirt with cultural appropriation and these practices end up taking away the essence of Afro culture and all the effort that black people have made over the years to be seen, heard and valued.
In contrast to the "blackface" and "blackfishing" which take away the essence of Afro culture, we have companies which have sought to value black culture on the market. One big example of this in Brazil is Avon, which has aligned the company's culture to black culture too. How has Avon done this? Trying to understand what is needed for black skin in the world of cosmetics, launching exclusive lines in make-up and beauty products for black shoppers. Avon created an internal agenda based on the valuation of black beauty and it committed to anti-racism within the company.
Avon is a great example of valuation and rescue of Afro-Brazilian culture within the market because it is a company that did not just focus on selling products to these consumers, it created a relationship with the public and with Afro culture. Avon products seek to reach all black skin tones, understanding that there is not just one product for all black skin types
---
Cosmetics for black people, for example, grew 26% in the first quarter of the year, whilst conventional products grew by 6% and 11% in the same period. Some companies, such as O Boticário, launched specific make-up for black women.[11]
Blackfishing" flirts with cultural appropriation and these practices end up taking away the essence of Afro culture and all the effort that black people have made over the years to be seen, heard and valued.
---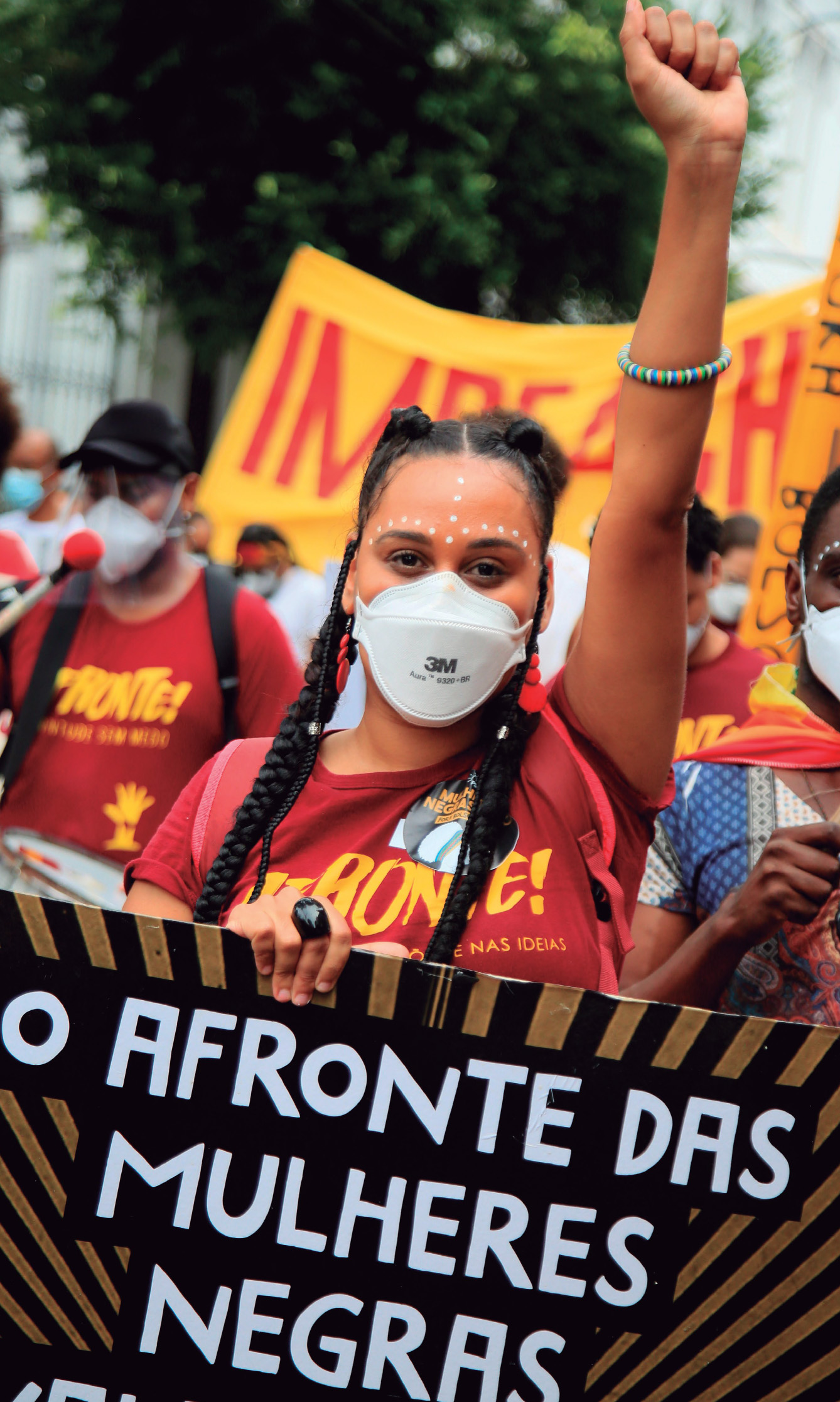 Following in their footsteps, P&G recently announced the purchase of the manufacturer of products for black women's skin, Walker & Co. Beauty companies have been more and more interested in products for black skin and hair.[12] In general, we can see that the Afro-Brazilian culture and all that is associated with it has had a lot of attention over recent years, both in media and within industry. The agenda of diversity was quickly assimilated by the market, which has increased the valuation of Afro culture.
This perspective brings light for the black population and its rich culture, which has much to be valued, if seen in the right light. We cannot trivialise the culture of a population with "blackface" and "blackfishing". Rather we need to approach this topic carefully, aiming to actually value Afro-Brazilian culture, incorporating the topic not just in products, but also in the whole institutional makeup of brands.
---
Table of content
---
---
Notes
[8] Pereira, Dulce Maria. A face negra do Brasil multicultural. [The black face of multicultural Brazil] 1. ed., 2012. v. 1. 92p.
[9] Afro-Brazilian Culture Portal: African Culture.
Available at:  https://www.faecpr. edu.br/site/portal_afro_brasileira/2_I.php.
Accessed on: 27 June 2022
[10] Pereira, Roberto Augusto A. Agenciamento negro ou apropriação cultural? [Black agenda or cultural appropriation?] Um novo olhar sobre cultura negra e identidade nacional. [A new perspective on black culture and national identity.]
Available at https://pp.nexojornal.com.br/opiniao/2021/Agenciamento-negro-ou-apropria%C3%A7%C3%A3o-cultural-Um-novo-olhar-sobre-cultura-negra-e-identidade-nacional
Accessed on: 28 June 2022
[11] Produtos para negros ganham espaço no mercado. [Products for black people gain space in the market.]
Available at: https:// www1.folha.uol.com.br/folha/dimenstein/ imprescindivel/dia/gd041001.htm
Accessed on: 29 July 2022
[12] Revista Valor Econômico: P&G compra fabricante de produtos para negras Walker & Co. [P&G buys manufacturer of products for black women, Walker & Co.]
Available at: https://valor.globo.com/empresas/ noticia/2018/12/12/p-g-compra-fabricantedeprodutos-para-peles-negras-walker-co.ghtml
Accessed on: 29 July 2022