The Future of Mobility - Autonomous, electric and shared
Our new paper explores the latest consumer thinking around the three main mobility trends, their impact on the automotive industry, and what this means for the future.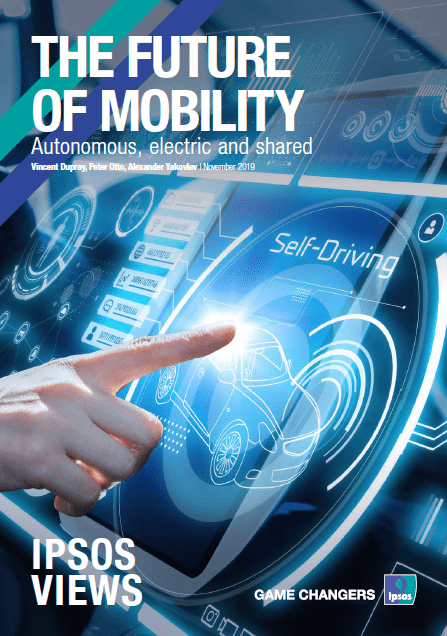 The automotive industry stands on the edge of a new era, with new technologies disrupting the way we drive. We are moving towards a future that will bring together the three main mobility trends – autonomous driving, electrification and shared mobility. Bringing together these technologies will allow, for example, the in-app ordering of a driverless taxi that will deliver its customer to a destination and then self-drive to the nearest wireless charge point to prepare for the next booking.
Our latest research shows that consumers are ready to accept this new transportation paradigm, but only under certain conditions. Drawing on findings from our Ipsos Automotive Navigator study, the latest paper in our Future of Mobility series reveals current levels of consumer interest, preferences, barriers and expectations around the three key trends affecting the industry.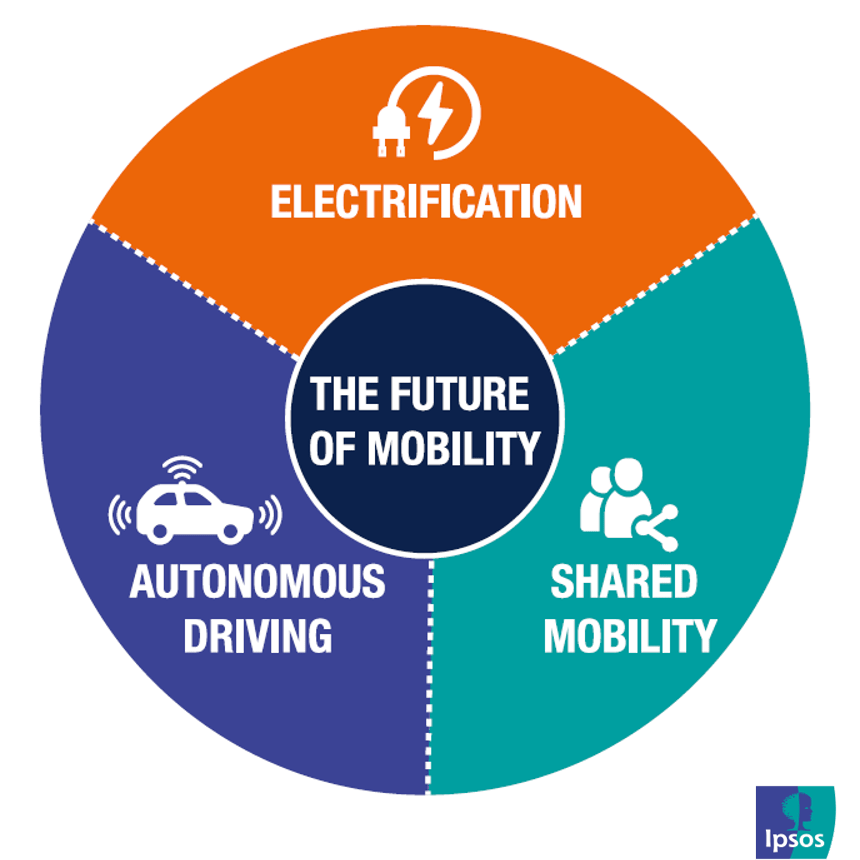 10 Key Takeaways:
We are moving towards a future that will bring together the three main mobility trends – autonomous vehicles (AVs), electric vehicles (EVs), and shared mobility. Our research suggests consumers are starting to get ready for this, but only under certain conditions.
Of the three main mobility trends, EVs and shared mobility have more support from consumers and officials than AVs.
Perceptions of AV safety remain a key barrier to support, undoubtably impacted by media headlines involving driverless car accidents. In addition, consumers believe AVs mainly have commercial rather than personal use. In order to engage support, the industry needs to prove the consumer benefits of owning an AV, alongside a clear focus on technological developments.

There are good levels of support for EVs globally, with consumers citing the main benefits as environmental friendliness and cost effectiveness to run. However, two main barriers remain in the way of increased electrification – limited driving ranges and under-developed charging infrastructure.
Norway, the no. 1 EV market is Europe, is a sound example of how state actions can change the mobility landscape. Norwegian EV owners are offered a wide variety of incentives, and access to rapidly developing cross-country charging infrastructure, leading to more than half of all new cars sold in Norway being either battery electric or a plug-in hybrid.
In mega-cities, EV adoption is expected to be higher because consumer barriers are easier to overcome. Cities can be extensively adapted with charging infrastructure, removing the major challenge of finding an EV charge point.
It's clear that significant regulation and government intervention are required to get more EVs on our roads in the next decade. On a micro level, initiatives by local mayors and governments, such as car-free areas and EV tax benefits, are having an impact in mega-cities like New York, Paris, London.
The shared economy is increasingly influencing consumers' decisions. One-third of us have used a shared-economy service in the past 12 months, but geography (38% in mega-cities vs 28% in small cities/rural) and age (52% of 18-34s vs 18% of over-50s) highlight a big divide here.
Future consumer expectations show a trend towards shared mobility, but it still has a considerable way to go to becoming a mainstream option, with barriers including uncertainty about rates and lack of available vehicles. Early adopters are mainly young and living in mega cities, with car/ride sharing options making car ownership less attractive for young urban consumers.
There is no doubt we are entering a new era for transportation that promises cheaper, faster and better mobility options for the consumer. However, although the big picture trend is clear, questions of how, when, where and what mobility will look like in the future remain open.
This paper is the fourth in our Future of Mobility series, following Driverless Cars, Electrification and Shared Mobility.