How Millennials Of Europe Will Shape Tomorrow's Payments Landscape
Research into European millennials' payments behaviour as part of our ongoing commitment to both inform and shape the discussion about the future of payment systems.
Millennials and their tech
46% of UK millennials use an iPhone
68% of German millennials use a laptop or PC
9% of Italian millennials use a wearable
Anyone familiar with millennials as a demographic will know that one of the defining features of this population is its comfort with digital technology. Millennials are the first true digital natives and, not surprisingly, they have quickly adopted the current pinnacle of digital evolution – the smartphone.
68% of Dutch millennials agree they couldn't live without their smartphone
75% of UK millennials like technology that allows them to tailor things to fit their needs
80% of Italian millennials agree that technology gives them more freedom of mobility
Social millennials
Alongside the boom in digital communication, and supported by it, social networking is the othergreat behavioural shift that  millennials have pioneered.
60% of Italian millennials agree that social media is an essential method of communication
50% of Dutch millennials have concerns about the amount of information available about them on social media
50% of German millennials agree that social media is an essential method of communication
Millennials and their money
With behaviours and barriers shifting so dramatically among the world's first truly digital generation, we wanted to understand how their financial attitudes and behaviours might be changing as they benefit from new technologies and new functionality in payments and financial management.
Only 6% of Dutch millennials use cheques VS. 70% in the US
15% of German millennials use cheques VS. 28% of Italians
How millennials like to pay
Millennials have already shown themselves to be comfortable with the emergence of new technologies in finance and their financial behaviour with regards to payments reflects this.
70% of German millennials pay for grecories with cash VS. 61% by cash
1 in 11 British millennials are now paying for car parking using mobile payments
50% of Italian millennials send international payments, with 20% paying with mobile
53% of Dutch millennials who use public transport pay on card VS. those 18% who use cash
68% of the UK millennials that pay their utility bills use direct debit, with 17% using bank transfer
29% of German millennials who send international payments, use PayPal for this
How millennials like to be paid
So if the picture of money out is mixed, how do millennials in Europe like to receive payment – what are their money-in preferences?
76% of Italian millennials receive their salary by bank transfer, with 11% being paid in cash 
20% of Brits still receive gifts of money or a loan by cheque from someone they know personally or socially
63% of German millennials sell goods online, 46% by PayPal but 67% by bank transfer
Millennials and mobile payments
We've already seen that millennials, particularly those in Italy are beginning to embrace the idea of mobile payments.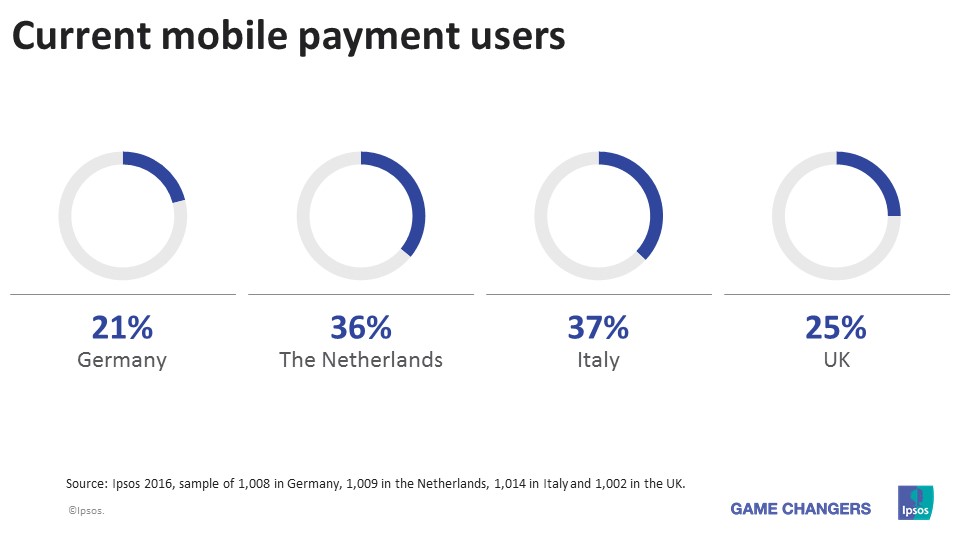 Freedom to choose
If, as we have seen, millennials value the liberating nature of technology and the way they can tailor it to support their lifestyles, the converse is also true.
Millennials and the future
While millennials have shown some reluctance to get to grips with mobile payments as they stand now and have indicated that security is their primary concern, there is strong evidence that they are interested in new ways of verifying payments that draw on emerging technologies to enhance security.
more than half of millennials in all four countries surveyed agreed that they "would like to be able to make instant payments"
56% of German millennials would like to be able to make instant payments to others and pay bills, regardless of who they bank with
71% in Italy agree they would like to be able to see their available balance to spend when making a mobile payment
42% of Dutch millennials would prefer to use fingerprint scan to pay by mobile
42% of British and German millennials agree that they would use eye scans to verify payments