How Millennials Of The USA Will Shape Tomorrow's Payments Landscape
Millennials are coming of age – their choices, their behaviours and their concerns are set to profoundly shape developments across every spectrum of business and commerce, and nowhere more so than in how they access their money.
Ipsos was commissioned by VocaLink to conduct research across eight countries in order to understand how new technology and social media influences the lives of millennials. In this paper we explore trends in millennials' current payment behaviour and look at how millennials see payments operating in the future. This initial paper focuses on US millennials, but subsequent publications will assess the attitudes of millennials in Europe and South East Asia and what this means for the next generation of payments.
The dramatic spread of mobile phone technologies around the world, in both developed and developing economies, and the rapid pace of development in the payments industry, prompt some important questions: how do millennials pay for goods and services? Why do they choose these methods? And, how do they see behaviours and preferences evolving as technology advances?
So, we set out to research how millennials are using the payment technologies and methods currently available to them. 
Millennials and their tech
It should come as no surprise to anyone that millennials and mobile technology are inextricably linked: where one goes, the other follows. But we wanted to take a closer look at precisely which devices millennials are using, before going on to look at what they use them for:
98% use a smartphone
80% use a PC/ MAC
57% use a tablet
20% use a wearable
Social millennials
Millennials are the first truly digitally connected generation and they have embraced social media enthusiastically – to the extent that it has become an integral part of their daily lives.
78% of millennials use Facebook at least once a day
Millennials and their money
Our core purpose in conducting this study was to understand how millennials like to move their money, within the context of evolving financial technologies and an ever-more digitally connected world.
48% - nearly half of US millennials send international payments
60% of entrepreneurial millennials currently sell items online
87% have deposited a check in the last three months
How millennials like to pay
30% of those who pay for cabs use mobiles to pay
48% send international payments
84% pay for everyday eating out/drinking on card VS 44% using cash
How millennials like to be paid
When it comes to receiving money, there is equal complexity and nuance, with each transaction type telling its own tale.
45% of working millennials receive their salary by bank transfer / online banking 
31% of working millennials receive their salary by check
Millennials and mobile payments
Having looked at millennials' financial behaviours and how they make and receive payments we wanted to take a closer look at their perceptions and use of the latest wave of payments technology – mobile payments, starting with which platforms they have heard of and which ones they actively use.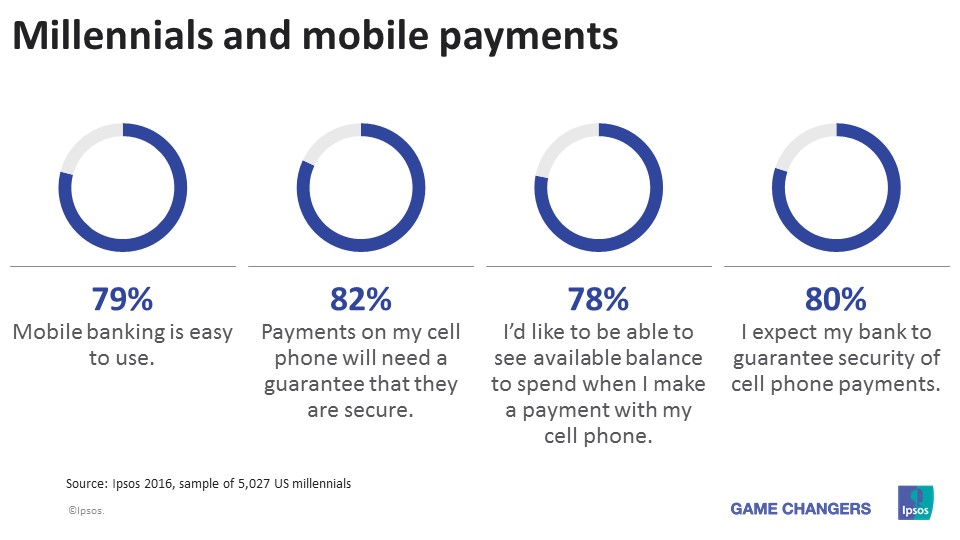 Millennials and the future
Instead of using a signature or pin, which would you prefer to verify your payments?
67% use fingerprint to pay using cell phone
67% use fingerprint to pay using payment cards
58% use eye scans to pay
47% use facial recognition to pay
46% use voice to pay
Design for life
As we have seen, concerns over security are one of the major obstacles to the adoption of mobile payments.