Flight shame: are we willing to reduce our emissions?
Public perceptions of flying depend on two key factors – cost and convenience. Only one in seven people in the UK (13%) said they would use a form of transportation with a lower carbon footprint than air travel even if it were less convenient or more expensive.
Extinction Rebellion activists, Adam Ley-Lange and Jess Johanesson are no strangers to climate action, but it was not until the UN published its Intergovernmental Panel on Climate Change (IPCC) report at the end of last year that they realised the ecological crisis is far closer than they had previously been led to believe. That sense of urgency led the couple to reassess the environmental impact of their day-to-day activities - and their dependency on air travel.
Adam and Jess are part the growing movement in Europe called "flight shaming." Jess explains "I'm originally from Sweden and the term "flight shaming" developed from the Swedish "Flygskam", which we use to describe a feeling of personal guilt after flying." Flight shaming made headlines last month when 16-year-old Greta Thunberg, a Swedish climate activist, chose to sail across the Atlantic from England to New York for a UN summit to reduce the carbon cost of her journey.
A painful dilemma
Like many in the UK, Adam and Jess used to rely on air travel to visit family abroad: "While neither of us travel for work, I grew up partly in Sweden and partly in Colombia so flying was woven quite naturally into the fabric of our lifestyle," Jess reflects. "It not only kept us connected but it was a cornerstone of my international identity, allowing me to have more than one home."
"We got the train to visit my family in Sweden this summer, but we flew back because we couldn't afford to take more time off work. Train travel both ways would also have been much more expensive."
According to a recent Ipsos Global Advisor study, it seems public perceptions of flying depend on two key factors – cost and convenience. Only one in seven people in the UK (13%) said they would use a form of transportation with a lower carbon footprint than air travel if it were less convenient or more expensive, which aligns with the world average (14% across 27 countries). Interest in using travel modes with a lower carbon footprint than airplanes varies widely across countries; in China, nearly 38% would do so even if it were less convenient or more expensive, compared to just 7% in Canada and 4% in Japan.
However, the number who say they would travel without airplanes if it were as convenient or the same cost as flying is much greater. One-third of Brits (33%) say they would the re-evaluate the way they travel if the ease and cost of flying could be matched.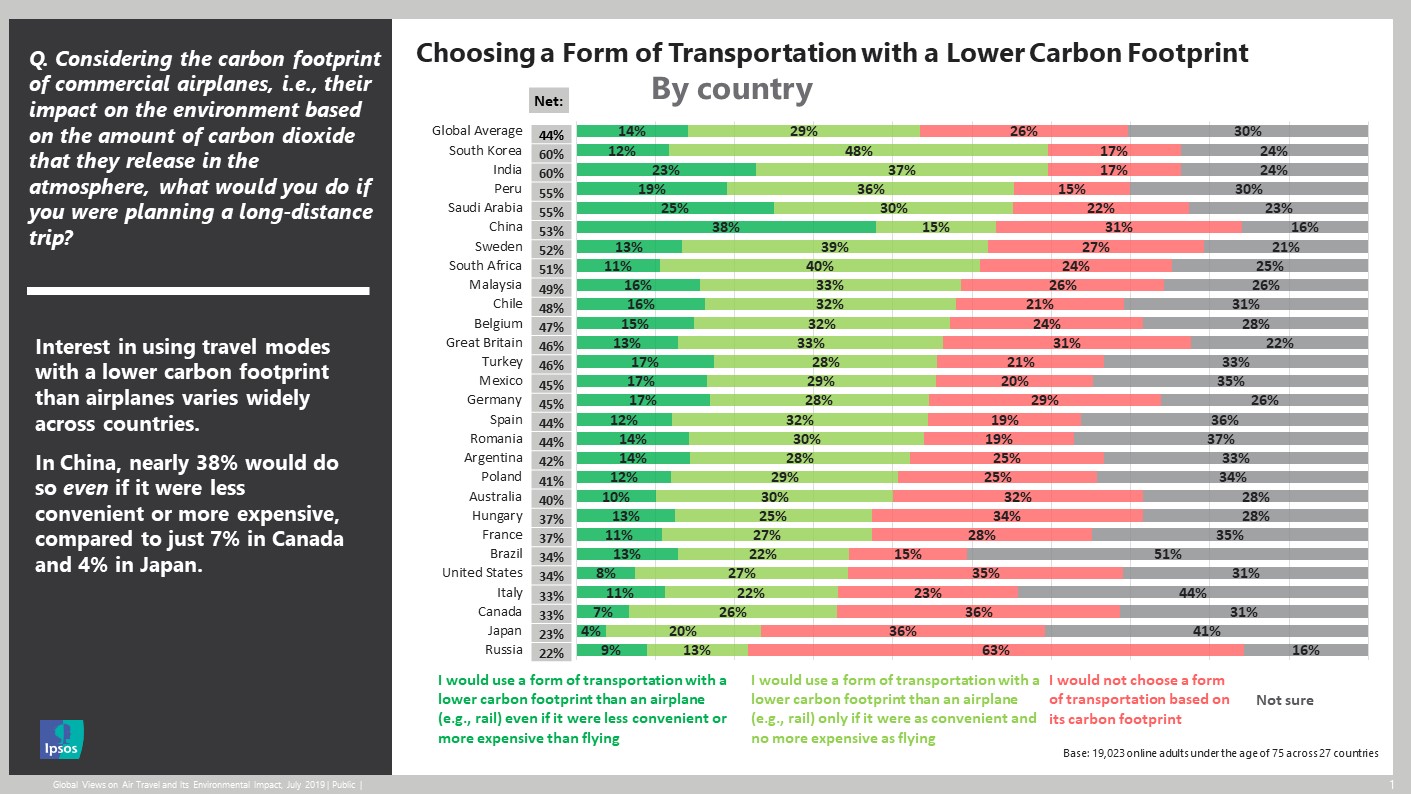 Shared responsibility
Mike Berners-Lee, a future sustainability professor at Lancaster University in London and a carbon emissions consultant, believes we must all take responsibility for the sustainability of our travel. "There's a responsibility on us as consumers to fly less, there are responsibilities on businesses […] to minimise flying as much as they can, and there's absolutely a responsibility on government to be really clear about this."
Airlines, meanwhile, have been setting targets and measures to reduce carbon emissions. Dutch airline KLM even launched a campaign during the busy summer travel season, urging people to fly less.
But in terms of how much trust the public has in airlines' commitment and ability to reduce their environmental impact - people are divided over the issue. Just 27% of British respondents said they are confident in airlines, while over a third (38%) have little or no trust in airlines to follow through. Trust in the commitment of commercial airlines to reduce the environmental impact of airplanes is highest in Saudi Arabia (75% have fair amount or a great deal of it, and the Asian powerhouses of China (55%), India (52%), and Malaysia (49%). Distrust is highest in Japan (11%) and South Korea (12%).
Adam is also sceptical. "The existence of airlines is predicated on flying and as much as they say they are looking into alternative forms of fuel, it is not their priority. It's the government who must put sustainability at the heart of every policy."
Challenge the status quo
While an individual's choice not to fly may not make a huge difference to carbon emissions, the couple believe the choice is part of something bigger. "This is what we think about every single day now so not flying has become part of an all-encompassing discussion," says Adam. "We hope that our positive activism will help people to reflect on things differently - our talks on climate change at universities, Extinction Rebellion and BirthStrike demonstrations."
"I would encourage people to read up on this and make their own decisions with a deeper understanding of the issue. We need democratic sustainability - that's why Extinction Rebellion is demanding Citizens' Assemblies to educate people. Engagement is key to resolution."
Technical Note
These are the findings of a 27-country Ipsos survey for the World Economic Forum conducted via Ipsos's Global Advisor online survey platform between June 21 and July 5, 2019. For this survey, Ipsos interviewed a total of 19,023 adults aged: 19-74 in South Korea; 18-74 in Canada, China (mainland), Malaysia, South Africa, Turkey, and the United States; and 16-74 in all other markets.
The survey data have been weighted so that each market's sample composition best reflects the demographic profile of the adult population according to the market's most recent census data. Data collected each month are also weighted to give each market an equal weight in the total "global" sample.
Download