High levels of concern about climate change but scepticism whether Britons will change behaviours
In line with record high figures measured in 2019, 85% say they are concerned about climate change.
In the light of the recent publication of the IPCC report warning of imminent and irreversible climate crises, a new poll from Ipsos MORI reveals high levels of concern about climate change among the British public.
In line with record high figures measured in 2019, 85% say they are concerned about climate change. This has risen from nearer three in five (63%) a decade ago in 2011. Around half (48%) now register as "very concerned". Only one in eight (13%) say they are not very concerned.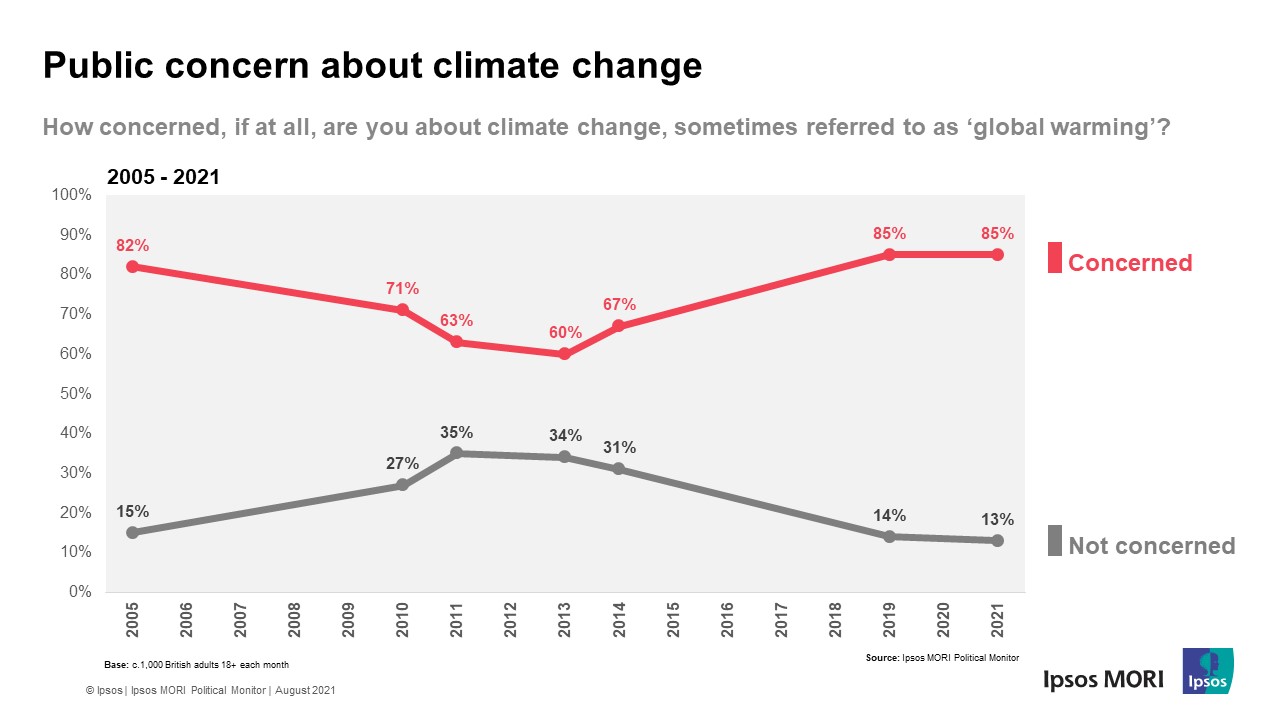 Across demographics the majority of Britons say they are worried, although the intensity of concern varies. While two in three (66%) Labour supporters are "very concerned" about climate change, the figure halves among Conservatives (33%). Women are also slightly more worried with 53% stating they are very concerned, compared with 43% of men. There is though little difference by age.
Nearing three in four (73%) Britons think we are already feeling the effects of the climate crisis, which is unchanged since 2019. Just over a decade ago this figure was nearer two in five (41%) in 2010. One in five (22%) think we will start feeling the effects of climate change in the next ten years or longer, which has halved since 2010 (47%).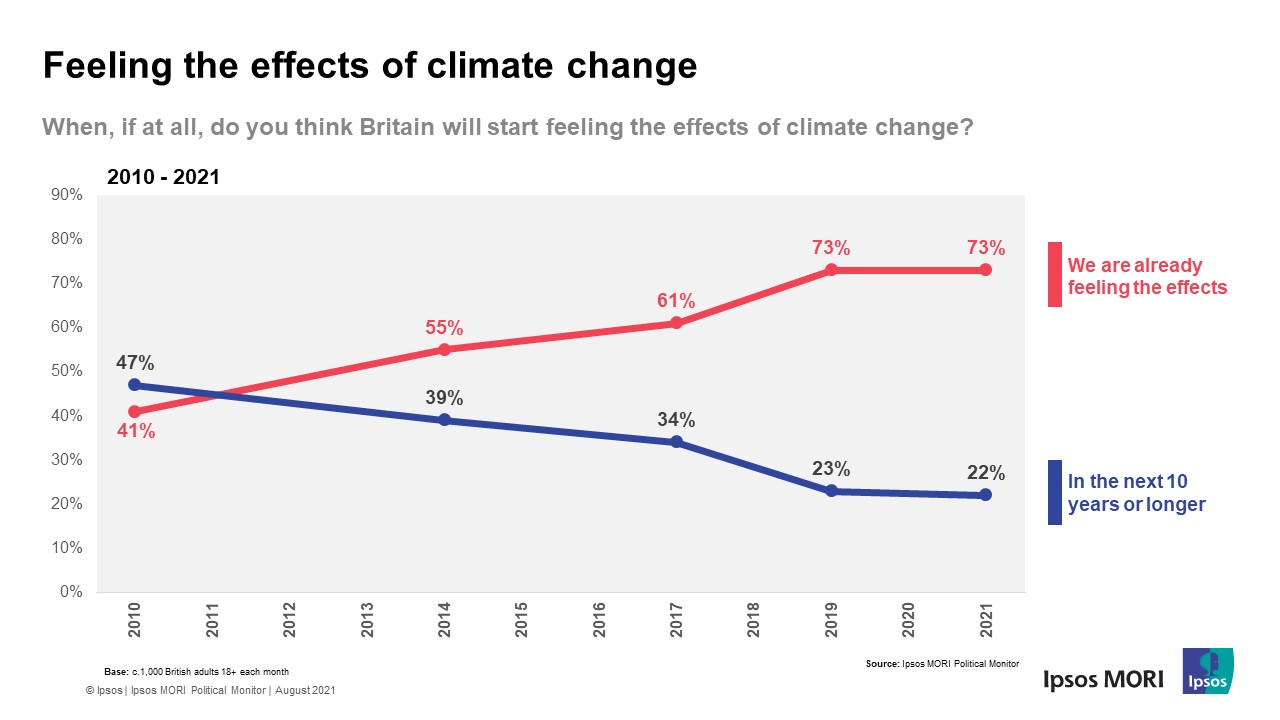 However, expectations vary over whether the British public will be willing to change their behaviours over the next couple of years to help tackle climate change. When asked what they think people in Britain will be willing to do, just around a third (32%) think the public will be willing to eat less meat or use their central heating less (31%), and only one in five (22%) expect the public to take less flights. In each case more think the British people will be unwilling (48%, 48%, 61% respectively).
The majority are more optimistic that people will be willing to buy electric cars instead of petrol or diesel (57%), or to buy greener technology like solar panels or a green heating system (65%) in the coming years. Opinion is divided on whether fellow Britons will start to cycle, walk or use public transport more often instead of driving (42% think they will be willing versus 37% unwilling).
Gideon Skinner, Head of Politics at Ipsos MORI, said of the findings:
Even after a year and a half of a global pandemic, public concern about climate change remains at very high levels – among all groups and bolstered by a belief that Britain is already feeling its effects. But despite this widespread concern, and hope that people might switch their spending towards greener technologies and electric cars, the public think it will be much harder to persuade their fellow Brits to make lifestyle changes such as eating less meat, taking fewer flights, or using less central heating, illustrating the scale of the challenge ahead.
Technical note
Ipsos MORI interviewed a representative sample of 1,113 adults aged 18+ across Great Britain. Interviews were conducted by telephone: 30th July to 9th August 2021. Data are weighted to match the profile of the population. All polls are subject to a wide range of potential sources of error.