MPs think personal principles should influence decision making, but the public aren't so sure
Almost half of MPs believe they should use their personal experiences and principles to make decisions while only 1 in 10 members of the public agree.
New research from Ipsos MORI finds that MPs are far more likely than the public to think they should use their personal experiences and principles to make decisions – 47% of MPs say that their own principles should be one of the most important factors in making decisions, while 8% of the public think this should be the case. Likewise, 26% of MPs believed that their own experiences should be one of the most important influences on their decision-making, while 6% of the public thought this.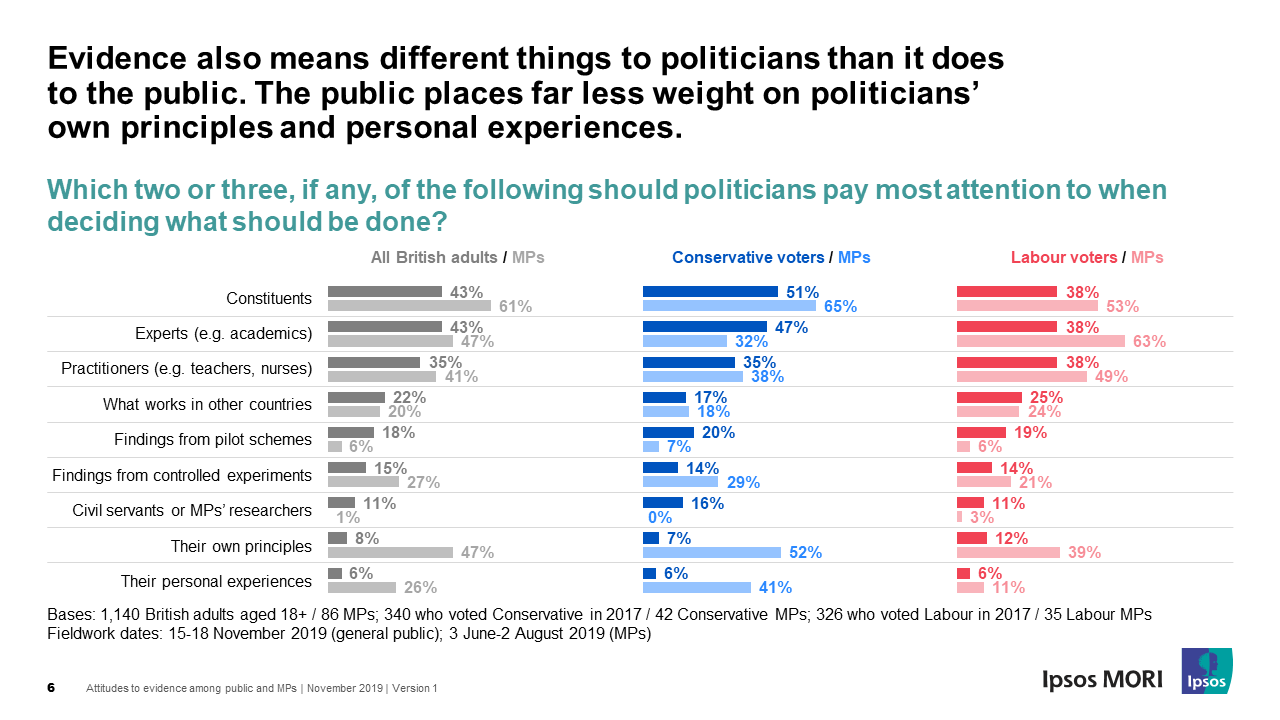 47% of MPs think they should use experts to inform their decision making, but more MPs (61%) think they should use the views of their constituents. The public are equally likely to choose constituents and experts (both 43%) as the factors politicians should pay most attention to. Surprisingly, very few MPs (a survey result of 1%) believe they should pay most attention to their own researchers or civil servants. 
When it comes to real action, MPs are most likely to recall using their constituents' views to justify decisions they have made, with 8 in 10 MPs (80%) identifying this. This is followed by experts/academics (73%) and then their own principles (64%).  In contrast, just around 1 in 10 (12%) members of the public think that politicians have paid most attention to their views as constituents. Instead, Britons feel that one of the biggest influences on MPs has been their own principles – 44% of the public think this is among the things that MPs pay most attention to.
Half of the public (52%) believe politicians are more likely to base their decision on what they think is right rather than on evidence. While 56% of MPs believe that their fellow Members of Parliament are open to evidence when making decisions, only 38% believe they are good at interpreting the evidence correctly. 36% believe their fellow MPs are poor at interpreting evidence.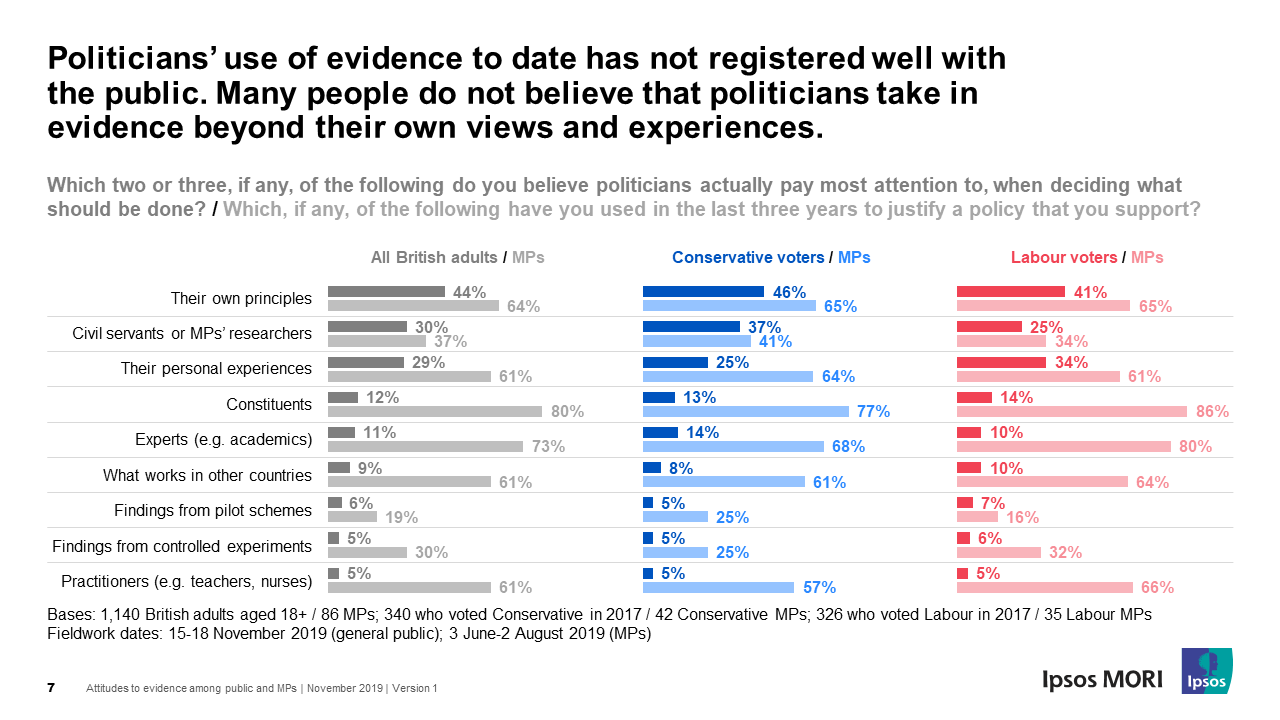 When asked what stops them from making better use of evidence, 4 in 10 (41%) MPs cited a lack of time as the main reason. Over a third (36%) cited conflict with their party policy as a reason, while 32% say a conflict with their own principles stops them from using the evidence given properly. 
Unsurprisingly, when asked what would encourage them to make better use of evidence, 3 in 10 MPs (30%) say more time while 2 in 10 (20%) want the evidence to be clearer or better explained.
Half of British adults (48%) believe politicians and technical experts should have equal control when it comes to making decisions about new Government-led projects. However, there is variation by age. Those in younger generations are more likely to value technical experts over politicians. Of those aged 18-34, only 35% believe decision should be shared between politicians and experts while 22% want decision-making to be mostly done by the experts. Those aged over 55 are more content with politicians making decisions; 55% believe politicians and experts should share the role while 19% want politicians to take charge (only 10% think technical experts should mostly make decisions). 
Kelly Beaver, Managing Director of the Social Research Institute at Ipsos MORI, said:  
This study, the first in our Evidence Matters series, shows that the public still values the views of experts. Politicians however, are more likely to say that they use their own personal experiences and principles to guide decisions instead, with Conservative MPs more likely to say this compared to Labour MPs. Notwithstanding differing party views on what should be important, MPs from both major parties are similar in terms of what they actually do.  So what is driving low use of evidence and experts in political decision making? Beyond the age-old excuse of not having enough time, we also see MPs are less open to evidence that contradicts their party policy or principles, and that they are not skilled enough to select reliable evidence from the mass of data available.
Technical note
The MP findings come from Ipsos MORI's MPs survey.
The summer 2019 MP survey took place from 3 June to 2 August 2019.
Ipsos MORI contacted 475 MPs and interviewed 148 face-to-face. A total of 86 MPs answered these questions.
We apply quotas and weight results by political party to reflect the political makeup of the House of Commons in summer 2019.
The general public findings come from Ipsos MORI's iOmnibus, an online omnibus survey.
Ipsos MORI surveyed 1,140 British adults (excluding Northern Ireland) from 15 to 18 November 2019.
We apply age, gender, region and working status quotas to represent British adults.
We weight data to the population profile by age, gender, region, working status and education.
The sample splits the public into Conservative voters and Labour voters based on how people said they voted in the 2017 General Election.
 
Download