8 in 10 Britons concerned about climate change – half think net zero target should be brought forward
Half think net zero targets should be brought forward
7 in 10 think effects of climate change already being felt
Increase in proportion of Britons that think human activity the main cause of recent hot weather
The latest Ipsos Political Monitor, taken July 21st to 27th, shows strong levels of concern about climate change amongst the British public. Overall, 84% are concerned about climate change, with more than half (52%) 'very concerned'. Levels of concern overall have increased 8 points since April but are consistent with findings in July 2019 and August 2021 (both 85% concerned).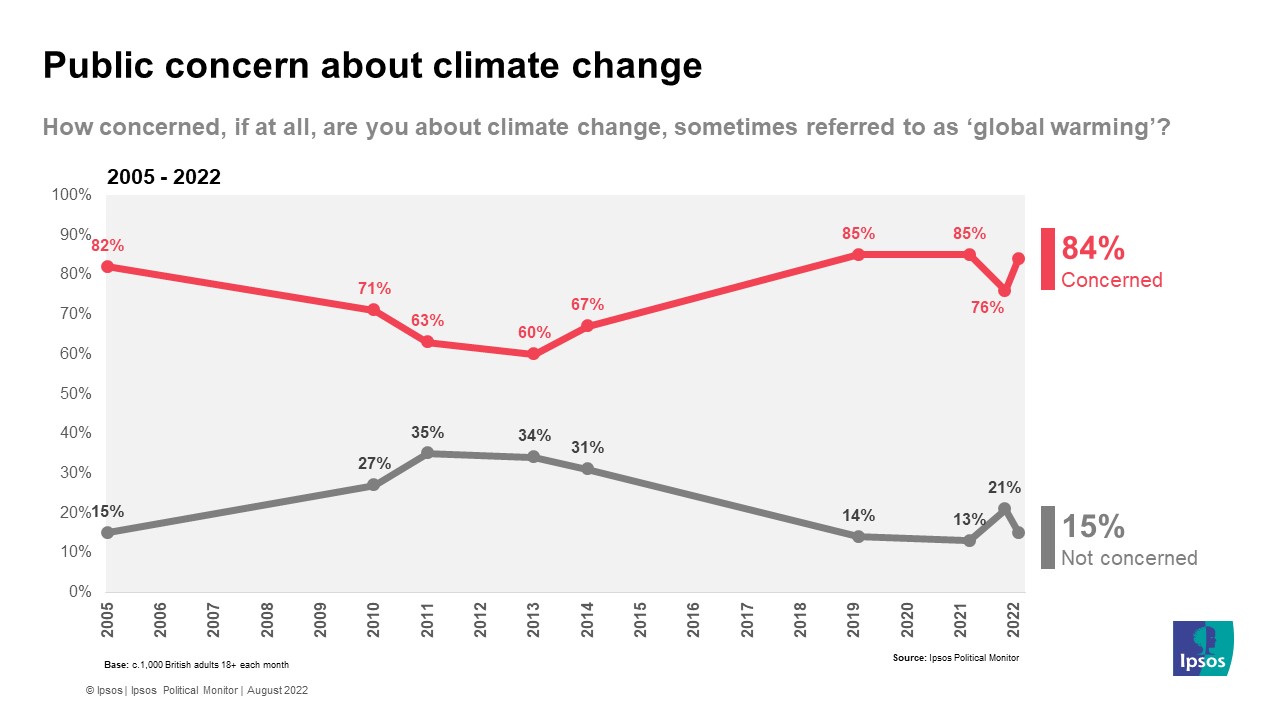 Similarly, when we ask when Britain will start feeling the effects of climate change, 72% say we are already feeling the effects. This is up 5 points from April but matches the 73% that said the same in both July 2019 and August 2021.
What caused the recent hot weather?
When asked what caused the recent hot weather, 40% say the main cause is climate change because of human activity. Just 12% say it has been caused by natural weather processes and 45% think it is a mix of both. This is a different picture to 2019 where 26% thought the main cause of the hot weather that summer was human activity, 15% said it was caused by natural weather processes and 57% said a mix of both.
Net zero targets
When asked about the UK government target of bringing the UK's contribution to climate change to 'net zero' by 2050.
52% think the UK should bring all emissions to net zero before 2050 (-3 points from July 2019).
26% think the target is about right (no change).
7% think the target should be achieved more slowly (+3 pts).
11% say there should not be a target (no change).
Keiran Pedley, Director of Politics at Ipsos UK, says of the findings:
These findings show that public concern about climate change is real and widespread but in reality this is nothing new. The public have been concerned about climate change for some time and recognise its effects are already with us. It is no surprise then that they want to see urgent action to address it, though some may disagree over the right action to take.
Technical note
Ipsos interviewed a representative sample of 1,052 adults aged 18+ across Great Britain. Interviews were conducted by telephone: 21st to 27th July 2022. Data are weighted to match the profile of the population. All polls are subject to a wide range of potential sources of error. On the basis of the historical record of the polls at recent general elections, there is a 9 in 10 chance that the true value of a party's support lies within 4 points of the estimates provided by this poll, and a 2 in 3 chance that they lie within 2 points. This is especially important to keep in mind when calculating party lead figures.