One month in: British public opinion on COVID-19
In a new blog, Rachel Burkitt and Anna Quigley review our recent polling, looking at how public opinion in relation to COVID-19 has changed over the past month.
In little over one month, we've seen a scale of change in our lives due to the coronavirus outbreak we could never have anticipated a year ago. Here, we look back at our recent polling to see how public opinion has changed over this short but unprecedented period.
We've understandably become more concerned
We've seen our engagement with the crisis, and concern about it, shift as the virus has progressed and got closer to home.
While for some time we saw this as a problem for others rather than ourselves, concern about the virus rapidly increased in March and remains high. However, we have consistently been more concerned about the risk it poses to the country as a whole, than for ourselves individually.
Our global polling also shows that the crisis is seen as a financial threat as much as a health threat. Around three quarters of the UK public are concerned about the financial impact on them personally. Financial concerns (about personal finances, threat of redundancies, and risk of a global recession) have consistently outweighed health concerns.
Those concerns may be driven in part by the uncertainty around how long this will last. We recognise we're in this for the long haul. In the UK in particular, we were relatively quick to recognise just how long the pandemic and its effects would last. In early March, when majorities of other countries (roughly the same or behind us on the curve) were saying that they expected things to return to normal by June, around half (49%) in the UK thought the same - and this decreased rapidly in the weeks that followed. Now, the majority expect to wait over six months for things to return to normal.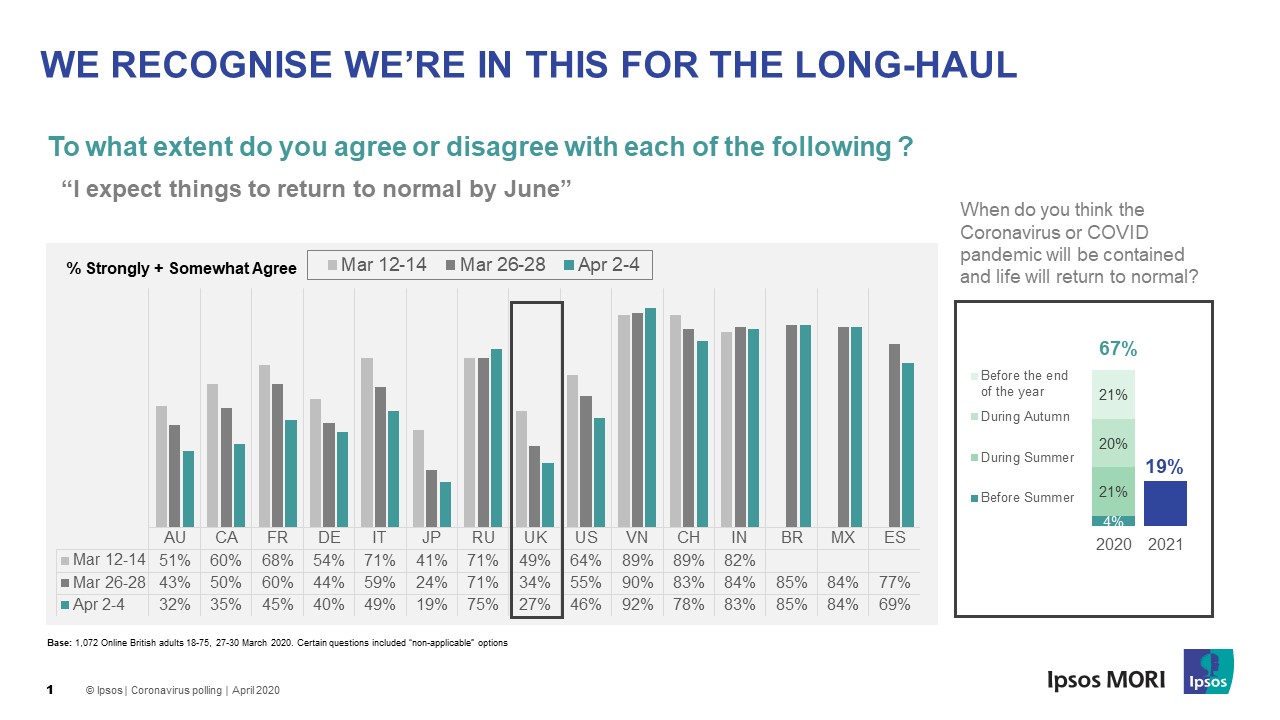 And we're pessimistic about the economic recovery. Only a quarter (25%) of people in the UK think it will recover quickly, and we're more gloomy than many other countries in this regard.
Life as we know it has changed dramatically
Overnight, we've completely changed our day-to-day lives – the way we work, shop and keep in touch with loved ones and colleagues. We've moved as much of our lives online as we can.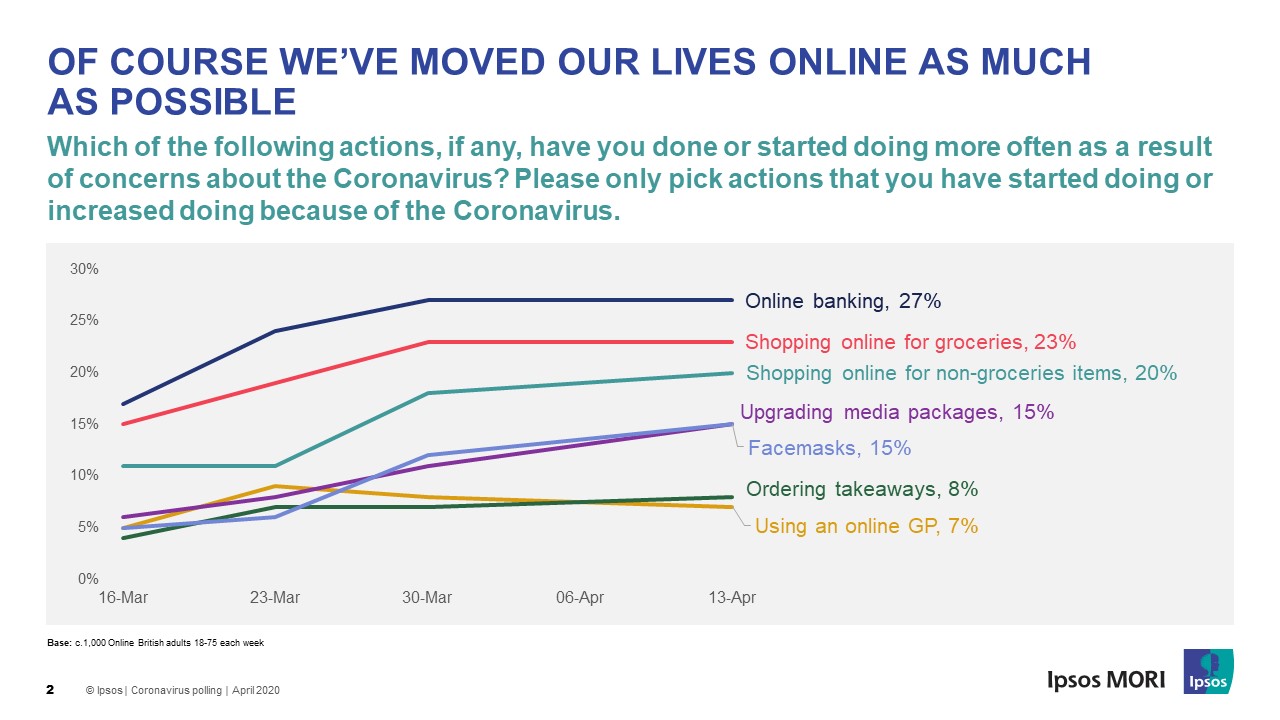 But we are finding a lot of these changes hard. Almost three in five (58%) are finding it harder to stay positive about the future, and 56% are finding it harder to stay positive day-to-day. Almost half of us (47%) are finding it harder to stay in touch with loved ones. Practical things are also becoming more difficult; over three quarters (77%) are finding it harder to get what we need from the shops, and three in five (59%) are finding it harder to be able to do our jobs.
Support for the Government – and the NHS – has grown
We've also rallied behind those in charge. We've seen increases in support for Government – typical in times of crisis. In particular, we are more favourable to Boris Johnson (51% favourable in April compared to 47% favourable in March).
However, many of us would have liked quicker action. Almost three in five (57%) think the measures taken by the Government were too late. As might be expected, Labour voters are more critical of Government handling of the pandemic.
As anyone will know when standing on their doorstep each Thursday evening, we value the efforts of the huge army of workers helping us through the crisis – especially the NHS. Our data has long shown the strength of feeling about the NHS that exists, and it has become a point of focus during this crisis. As the NHS has coped, adapted, and built its capacity, our confidence in its ability to deal with the impact has grown. Compared with other countries in our global study, the UK stands out as particularly positive – around 9 in 10 say it's doing a good job – higher than in most other countries when talking about their own health systems.
We've accepted things we wouldn't normally
As the lockdown continues, we've accepted things that we wouldn't have done previously.
We're willing to give up our privacy to fight the spread of the virus. The majority of the public say they would support the use of mobile phone roaming data for surveillance by the Government in a range of ways to help limit the effect of coronavirus. Almost two-thirds (65%) support the Government using mobile phone data to track the spread of the virus, and half (51%) say they would support it being used to find out if individuals are breaking the rules so they can be penalised. This comes after 67% of Britons said they were concerned about how information collected about them online by the government was used, just a few months ago in November 2019 as part of the Ipsos Global Trends Survey.
We're starting to see changing attitudes to facemasks. The proportions reporting using them increased steadily throughout the last month, though remain low compared with other countries. Our attitudes here are very different to many of the other countries; we're more likely to say we don't see the value of wearing facemasks or wouldn't be able to get them if we wanted to. However, we're willing to change: three quarters (74%) say they would be likely to wear them if Government advice changed.
We've become more caring
As the overwhelming response to the call for volunteers to help the response to the pandemic has shown, in some respects the virus has made us more caring and brought us closer together, and our data reflects this.
In our global study, we ask how people are currently feeling. In the UK, our overriding emotion is concern for the vulnerable, more so than in other countries. Our UK polling has shown we're worried about our own family and friends – we're checking in on them and thinking about our neighbours and wider community.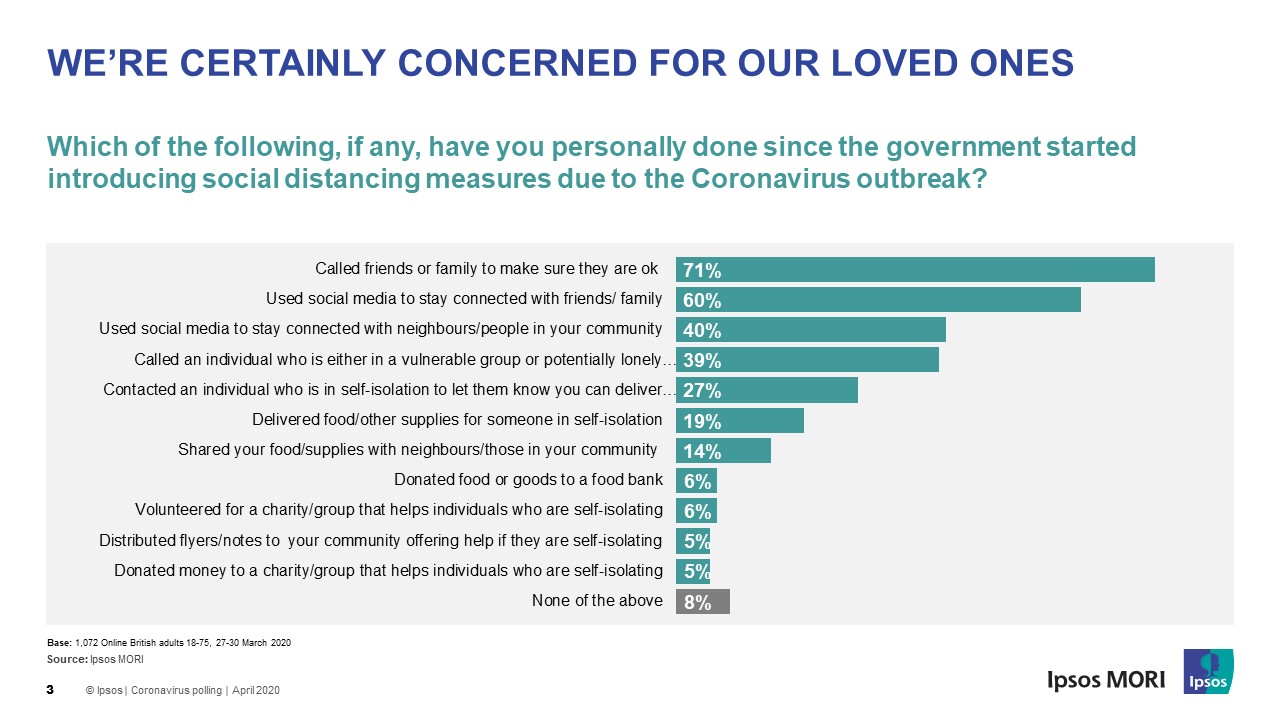 We've become more aware of our mental wellbeing. Mental health is something that we have seen increase in salience over recent years anyway. Our data suggests the pandemic has increased our focus on it as an issue that affects us all. One in five (20%) say they are concerned about mental illnesses such as anxiety and depression as a result of the pandemic. Women are much more likely to say this (28% vs. 13% of men) and also more likely to be taking action to cope e.g.. making an effort to keep in touch with others.
What's next?
The question many of us are now turning to is what the exit from this lockdown will look like – how long will it take to get back to normal and how many of these changes will endure? This is something we will continue to monitor at Ipsos, to support the government, policy makers, service providers and brands think about how they need to adapt and how they can communicate with the public in the coming weeks and months.