Boris bounce as Brits rally round him
Ipsos's Political Pulse for April 2020 shows the Prime Minister with significantly higher approval ratings since March while half have yet to make up their mind on Keir Starmer.
Boris Johnson's favourability rating increases sharply, with the Conservative Party's image also showing some improvement
By a small margin, the public now think the country is heading in the right direction
One in two Britons are yet to form a view new Labour leader Keir Starmer. Those who do express a view expect him to improve the party's fortunes by a seven-to-one margin
Perceptions of the parties and their leaders
Ipsos's new Political Pulse poll shows a significant bounce in Boris Johnson's favourability ratings, while Keir Starmer has his work cut out for him as the new Labour leader. The new survey asked 1,069 British adults online aged 18+ between 10th – 13th April how favourable they are towards the main GB political parties and their leaders.
Leader favourability ratings
The majority of Britons (51%) now have a favourable opinion of Boris Johnson (up 17 points from early March), with three in ten (31%) saying they have an unfavourable opinion of him (down 16 points).  
Kier Starmer starts his reign as party leader with a quarter (26%) saying they have a favourable opinion of the new Labour leader while one in five (21%) have an unfavourable opinion of him.
When asked if the new Labour leader will change the party for the better or worse, 43% say he will change it for the better, while 31% say he will make no difference. Just 6% think he will make the party worse.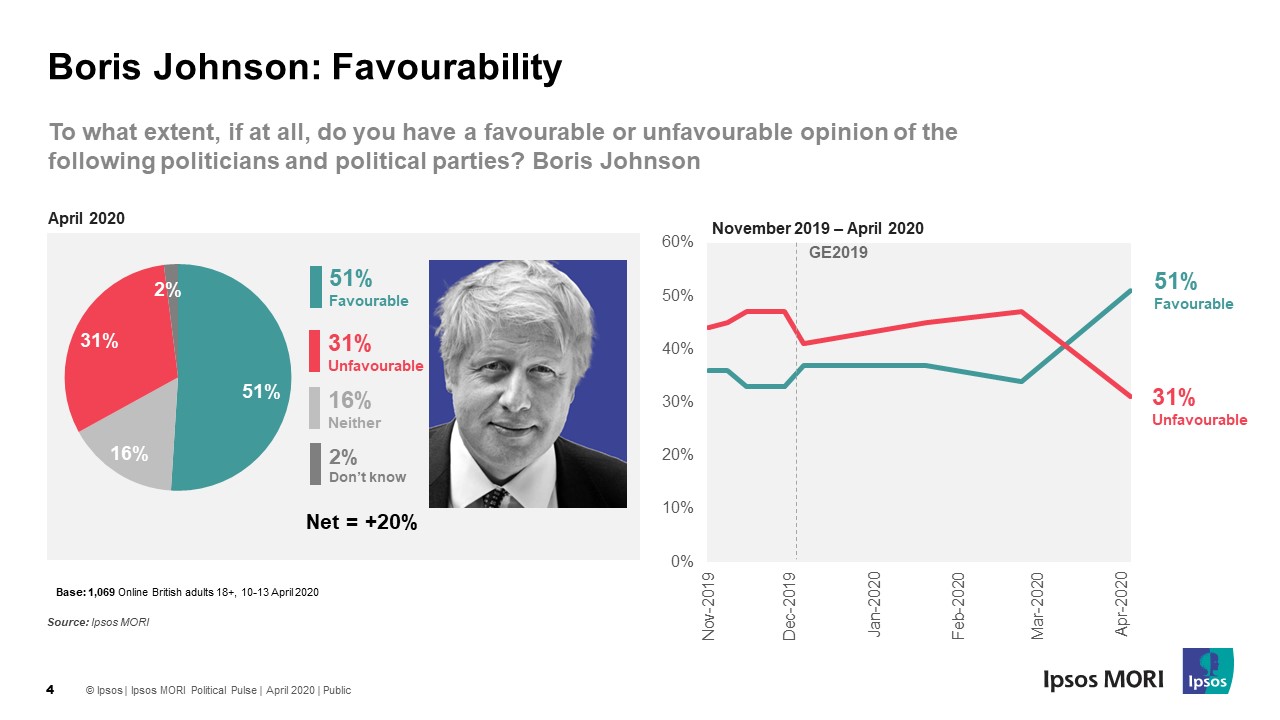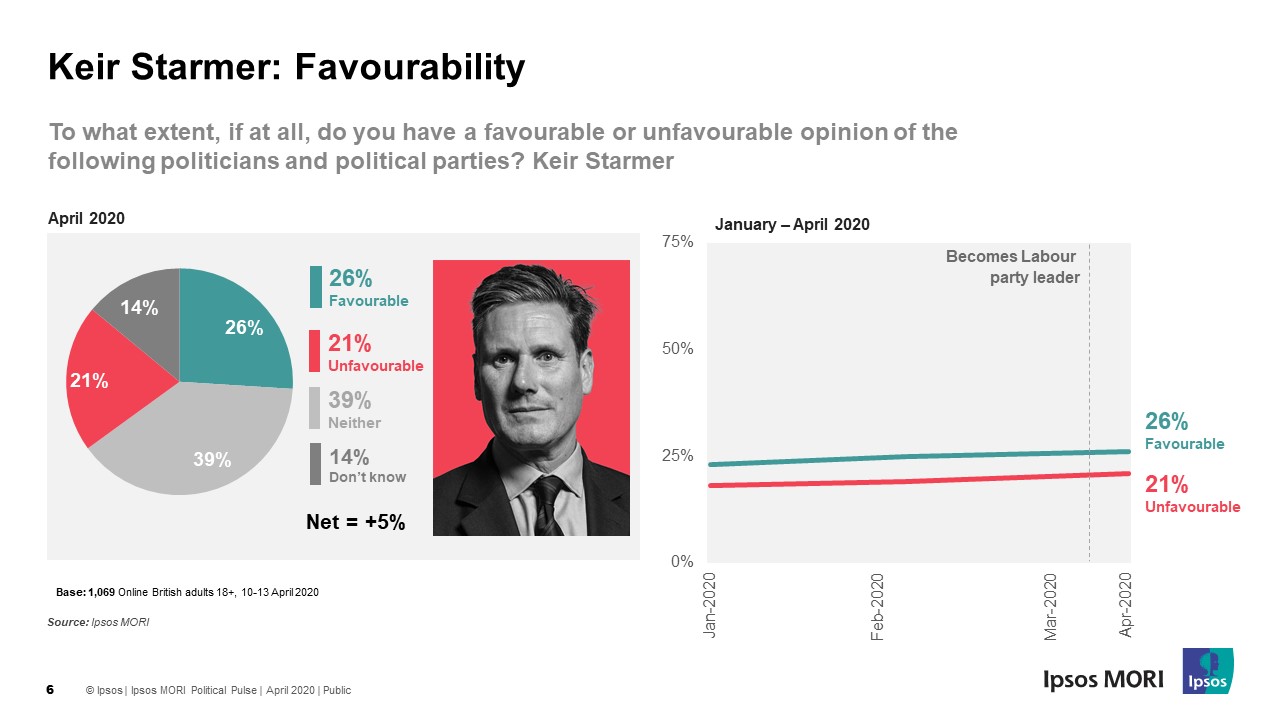 Party favourability ratings
The public have also become more favourable towards the Conservative Party since last month. Two in five (39%) now have a favourable opinion of the party (up 7 points), while 37% are unfavourable towards the party (down 8 points).
At the same time, Labour is less unfavourably regarded than a month ago. Three in ten (30%) take a positive view (up 4 points) while two in five (40%) are now critical (down 12 points).
The Liberal Democrats meanwhile have a larger hurdle to overcome with 17% favourable and 42% unfavourable.
Britain's direction
For the first time this year, more believe Britain is moving in the right direction (40%) than think it is moving in the wrong direction (35%).
Conservative and Leave voters are amongst the most positive. Seven in ten (71%) of 2019 Conservative voters say the country is moving in the right direction, compared with just 18% of Labour voters. Two-thirds (63%) of Leave voters say the country is moving in the right direction, compared with 25% of Remain voters.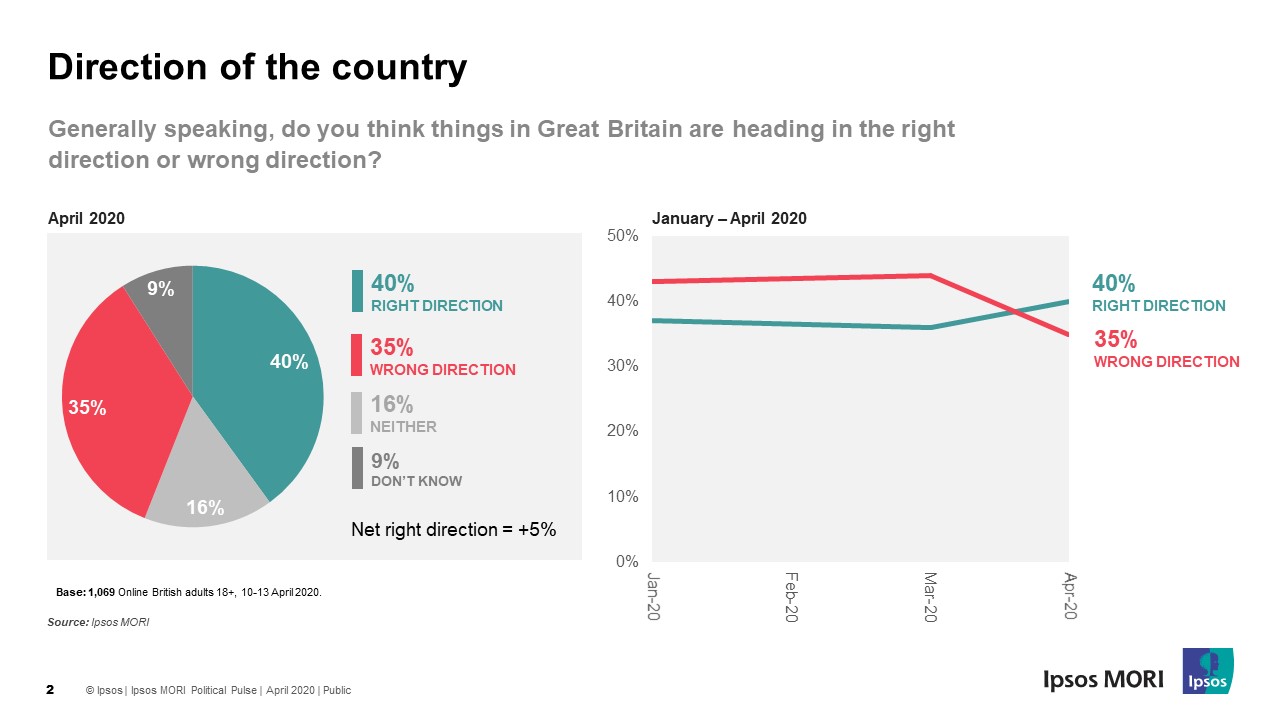 Commenting on the findings, Ipsos Managing Director of Public Affairs, Kelly Beaver said:
Our findings show that during these uncertain times, public opinion continues to move in a more favourable direction for Boris Johnson as he leads the country through the Coronavirus crisis and Brits rally round the government, an effect we're seeing in a number of countries. There is a glimmer of hope for Keir Starmer as he takes over as Labour Leader, with more people thinking he will make the Labour party better than worse. Only time will tell if that translates into popular support for the party rising.
Technical Note
Ipsos interviewed a representative sample of 1,069 British adults aged 18+. Interviews were conducted online: 10th – 13th April 2020.  Data are weighted to match the profile of the population. All polls are subject to a wide range of potential sources of error.