Majority of Britons support government using mobile data for surveillance to tackle coronavirus crisis
Despite earlier concerns about the use of data tracking by the government, the British public appear to be more comfortable with it's use in the fight against coronavirus
In a new online survey by Ipsos, a majority of the public say they would support the use of mobile phone roaming data for surveillance by the Government in a range of ways to help limit the effect of coronavirus. 
The British public support tracking those diagnosed with coronavirus, and those that they have been in close contact with, in order to advise those individuals to self-isolate themselves. Almost two-thirds (65%) support this, including 28% that strongly support it. Only 16% oppose it. 
This comes after 67% of Britons said they were concerned about how information collected about them online by the government was used just a few months ago in November 2019 as part of the Ipsos Global Trends Survey.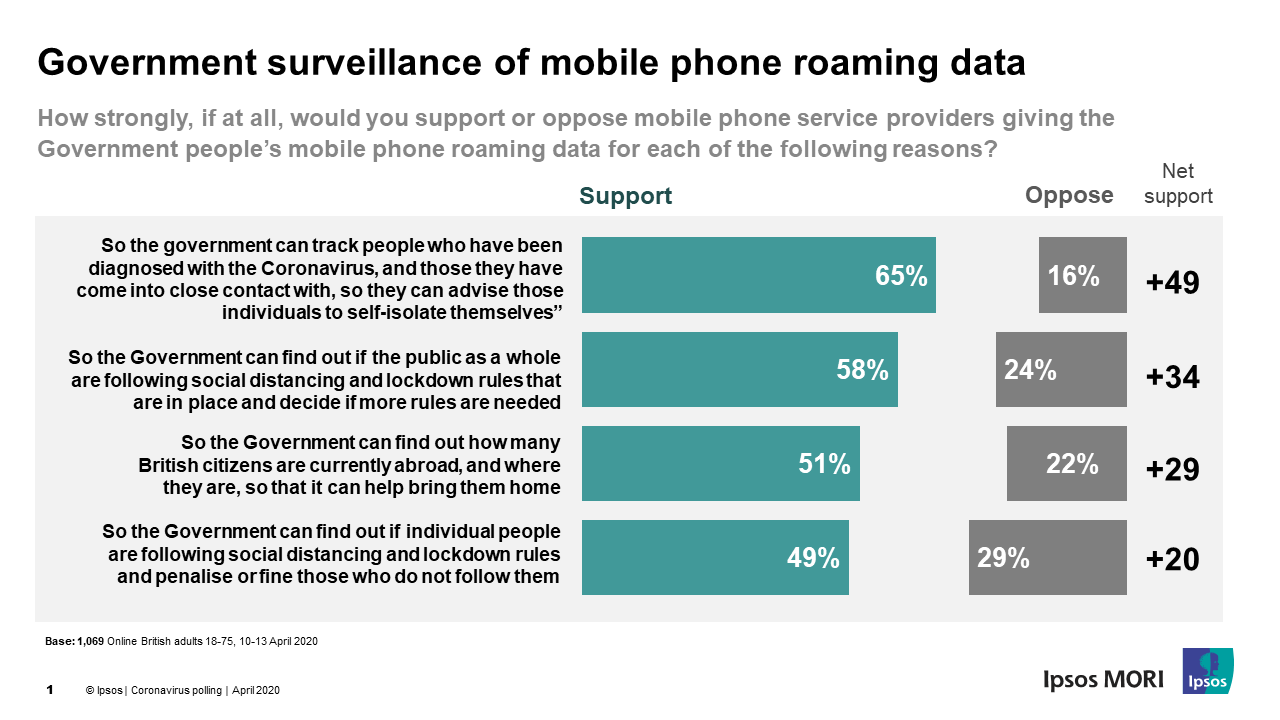 Around 6 in 10 (58%) support the use of surveillance by the Government to find out if the public as a whole are following social distancing/ lockdown rules to help them decided whether more rules are needed in order to be effective (24% oppose this). Fewer are supportive when it comes to tracking people in order to give punishments. Just under half (49%) support the Government using surveillance to find out if individuals are flaunting social distancing and lockdown rules in order to penalise/ fine those who do not adhere. However, only 29% are opposed to this use of mobile roaming data for this type of surveillance. 
Half of Britons (51%) support the use of government tracking in order to find out how many British citizens are currently abroad and where they are in order to help bring them home. Only 22% are opposed to the use of mobile date for this. 
Fewer young people are as supportive of the government using mobile roaming data to help stop the spread of coronavirus compared to older age groups for each of the methods mentioned. For example, 59% of 18-34-year olds would support tracking those diagnosed with coronavirus along those they came into close contact with, compared to three-quarters (73%) of 55-75s. Similarly, just over half of 18-34s (52%) support tracking in order to show whether the public as a whole are following lockdown rules in order to determine if new measures are needed compared to 62% of 55-75s. 
Ben Page, CEO of Ipsos, said:
Despite concerns about privacy the public clearly support Chinese style tracking to deal with Cv19. Two out of three people favour government tracking people to alert them if they are close to a CV19 carrier, and around half are comfortable with fines and penalties if tracking shows people ignore lockdown rules
Technical note:
Ipsos interviewed a representative sample of 1,069 British adults aged 18-75. Interviews were conducted online: 10th – 13th April 2020.  Data are weighted to match the profile of the population. All polls are subject to a wide range of potential sources of error.