The Inside Track: Election 2020 February Briefing
Key highlights from February's Inside Track: Election 2020, a monthly webinar briefing from the Ipsos political polling team on data and trends shaping the 2020 election.
The Inside Track: Election 2020 presents monthly, in-depth analysis of the latest public opinion data on current trends and recent events influencing the political landscape. Read on below for highlights and key insights from this month's webinar.
---
What you need to know
Chinese consumer sentiment dropped to its lowest point in three years, following the new, fast-spreading coronavirus.
If the coronavirus continues its global spread, it may have possible implications for the global and U.S. economy heading into election season, where President Trump is riding on a strong economy built around consumer spending.
Trump's approval numbers have not budged now that the impeachment trial is over.
Perceptions about President Trump's impeachment trial did not change. Nor did his job approval numbers, a strong sign for an administration revving up for reelection.
Current frontrunner in the Democratic primaries, Senator Bernie Sanders, leads the polls with 28% of vote consideration.
With voters casting their ballots in early states, previous front runner Joe Biden has fallen, while Sanders is rising in the polls and is just a hair ahead in the delegate count. It is still an open race as Democratic voters search for who is best positioned to beat Trump.
---
Deep Dive
Vital Statistics: Coronavirus Hurts Chinese Consumer Sentiment
Global consumer confidence levels remain high both globally and within the United States, despite worldwide anxiety about the coronavirus outbreak. The outbreak is centered in China, where the economic cost of the virus is making itself felt. If the outbreak continues, those contractions in China could ripple out to other countries, given the large role the country plays in the global economy.
Since the fast-spreading virus was first reported in January, China's consumer confidence dropped by 4.3 points to 65.3, its lowest level in three years.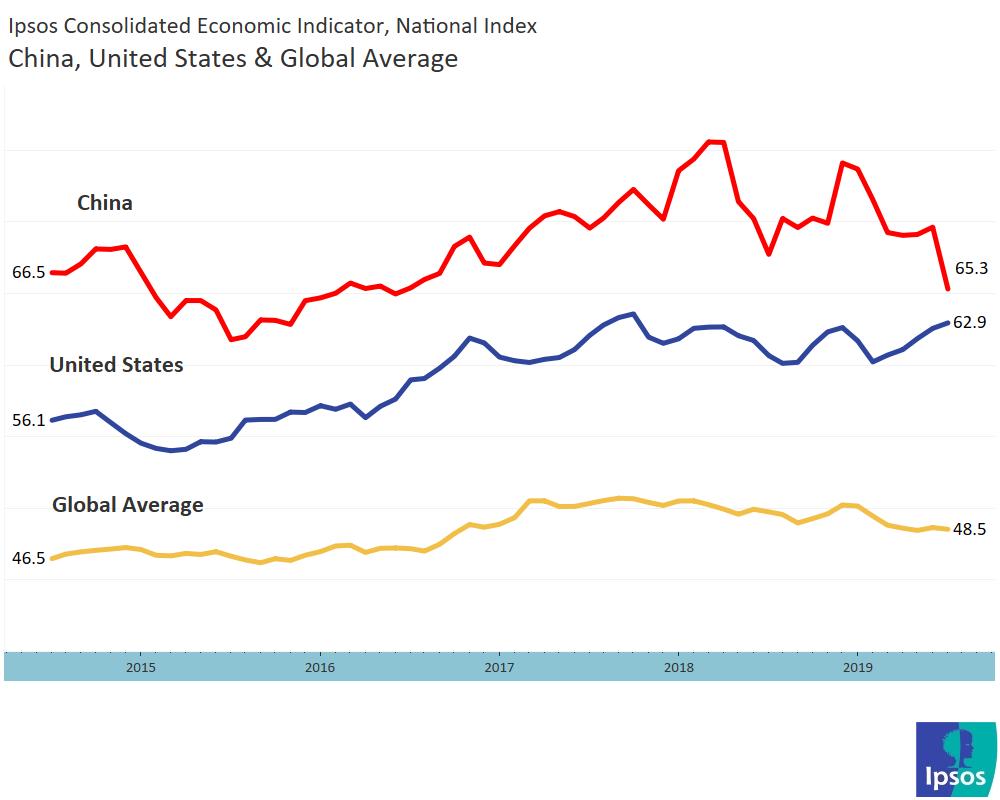 Perceptions of President Trump: Trump's acquittal
In a move that surprised no one, the Senate acquitted President Trump in early February. Public sentiment about Trump's relative guilt or innocence, and whether it would be appropriate to remove him from office, barely budged over the course of the impeachment trial.
Reuters/Ipsos polling shows that perceptions of his job performance also haven't changed, a constant throughout the Trump presidency.
The Democratic Primary: It's Sanders's Race, Probably
Getting into primary season, Sanders holds the lead in delegates, followed by former South Bend mayor Pete Buttigieg. Yet the primaries are proving to be volatile. Reuters/Ipsos public opinion polling shows that much of the Democratic vote is fractured, to Sanders' advantage.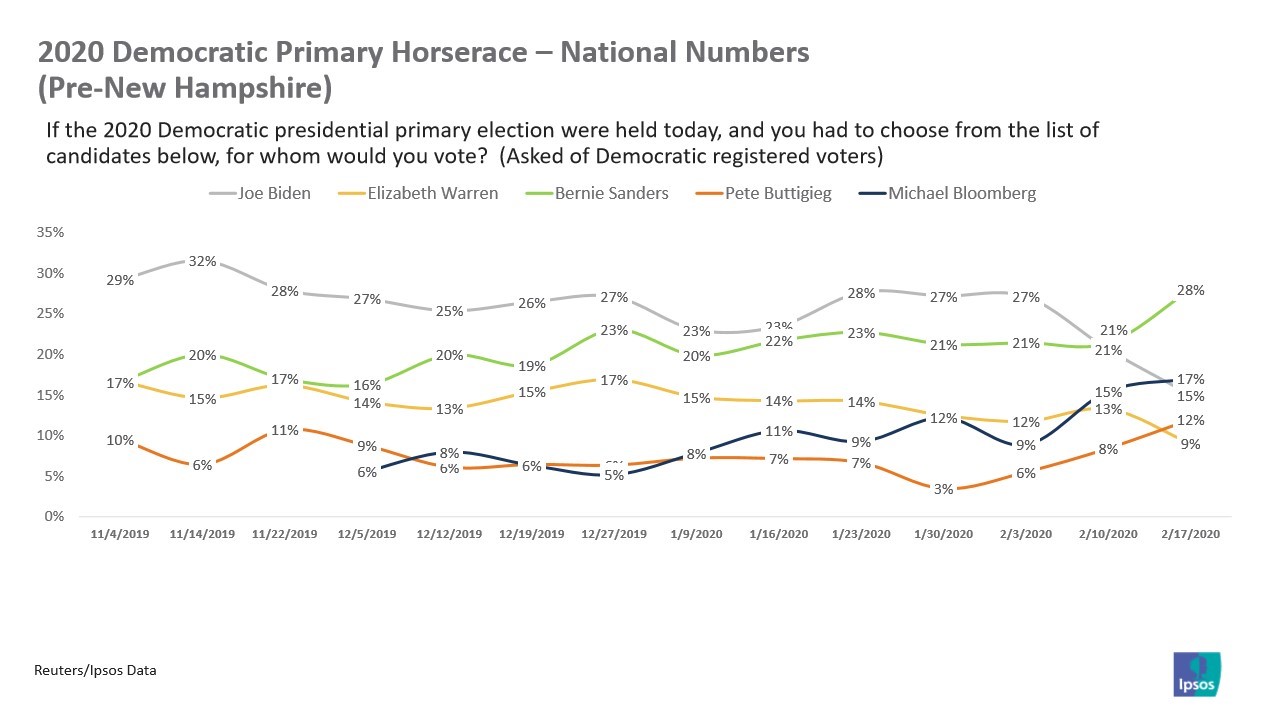 What Could Still Alter the Race: Democrats' Focus on Electability
By and large Democratic voters are looking for a candidate who can beat Trump, but who that may be is still an open question.
For the majority of the primaries, Democrats thought Biden had the best shot at beating Trump in the general election. He enjoyed a comfortable lead on that metric for months.
Then came Iowa and New Hampshire, where Biden finished in fourth and fifth place respectively. The "most electable" candidate proved unable to win in those early states, and perceptions of his chances against Trump tumbled. He is now on par with Sanders on the electability metric, while Bloomberg edged up to third place.
After coming in second behind Sanders in Nevada, views of Biden's ultimate electability might possibly improve, particularly if he goes on to perform well in South Carolina.