The Changing Landscape of TV
Compared with five years ago, it is undeniable that the TV landscape is now vastly different to what it once was. With the rise of Over-the-Top Subscription Video-on-Demand (OTT SVOD) services such as Netflix and Amazon Instant Video, together with the majority of broadcast and cable networks offering an unheard of plethora of viewing options, how the average person consumes TV content has changed immensely, and will continue to do so.
Nothing encapsulates this more than a recent Ipsos MediaCT TV Dailies study (fielded September 8 - 14), which asked 2,000 TV viewers ages 18-49, which networks or services they had viewed in the past week, the number of hours that they watched, and whether the networks were in the top three that they considered to be "cool". Snugly nestled in the top ten for watched at all in the past week are digital giants YouTube and Netflix, however once we look at those who have watched them for five or more hours in the past week, Netflix takes the top spot with YouTube coming in third place. These services are also the most frequent picks for the three coolest networks, with Netflix commanding a large lead and YouTube surprisingly just edging past HBO.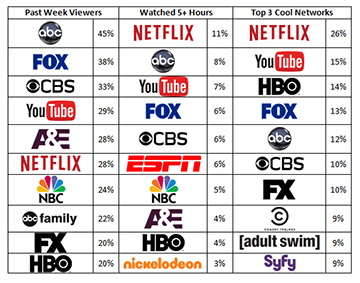 This illustrates perfectly how much the TV world has changed in the past few years. Traditional networks are bested by digital competition in terms of number of hours watched and the coolness factor, something that would have been unthinkable five or six years ago when Netflix, for example, was known primarily for mailing DVDs. This really does show the degree to which the TV world can change.
It is also worth pointing out that several of the cool brands are those seen as more `niche' or focused only on one genre and not in the top ten most watched - networks such as Adult Swim, Comedy Central and Syfy rate higher than NBC, and most large cable networks. Coupled with networks either known for pushing boundaries (FX and to some degree, Fox) or without censors (Netflix and HBO), it is interesting to note that high viewership does not automatically lend itself to being seen as cool.
What Is TV Everywhere?
In a recent MediaCT TV Dailies study, we asked 1,763 adults 18-49 to select one of four statements that best describe TV Everywhere. Of the four, the most popular was "Being able to watch TV anywhere", with over 6 in 10 (61%) choosing this. This suggests that there currently exists a decent level of awareness about TV Everywhere.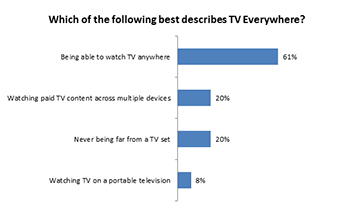 What Is The Current State Of The TV Landscape?
With the glut of TV viewing options currently available, it would be interesting to see how people are currently watching TV - are they replacing the regular TV with other devices or simply watching more content as it becomes easier to do so?
The Ipsos MediaCT TV Landscape Study began by asking familiarity with the concept of TV Everywhere. In the Landscape study, we defined TV Everywhere as "TV Everywhere refers to television providers and networks allowing subscribers to access their content on digital platforms such as tablets, computers or connected TV devices like Roku or Chromecast."
Note that in the analysis of results that follows, we define Millennials as those born between 1980 - 1996 (those aged 18-34 in our survey) and Generation-Xers as those born between 1965 - 1979 (those aged 35-49).

Overall, half of adults 18-49 (53%) have used a TV Everywhere service, with this proportion significantly higher among younger Millennials 18-34 (61%) than the older 35-49 non-Millennial segment (44%).
The use of TV Everywhere also appears to be related to behaviors around how individuals watch TV. Perhaps unsurprisingly, those who say they prefer to watch TV shows on devices other than a TV set are more likely to have used TVE services, at 68% compared with just over half (51%) of those who prefer to watch their shows on a TV.
Another interesting difference emerges when we look at the data among binge viewers, which we defined as watching "multiple episodes of the same show back-to-back or within a short period of time". The rise of the internet and TV Everywhere has both encouraged and aided the ability to binge watch shows, as did DVRs, with multiple outlets available to use in order to watch several episodes of a show in succession. It appears that there is some sort of relationship between TVE and binge viewing, given that those who binge watch all of their shows are the most likely to use TVE, with this decreasing by binge viewing frequency.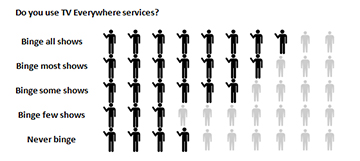 Thus it would appear that TV Everywhere is aiding the consumption of more shows and content and allowing binge watching, as evidenced in part by Netflix and YouTube being among the more heavily used services in a typical week.
Is Viewing Behavior Changing?
With the majority of adults aware of what TV Everywhere is and half having used it, does this mean that it is becoming the preferred medium for watching TV shows? Not quite. Whilst the availability and choice that TV Everywhere brings is having an impact on how people prefer to watch TV episodes, according to the TV Landscape Study, the majority (59%) of P18-49 prefer to watch shows live as they air versus on-demand or delayed viewing.
This however demonstrates that a sizeable minority - 4 in 10 TV viewers - prefer to watch things on their own schedule, which is bad news for traditional advertisers, but good news for those engaging in product placement! Millennials are significantly more likely to prefer watching shows delayed (46%) than Generation-Xers (36%), but it should be noted that even Millennials have a stronger preference to watch shows live (54%), so as it stands, live viewing is the method of choice - just - for both age groups. Below is a graphic to illustrate the rising trend for delayed viewing:

Of interest here is that viewing live may be in part due to circumstance, as when we look at this data among Cord Lovers, Shavers, Cutters and Nevers, we find the preference for live viewing strongest among those who have kept or added to their subscriptions and decreasing down to those who no longer have a subscription:

The fact that Millennials are significantly more likely to prefer delayed viewing to Generation-Xers is further illustrated when asked specifically about binge watching. Over 4 in 10 (42%) of Millennials say that they binge watch most or all of the shows that they watch, versus 2 in 10 (24%) of Generation-Xers - a significant difference.

When it comes to devices preferred to watch TV, things are a little more unanimous. When asked if they preferred to watch TV shows on a TV set (including any connected device such as a DVR, cable box, Roku or Apple TV) or device other than a TV (tablet, computer or smartphone), nine-out-of-ten TV viewers 18-49 said on a TV. This drops slightly to eight-in-ten Millennials, but even that is a vast majority and suggests that watching on other devices may never become the default way to watch TV shows.

Again we find that those who prefer to watch via means other than live TV may be more circumstance based than anything else, with Cord Cutters and Nevers most likely to prefer this option, and Cord Lovers the least.

Overall then, this data suggests that whilst people are becoming less likely to watch TV shows live (and this may be in part due to the proliferation of content making it impossible to watch everything live), watching via a TV is still the most preferred option, be it for live or delayed viewing.
Despite the changes we are seeing in viewing habits, watching content on a big screen remains the primary means of watching TV - it appears that TV viewers still do value the experience versus the portability of TV Everywhere capable devices. But with that said, how have people tried to watch TV shows other than live on TV?
How Are People Consuming TV Shows?
We have established that both Millennials and Generation-Xers are expressing a preference for watching TV content on TV sets. But this does not necessarily mean via live TV. The seemingly endless ways to watch TV shows continues to rise, with smart TVs, connected devices, video game systems and content casters all able to display TV shows from the variety of services on offer.
To try and uncover what the most popular services are to watch TV content, other than live TV, we asked respondents in the Landscape Study if they had ever watched a full episode of a TV show by 20 different methods. Illustrating the changing marketplace, tied in first place overall were DVRs and Netflix, each with 60%.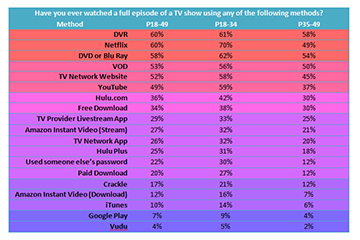 Several stories emerge from this. Just over half of TV viewers have watched a show via Video on Demand. This will be of interest to the industry given the current push for consumers to watch via this medium instead of DVRs, owing to its ability to dynamically insert/update ads and lock the viewer into watching them. Paid download services are among the least used methods to watch TV shows, with only one-in-five saying that they have ever paid to download a service. Among the paid download services, Amazon Instant Video is the most popular, followed by iTunes.
Another point of interest is that half of adults 18-49 have watched a TV show on a network website, twice as many as have watched on a network app. Incidentally, only one-in-three adults say they have ever downloaded a TV network app onto a device, and among these, the vast majority have watched a show on an app (82% of those who downloaded have watched via an app). It should be noted that around one-in-five adults are yet to use an app to watch a show, meaning that there is potential for this medium to grow as internet speeds quicken and devices grow larger.
As may well be imagined, the most used methods to watch a TV show differ somewhat between Millennials and Generation-Xers. Millennials are significantly more likely than Gen-Xers to have ever watched a TV show on every medium aside from DVRs; in essence they are complete non-traditionalists when it comes to consuming content. Also of interest here is that VOD as a viewing medium for Millennials is in sixth place, but makes the top three ways for Generation-Xers, along with other more traditional avenues of DVR, DVD and VOD.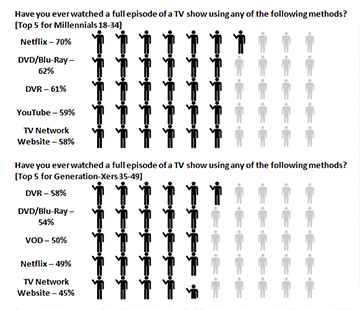 Millennials are significantly more likely to have watched TV shows on the new and emerging ways such as TV network websites (58% vs. 45%), network apps (32% vs. 20%), downloading either free (38% vs. 30%) or paid (27% vs. 12%). They are also significantly more likely to have borrowed someone's password to watch content (30% vs. 12%). This is in part driven by being the generation that grew up with the advent of the internet, of smartphones and of technology in general. Culturally, Millennials are much more at ease with changing technology and don't view a new way of watching a show with suspicion.
Overall, this points towards changing attitudes among TV viewers, as has long been stated in the industry. The evidence of the Landscape Study suggests that if you are a content provider and want to reach the widest audience possible, being available on a small number of platforms will only limit your exposure. This, of course, opens up new revenue streams for rights holders, and although presently these are frustrating to the potential viewer (such as not all cable providers having access to network apps and the general digital rights issue with different seasons available on different platforms), once the kinks are ironed out, being exposed to the largest possible audience will mean having the largest possible number of viewers. In turn, this means more novel ways will be invented to seize back the viewing of commercials in these halcyon days of skipping ads - i.e. things will change.
Are These New Channels Used To View Shows Often?
Having established that more and more TV viewers have watched TV shows by means other than live TV, the next question to ask is whether live TV is being threatened by people frequently watching via other methods. Obviously the days of 100% of viewing via live TV have long passed by, but how long does it have left?
Based on our findings, there is life in the old gal yet. Live TV is still the most frequently used medium by quite some degree, with close to half of P18-49 saying that they watch via their TV at least daily. Even among Millennials, where the figure is lower, Live TV is still the most used medium to watch TV shows.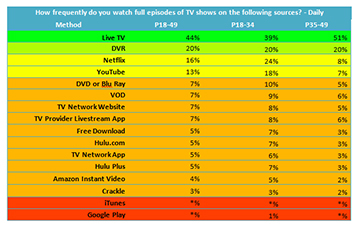 Where it begins to get interesting are the differences between the older and younger generations. Both are most likely to watch shows on a TV (albeit with Generation Xers significantly likely to do so), and the same proportion use their DVRs daily to watch content. Whereas that appears to be it for the main sources of viewing for those 35+, Millennials are much more likely to watch on various sources daily. Netflix as a source of TV show viewing is stronger than DVR, with YouTube close on its heels. Other online sources are also greater for Millennials than Gen-Xers on a daily basis, but there is one more interesting story in the data. To all those espousing that watching via Apple TV or Android as the way to the future, the daily viewing figures suggest that watching via these formats are extreme minority behavior, with less than 1% of TV Viewers watching daily via iTunes, and a similar proportion for content via Google Play. When you consider that only 10% and 7% respectively say that they have ever watched a show via these platforms, the niche that they currently occupy becomes clear.
We can delve a little deeper into how people are watching TV shows and look at the amount of time that they said they spent viewing shows in the previous week.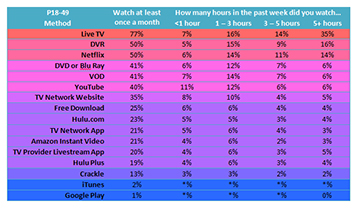 By far and away, watching TV shows via live TV is both the most frequently used medium to watch TV shows and the heaviest, with 35% of all P18-49 saying that they spent at least five hours or more a week watching via this source.
What is of interest when looking at this are the clear bands of usage between different platforms. We have already mentioned that Live TV is the heaviest in terms of viewing, but this is followed by DVR and Netflix, with half of TV viewers saying they watch a TV show via these means at least once a month. In terms of weekly viewing, DVR edges out Netflix once we look at those who view for five or more hours, but this demonstrates again the growing power of Netflix as a platform that blends movies, re-runs/syndication of old TV shows and premium new content.
We come to next the third tier of platforms used to watch TV shows, which is a band featuring DVD/Blu Ray, Video on Demand and YouTube. It may be interesting at first to see that two-in-five TV viewers say that they watch TV shows on DVD at least once a month, but considering most shows are still released as box sets etc., that makes sense. We anticipate this number to drop over the next few years as consumers become more at ease with online digital libraries and the concept of renting vs. owning content.
Although it is not shown, seven-in-ten TV viewers said that they had not watched a show on DVD/Blu Ray in the past week, which suggests it is not a heavy viewing alternative. One other point worth making for this band is that YouTube has a higher proportion of people saying that they were very light weekly viewers (less than an hour) for TV shows, so although a high proportion sayi they watched within the past month, they tend to be watching less TV content on this platform.
Sitting by itself between the two largest groups we find the first of the new platforms designed to provide new episodes of shows from networks, as opposed to Netflix which primarily features old episodes of network shows. Just over one-in-three TV viewers say that they watch a TV show on a TV network website once a month, but in terms of weekly viewing, this tends to lean toward the lighter side of viewing i.e. it is not quite yet an alternative for live viewing or even DVR. This is likely due to not being available easily on a physical TV set.
The next tier, by far the largest, contains the majority of emerging platforms for watching TV shows: Hulu (both the free .com and subscription Hulu Plus), Amazon Instant Video, downloads, live stream apps and network apps. These account for between one-in-four and one-in-five TV viewers using them to watch shows at least once a month, but again all tend to veer toward light weekly viewing in terms of hours, suggesting that they are supplementary viewing options and not yet replacing the more traditional methods.
At the very bottom of the list, we find pay-per-viewing options such as iTunes and Google Play. Anecdotally, we found in previous research (Who's Cutting the Cord?) that Cord Lovers, i.e. those who have added to or maintained cable/satellite subscriptions in the past six months, are most likely to use these services, contrary to the common misconception that it is those without a subscription who switch to this method. This still appears to be the case by the low adoption rates. Possibly one way for these services to increase their usage would be to create exclusive content with high-level production and famous actors (а la Netflix and House of Cards), but even that may not be enough to make these options compete viably long-term with the more ensconced TV options.
To see how these figures fall out between Millennials and Generation Xers, please see the appendix.
What Devices Are People Using Other Than Live TV Or DVR?
The last question put to survey takers was concerning the devices that they used to watch TV in the past week. Previously we were mainly concerned with platforms, but we are now switching the focus to devices that allow streaming of content. The question itself concerned viewing TV shows in the past week on devices, and whether or not individuals owned a device despite not using it.
Interestingly, the results showed that more people own a streaming device and don't use it to watch a TV show than those who do own a device and do use it to stream. This was the case both for Millennials and Gen-Xers, suggesting this to be a widespread behavior.
Another interesting finding was that, contrary to standard media fanfare about TV viewing, computers/laptops were the most frequently used device to watch a TV show in the past week of the survey being administered. This is aided, no doubt, by the high proportion of people who use or have access to these devices in the workplace, but for both age groups these were the leading sources of viewing on a streaming capable device.
The top 5 devices used to view TV shows among P18-49 were as follows:

The lack of a Roku, Apple TV, or Chromecast device in the top 5 is particularly interesting to note, as is the use of video game consoles to stream. This may explain in part streaming devices not making it into the top 5 - individuals are less likely to buy a device that can stream when they already possess one which can multi-task.
The top 5 devices actually remain the same for Millennials 18-34 and Generation Xers 35-49, although Xers are less likely to own or use any of the devices save for computers/laptops and also sees internet-enabled Blu Ray players enter the list: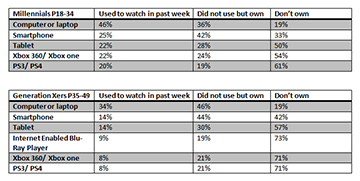 With many devices already capable of streaming media, it may take a while for the specialized devices that we have seen released so frequently in the past few years to overtake these. Or we could see more examples of companies like Roku, moving into the space of creating an operating system for a smart TV and essentially putting the device on the inside of the TV.
Conclusion
When we began the main body of this report, we asked if regular TV was being replaced by other devices, or if more content was being watched due to it being easier to do so. Whilst there are generational differences, it would appear that, overall, the ease of watching TV content in the modern day, coupled with the boom in what is perceived to be great content, is resulting in more content being watched and traditional means are not simply being replaced.
The key findings from this paper are:
Half of adults 18-49 have tried TV Everywhere services.
Nine-in-ten adults prefer to watch TV shows on a TV set.
Four-in-ten prefer to watch shows on their own schedule (delayed).
Three-in-ten binge watch all or most of the shows that they watch.
The most common ways to watch TV shows, be it daily or monthly, are via live TV, DVR or Netflix, but live TV remains by far and away the leader in this field.
Outside of TVs, the most popular devices used to watch TV content are computers/laptops, smartphones and then tablets.
Although we see that the rise of TV Everywhere is aiding behaviors previously limited by technology (such as binge watching or viewing on devices other than TVs), the TV set remains firmly entrenched in the minds of viewers as the place to watch programming. We find that although the younger Millennial generation is less likely to do so than the older Generation-X group, they too are more likely to prefer watching live and on a TV set. All of this points toward the increased availability of TV content creating opportunities for supplementary viewing and the consumption of even more content, instead of flat out replacing the established method of viewing TV. Whilst the landscape of TV is changing, it is helping, not hindering, both the viewer and the creator with more opportunities to watch.
Appendix