Tiger King and I
Content implications from the dramatic rise of the king of lockdown TV
One effect of the COVID-19 lockdown has been increased TV viewing, in general, and streaming in particular. And the biggest lockdown series of all has been "Tiger King." Tiger King has, from out of nowhere, burst through our collective anxiety to become one of the most successful streaming series of all time.
Data from Ipsos TV Dailies, the syndicated study that is an industry standard for tracking new and returning series in the US, demonstrates that Tiger King is perhaps the most remarkable show ever seen in over 15 years of tracking data. First of all, the rapid rise in awareness from premiere week to post premiere is unprecedented. Tiger King launched on Friday, March 20th, and was in the bottom 20% in awareness amongst all new shows launched in March.
The week it launched, awareness of Tiger King was 11%. Two weeks later (week of 3/30) awareness hit 61%. For perspective, that awareness level is higher than Stranger Things, The Mandalorian, and even older favorites like Jersey Shore and Duck Dynasty.
And the show has continued to rise since then. Overall awareness has reached 68%, meaning more than 2/3 of the population is aware of Tiger King. TV Dailies has measured a number of huge hits in the past and has never seen anything remotely close to this.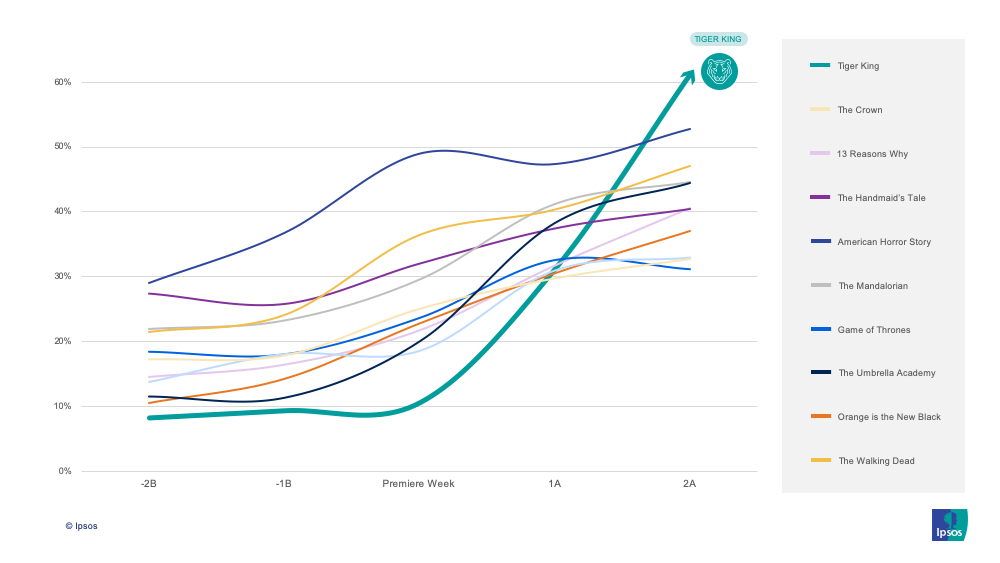 So, what is it about Tiger King that made it stand out? There are 3 key aspects about the Tiger King success that came together to create the perfect storm for its break-out success – social media, cross-over appeal, and originality. These learnings provide some implications and thought starters for other content marketers and media companies.
1.    It's a social media-made success story. A number of Ipsos studies show the increased importance placed on Social Media during this crisis. Measures from visits, time of use, trust in and reliance on social media are significantly up during March and April. But while all successful entertainment and content products leverage or are a product of social media success at some level, Tiger King stands out in the way the social-sphere projected it forward.
How Social Media drove its growth is really clear from March 29-31 from the volume of Twitter conversations (source: Ipsos/Synthesio) and Google search data. During this time, celebrities including Cardi B, Kim Kardashian, Kevin Smith and Jared Leto were tweeting about Tiger King. Overall, the Synthesio data for Tiger King shows conversations increasing a whopping 13,324% from 2 weeks prior to 2 weeks post-release of the series.
Implications for media brands: 
Launch week is important for any series, but it's worthwhile to continue both marketing and awareness tracking/social data monitoring after the first week. While Tiger King may have been a "lightning in a bottle moment," what other brands can take away from this is the importance of continuity marketing plans (especially via social) to gain and keep momentum beyond that launch date push.
2.    It's a cross-over hit that literally brings people together. From a content and genre standpoint, Tiger King is a mash-up that appeals to nearly every type of TV viewer – it is a documentary, it is true-crime, it is a suspense series, it is a dark comedy. TV Dailies data also shows it is a mash-up of audiences, bringing together literally all types of people. Data shows that Tiger King is a near-equal success with men and women, young and old, lower and higher income levels. Perhaps most astonishingly, it also manages to get Democrats and Republicans to agree, no small thing. This ability to appeal to the multiple generations (calling this 'family friendly' would illicit a roar from many parents) is particularly relevant during this lockdown. We are seeing the driver for consumers' video choices changing from "Me" attributes to "We" ones, according to data from Ipsos Streaming 360 research. The fact that Tiger King has risen to become a shared viewing experience that is "bringing people together" virtually is needed more than ever during this time when people cannot physically be together, IRL.
Implications for media brands: 
Especially in this time of social isolation, brands can try to bring viewers together, both figuratively and literally, and foster shared experiences.
•    Take a fresh look at your content and think about ways it might appeal beyond the assumed and usual core viewer. Search for additional "hooks" that might attract different types of viewers. For example, a suspense show could also attract those who favor interpersonal dramas. A competition reality show like "Top Chef" could appeal to those who want to learn a new skill as well as those who like to root for a favorite contestant.  Customize creative for different target groups to help nurture a broader appeal.
•    Think about ways your brand can leverage technology to help viewers watch and experience viewing together. Or ways the content can extend beyond the screen to inspire connection and sharing. Whether it is a virtual viewing party or offering meme-able photography, brands can help viewers bond and share in the ways they are seeking.
3.    It's an original series in an environment that's increasingly empty of them. Current TV Dailies data shows that "Original Shows, Series and Movies" is the #1 type of content viewers are more interested in viewing during the Coronavirus lockdown. On top of that, Tiger King is a successful original series within the context of diminishing original content. Even series that have been on the air are ending their runs mid-season – including the longtime hit Grey's Anatomy. With TV and movie production on hold, no live sports, there's a vacuum of new content and originality just when people need it – and want it – most.
Implications for media brands: 
Brands that are able to find ways to continue to develop, create and produce originals, even during the pandemic, are going to win with consumers. We've already seen a number of shows pivot, especially talk shows like Ellen, The Late Show with Stephen Colbert and The Daily Show with Trevor Noah. We've also seen movies meant for the theater open on VOD or streaming and IRL festivals like SXSW and Tribeca Film Festival go digital. Without traditional sports, e-sports and video gaming have taken off and fill a void among a wide group of viewers hungry for competition and live action. Whether your brand focuses on cooking, comedy, or crime, finding authentic ways to continue to make fresh content available will be appreciated by viewers who are hungry for something new.