Lockdown Is a Time of Stress and Added Responsibility for Parents
As Americans cloister themselves inside their homes to ride out the pandemic, parents face a unique set of challenges. With schools closed and childcare services suspended, parents suddenly find themselves stepping into the role of teacher and round the clock caretaker, all while continuing to do their regular jobs and trying to stay sane during a period of unprecedented stress.
Either option – staying home to work and caring for children, or going out to work and juggling childcare responsibilities on the side – is a recipe for frazzled nerves. Ipsos research offers a look at how American parents are coping with the new, COVID-19 imposed status quo, and the impact it is having on families' finances, media consumption, and how they live their lives.
Impact on work-life balance
While balancing work and family was always a difficult trade-off, now about half of parents report it has gotten harder for them to do their job, the Axios/Ipsos Coronavirus Index finds. This number has gone largely unchanged throughout the past month for parents, while that number has shrunk for non-parents. There is now a 13-point gap between parents and non-parents on this question.
Working fathers are more likely to report that their children are impacting their ability to do their work. 47% of dads report this while only 31% of working mothers do, based on Newsy/Ipsos polling.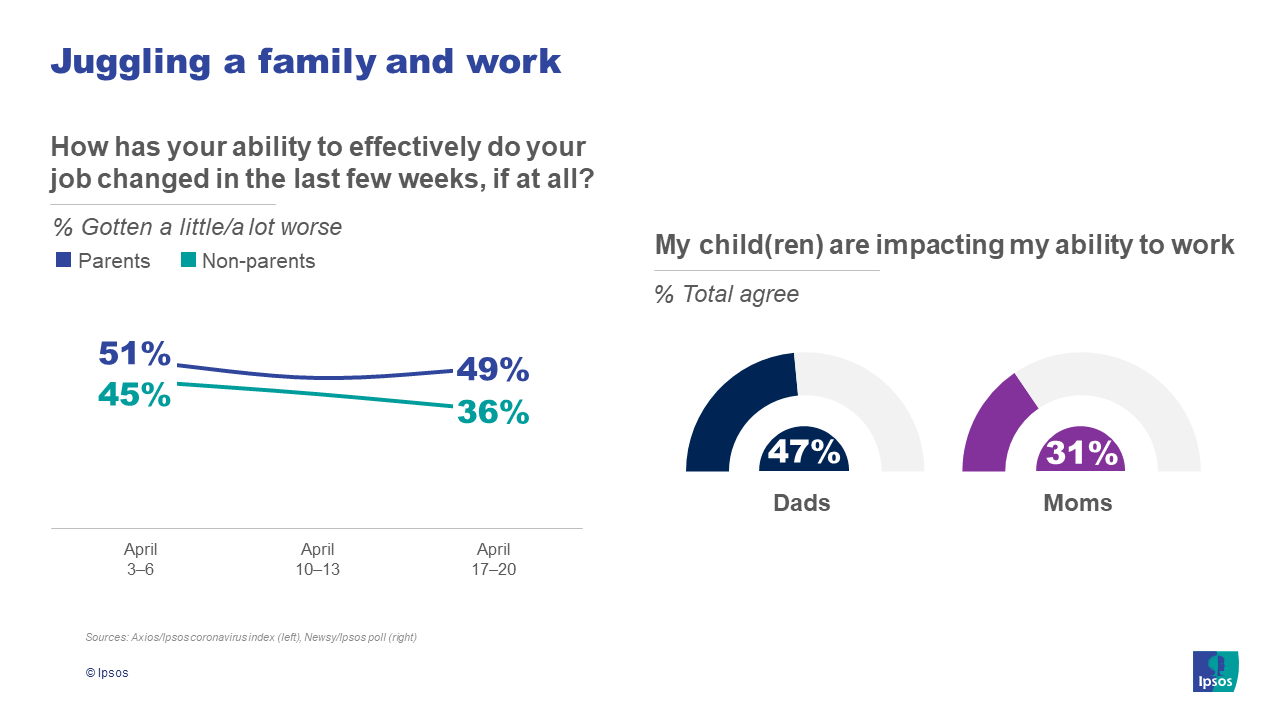 Parents more worried about finances
Savings don't stretch as far when children enter into the equation: 49% of parents report their household could not carry on for more than two months without additional financial assistance if coronavirus-related restrictions or closures were to leave them without income. Only about four in ten non-parents by comparison feel the same way.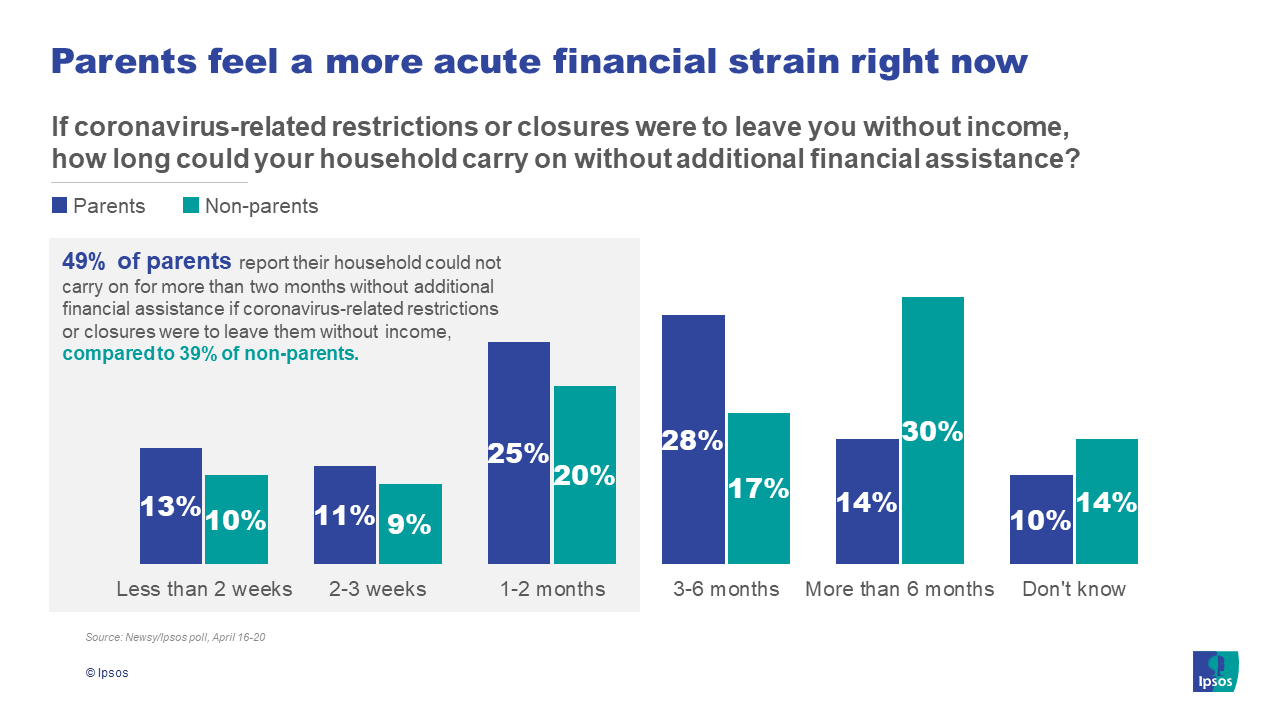 Media and screen time: The new babysitters?  
Screens are becoming a babysitter and teacher for working parents during lockdown, with some of the screen time limits out the window now that parents must hold the role of parent, teacher, and employee. 44% of parents in the Axios/Ipsos Coronavirus Index report that they are letting their children watch more television than usual.
Wearing many hats is leaving parents stretched. 53% of parents feel as if they are not doing enough activities with their kids compared to other parents, a recent Newsy/Ipsos survey finds.
Overall though, that same poll finds about seven in ten parents believe they are doing a good job at parenting. There is a notable break between dads and moms when it comes to how they rate their performance. Three in ten dads strongly agree that they are doing a great job as a parent while only one in five moms feel the same.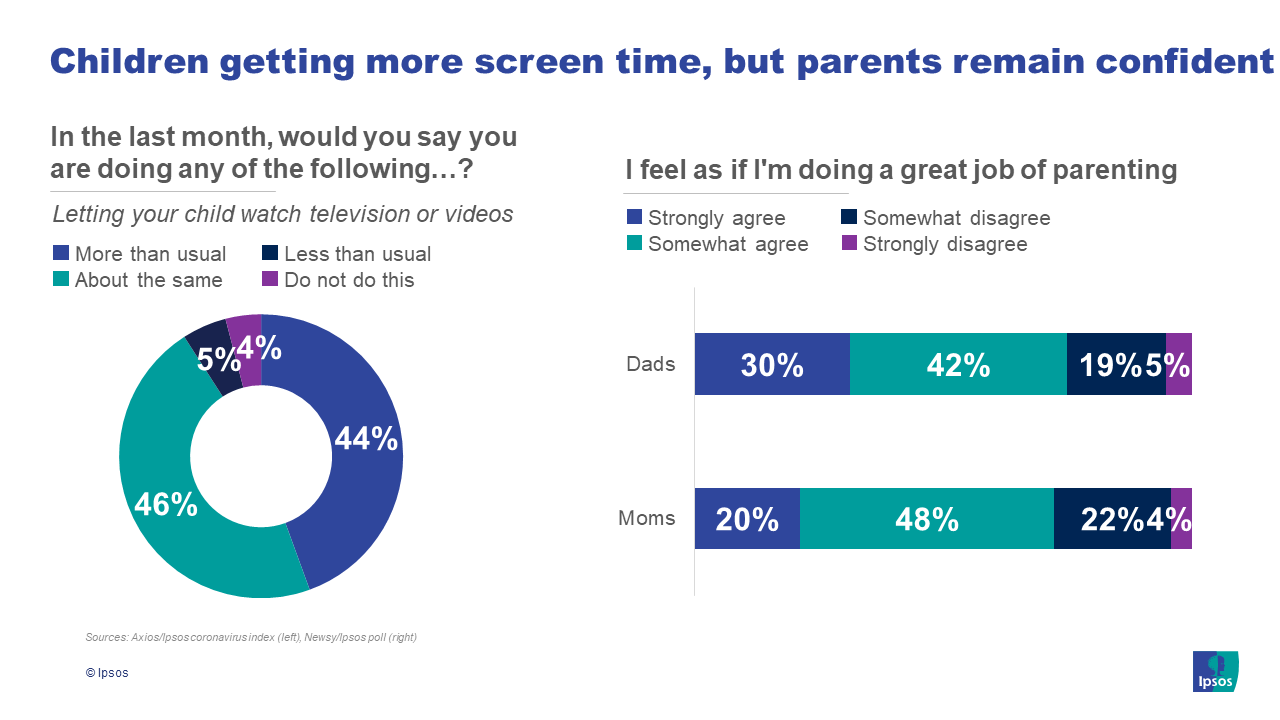 Parents are not turning to all types of media at the same rate. Web-based media and entertainment have been mainstays of many parents during lockdown, even more so than non-parents. About half (51%) of parents surveyed report using more social media under COVID-19 and roughly the same share (49%) is turning to streaming services now more than ever.
Parents are also somewhat more likely to experiment with entertainment and streaming services (e.g. Netflix, Amazon Prime, Hulu) than non-parents, with 17% of parents trying a brand, product, or service they never used before during the COVID-19 crisis. Only 11% of non-parents reported branching out in that way, according to the Ipsos Coronavirus Consumer tracker.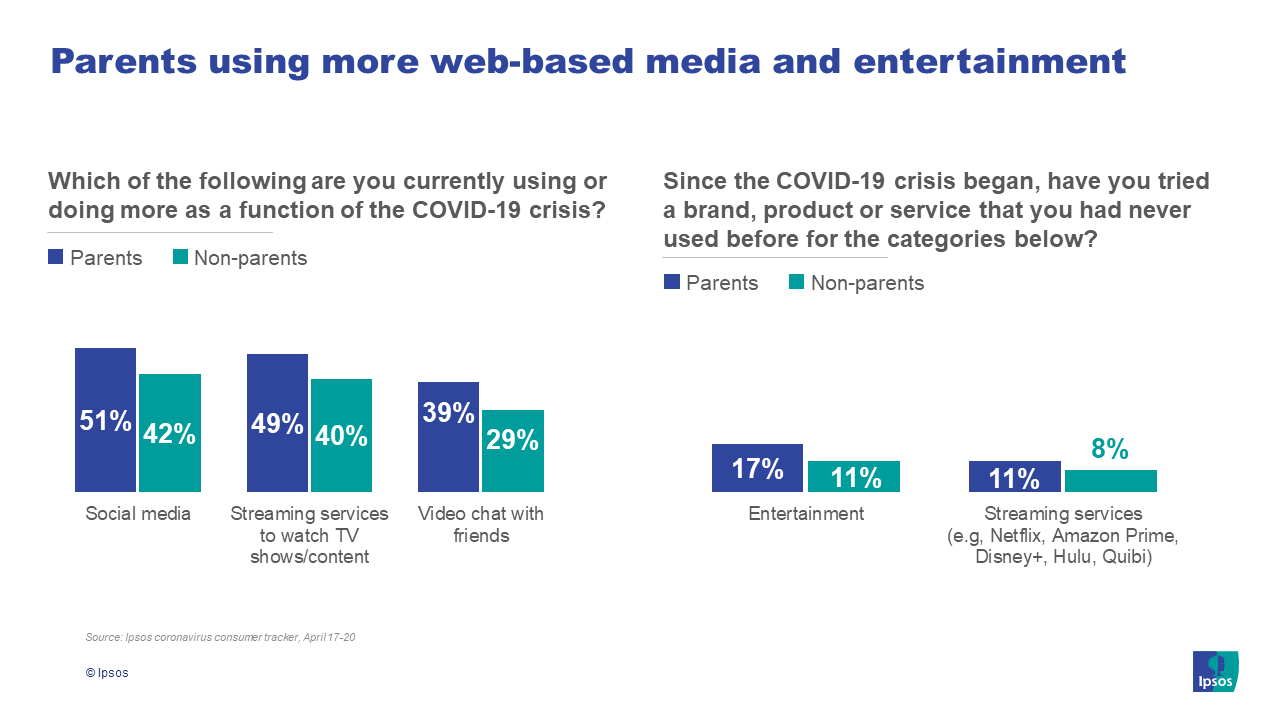 With daily life transformed, parents are adopting new habits
During periods of existential shock, people are more willing to experiment and try new modes of living. Parents are no different, with many saying that they are developing new routines and habits around cooking, shopping and personal care.
As a group, parents also seem to be more willing than non-parents to continue some of their habits formed during lockdown. Suggesting that at least some of life changes introduced by the coronavirus have been positive, 48% of parents have new cooking routines that they hope to continue compared to just 35% of non-parents. Likewise, 45% of parents want to continue the grocery shopping routine they have established. Only 36% of non-parents hope to keep these shopping routines up after stay-at-home orders are lifted.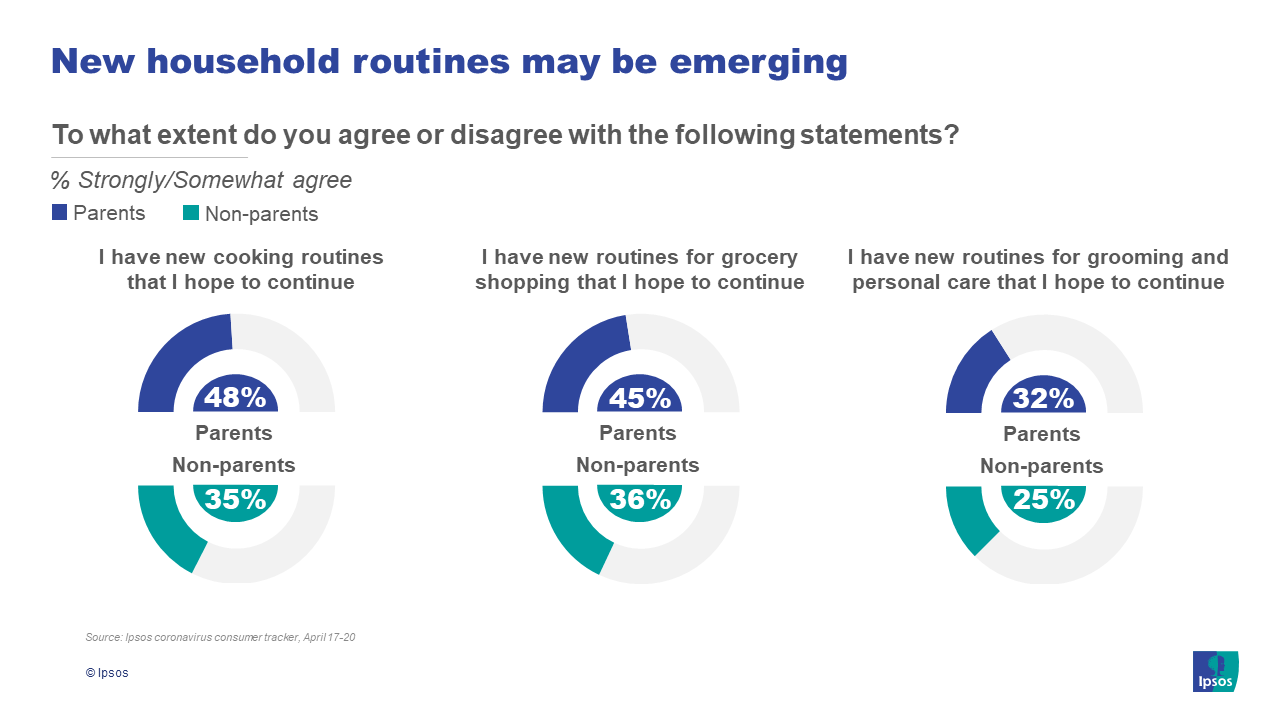 Cautious optimism about the future
Though experts caution that it will not be safe to start up normal life again until there is adequate testing, states have already begun to mull reopening for business on a case-by-case basis over the coming weeks. Even without a firm, nation-wide end to social distancing in sight, 56% of parents say that they are cautiously optimistic about what's in store in the next month – though they are slightly less optimistic than people without children at home.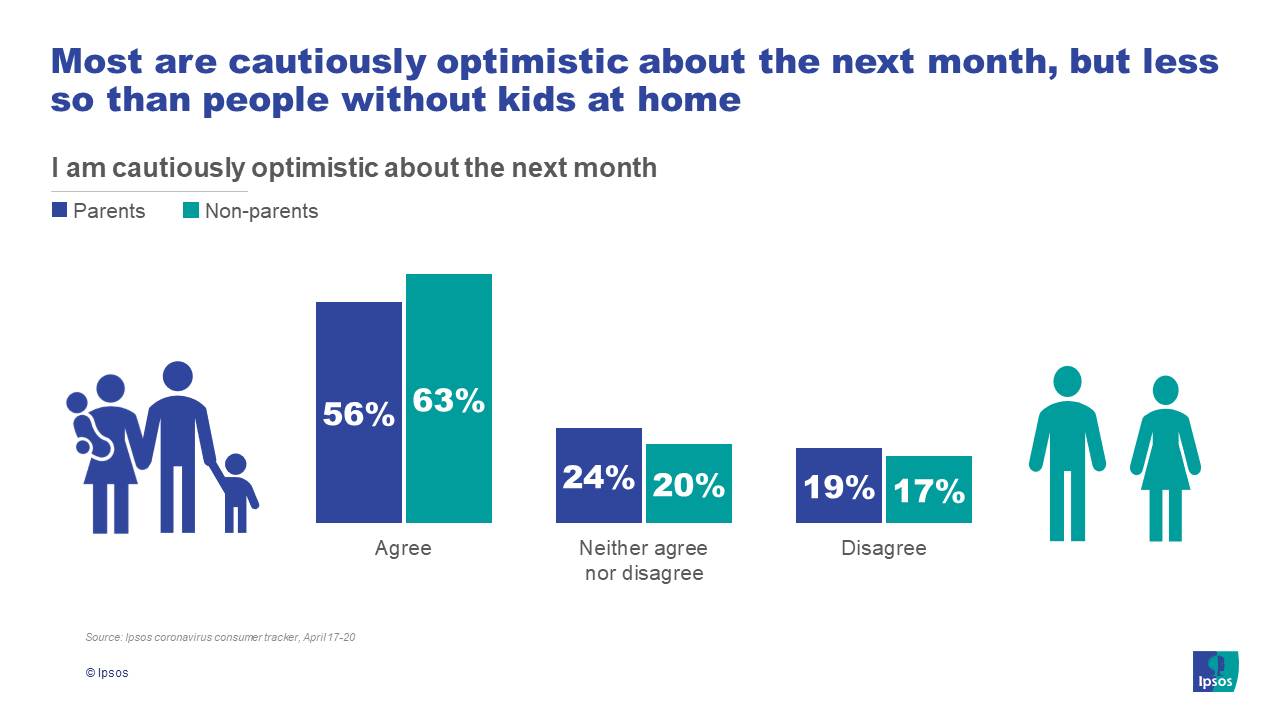 While parents and non-parents alike brace for the future, the big question is what behaviors, habits, and opinions about work, media, and parenting will stick in life after COVID-19.