Ipsos Update - January 2020
This month's edition of Ipsos Update features the latest research and thinking from Ipsos around the world on creativity and innovation, NATO, Gen Z in MENA and in-depth reports from Australia, Brazil, Russia and the UK.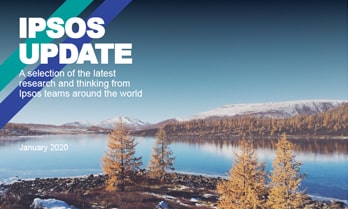 The first edition of Ipsos Update in 2020 includes reflections from multiple countries in the form of end-of-year reports from the UK and Australia, and two new editions of Ipsos Flair on Brazil and Russia, with each publication diving into the main issues shaping society, politics and consumer behaviour in the countries today.
As Brazil grapples with a series of crisis, Watercolour or Mosaic presents a view of the country from local Ipsos researchers. It finds that political polarization, rising conservatism and high social media usage are among the main forces shaping Brazilian society today. Brand responsibility and purpose are becoming increasingly important to consumers, and organisations are reminded not to forget about Generation X.
Meanwhile, In Search of Sustainability is the theme for this year's Ipsos Flair report from Russia. It focuses on how changing attitudes towards sustainability are having multiple repercussions across life in the country. Consumer behaviour is changing as people wish to demonstrate responsible behaviour, for example seeking products with environmentally-friendly packaging. Brands must try to gain and retain consumer trust in this new emerging value system. Electric vehicles and healthy snacking are also part of the sustainability picture in Russia.
We explore the national mood and the state of British society going into 2020 in the latest release of The Ipsos Almanac. The articles include discussions on a broad range of topics such as gaming, local infrastructure, the gender pay gap and veganism. Public opinion surveys showed Britons in 2019 to be more liberal on moral issues today than in the past and generally downbeat about the future.
Our latest research on life in Australia tells us that over eight in 10 think that the country should be a moral leader in the world while fewer than one-quarter are dissatisfied with their standard of living. Despite a generally positive outlook, the challenges for society today - including high population growth and urbanisation - raise the question of how to maintain liveability standards into the future.
Meanwhile, our study of Generation Z in MENA shows how connectivity and the rise of an "influencer generation" has brought people across borders closer together. MENA's youth have a unique identity, and one that is distinct from the Millennials that preceded them.
With today's accelerated pace of life, we often expect immediate action and results. But this doesn't necessarily work when it comes to generating great creative ideas and bringing successful innovations to market. In Slowing Down to be Faster, we show how taking the time to research and plan early on will ultimately produce better results.
Innovation is not just about the decisions of corporate executives; it is also the domain of consumers themselves. In Hacking Hacks, we discuss how we can identify new product ideas and concepts ahead of the curve, through the AI-driven Lead User Innovation method.
At the end of 2019, our latest Global Advisor survey found that eight in 10 believe the world has become more dangerous over the past year. And when we turn to perceptions of NATO, we find a widespread lack of understanding about how the security alliance functions, its objectives, and its funding. Often, it is seen as a force for good, but support is low in key member states including Germany, France, Italy and Spain.
Finally, in A World of Research, we wrap up 2019 with a month-by-month overview of Ipsos research across the year, picking out some of key facts and figures on the issues of the year, including a focus on ageing populations, gender equality and climate change.
Download