Service with a smile? Latin America edition
Delivering customer experience in the face of mask wearing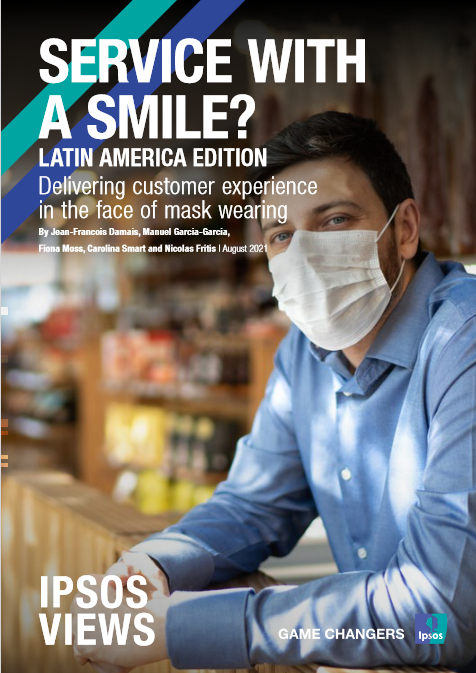 How does an organisation create meaningful 'masked moments' that encourage customers to return, spend and recommend?
In an update of our original Service with a Smile? paper, released earlier this year, we set out to provide guidance to those charged with designing and delivering customer experiences in this world of mask wearing, within the context of updated findings from R&D in Argentina and Mexico.
We also look at how findings from Latin America compare to those from the US. Across the markets, our study shows that mask wearing has a significant impact on human ability to identify emotions, communicate and, hence, on customer experience and relationship building.
Key findings include:
Happy faces are rated as less likeable and less warm when the face is masked (vs. uncovered). So, something as simple as a smile loses some of its power to strengthen human relationships, when concealed. And, of course, this phenomenon is compounded by the fact that it's also harder to identify happy faces when masked. Don't give up on smiling though! A happy face is still correctly identified, when masked, more often than not.
Overall, the impact on emotional perception while using face masks seems to be greater among Argentines than Americans. Interestingly, anger is equally recognised with or without a face mask, both in the US and Argentina.
Around three in ten customers in the US (28%) and Mexico (30%) said that wearing a mask prevented or made it difficult for them to achieve what they wanted on their most recent face-to-face interaction as a customer. In Argentina, 40% stated this was so.
The effect of face masks on perception of emotions has implications for businesses seeking to build customer relationships, because it makes it harder for staff to recognise the emotional response of the customer and, hence, to empathise. This may unintentionally lead to more 'transactional' or detached interactions, simply because the staff member has failed to recognise the customer's emotional state, and thereby failed to intervene or respond in an appropriate way.
To ensure the right steps are taken to keep staff and customers safe, whilst mitigating the negative impacts of mask wearing, service design that goes beyond traditional problem diagnosis and prioritisation is key. This paper also presents Ipsos' CX Service Design framework, which helps brands to understand, ideate, test and deliver customer experience that will deliver on brand promises and desired business outcomes.