How brands can help Americans cope with the coronacoaster
The emotional ups and downs of the coronacoaster have inspired people to follow a variety of coping mechanisms and self-care.
The emotional ups and downs of the coronacoaster have inspired people to follow a variety of coping mechanisms and self-care. Over the course of the outbreak, how people have cared for themselves has evolved. Brands have tried to stay ahead of that emotional journey to offer continued support.
In the early March days of the pandemic, people turned to indulgence as they hunkered down at home. They relaxed, binged on Netflix and spent time with family, per an AI text analysis of discussions in mid-March on the Ipsos SMX Online Communities discussion board.
By late June, people had moved from indulgences to focus on mental and physical wellbeing. "I watch what I eat, exercise regularly and make sure I take time for me," said one Ipsos online community member when asked about ways they are incorporating self-care into their life. "Self-care is not selfish," offered another. "You need to take care of yourself to serve and love others at the highest level."
A few weeks later, people were directing their energy on productivity to power through the lingering pandemic. Asked what activities they're doing at home in their spare time, another Ipsos online community member said: "Cleaning things that I never cleaned before. Fixing small items around the house that never seem to work right. They keep me busy and my mind working." In late June, an art food YouTube video went viral in the DIY and creativity conversations.  
Even home entertainment activities shifted over time, according to an Ipsos Synthesio analysis of entertainment social conversation volume between April and July. Topics morphed from baking and cooking in early April during lockdown – did everybody make sourdough? – to gaming in early June and late July as people connected with family and friends with new laptops from Dell and HP.
Brands are tapping into these consumer needs with fresh and innovative solutions. For example, Dominos asked people to share the bright side they've found in these times to promote their $5.99 Mix and Match deal. Jewelry retailer Jared highlighted a novel solution with virtual weddings in its "Love Can't Wait" campaign. Budweiser put a Zoom-style spin on its classic "Whassup" campaign to highlight connecting over a Bud.
One topic has been a constant throughout: cheese. One commenter on social media put it best, writing, "Times are rough, depression can be crippling, but at least I've got cheese. Fridge full of sharp cheddar can be comforting."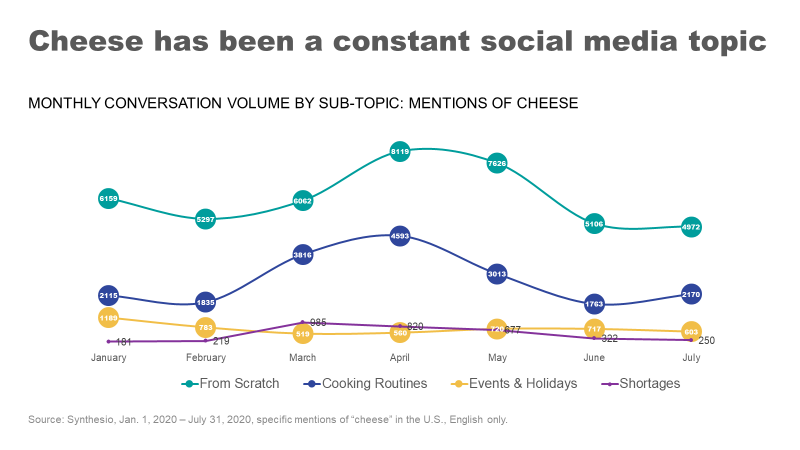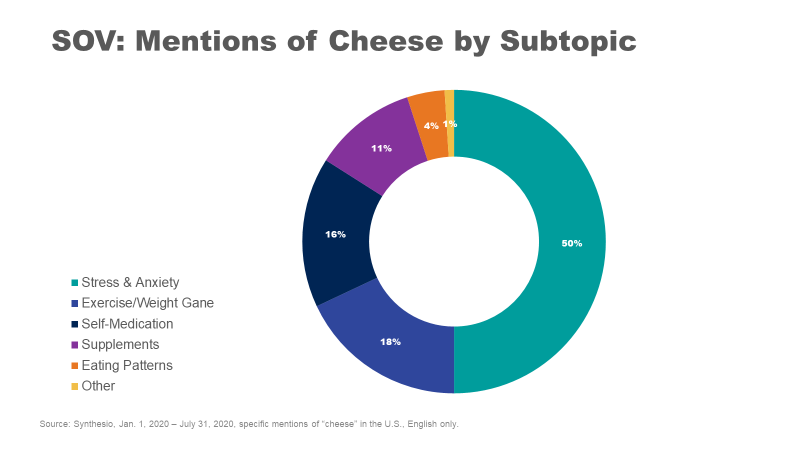 Besides cheddar, people also have flocked to supplements and multivitamins as they sought to fortify their immunity, according to a late June Ipsos SMX Online Community study. Americans report using products like Vitamins D supplements 34% more than before COVID-19, natural or organic foods 38% more and Zinc supplements 49% more.
It all shows that people always find a way to manage uncertainty.