Want your message to resonate in the crisis? Preach what you practice.
The twin crises of 2020 have prompted many brands to stray outside their corporate comfort zones to weigh in on the heavy issues affecting America. But is it enough for brands to simply recognize the problem, whether it be the coronavirus pandemic or racial injustice?
This default response – a message from corporate leadership filled with platitudes – led to a sea of sameness in both crises. Email inboxes filled with messages from brands saying they "stand in solidarity" with protestors and victims of the virus.
Consumers see these messages as important, but without concrete actions taken at the same time, Ipsos research shows they are rarely effective for brands. This is especially true with racial injustice, where a majority see a clear role for brands.
The thing most people say they want from brands is an effort to educate the community on systemic racism, which 60% said they wanted to see. Close behind is making a statement against racism and showing what they have done to increase diversity at their companies (58%), followed by calling on political figures to enact change (55%), making donations to organizations fighting racism (53%) and making pledges about diversity within their own companies (52%).
The most effective responses depend on being authentic to the brand, like previous speech and action in support of an issue. Lacking that, action that has a credible connection to the brand's equity can help a message break through. The brands most recognized for allyship were Amazon and Nike in general retail, Apple in technology and Ben & Jerry's in consumer packaged goods.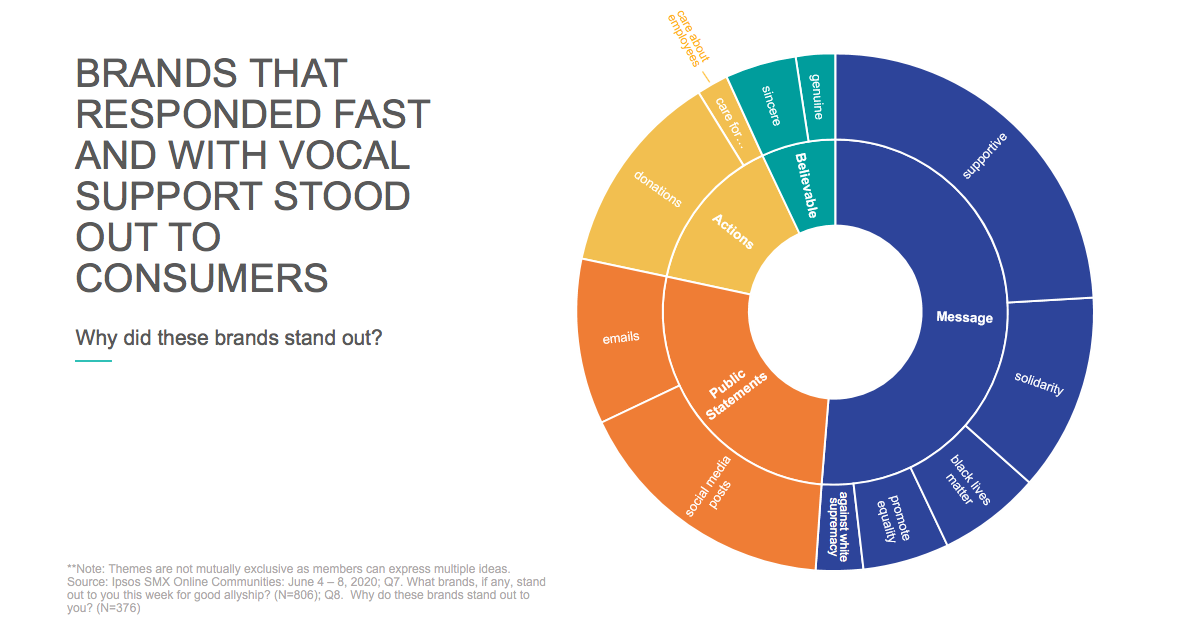 But consumers are quick to call out perceived hypocrisy.
"A lot of people/companies are getting on the bandwagon because 'it seems the thing to do'," according to one member of Ipsos' U.S. syndicated online community. "I don't feel that a lot of these people/brands are doing it for the right reasons. They are doing it so people see what they are doing."
"Why didn't all these people/brands/companies do something before?" another member wrote. "It really annoys me to see celebrities/companies donating money to these certain causes now when no one seemed to care before."
When Ipsos asked people how they want advertising to make them feel, the most popular characteristics describe messages that encourage social progress: People want to feel confident that change will be enacted, justice will be served and equality will become a reality. Optimism was the next-most important bucket of characteristics: People want to feel uplifted and hopeful about the future. Empowerment was the third-most popular category: People want to feel inspired to make changes themselves.
The stakes are high for brands – Ipsos polling has found that brands' stances on racial justice issues are also impacting consumer decisions on what to buy, and the number of people who are taking the issue into account is surging. When people are making the decision to purchase a product or engage with brands, 17% of people say equality of opportunity across gender and ethnicity is a top factor they consider. That's up more than a third in the last two weeks — and the numbers are even higher among 18-34-year-olds (22%), urban-dwellers (23%) and Black Americans (24%).
So what should brands do to make sure they have authentic messaging that rings true and doesn't repel consumers? Mitigate risk by candidly assessing the motivation to advertise and the planned future path for your brand. Make authenticity part of your corporate cultural DNA, not just your marketing messaging. Leverage the call for change to embody honesty and pair commentary with meaningful action. Support your messaging with a path to social progress or by helping consumers find ways to take action.
In short, ensure that your company's actions are authentic and let this drive your messaging: Preach what you practice.