Get on board the (savings) equality train
Alpa Shah examines the rapid exacerbation of wealth inequalities in the cash savings market as a direct result of the COVID-19 crisis and argues this is unlikely to change without radical, yet sensitive solutions.
Divided Britain
Last year, Britain was divided on Brexit. This year, the long-standing inequities faced by ethnic minority populations have been revealed to a wider audience, (which you can read about from a financial perspective in a blog by Flora Vieites, our FRS Director, George Floyd and a fragmented Britain) and today it is a virus that is splitting the country.
Office of National Statistics (ONS) data reports more than 600,000 redundancies, with more to come, a 125% increase in unemployment claimants, a 60% drop in job vacancies between March and May 2020 and in-work poverty on the increase.  So far, it is younger generations, women and low earners who have been most sharply affected, being several times more likely than average to have lost their job due to lockdown.


Source: Institute of Fiscal Studies, Sector shutdowns during the coronavirus crisis: which workers are most exposed?
With the high street banks not desperate to increase savings deposits, this is a good opportunity for the sector to get on board the equality train and help the least affluent to save in a way that benefits them.
Singing in the rain – or drowning?
Although job losses due to the lockdown are rising and likely to continue, many workers have made some gains. Less commuting and less weighed out on leisure activities means that, according to Ipsos research, 63% of consumers have spent less during lockdown and 32% were able to put more away in savings. But this additional cash is not distributed evenly across the population.
According to the Financial Research Survey (FRS), the top 3% of savers hold 45% of the total aggregated cash savings wealth and this unbalanced distribution has widened during the COVID-19 crisis.
Between January and May 2020, the total aggregate cash savings wealth of the top 3% of savers went up by 9%, compared to only a 3% increase among the bottom 53% of savers.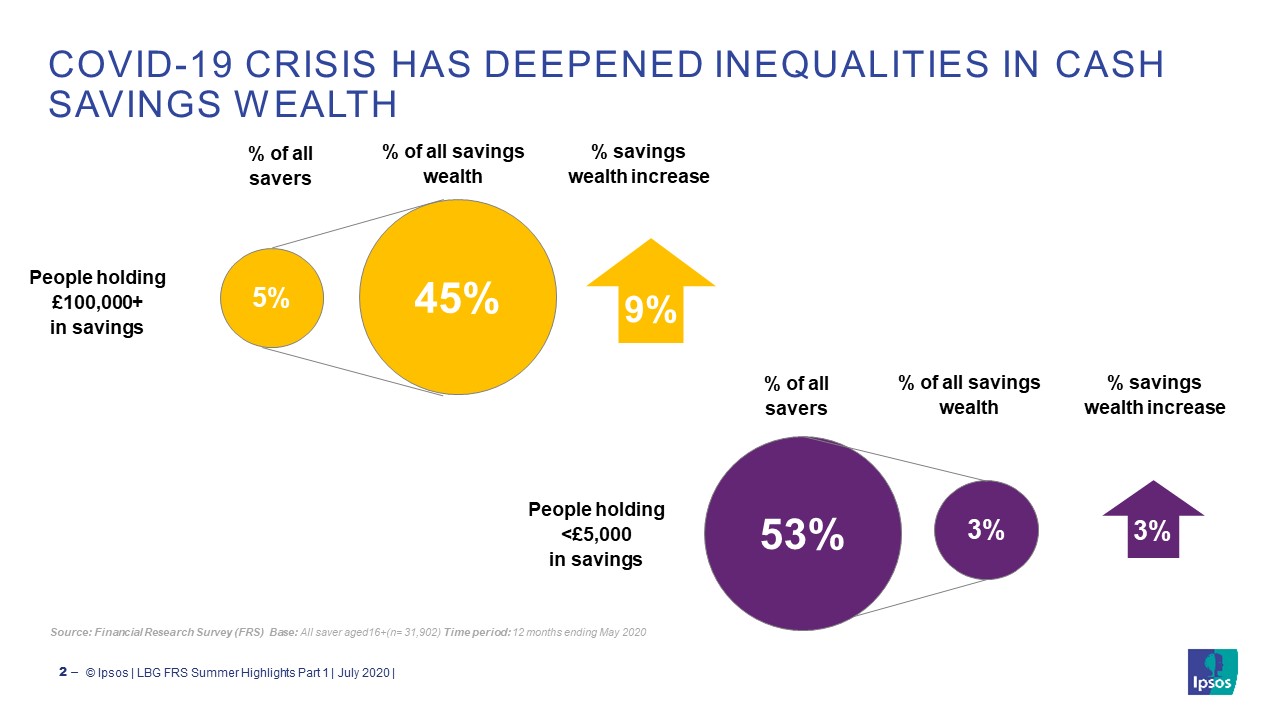 Realistic and flexible savings products are needed
FRS data shows the most affluent savers tend to hunt down savings products and providers with the best rates, while the least affluent will tend to stick with providers offering rates well below inflation.
Nationwide has launched a new account aimed at this segment, but just how many of the least well-off can increase their balance by £50 per month to enter a prize draw for a £100 win remains to be seen. Overall, Nationwide's Payday=Saveday mission to get people into the savings habit is a positive one.
NS&I's Help to Save product provides a more radical solution for those on benefits – needing to save only £1 a month to receive a 50% tax-free bonus on deposits up to £50. Launched in September 2018, based on published data, by January 2020, 162,000 Help to Save accounts held a total of more than £53 million in deposits, which is £327 on average. However, this translates to a take up of roughly 5%, leaving up to 95% of those receiving tax credits or universal credits still available for a cash savings solution.
Credit Unions have long worked at a local level to provide 'save to borrow' schemes which allow savers to obtain credit as long as they have put something away in savings. Ipsos research for the Fairbanking Foundation shows this is a very appealing concept which works; but outside of Ireland credit unions are little known.
Raising equality in the savings market – foundations for success
There are more providers and products out there aimed at less affluent savers, but their success should be measured in terms of take-up, equality of opportunity to save and fair benefits to savers. Based on what we see through our FRS data, I suggest these cornerstones for success:
Set realistic minimum deposits: before setting any minimum saving deposit, ask whether the level is truly achievable for the least affluent. £1 has a very different value depending on who you are talking to. For the least affluent £1 may be more accessible than say £50.
Penalties, holidays and incentives: replace savings penalties with deposit holidays. Consider tiered interest rates to incentivise saving while not penalising withdrawals.
Holistic products that address everyday realities: The least affluent rely on access to credit but can benefit from building up savings in a manageable way. Hybrid products that provide access to a credit and savings vehicle are ideal. This can also help providers balance the costs of provision.
Promote: Specialist products need to be heavily advertised to promote take-up, to combat inertia to switching / opening an account. While a national TV campaign may be prohibitive, online advertorials and partnerships with relevant charities could be a realistic option.
Within all of this, the concept of social mobility should not be ignored. The least affluent can improve their financial situation. Combined with accessible financial advice and guidance, this could be a powerful combination to help vulnerable customers become more financially resilient.