Parenting & TV in the time of Covid: Kids & Family Fast Facts
Revisit our expert panel discussion around how parents are using entertainment content to get through the coronavirus crisis — and implications for media companies and how they can help.
Parents are the people most turned upside down by the COVID-19 lockdown. They're juggling being employees, teachers, babysitters, entertainers, personal chefs, and so much more — 24/7, 7 days a week. Yet these unsung heroes are managing to cope and succeed in this anxious and challenging time, especially by leveraging content and entertainment tools to help them parent. Our Kids+Family Fast Facts study provides insights into their mindsets and the roles that content is playing for them – and implications for media companies and how they can help.
Parents are feeling anxious: These are anxious times for everyone. But if you're a parent, your anxiety is 1.4x  greater than it is for those without kids. We explore which parents are hardest hit by Covid-19 and how they're coping with their new roles.
They're using content to help cope: Our data shows that content consumption during the current lockdown is significantly up across all formats, dayparts, content types and platforms. But content is doing more than just filling a time gap for parents – it's also playing a variety of new and evolving roles.
Content is daycare – and a teacher: Parents are more reliant than ever on content to keep their kids busy. This is especially true for working and more affluent parents. Because of this, parents have higher demands on the ability of the content to entertain, engage, and educate.
Content is for family bonding: While stuck indoors, content has become a way to bond – so it has a higher need to satisfy a variety of ages. Nevertheless, Moms and Dads have some slightly different approaches.
Content is a needed adult escape: After all they need to get done in a day, content provides a way for the adults in the household to escape, whether they're watching together or alone. We have insight into what they're watching and what they're Tweeting about.
Content is an information source: As the crisis continues and communities have adopted stricter restrictions, parents are in need of more information, especially from digital and TV sources. We explore how parents relate to different information sources and how advertisers can best communicate their messages.
---
Ask Us Anything: Parenting and TV in the Time of Coronavirus
Parents are shouldering an enormous weight every day during this unprecedented crisis as they become caregivers, teachers and employees. Many are turning to media to ease the burden for themselves and their families. Below are highlights from what our research has shown about parenting during a pandemic.
What you need to know
About half of parents report that it has gotten harder to work from home in the past few weeks. This number has held steady throughout April.
After a period of adjusting, non-parents aren't feeling the strain in quite the same way.
Parents are taking advantage of time at home, with 73% making use of this moment together
A majority of parents say they have talked to their families more over the past month.
59% of families are watching streaming services more now than they were before coronavirus.
How are families spending all this newfound time? By consuming media together.
Majorities of kids are watching more TV since the crisis began, especially children between the ages of six and 12
Outside of family time, screen time is becoming important for schoolwork and for caretaking of the kids when parents are working.
Deep Dive
Vital Statistics: Work Life Balance During COVID-19
About half of parents (49%) report that it has gotten harder to do their job over the last few weeks, while only 36% of non-parents feel the same. Based on the tracking we are doing with Axios, this has held steady for parents over the past month as we enter a temporary equilibrium in public opinion. When the crisis first hit, we saw opinion move significantly week-to-week. Now, we are seeing some of these swings stabilize.
Notably, working dads are more likely to report that their children are impacting their ability to do their work, with 47% of dads feeling this in a recent Newsy/Ipsos poll. Only 31% of working moms feel like their kids are impacting their work.
This gap may be indicative of the unequal burden moms and dads faced before coronavirus hit, where moms often had to do more balancing between work and family than dads. 64% of U.S. adults reported that women's advancement would be helped by men sharing more responsibility for the home and family in a Kings College/Global Institute for Women's Leadership/Ipsos poll for International Women's Day 2019.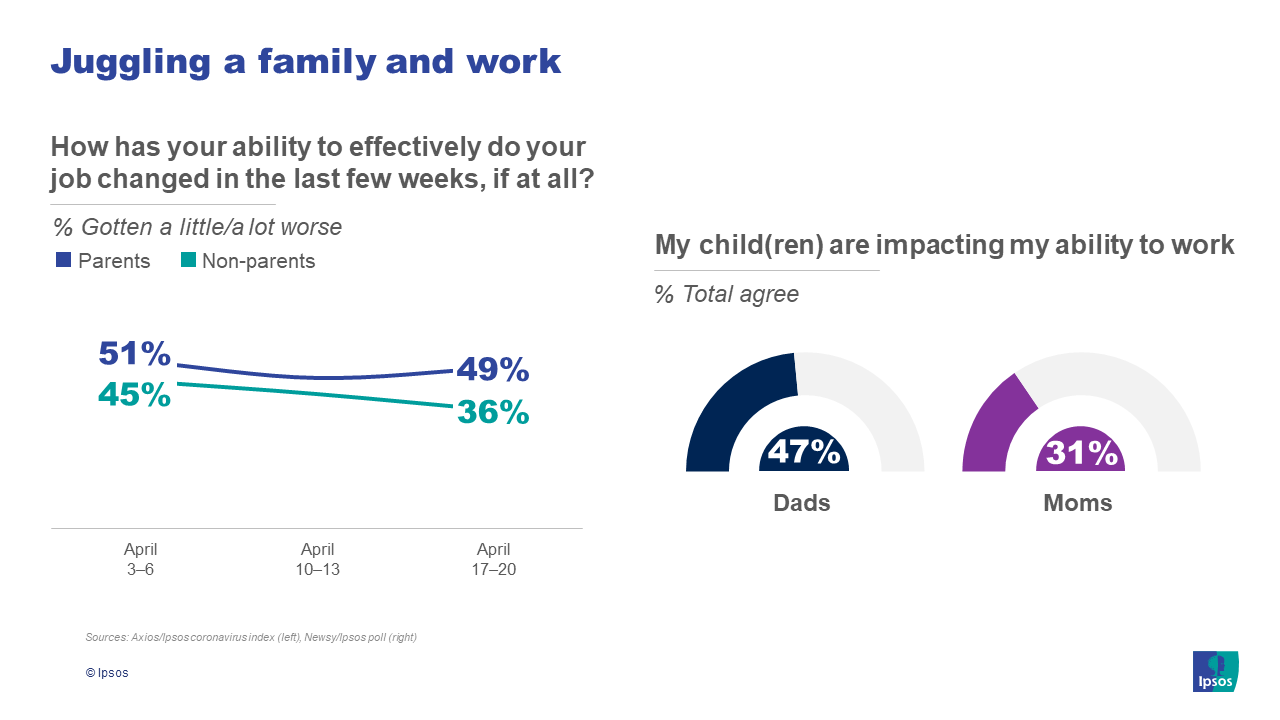 Time at Home Not Going to Waste
Nearly three in four parents (73%) report that they are taking advantage of time at home, with 31% of parents strongly agreeing with this, based on findings from the Ipsos Consumer Tracker. Family time is coming into focus as people shelter-in-place with their kids. 54% of parents have spent more time talking to their family in the past month, 14-points more than non-parents.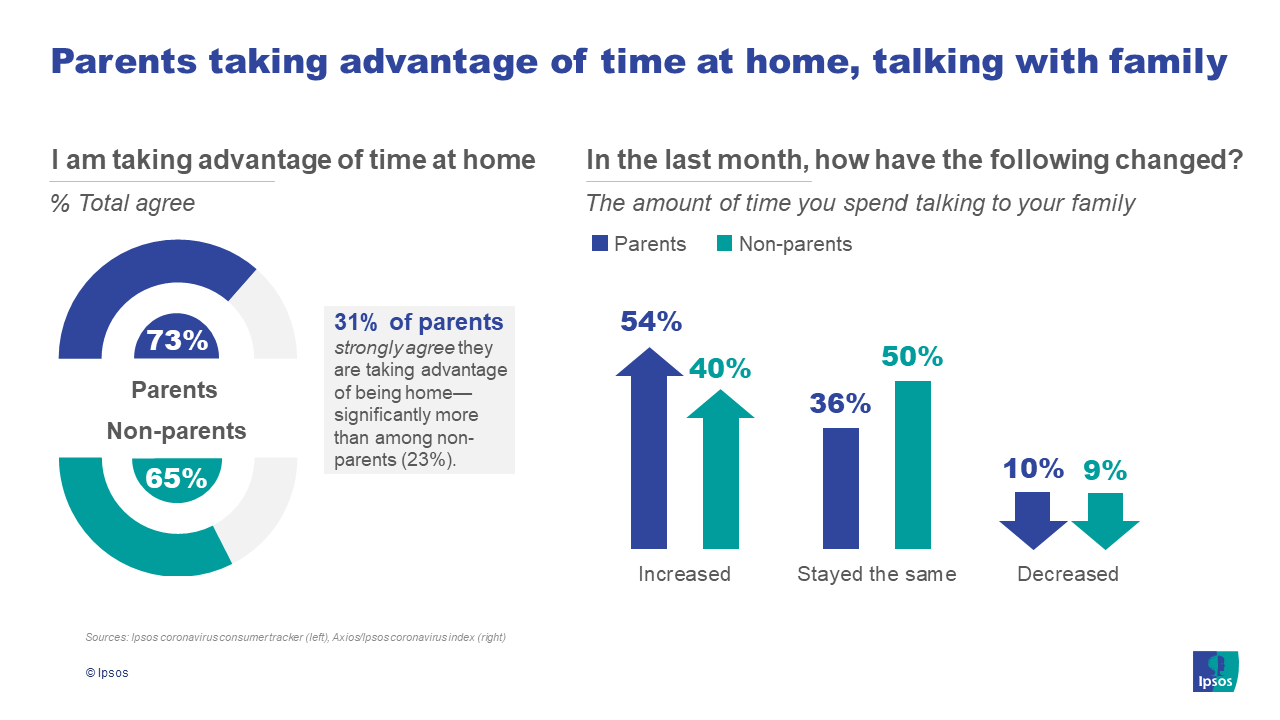 Family Time and TV Time Become One and the Same
Content is connection. Under coronavirus, it allows families to bond; 59% of parents are more likely to watch streaming services during the coronavirus outbreak while at home. Likewise, watching live TV (52%), playing video games (51%), and listening to music (44%) are all activities parents are more likely to do with children while sheltering-in-place.
Moms surveyed in this study were more likely to balance fun, like streaming, with educational activities, like reading. While Dads focused on entertainment, overperforming the index when it came to watching live TV and playing video games.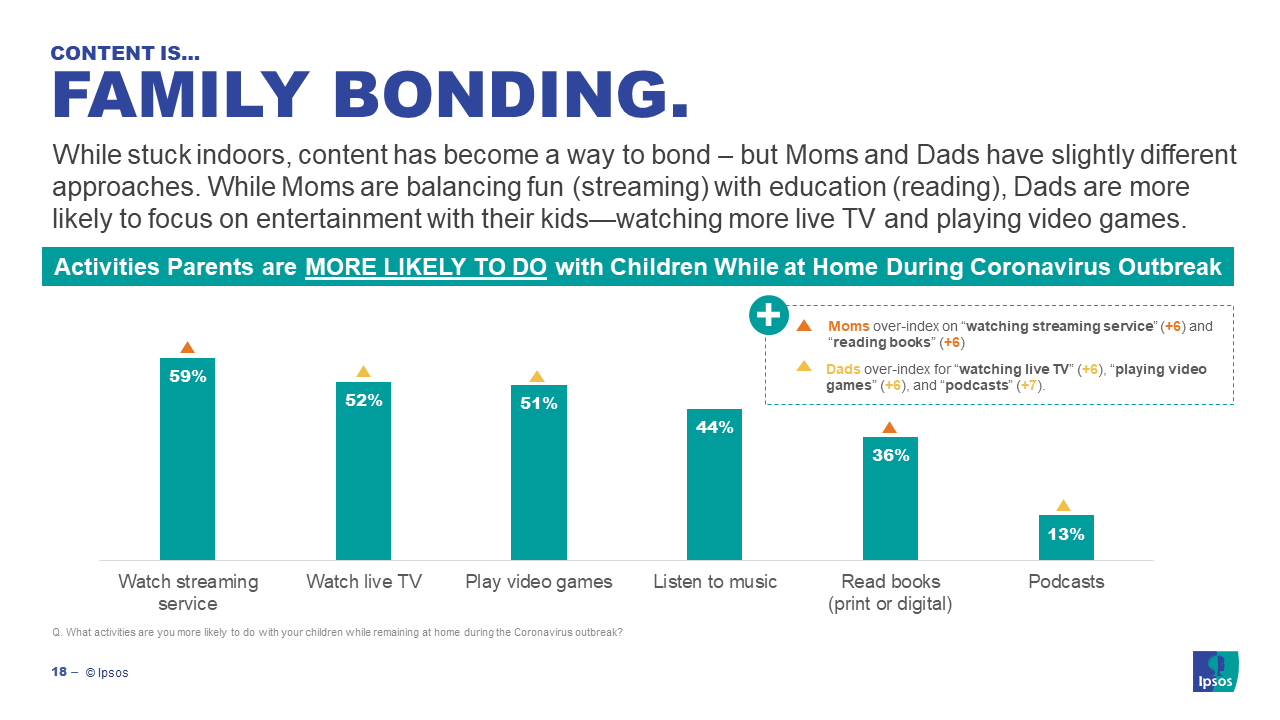 Screens Become the New Babysitter
Outside of family time, screens are taking on a parenting role of their own. Kids under 12 are spending more time watching TV since the coronavirus crisis started. Smartphones, tablets, and computers are also becoming important tools in online learning, pushing their usage up among school age children and teens.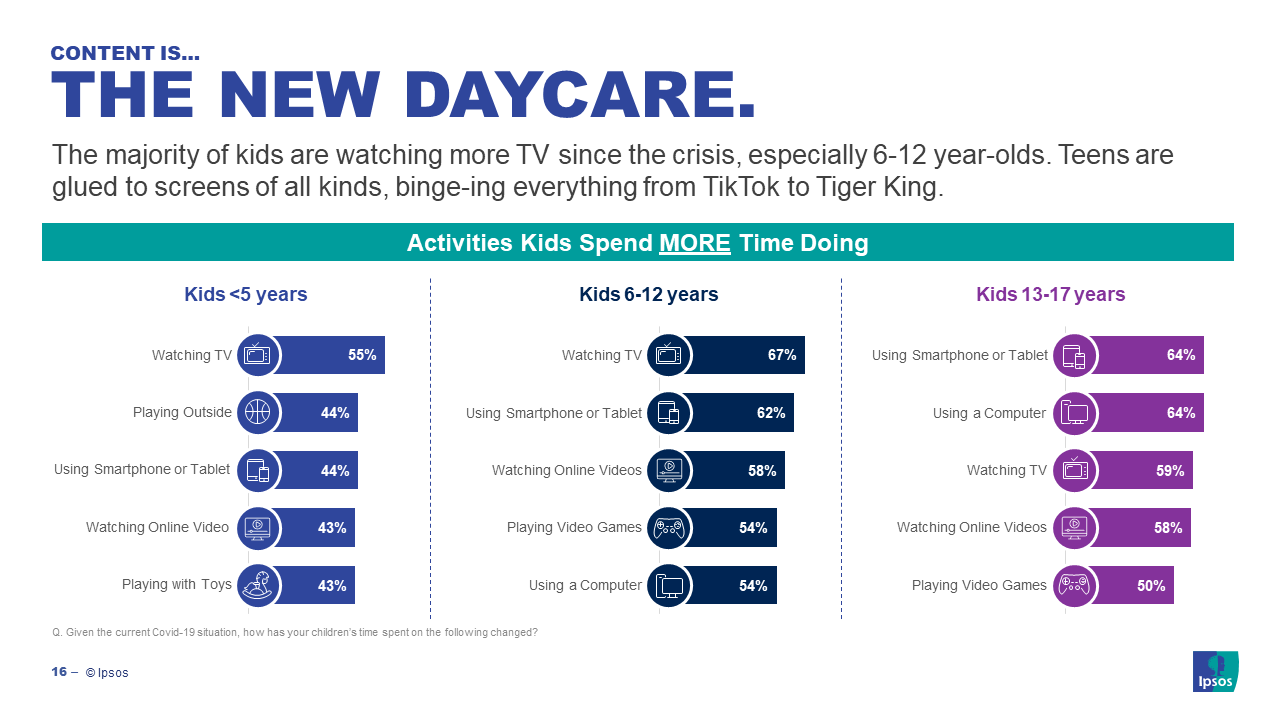 The Takeaway
Throughout this unprecedented moment, it is important for media companies to acknowledge that times have changed, and to meet families where they are at in an informative, empathetic, and engaging way. Virginia Lennon, Senior Vice President of Ipsos' Media Development team, summed up the relationship between parents and providers in an interview for Parentolgoy: "Parents, you've been more permissive, you've had to rely on content, which has been helpful. And to content providers: don't make parents regret it, because you could really be a lifeline to them."
Right now, brands should take time to understand how parenting is changing during this unique inflection point to best meet those evolving needs.