Three insights about why workers are quitting
Using social, survey, and search data our analysis uncovers new motivations driving worker resignations.
The Great Resignation, an idea proposed by Professor Anthony Klotz, predicted a large number of people leaving their jobs after the COVID-19 pandemic ends and life returns to "normal." Turns out, this prediction seems to have come true in the U.S: in June 2021, the country saw 4 million resignations… then another 4 million in August. Months later, the trend is still on the rise. Now, organizations are navigating the ripple effects of the pandemic as more and more employees re-evaluate their careers and leave their jobs in record numbers – all while unemployment remains a top concern (29%) around the globe. Should other countries expect the same phenomenon?
Last week, Sacha Vaguelsy, VP of Products at Synthesio presented on this topic at SI Lab Observe Summit. We dove into social, survey, and behavioral data from the U.S. – where the phenomenon first emerged - to uncover what's really driving workers to quit their jobs and how this trend is likely to evolve in the future. Here's a look at what we found:
Social insight: Pay, childcare, and discrimination are the top three factors driving resignation.
Analyzing social conversations allows us to access a massive data set – larger than any feasible survey base. It also provides pure, authentic consumer expression that we can easily track over time. Conversations about pay dominated the 380+ million mentions we collected via Synthesio – with peaks in volume around Congress' COVID relief bill in December '21 and Bloomberg's viral post, "Want to make more money? Maybe you should threaten to quit."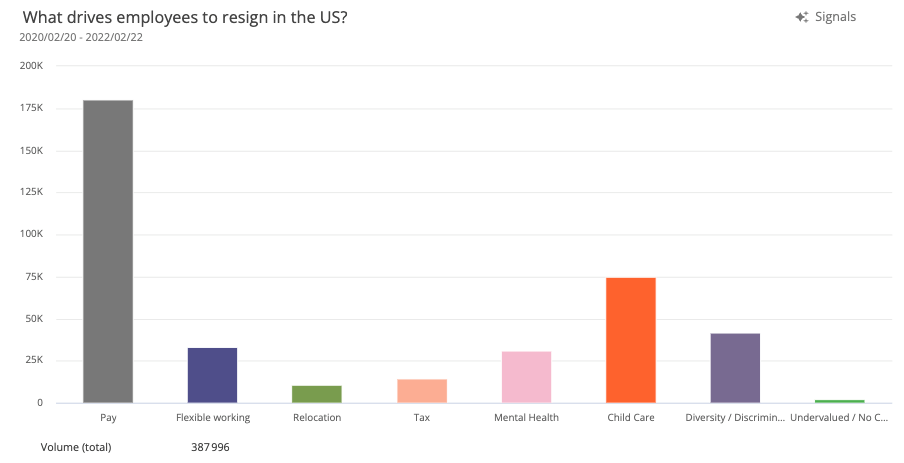 Survey insight: Wellbeing is the driving force behind resignations.
To surface demographic insights and answers to more specific questions, we turned to Ipsos' breadth of survey data. According to Aon's 2021 Global Wellbeing Survey, companies from 41 countries cited work life balance (65%) and mental health (46%) as the top employee wellbeing concerns. Meanwhile, a Global Advisor poll (Return to the workplace 2021) of nearly 12,500 workers showed that people with children under the age of 18 were 10% more likely to say they felt both disengaged (42%) and burnt-out (38%) because of work-from-home. Women over 20 were also disproportionately affected – clearly driven by childcare and other unpaid labor issues mentioned on social.
Search insight: Consumers expect remote work options and better benefits.
Analyzing search data – queries collected through search engines like Google -  is critical to understanding the bigger picture of trends because it shows intent and allows us to anticipate future demand. In recent months, searches for "jobs hiring near me remote," "full time remote jobs with benefits," and "how to get better pay" have spiked, indicating growing expectations for flexibility and better salaries. As we look to the future, consumers are likely to demand more from employers: not only higher pay and benefits, but better work-life balance and support for their mental and emotional wellbeing.

For more insights about this global phenomenon – and a closer look at how we use social, survey, and search data to answer critical business questions – watch the session on-demand here.