Mexico: From teenage country to an adult one in a century

 What is there to say about urban vs rural demographics? And what is there to look out for next?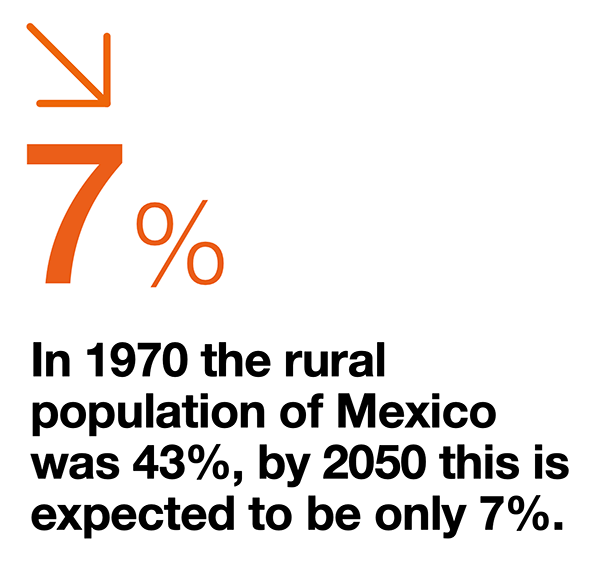 There has been a great shift in Mexico moving to cities from rural areas in recent decades. Today the percentage of Mexicans living outside of urban areas is half of what it was 50 years ago. Back in 1970 43% lived in rural areas, but this has fallen to 21% in 2020. This trend is predicted to continue with the rural population expected to be only 7% in 2050.
Rural areas in Mexico are not like rural areas in the most advanced Western countries. The natural landscape dominates and obviously there is a lower population density compared to cities, but there is also poor hospital infrastructure, roads, internet access.
In many countries we have seen as people move to the city they have less children, is this the same in Mexico?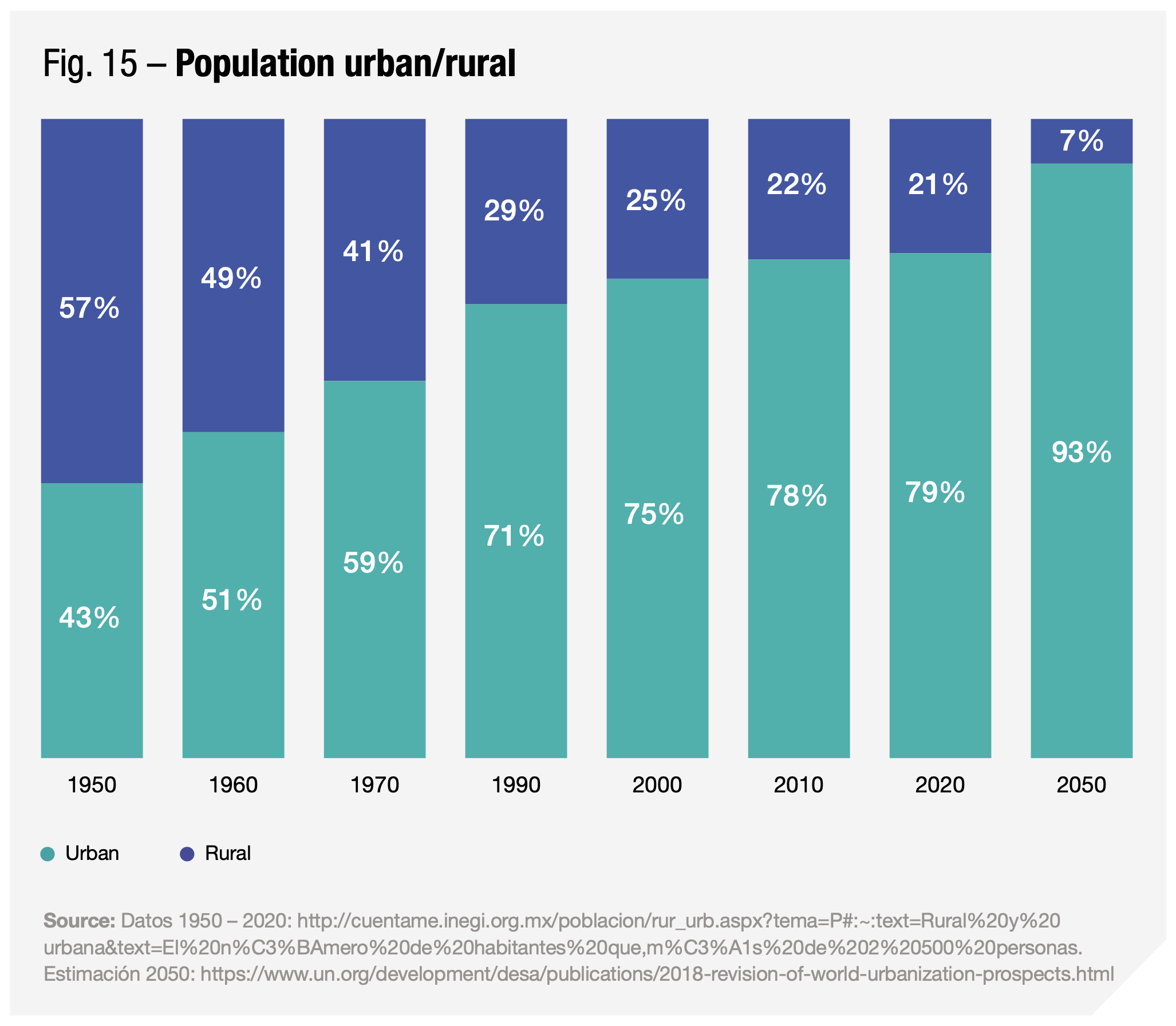 Over the last 50 years there has been the migration to urban areas, and this has been coupled with a decline in number of children families have. Mexico is now at the threshold of replacement rate. It is thus starting its transition from a "teenage country" to an older one. Back in 1970 children (those aged under 14 years old) made up 41% of the Mexican population, today that is down to 22% and is expected to fall further by 2050 (see figure 16 over page).
However, there are regional differences. Birth rates are twice as high in rural Chiapas than in Mexico City.
These differences are down to education. While Mexico City ranks first in average schooling, Chiapas ranks last. There are other factors such as access to information on sexual education, beliefs and customs, discrimination, and abuse against indigenous communities in rural areas.
 The number of 65+ year-olds will double in a generation, how are institutions reacting to this, if at all?
Older people are concerned by the lack of savings and thus of potential support from the moment when they start being dependent on others. More than four in 10 (44%) of adults save through mechanisms other than those offered by financial institutions.
Among these, the most common are keeping money in cash (65%) and participating in batches (32%). Therefore, it is important to disseminate the benefits and ways of saving, for example through investment instruments.
In times of higher inflation, remittances have played a very important role in the Mexican economy, it increases 12.5% in January 2023 and for February 4.4 billion dollars of remittances entered Mexico, for which it accumulates 33 months with an increase in the sending of dollars from the United States according to the Bank of Mexico.
More than a third of people aged 15-19 have dropped school and only a quarter of those aged 20-24 are still studying, while the majority is working or unemployed. A quarter of those aged 16 are either working or looking for a job.
The entities that receive these resources are also the states that see the most people moving away year after year. Jalisco, Michoacán and Guanajuato were the main recipients of remittances registered in 2022, each exceeding 5 billion dollars in 2022. By municipalities, Tijuana (753 million dollars), Guadalajara (631 million dollars) and Morelia (597 million dollars) were the ones that raised the most money, according to data from the central bank.
A significant share of younger adults (45% of 24 year-olds) in Mexico live like "full adults": working (or seeking employment) and running their own households. They are not the Gen Z seen in many adverts.
 Nearly half (45%) of 24 year-olds are married, how do marketers and/or communicators react to this?
At 20, a quarter are already married or living with a partner. This all means that a significant share of younger adults in Mexico live like "full adults": working (or seeking employment) and making their own households. They are not the Gen Z seen in many adverts.
Marketers and communicators direct their marketing strategies to different segments of the population, one of them is the pink market, since it is known that 40% have more premium tastes than the rest of the population, between 5 and 10% of Mexicans belong to this market and most of them are also dink (they live as a couple, without children and both work).
 Another segment to which they direct their attention is single-person households, since it has had growth in recent decades, while in 1990 this segment was 4.9%, it is expected that by 2030, it will represent 12.2%
 To what extent is the MX picture similar/different to other LATAM countries?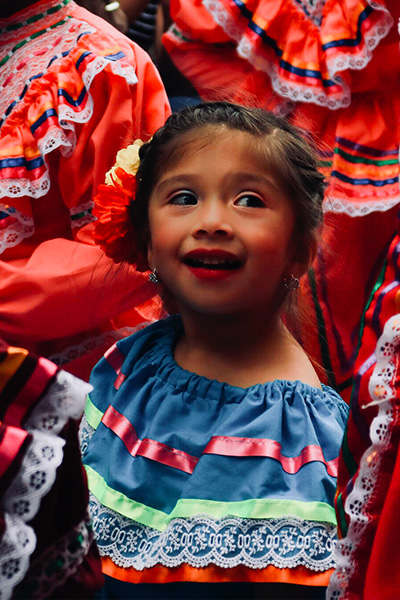 The indigenous speaking population in Mexico is 6% of the total. The states with the highest concentration of populations that speak indigenous languages are Chiapas, Oaxaca and Yucatán. There is a great diversity of indigenous languages, currently there are 68 languages with 364 variants throughout the country.
Six in 10 (61%) in Mexico aged 12 and over who speak an indigenous language declared to be economically active (worked or looked for work during the week prior to the census survey). The percentages by sex are 43% for women and 79% for men.
According to ENIGH 2018, seven out of 10 people who speak an indigenous language are in a situation of poverty.
The literacy of the indigenous population is a clear sign of its challenges. Data from 2020 show that 8% of girls and 8% of boys between the ages of six and 12 do not attend school. The percentage of school non-attendance of the age group 13-15 years increases to 29% of girls and 28% of boys.
---
Table of content
---