Americans ready for end of COVID-19 as a public health emergency
Latest Axios/Ipsos American Health Index shows concerns turn to gun violence, abortion access, and transgender rights
Washington, DC, May 18, 2023—Three in five Americans now believe the COVID-19 pandemic is over, according to the latest Axios/Ipsos American Health Index. The survey, which was fielded in the days immediately after the public health emergency ended on May 11, shows that fewer Americans are masking in public compared to earlier this year and very few report taking at-home tests or contracting COVID recently. As COVID recedes from Americans' collective consciousness, more Americans now believe access to guns is the #1 threat to American public health at the moment and many are wrestling with their attitudes toward gender identity and whether it is okay for adults and teens to decide how they identify. Separately, Americans are broadly opposed to reductions in Medicare or Social Security spending to lower the federal deficit, with significant opposition from both sides of the aisle.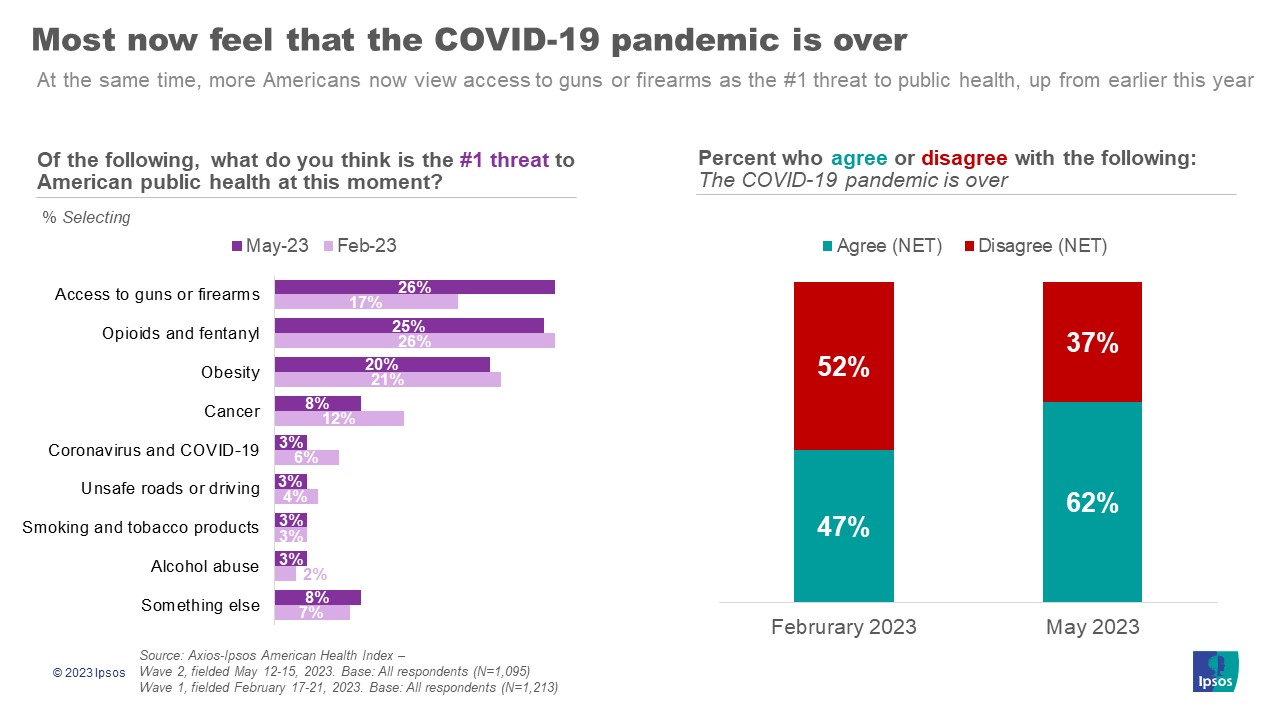 Detailed findings:
 1. Americans are personally dealing with COVID-19 less and are ready to move on from the pandemic as a public health emergency.
Compared with the first American Health Index wave in February, how Americans view their overall health and well-being is unchanged. Americans' attitudes and experiences related to COVID-19, however, have changed significantly.
Fewer than a quarter (24%) now believe that contracting COVID-19 poses a large or moderate risk to their health, down nine percentage points from February. Only 5% say they have actually contracted COVID in the past three months.
Fewer also report masking in public settings: 23% say they mask at all times or sometimes, down from 30% from February. At the same time, a majority (56%) now say they are never masking in public.
Even though Americans have personally moved on, they still want the government and health insurance companies to pick up the costs for treatment and testing, something that has changed with the end of the public health emergency. Currently, 86% wants insurance companies to cover the cost of COVID testing, while 76% supports the government providing COVID vaccines and treatments for free, regardless of health insurance status.
 2. Access to guns and firearms is now considered one of the top threats to public health, alongside opioids and fentanyl. Since February, the number of Americans citing guns as their top concern has increased significantly.
Following several recent mass shootings, more than one in four (26%) believe access to guns is the #1 threat to public health at this moment, roughly tied with opioids and fentanyl (25%).
This represents a nearly 10 percentage point increase from earlier this year (26% now, 17% in February).
At the same time, the number of Americans citing COVID-19 as a top concern has halved from 6% to 3%.
Access to guns tops the list among Black Americans (49% cite this as their #1 concern), Democrats (50%), and those living in urban areas (31%).
3. A vast majority of Americans do not want Medicare and Social Security spending compromised to lower the federal deficit.
Most Americans (77%) oppose reducing Medicare and Social Security spending to reduce the federal deficit. Majorities of Democrats (82%), independents (77%), and Republicans (75%) oppose this.
Though, Americans are open to requiring proof of work in order to receive Medicaid or SNAP benefits. Most support (63%) requiring Medicaid or SNAP benefit recipients to show proof of work to receive benefits. 
There are significant partisan differences on work requirements, with supermajority support from Republicans (80%), majority support from independents (66%), and split support from Democrats (49%).
 4. Americans are wrestling with their attitudes on gender identity, sexuality, and their comfort with LGBTQ-related issues. A plurality agree that people should decide their gender identity, but when asked the same about teenagers, more disagree.
Though 63% of Americans indicate they are personally comfortable around LGBTQ people, other questions in the survey show that when it comes to policies and decisions around gender identity, attitudes are more mixed.
A plurality, but not a majority (44%), agrees that people should be able to decide their gender identity for themselves, while 31% of Americans disagree.
When asked about teenagers, fewer support gender self-identification: 33% agree teens should be able to decide their own gender identity and 44% disagree.
Moreover, the public is evenly split on whether parents supporting their transgender children with transitioning genders are committing something like child abuse (36% agree, 38% disagree, 24% neither agree or disagree).
The most significant differences in opinion on this topic are by party affiliation. Democrats and Republicans are worlds apart, with 35-40 percentage point gaps (or more) on their answers to this question.
Washington, DC, February 23, 2023—Americans have a pessimistic view of American public health, even as most report their own health and well-being as mostly good. Our new Axios-Ipsos American Health Index also shows that only three in ten Americans believe the country is ready for another pandemic, and a quarter or less believe that either American businesses or the government put people's health first. Additionally, this survey updates a number of health-related behaviors ranging from diet, to vaccination uptake, to driving habits.
This is the first wave of our new quarterly Axios-Ipsos American Health Index, building on the work done during the COVID-19 pandemic with the Axios-Ipsos Coronavirus Index. Each quarter we plan to survey a representative sample of Americans looking at priorities, concerns, and behaviors that impact public health.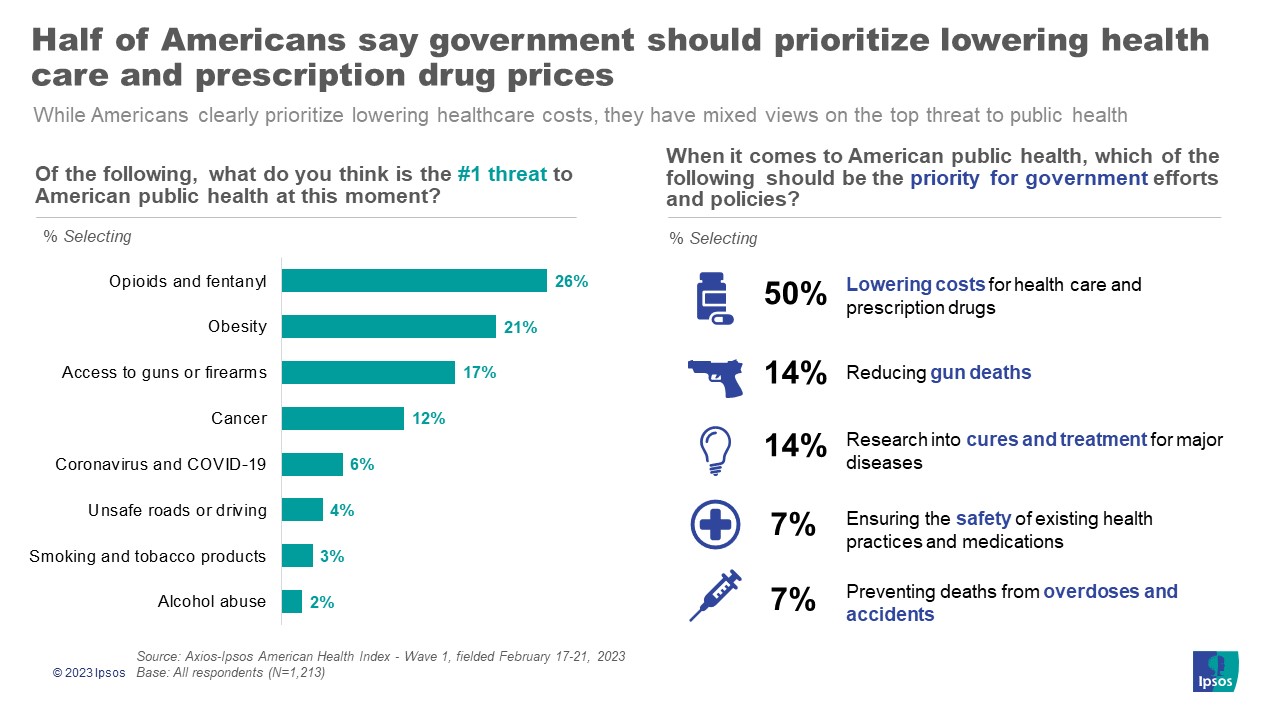 Detailed Findings:
1. Americans view opioids, obesity, and guns as the main threats to public health at the moment. Yet, some leading causes of death like cancer or auto fatalities are further down the list.
Partisanship drives some of the attitudes about leading risks, with Republicans focused on opioids and obesity, while Democrats are more worried about gun deaths.
Education also has a strong connection to concerns about opioids and obesity. People with a high school education or less are, by a three-to-one margin, more concerned with opioids over obesity compared to those with a college degree, who see obesity as the bigger issue.
 2. When it comes to public health priorities, Americans look to their pocketbooks.
When asked what the government should prioritize for public health, half of Americans say reducing the cost of healthcare and prescription drugs.
The next closest priorities are research into breakthrough cures to major diseases and reducing gun deaths, both distantly behind reducing healthcare costs, at 14%.
 3. The large majority of Americans report their health as "good" right now. But, reading between the lines, only a few are totally happy with their diet, physical health, or personal finances.
Three-quarters or more Americans report they are in good health, ranging from emotional to financial. However, only about three in ten or less say that their diet (21%), physical health (27%), or personal finances (29%) are "very good," suggesting these areas still have much room for improvement for most people.
 4. Americans' behavior suggests a somewhat casual acceptance of risk is normal for many.
Driving is a center of risk, with half (52%) of Americans reporting that they speed sometimes or all the time, and about three in ten (29%) reporting that they text and drive at least occasionally.
Avoiding germs is also conditional; only a third (32%) report social distancing or wearing masks at least sometimes. Just 35% report washing their hands all the time when they arrive home or at their place of work.
Half (49%) of Americans report alcohol consumption in the past week, with a quarter (27%) having drinks on multiple days. Three-quarters (77%) report drinking caffeinated beverages multiple days per week.
Only three in ten Americans report walking 30 minutes or more every day, though about three in five (62%) report exercising several times a week or more.
 5. The American public is pessimistic about the institutions of America looking out for their health and well-being.
Three-quarters of Americans disagree that either American businesses or the government make the health and well-being of consumers or citizens a priority.
Only three in ten (28%) Americans think that the country is adequately prepared to deal with another pandemic.
Just 41% say they trust the information on health topics they get from their state's governor either a great deal or a fair amount.
About the Study
The second wave of the Axios-Ipsos American Health Index survey was conducted May 12 to May 15, 2023 by Ipsos using our KnowledgePanel®. This poll is based on a nationally representative probability sample of 1,095 adults ages 18+.The margin of sampling error is plus or minus 3.1 percentage points at the 95% confidence level, for results based on the entire sample of adults. The margin of sampling error takes into account the design effect, which was 1.12.
The first wave of the Axios-Ipsos American Health Index survey was conducted February 17 to February 21, 2023 by Ipsos using our KnowledgePanel®. This poll is based on a nationally representative probability sample of 1,213 adults ages 18+. The margin of sampling error is plus or minus 3.0 percentage points at the 95% confidence level, for results based on the entire sample of adults. The margin of sampling error takes into account the design effect, which was 1.14.
The survey was conducted using KnowledgePanel, the most well-established online probability-based panel that is representative of the adult US population. Our recruitment process employs a scientifically developed addressed-based sampling methodology using the latest Delivery Sequence File of the USPS – a database with full coverage of all delivery points in the US. Households are randomly sampled from all available households in the US. All persons in selected households are invited to join and participate in KnowledgePanel. Ipsos provides selected households that do not already have internet access a tablet and internet connection at no cost to them. Those who join the panel and who are selected to participate in a survey are sent a unique password-protected log-in used to complete surveys online. As a result of our recruitment and sampling methods, samples from KnowledgePanel cover all households regardless of their phone or internet status and findings can be reported with a margin of sampling error and projected to the general population.
The study was conducted in English and Spanish. The data were weighted to adjust for gender by age, race/ethnicity, education, Census region, metropolitan status, household income, and party identification. The demographic benchmarks came from the 2022 March supplement of the U.S. Census Bureau's Current Population Survey (CPS). Party ID benchmarks are from recent ABC News/Washington Post telephone polls. The weighting categories were as follows:
Gender (Male, Female) by Age (18–29, 30–44, 45–59, and 60+)
Race/Hispanic Ethnicity (White Non-Hispanic, Black Non-Hispanic, Other or 2+ Races Non-Hispanic, Hispanic)
Education (Less than High School graduate, High School graduate, Some College, Bachelor's and beyond)
Census Region (Northeast, Midwest, South, West)
Metropolitan status (Metro, non-Metro)
Household Income (Under $25,000, $25,000-$49,999, $50,000-$74,999, $75,000-$99,999, $100,000-$149,999, $150,000+)
Party ID (Democrat, Republican, Independent, Something else)
The margin of sampling error is higher and varies for results based on sub-samples. In our reporting of the findings, percentage points are rounded off to the nearest whole number. As a result, percentages in a given table column may total slightly higher or lower than 100%. In questions that permit multiple responses, columns may total substantially more than 100%, depending on the number of different responses offered by each respondent.
About Ipsos
Ipsos is one of the largest market research and polling companies globally, operating in 90 markets and employing over 18,000 people.
Our passionately curious research professionals, analysts and scientists have built unique multi-specialist capabilities that provide true understanding and powerful insights into the actions, opinions and motivations of citizens, consumers, patients, customers or employees. Our 75 solutions are based on primary data from our surveys, social media monitoring, and qualitative or observational techniques.
Our tagline "Game Changers" sums up our ambition to help our 5,000 customers move confidently through a rapidly changing world.
Founded in France in 1975, Ipsos has been listed on the Euronext Paris since July 1, 1999. The company is part of the SBF 120 and Mid-60 indices and is eligible for the Deferred Settlement Service (SRD).ISIN code FR0000073298, Reuters ISOS.PA, Bloomberg IPS:FP www.ipsos.com