Americans want empathy and financial support from their bank
New research shows people expect their bank to have empathy in how it practices business, from support of individual financial needs to its own employees servicing customers.
As stay-at-home orders extend into May, and the return to a more familiar life remains uncertain, members from the SMX US Syndicated Community, Fresh Lab, have mixed feelings about their personal finances during this pandemic. One thing is clear – they expect their bank to have empathy in how they conduct themselves, from support of individual financial needs to their own employees servicing customers.
The majority of community members feel anxious, overwhelmed, scared, or angry about their finances. Many have been directly affected by Covid 19, losing their jobs and unsure of what the future will hold for them financially. Even of those who are calm, have saved money or are retired,  many have feelings of anxiety of an unknown future.
"I am feeling anxious because part of me says things will be ok but on the other end the uncertainty of how long it will be before things get back to normal gives me anxiety and I don't know if I am financially prepared." – SMX Community Member
I'm lucky to be working, but I also feel worried as the virus is getting worse and I will not be able to provide for my family. – SMX Community Member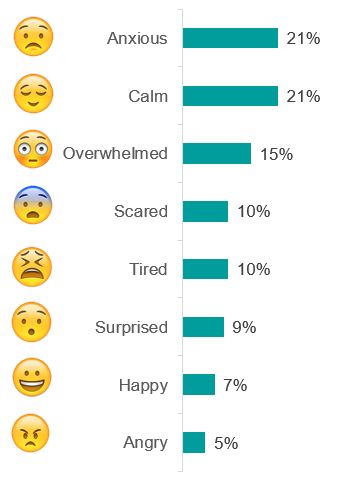 Many are spending less now or plan to in the near future. Some community members are actually saving money by spending less with closures of after school programs and classes or not being able to go out to stores and restaurants. Others, however, are spending less because they have lost their job or have significantly reduced work hours. Some are anticipating that their situation will get worse with the growing number of layoffs and the weakened economy.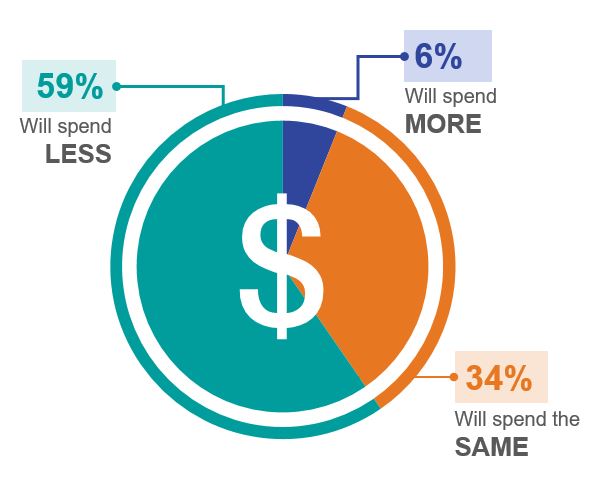 Banks Need to Find Empathy for Individual Needs during this Pandemic
While most community members feel their bank is responding okay or better to Covid 19 as it relates to their personal finances, they do expect banks to find empathy for those that need it most, including the bank's employees. They also wanted to make sure that the banks that are opened or have reduced hours are taking care of employees and those visiting ATMs and drive-up ATMs. They are grateful for the staffing continuing to service them, and want them to be protected.
"I guess I'd be concerned for those who have mortgages through this bank and hope that [my bank] is acting in a compassionate and empathic way in this time." – SMX Community Member
"I would want them to really hear their customers and be supportive to their needs, concerns, and questions during this uncertain time." – SMX Community Member
"Thank you for staying open, and please continue to do whatever you can to keep your employees safe and healthy." – SMX Community Member
How would you rate how your primary bank is responding to the Coronavirus related to your personal finances?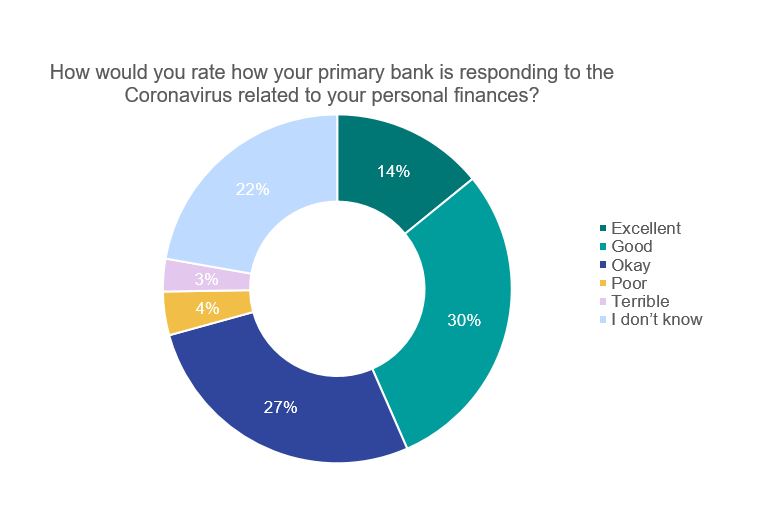 Many members agree that the stimulus package meant to help individuals likely will not be enough. Some are worried of tax implications later on, and others are weary of money going to corporations instead of individuals.
 "It's not enough. If it was that $1200 payment per person, per month for six months, I would say that is reasonable. A one-time payment is ridiculous and not really going to help that much." – SMX Community Member
Members will lean on their bank to proactively provide reassurance and financial support, including guidance and advice to safeguard from similar future crisis
Despite personal circumstances, community members are relying on their bank to provide assistance in the weeks ahead, one member said, "You should give better interest for accounts that aren't pulling out a lot of money for the next 3 months."
They overwhelmingly feel that banks should financially help those that need it most, including waiving late fees, deferred payments on loans and mortgates, but also communicating that their money is safe. Some are thinking ahead and would like to learn more from their bank on best ways financially protect themselves from something like this in the future.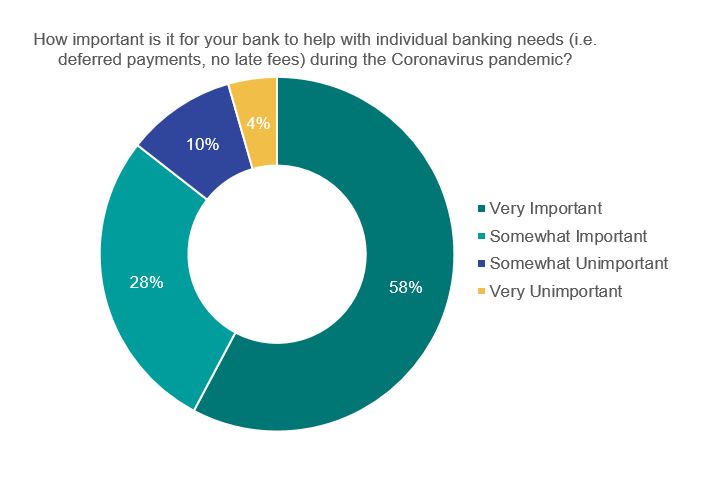 "If I could talk to the leaders of my bank I think that I would ask them if my money is safe in the bank due to what the coronavirus is doing to the world and our economy or if they suggest for people to take their money out of the banks while they still can." – SMX Community Member
"How will they be able to ensure that our funds aren't affected too much by the cuts in interest rate?    How can they assure that our money can grow and why we need to keep our money in their bank?" – SMX Community Member
"Send a message that accounts are safe during this time. financial advisors are ready to help." – SMX Community Member
Source: Ipsos SMX US Syndicated Online Community: COVID-19 Financial Survey (March 31 – April 2, 2020, n = 1339) Our syndicated online community is made up of 6,000+ engaged consumers across the U.S., and we are tracking the impact of the health crisis on consumer behaviors and emotions on a weekly basis. Baseline tracking includes an in-depth look at consumer emotions, day-to-day impact, pain points, and changes in spending. Brand-specific questions can be incorporated to help provide further context around how to support consumers and best meet their needs during this time of uncertainty and disruption.