Ask Us Anything: America's Adaptation to the Time of Coronavirus
View our on demand webinar examining how public mood is changing as a result of Covid-19.
America is in a crisis. The Covid-19 pandemic is already reshaping daily American life in ways unprecedented and unanticipated. As this is happening, the team at Ipsos is using every tool at their disposal to keep track of what the American public knows, fears, experiences, and is doing in response. As we move from the "age of uncertainty" to the "time of coronavirus", how will Americans adapt as consumers, citizens, and humans?
Revisit our interactive "Ask us anything" webinar examining how public mood is changing as a result of Covid-19, where concerns are most focused now, and how the crisis is affecting American's behavior now and in the future. This on demand session also includes a panel of our consumer, behavior, and behavioral experts answering questions from attendees.
---
The Ipsos Ask Us Anything: America's Adaptation to the Time of Coronavirus explores how the coronavirus has radically altered American life and its implications for our collective future. Read on below for key insights from Tuesday's webinar, featuring a panel of Ipsos experts and moderated by Clifford Young, President of US Public Affairs.
What you need to know
COVID-19 has altered daily life to a degree unprecedented in modern American history. Consumer confidence has collapsed, and the majority of Americans have been avoiding social interaction and large gatherings since mid-March in an effort to curtail the pandemic.
Though previous routines have been challenged, Americans are adopting new habits and behaviors to help them endure self-quarantining. Research indicates that at least some of these new behaviors may persist even after it is safe to resume normal activities.
Partisanship is still present under the pandemic, with implications for the future of the 2020 election.
Deep Dive
The United States is in the throes of profound behavioral change unprecedented in modern history. Our Axios-Ipsos Coronavirus Index shows that over the past four weeks, Americans have been self-quarantining, avoiding friends, family, restaurants and other places of public gathering. This is not a "new normal," as behaviors will likely change once social distancing measures are lifted, but rather the new status quo for the foreseeable future.
The impact of all that social distancing on the economy has been severe, with consumer confidence dropping a precipitous 15 points from early March. Still, the majority of Americans would prefer to keep social distancing measures in place until the coronavirus is contained over opening up the economy, at an approximate 80/20 ratio.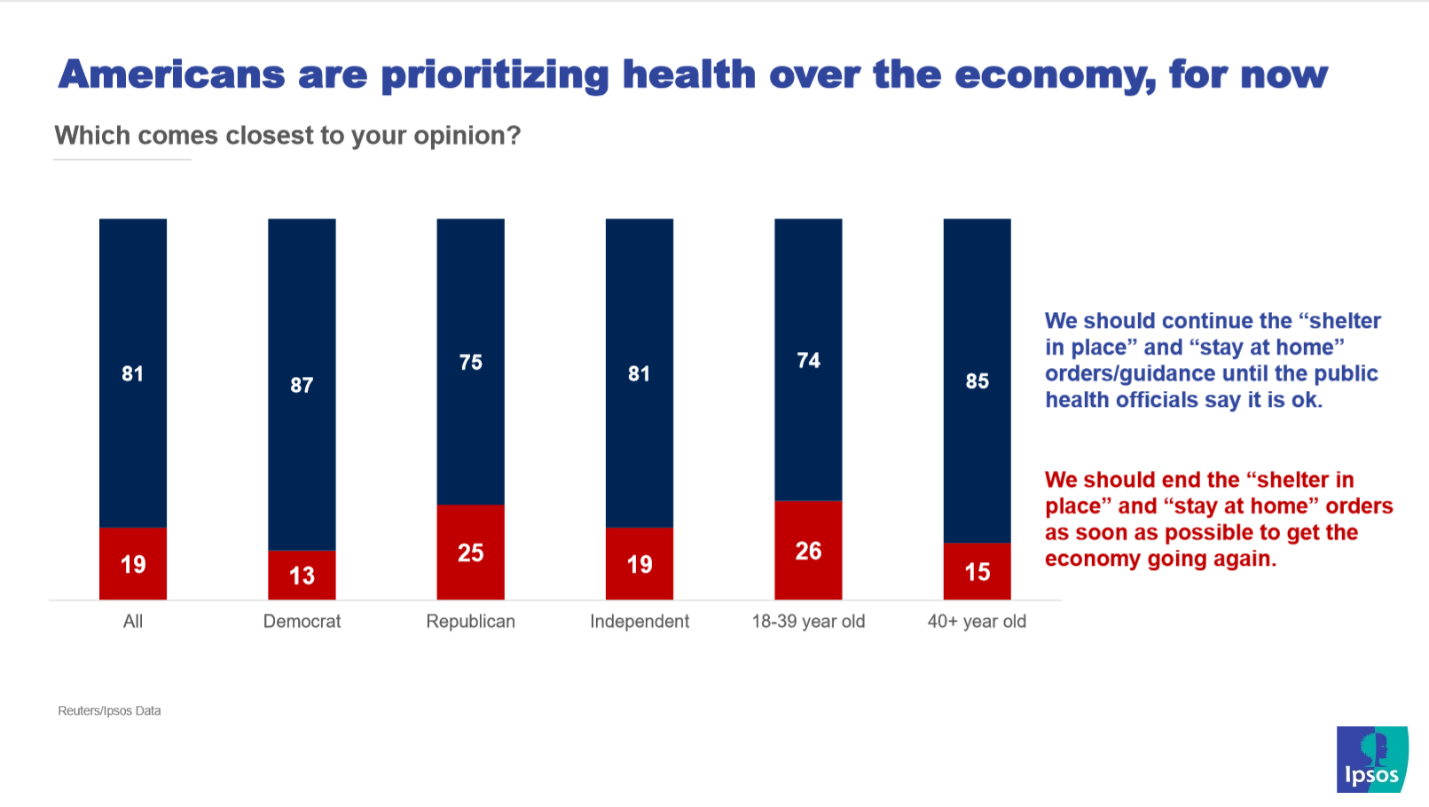 COVID-19 is also changing Americans' policy priorities. Americans now see healthcare as the top issue facing the country, followed by the economy, speaking to the double negative effect of the pandemic on economic activity and public health. This represents a departure from our pre-coronavirus world, when Americans identified a troika of issues as the top priorities, including immigration, the economy and healthcare.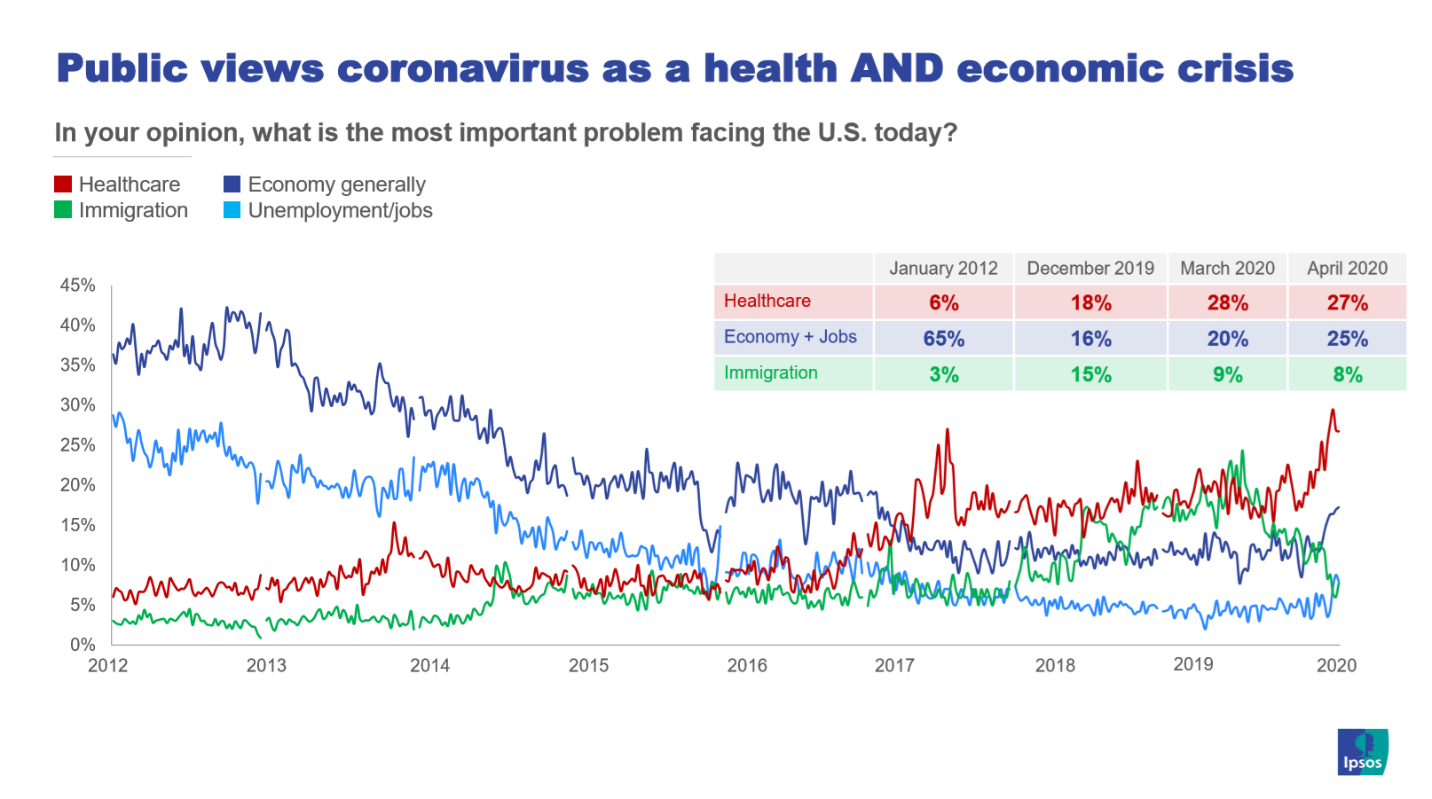 Though pre-pandemic routines have been altered, Americans are adopting new habits and behaviors to help them get through social distancing. Going outside of the home is now seen as a risky endeavor as Americans buckle down to endure the weeks and possibly months to come of further self-quarantining. Though Americans miss their old routines and social lives, this level of profound, pervasive change raises the question of which behaviors will stick once the pandemic subsides.
The existential shock brought about by COVID-19 can lead to long-term behavioral change and experimentation. In keeping with the axiom that not all change is bad, some Americans report that they hope to maintain some of the new habits developed under quarantine around shopping, cooking and personal care.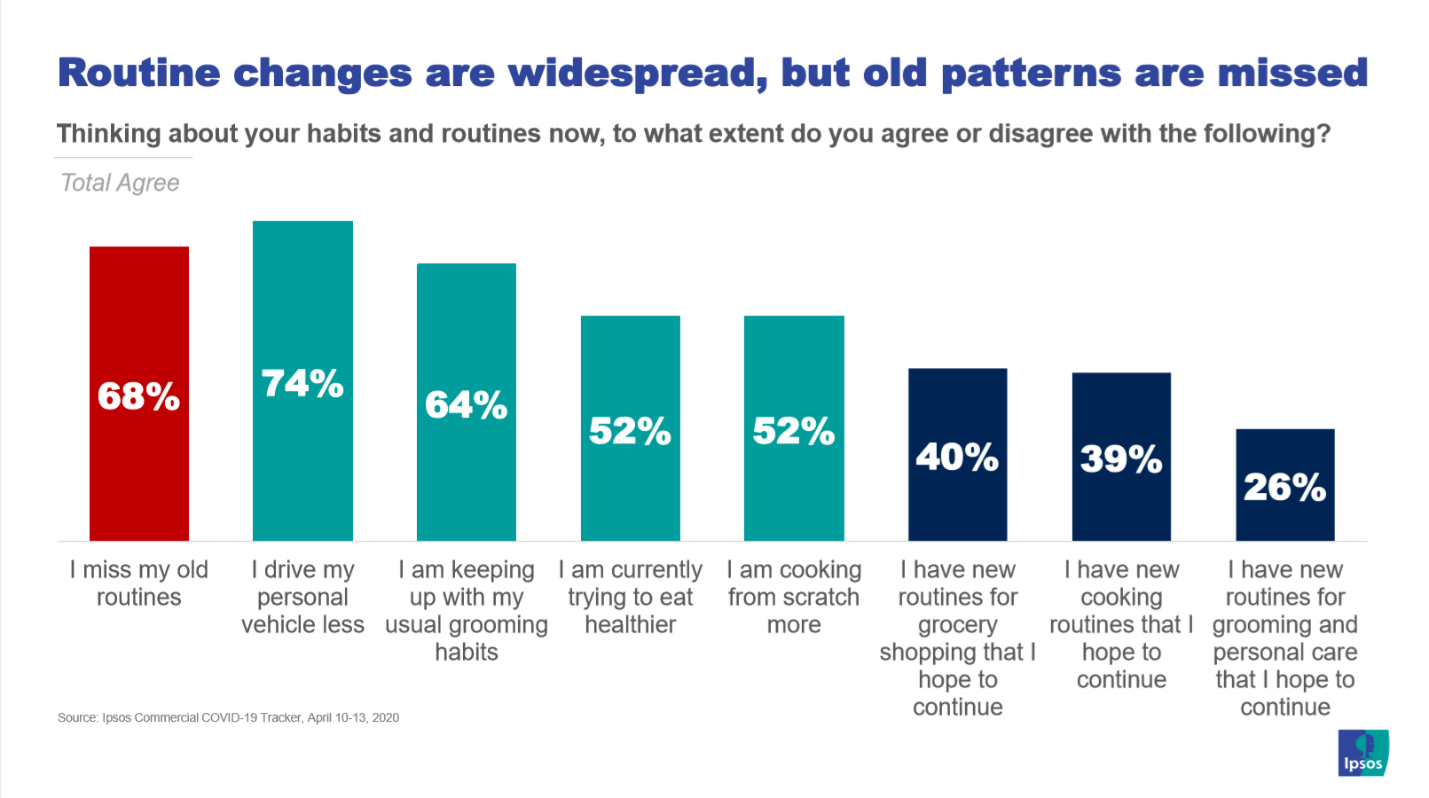 Shopping and consumption habits are also undergoing a transformation, as consumers shift their priorities to the essentials. Concerned about the health risks now intrinsic to visiting a brick and mortar store, many shoppers are stockpiling goods or choosing to go virtual.
For brands and businesses, there is a premium on getting messaging right as individuals are much more sensitive to both positive and negative inputs during times of extreme disruption. If they hope to establish a genuine connection with consumers that will endure during and after the pandemic, brands and businesses must double down on authentic messaging that resonates with customers' lived experiences.
Our partisan world still persists in COVID-19. Partisanship is still apparent, particularly around reactions to the federal response to the coronavirus and perceptions about the threat level that the virus poses. The gap in how threatening coronavirus seems to Americans likely comes down to two factors, the rural/urban divide which mirrors where Republicans and Democrats tend to live, and where partisans get their news about the coronavirus.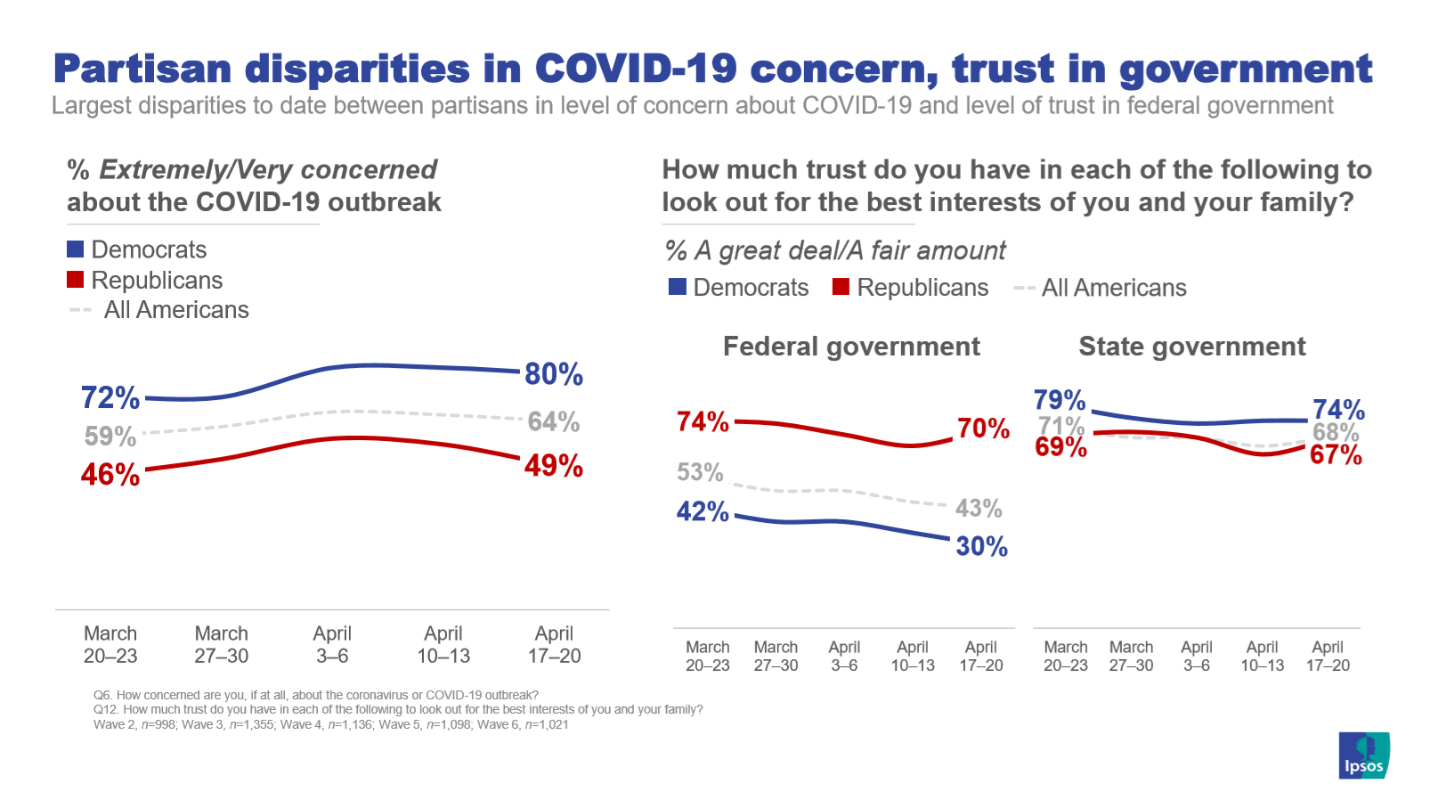 Though much has changed, Trump's approval ratings have remained relatively consistent beyond a muted "rally around the flag" bump in his approval ratings brought about by the coronavirus. In other words, Trump's approval ratings remain roughly the same as they were prior to the pandemic, despite the severity of the shock of the coronavirus to American life.
This is significant because presidential approval ratings tend to be the most important predictor of a candidate's reelection chances. Hovering as they are in the low 40s, Trump's approval ratings give him a good chance of reelection in November.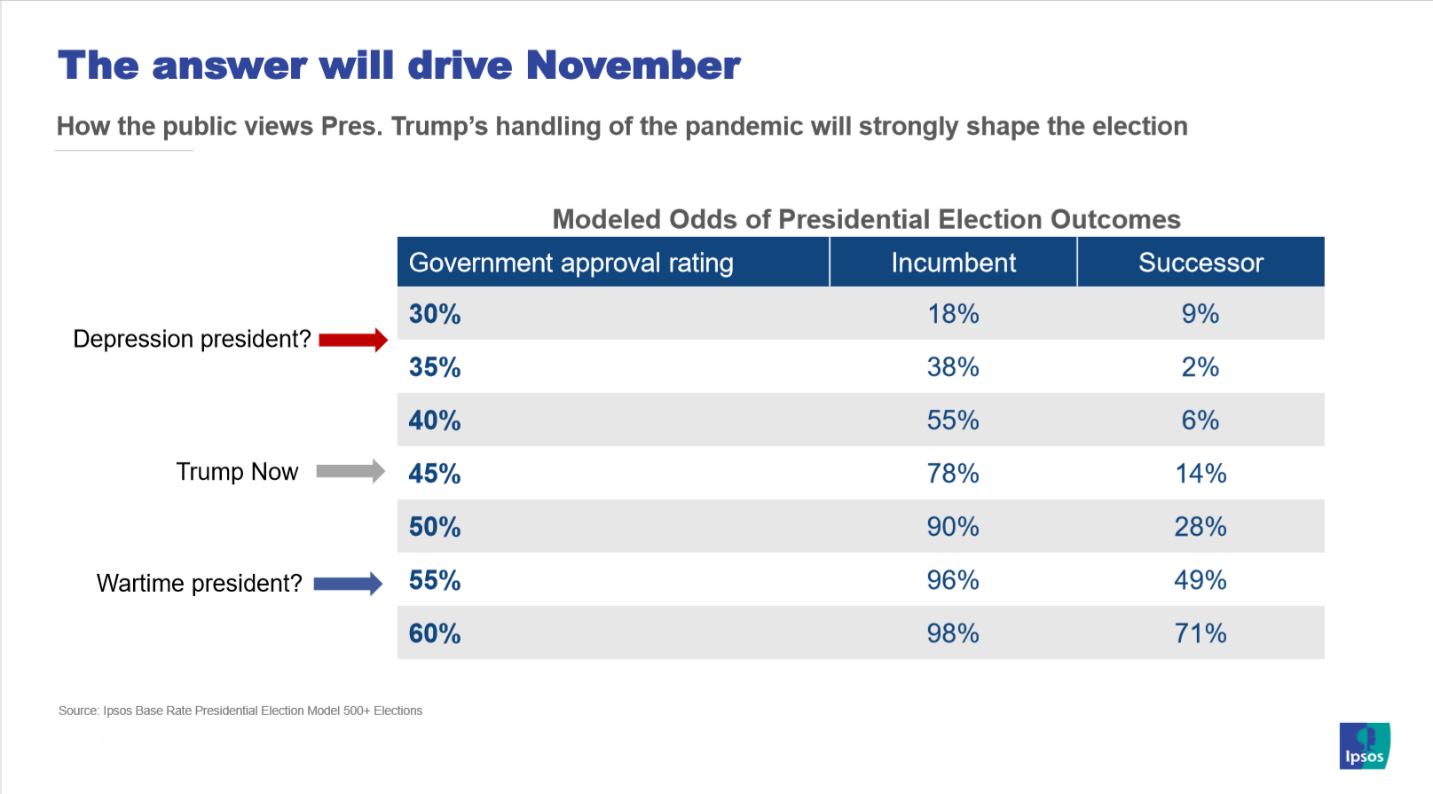 Any election forecasting must be caveated with the many unknowns still current about the coronavirus. It is impossible at this juncture to know in full how the coronavirus will play out. If the coronavirus results in a severe recession or depression, for instance, Trump's reelection chances could be weakened.
That said, the coronavirus is unique relative to other national disasters in that it packs a two-punch, wreaking havoc both on public health and to the economy. As Clifford Young has written elsewhere, its effect on public opinion about the president is most likely to be net neutral, though this could change depending on how the situation evolves. In the end, the election will probably hinge on a few swing states, with Wisconsin, Michigan and Pennsylvania most likely to be the deciding factors in the ultimate outcome of 2020.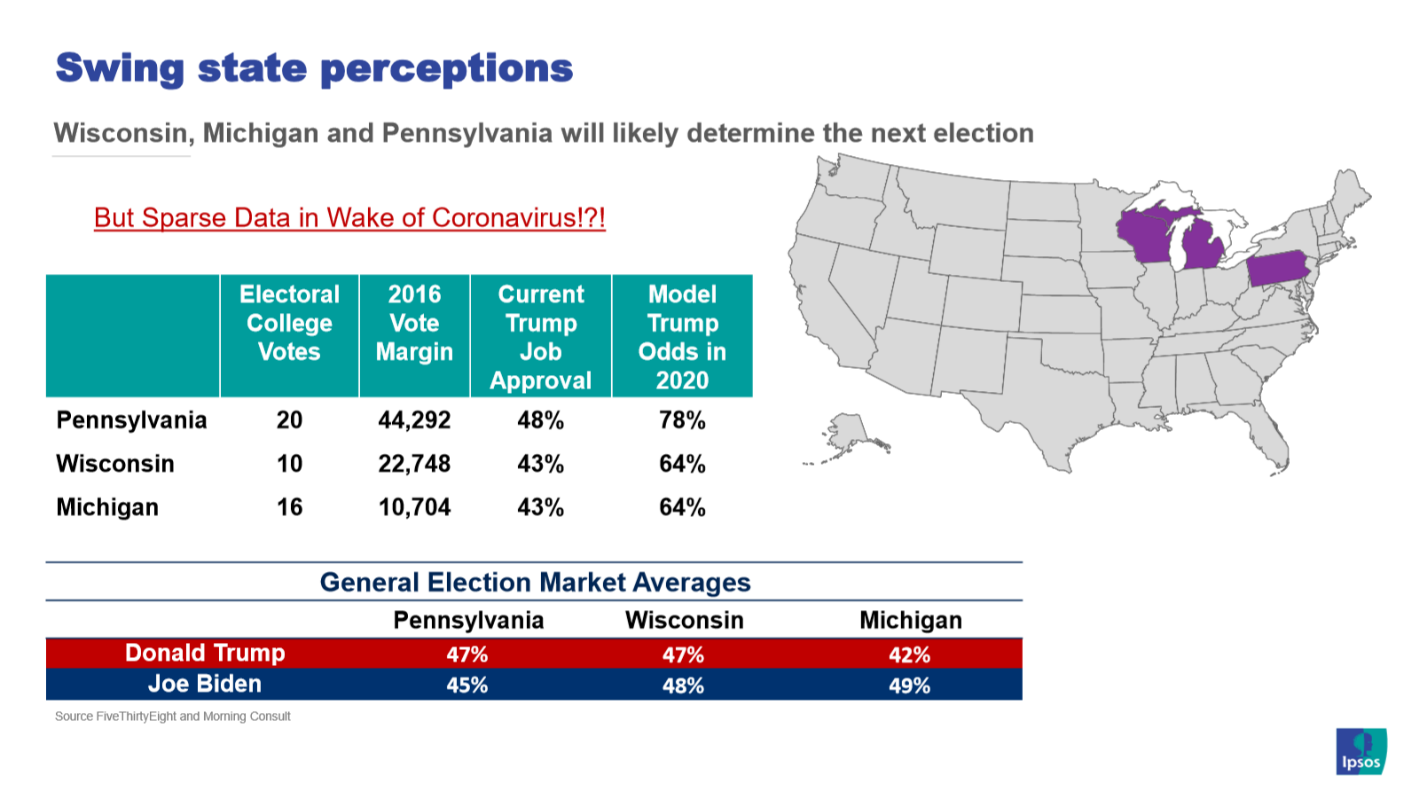 Download