Housing 2017
Where and how will we live in the future? If Millennials continue to struggle to afford a home, the impact will be felt from finance to consumer packaged goods to home furnishings. We explore how brands can respond and cities can create impactful real estate and housing policies.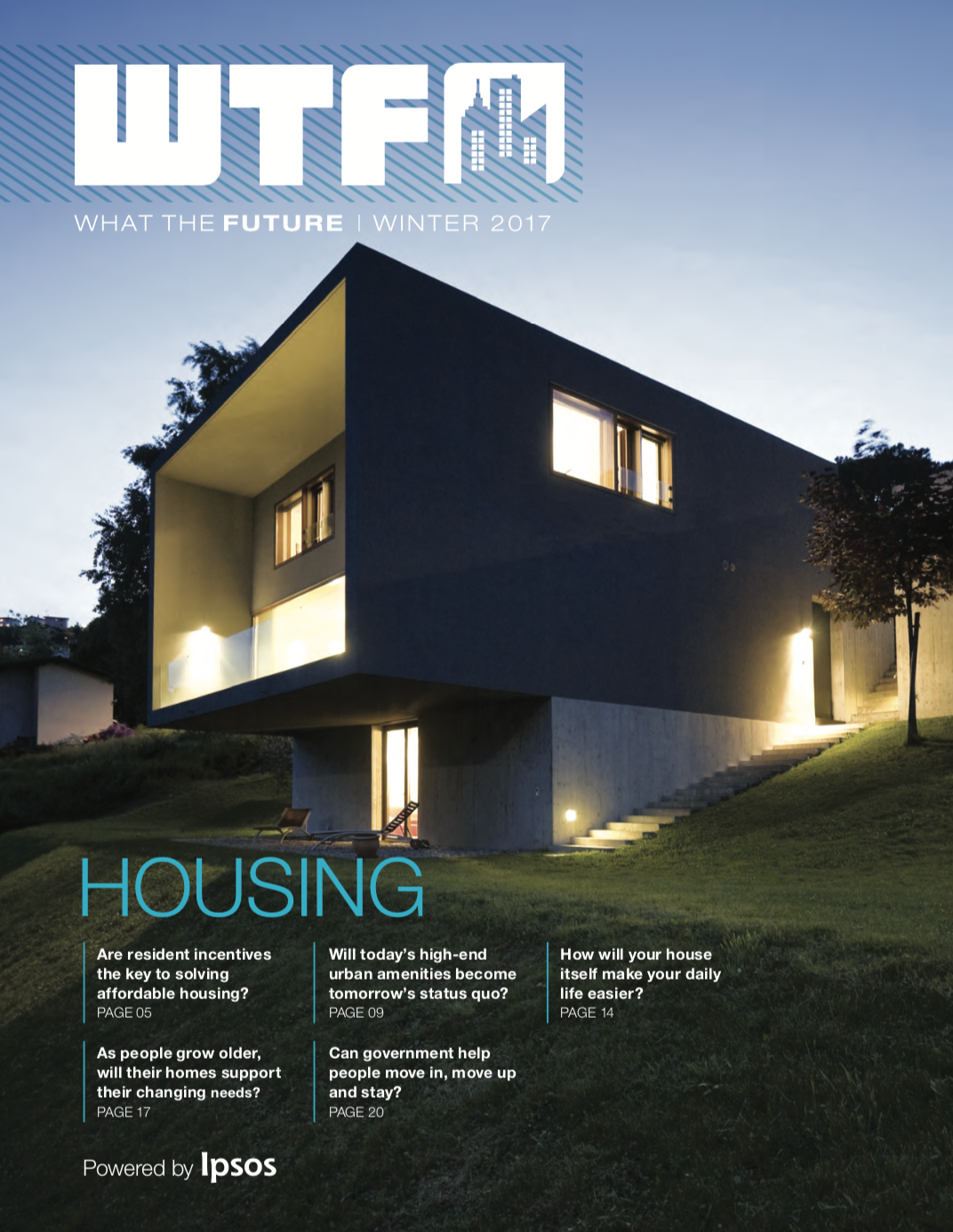 New York – What the Future asks the big questions such as, "What if Millennials are never able to afford homeownership?" New research from Ipsos shows that more than eight in 10 millennials still aspire to own a home and specifically a detached single-family home. But the home ownership rate is falling for this generation. If that doesn't change…
What will that mean for industries ranging from finance to consumer packaged goods, to home furnishings?
How can marketers create products and messaging to address these changes?
How can cities and governments create impactful policies that address important housing issues?
"What the Future is a question we need to ask because the future doesn't care if we're thinking about it. It is coming regardless," said Oscar Yuan, president of Ipsos Strategy3. "We hope the questions we ask and the trends we unpack in this report will inspire the creativity needed to solve our country's housing future."
Ipsos convened five experts from varying perspectives to ask what data we might need five or ten years from now that we should gather today. The experts include an economist, mayor, urban theorist, home retailer and a futurist. 
WTF Experts:
Richard Florida, urban theorist and author of "New Urban Class"
Mary Lunghi, head of market intelligence for IKEA
Rodney Harrell, director, livable communities for AARP's Public Policy Institute
Amy Webb, founder of the Future Today Institute and author
Lawrence Yun, chief economist of National Association of Realtors (NAR)
Paul Soglin, mayor of Madison, Wisconsin
Millennials and the Urban Crisis
How will millennials' values and financial circumstances impact housing now and in the future?
Millennials find themselves beset by student debt and many came of age during a weak job market and housing crash. Yet, American adults under 35 years of age make up the largest share of the housing market and 76 percent of millennials said they delayed homeownership due to student load debt, according to the National Association of Realtors. The data shows a preference to buy, but financial barriers prevent them from saving for a down payment or getting a mortgage.
"The aspiration numbers today are encouraging, but they could change if people believe it will become nearly impossible to attain their dream," said Yun, chief economist, NAR.
In addition, young, talented millennials continue wanting to live in city centers with its urban amenities such as cultural vibrancy, transportation and economic opportunity, but they're deterred by rising prices and competition for urban space. Meanwhile, suburban sprawl costs the U.S. economy roughly $600 billion a year related to inefficient land use and car dependency and another $400 billion in directly from traffic congestion and pollution, according to a 2015 study from the London School of Economics.
"Cities must strike a balance between offering a sufficient and diversified share of public amenities and making sure all residents have access to these resources," said Richard Florida, urban theorist and author of New Urban Class.
Future of Home
How will your house make your daily life easier?
Several trends impacting home living right now will shape future home design. According to a recent Ipsos survey, millennials identified automated cleaning, like vacuuming robots or shower cleaners, as their top choice of innovation that would make their lives easier. In addition, smart homes and automation will impact home product design.
"We want to understand the direction your home life is taking. Do you envision a smart home in your future? If you do, we have to figure out how to work with that. That feeds into our innovation and product design," said Lunghi of IKEA.
Urbanization has already led builders and developers to rethink home spaces given the smaller sizes in urban areas. The "fluid home" offers multi-functionality through the house. For example, the kitchen has always been the heart of the home, but increasingly is used beyond traditional functionality. It's a gathering place for entertaining, a space for working from home or doing homework. Future kitchen design will need to accommodate this behavior. A new Ipsos survey shows the kitchen (23%) as the number one room people want to remodel in their home, ahead of the bathroom (19%) and the living room (17%). 
America's Aging Population
As people grow older, will their homes support their changing needs?
By 2060, nearly 100 million Americans will be older than 65, double what it is today and the vast majority of older adults (85%, according to recent Ipsos study) want to stay in their homes and communities as they age. This has implications on the future of housing given that homes today largely don't support mobility for the elderly. 
"The problem is you can't create a new housing stock overnight, so we have to start working now," said Harrell of AARP. "Nobody should be forced from their home because it doesn't work for them."
Factors from the Fringe 
What trends outside of the housing industry will have an impact on housing in the future?
Futurist Amy Webb checks in "from the fringe" identifying forces that will shape where housing heads next, including the following:
Climate change, extreme weather and its impact on migration away from populous U.S. coasts
Underground farming techniques that could make places like Oklahoma a "hot spot" in the future
"Landscrapers" a new building trend for commercial structures being longer and lower
Autonomous vehicles allowing longer commutes to be more realistic and productive