Music
Technology will influence music's future, but the old and new will mix. In What the Future: Music, we explore how brands and fans connect through music as AI, streaming, virtual avatars and the metaverse take hold in a new music culture.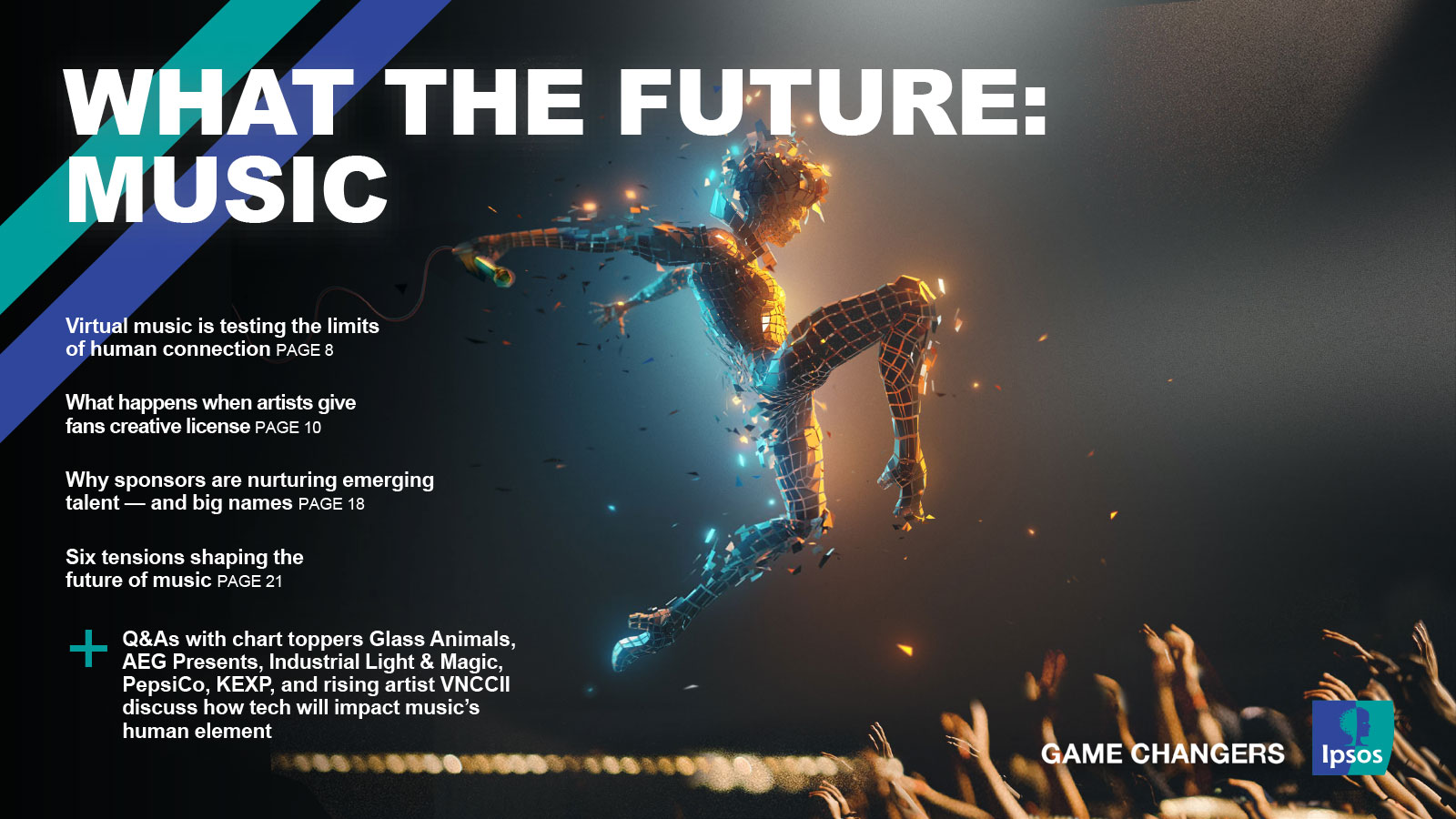 Technology is influencing music in every way, from how artists create and promote it, to ways fans discover and share it, to how audiences listen and view performances. Technology also is changing the ways brands leverage music in marketing and culture as talent incubators and impresarios. Yet what's not changing is the vital role music plays in our lives for entertainment or mental health. 
In this What the Future: Music issue, we'll explore how the music industry has changed dramatically and how fans' connection to artists and music hasn't missed a beat. Will people embrace virtual concerts with avatars of their favorite artists? What kinds of mixed reality shows will fans think are worth the in-person price? Ad-supported or subscriptions? Where people lean on these opinions in the coming years will shape the future of music and fandom. It's that human aspect that endures even as technology enables artists and fans to connect virtually, constantly and directly.
Be sure to subscribe to the What the Future newsletter for new topics each month. And join us for our What the Future: Music webinar as we lead you through the latest data, panels and insights. For now, read on to learn what the experts on live music, mixed reality, artist creativity, streaming and sponsorship expect to change in how we discover, listen to and watch music. 
Dave Bayley, lead singer of Billboard chart topping band Glass Animals — What happens when artists give fans creative license
Catherine Carter, senior marketing manager, PepsiCo — Why sponsors are nurturing emerging talent — and big names
Marisol Segal, head of digital partnerships, AEG Presents — How virtual and in-person concerts can co-exist
John Richards, morning show host, associate program director, KEXP Seattle — Why humans still have a place in music discovery
Ben Morris, creative director and visual effects supervisor, Industrial Light & Magic — How virtual technology will redefine music shows
And Sami Tauber, aka metaverse artist VNCCII — Virtual music is testing the limits of human connection
For full results, please refer to the annotated questionnaire.