More concerned for those vulnerable to COVID-19 than for their own health, Ipsos poll shows
A silver lining: Majority believe pandemic will bring them closer to family and friends
April 2, 2020 — A majority of people surveyed across the world, and in Australia, are the most concerned for people who are vulnerable or weak amid the coronavirus pandemic, even as lockdowns and closures force millions to isolate themselves, according to the latest Ipsos COVID-19 survey.
The key findings for Australia from this latest study show that:
We are among the most concerned for the vulnerable and weak, with 59% indicating this when asked how they were feeling today (from a list of 10 options);
Anxiousness about one's own health was much lower at 31%;
Amid the social distancing and 'isolation' that is occurring across the country, almost half of us are feeling that COVID-19 will bring us closer to our family and friends (47% said this was very/somewhat likely); and
Many of us are also looking for the opportunities that COVID-19 might bring us. Four in ten Australians surveyed thought it was very/somewhat likely they would learn a new skill.
The global results
In 13 of the 15 countries, majorities cited concern for those who are weak and vulnerable at the top of a list of 10 options when asked what best describes how they are feeling today. People in Brazil (70%), Spain and the United Kingdom (66%), Mexico (61%) and Canada, France and Italy (60%) are mostly likely to express concern for others, while those in Japan (23%) and China (30%) are least concerned.
Fewer people are anxious about their own health, which ranked in the middle of the list of the 10 scenarios.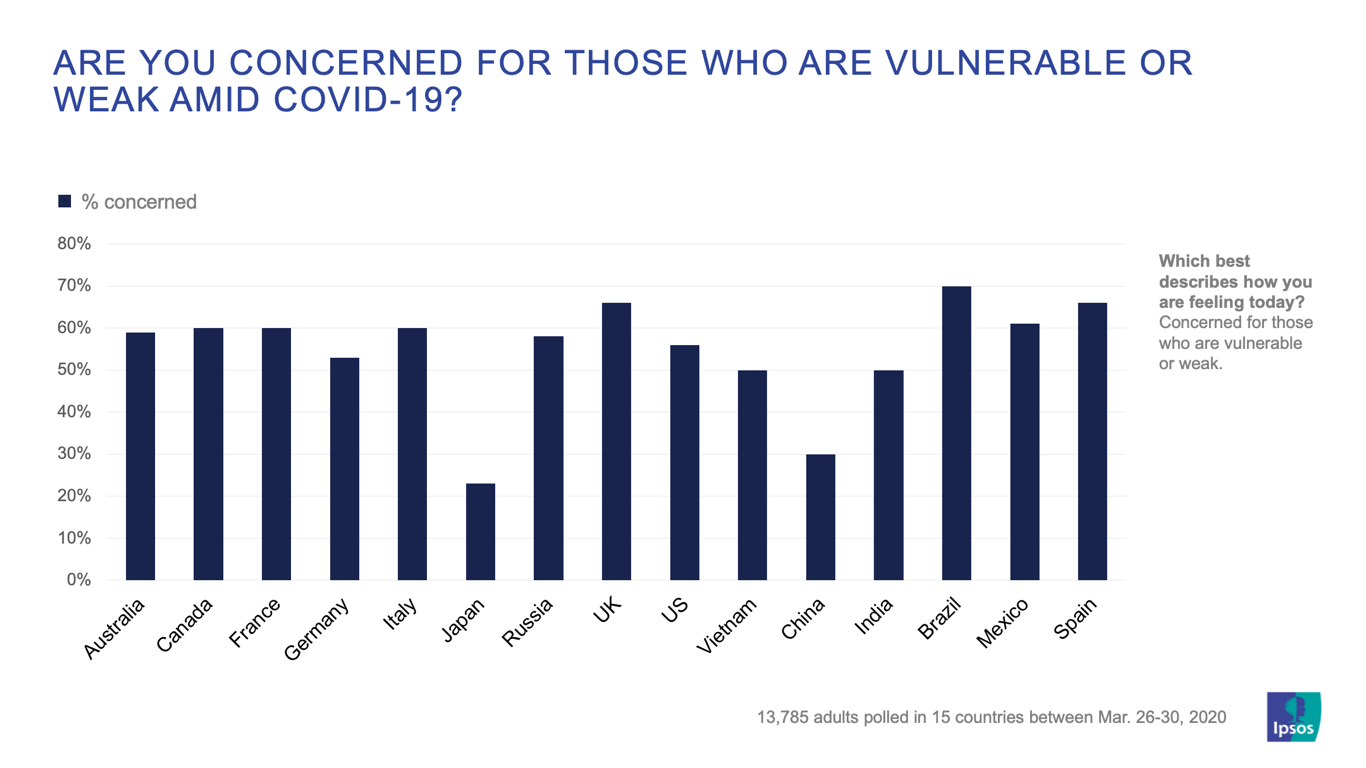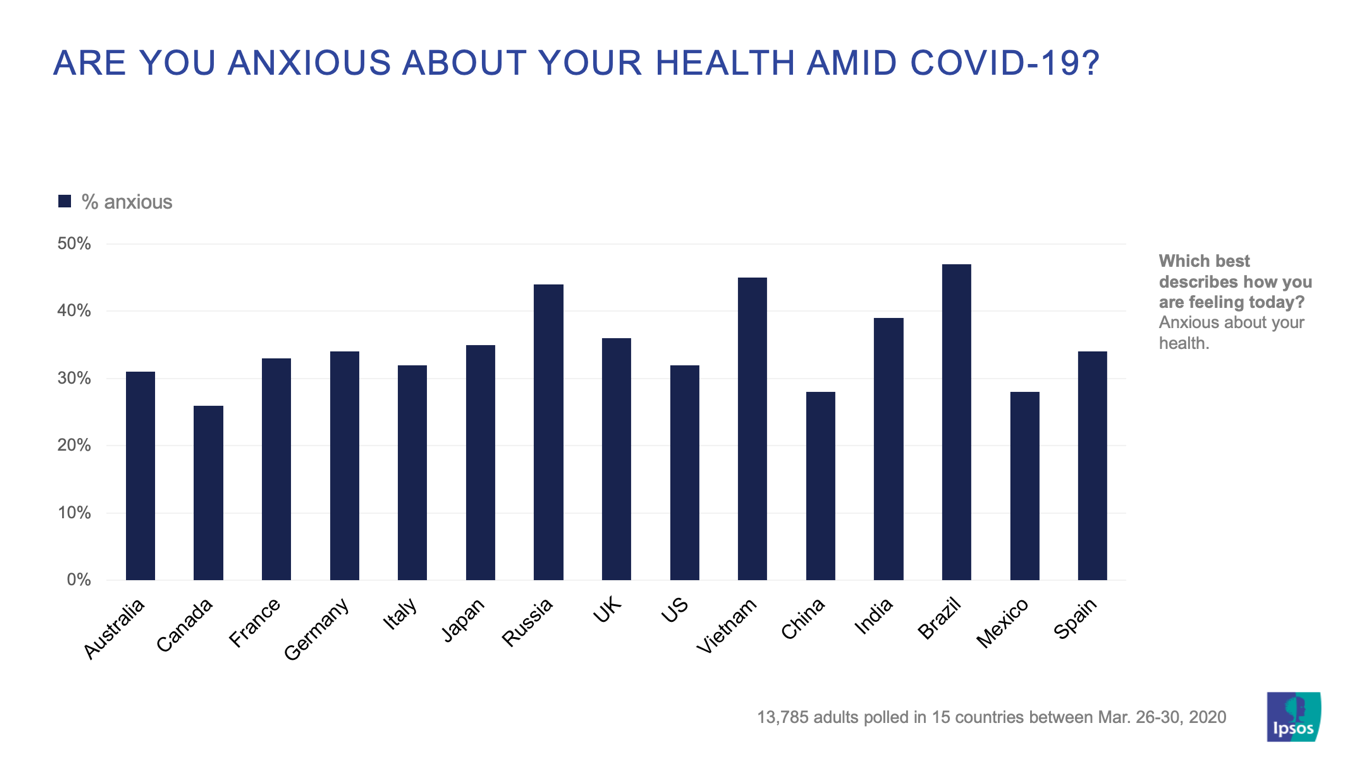 Darrell Bricker, global CEO of Ipsos Public Affairs, said the findings show that while we may be alone because of social distancing measures, there are signs this crisis is pulling us closer together.
"Even though many of us are avoiding physical contact with other people, it hasn't diminished our desire to be emotionally connected to them or to the wider world," Bricker said.
Added to this, a majority (53%) of people surveyed said it's likely the pandemic will bring them closer to their family and friends. This sentiment is strongest in Asian countries of India (72%), Vietnam (70%), and China (67%). Those in Japan (19%), South Korea (32%) and Germany (41%) are least likely to agree with this.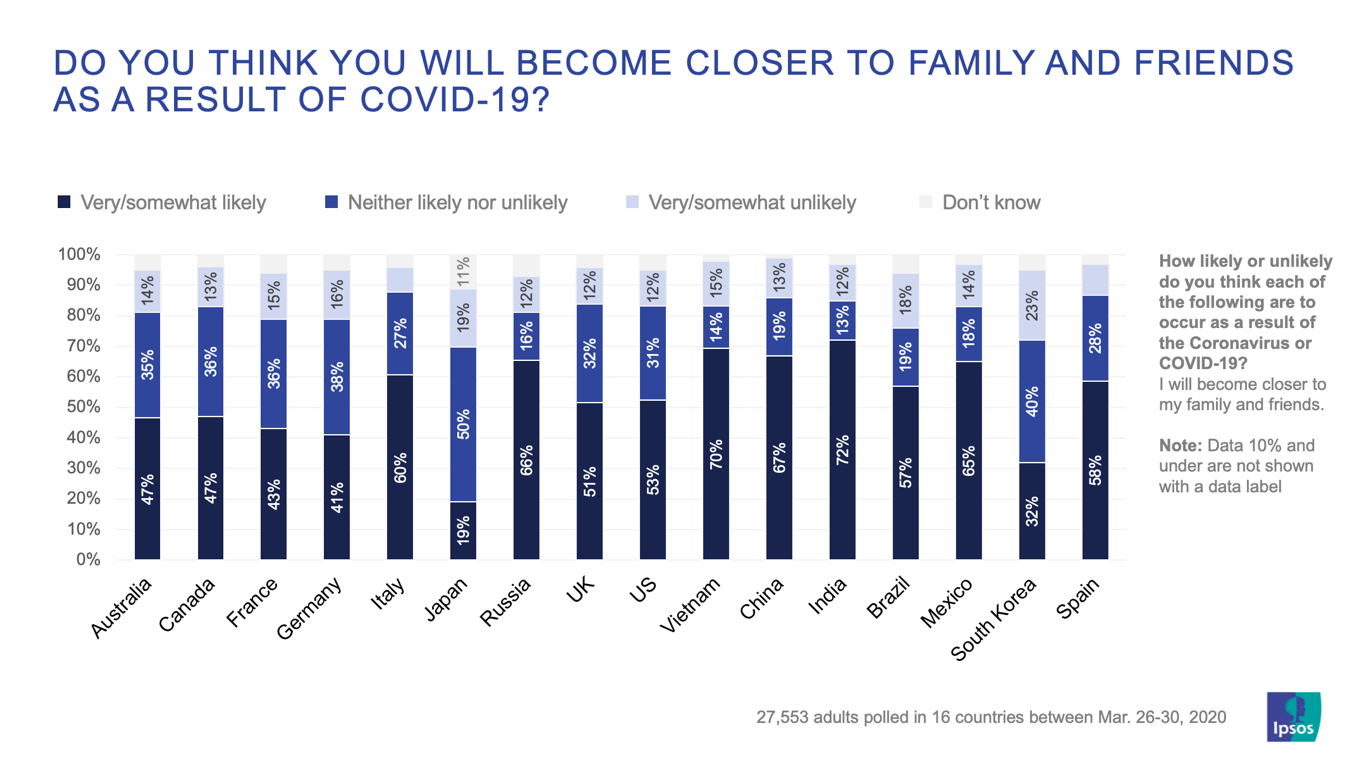 Many of us are trying to put our new found alone time to good use during this crisis. Two in five (44%) of those surveyed are optimistic they will likely learn a new skill as a result of the outbreak. This sentiment is highest in emerging markets of Vietnam (75%), India (74%), Mexico (64%), China (63%) and Brazil (60%), while those in Germany (42%), South Korea (33%), Spain (32%) and the U.K. (31%) said it was unlikely.
"Almost half of us are looking at this as a glass half full situation that's freeing up space for personal growth," Bricker said.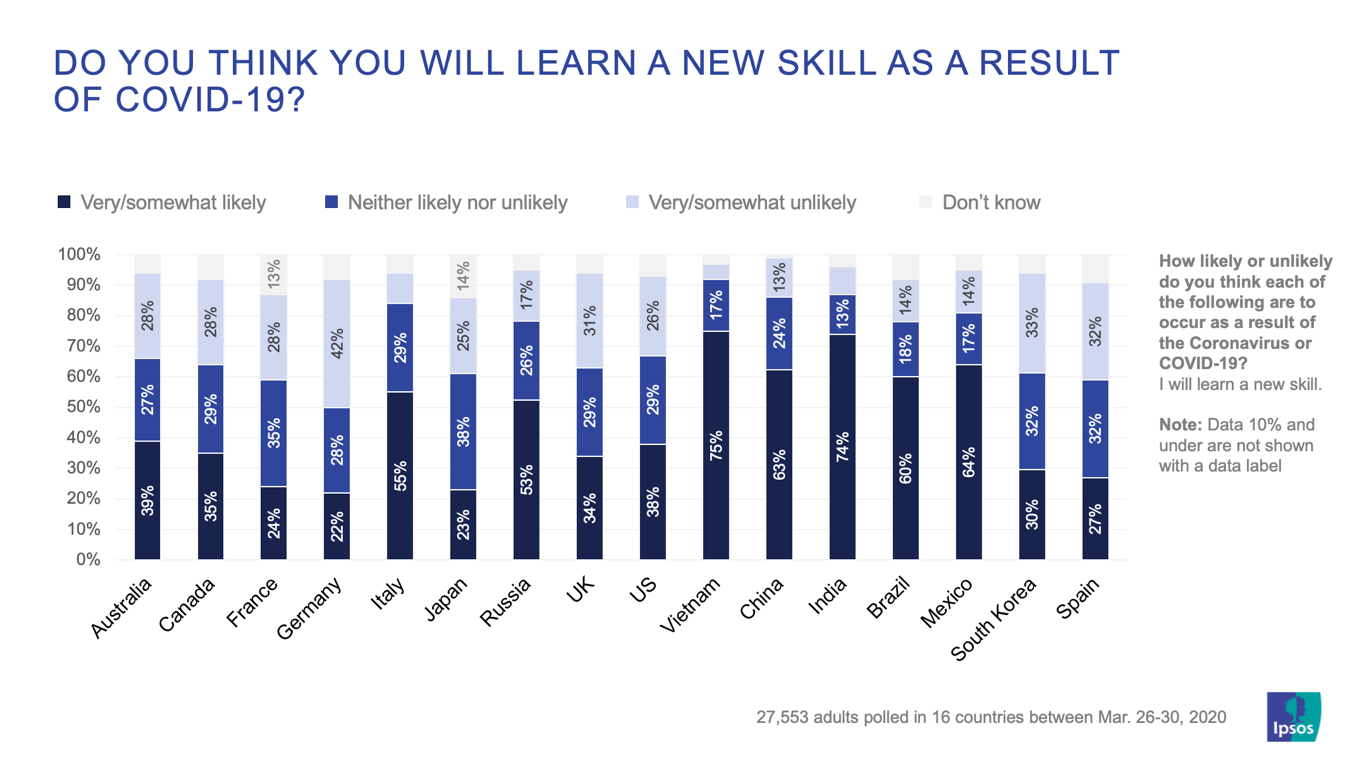 Ipsos Australia Director, David Elliott, said: "Both the global and local findings show our capacity for resilience in a crisis.  While no doubt the increasing social distancing measures in Australia represent a hardship to all, and clearly some more than others, it's encouraging that many are able to look for a 'silver lining'. The positivity around how our current situation provides an opportunity to strengthen relationships with friends and family or learn a new skill are two great examples of this resilience."
About the Study
These are the results of an Ipsos survey conducted March 26th to 30th, 2020 on the Global Advisor online platform among 28,000 adults aged 18-74 in Canada and the United States and 16-74 in Australia, Brazil, China, France, Germany, Italy, India, Japan, Mexico, Russia, South Korea, Vietnam and the United Kingdom. Where available, tracking results from Wave 3, conducted February 28-29, February 14-15, and February 7-9 are presented. Sample sizes in previous waves were 1,000 per country.
The sample consists of approximately 2,000 individuals in each country with the exception of South Korea and Vietnam each at 1,000. The samples in Australia, Canada, France, Germany, Italy, Japan, the U.K. and the U.S. can be taken as representative of these countries' general adult population over age 16 or 18 (as above) and under the age of 75. The sample in Brazil, China, India, Mexico, Russia, South Korea and Vietnam is more urban, more educated and/or more affluent than the general population and should be viewed as reflecting the views of the more "connected" segment of the population. The data is weighted so that each market's sample composition best reflects the demographic profile of the adult population according to the most recent census data.
Where results do not sum to 100 or the 'difference' appears to be +/-1 more/less than the actual, this may be due to rounding, multiple responses or the exclusion of don't knows or not stated responses. The precision of Ipsos online polls are calculated using a credibility interval with a poll of 1,000 accurate to +/- 3.5 percentage points.
Download