Features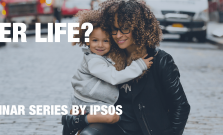 Discover KEYS
Ipsos Keys webinar series is dedicated to helping our clients better understand the dynamics of today as they prepare for tomorrow.
Three in four globally say mental and physical health are equally important. Read our full report here →… https://t.co/CjSPqrUtbS
1:27 PM - 10 October 2022
At Ipsos, we are passionately curious about Society, Markets and People.
"Game Changers" – our tagline – summarises our ambition:
we provide true understanding and make our changing world easier to navigate,
so that our clients can make faster, smarter and bolder decisions.