All slots full. Please try again later.
Altering dynamics in grocery shopping during lockdown - By Shiva Agarwal, Research Director, Innovation and Abhishek Tyagi, Senior Research Executive, Innovation, Ipsos inIndia
As we work, talk and meet remotely in these wretched times, enough and more has been said, or rather written, about our changed lives and consumer behaviour (we'll leave the 'saying' to our Prime Minister).
Remembering what Shahrukh Khan said about Big Basket years back- 'Order today from Big Basket, you will know for yourself'. As I look at the received items ordered 8 days back and think aloud - I know for myself now!
A taken-for-granted service of ordering-in, has suddenly turned into a constantly monitored, awaited, delayed and sometimes denied privilege.
The entire dynamic of grocery buying and usage has undergone a tectonic shift within a month. Extreme paranoia around grocery shopping could be easily broken down into 3 panic-driven steps-
1) Planning
An important decision that the shoppers must make, is about 'what' and 'how much' to buy - whether to stock up enough for the next few months or be responsible citizens and order only what they need, 'currently'. If they choose the latter, what does 'currently' stand for, given so many fluctuations in decisions of the government? Will they regret later on not stocking up enough? On the other hand, if they want to stock up, what about the perishables like veggies and milk? What if Milk Basket is not allowed inside the society starting next morning? And the questions continue to pop up even as the work-from-home continues with these lists running parallel on another word doc.
2) Ordering online or going out to buy
Again, an important decision, given there are risks in both. Many interesting trends have emerged in the shutdown situation, few of which are worth pondering over.
Online availability of items started to steeply decline in the second week of March, much before the announcement of lockdown, rendering big daddies of online delivery like Big Basket and Grofers helpless to cater to the shopper demands by the time lockdown hit India. Non-availability of slots, apology messages and constant refunds (or sometimes missed) became the norm with these apps, bowing and succumbing to the pressure of endless demands of consumers sitting at home. Orders placed on Grofers in the third week of March took as long as 10 days to get delivered. Big Basket gave up way early owing to operational issues, cancelling orders in bulk, refunding payments in a period of 7-9 days. Interestingly, smaller players in online ordering space played an instrumental role in catering to the needs of consumers. Dunzo, Bing berry, Country Delight, et al(in Gurugram), are a few examples of delivery services reaching out to people in these difficult times. Notably, players like Zomato have identified an opportunity in here and started grocery delivery across different locations.
Further, noteworthy is to see offline stores coming up with different options of doorstep delivery, as in the case of Big Bazaar - offering delivery at nominal charges, basis orders placed on call/ whatsApp. Given the inflow of orders, it isn't the easiest of tasks to accomplish without disappointing a set of shoppers, but it's not everyday that we come across such large-scale transformations taking place in Modern Trade.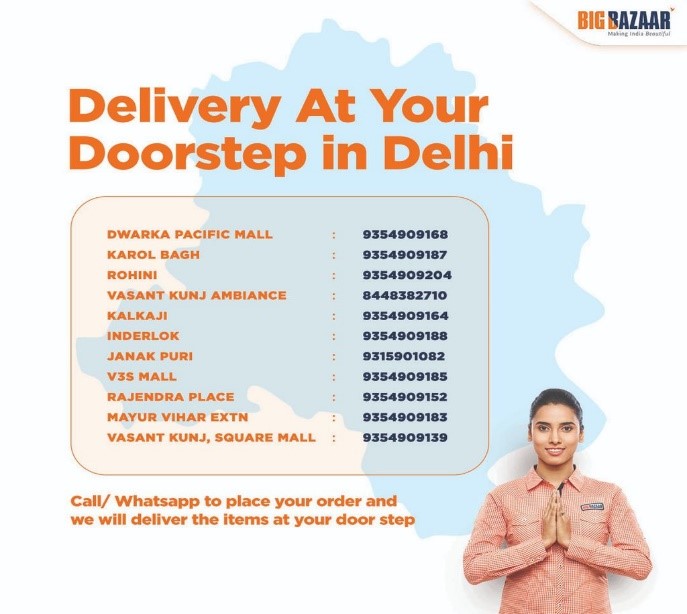 High risk of contamination at every possible step is making even the regular grocery/ mom-n-pop stores to step-up and they've started delivering items basis orders placed on phone, especially the daily needs/ perishables. As a sense of social responsibility, these stores have also imposed a rationing on the amount/ quantity of items being bought (cap of 1.5-2 kgs milk per household/ 5 kg flour).
And in more ways than one, these local stores are saving the day for a lot of us even as the big ones leave much to be desired – coming back a full circle, are we!
A snippet basis a telephonic conversation with a local, Gluten free item selling store in Lucknow –
"I sell all the gluten-free items from my store, but given the lockdown, I am giving the customers an option to pick up the essential items from my home. However, they need to confirm the timing with me, as we need to maintain social distancing; hence upon booking an appointment on phone, they can visit me and pick up the order. Also, I have capped the amount of gluten-free flour to be given to each person (2kgs), to make sure maximum of them could benefit from my end."
And necessity ate discounts for breakfast - The standard habit of online shoppers of looking for discounts has for now evaporated, in the rush to fill the basket and pay before the application declares all slots full.
Who is bothered about the quality? Well even if the consumer is, given the lesser options return/ refunds are deprioritized. Upon receipt, consumers have to live with the quality received. This is also pushing a few to step out and try and source fresh veggies and fruits, which are one of the few items not scarce in the market, even at this point of time.
3) Shop to Home Journey
This is the most interesting one, from both offline as well as online perspectives. From consumers reliving their favourite apocalypse fantasy (nightmare?), standing in serpentine queues outsdie grocery stores wearing all hues of masks, maintaining social distance, to those ordering online, making an elaborate ritual of the products' journey in home. The grocery items bought are either left in the balcony/ any outside home space for a day (if not perishable); or washed and sanitized using detergent/ handwash/ sanitiser/ salt/ edible soda for veggies and what have you!
However deadly COVID-19 seems to be, it certainly has helped propel PM Modi's 'Swachh Bharat Campaign'!
We have never been more hygiene conscious in life, even around packets of pasteurised Mother Dairy milk.
Just hope some of these habits stick in the era, post we all come back to the days of the surplus!