Insights for Connected Living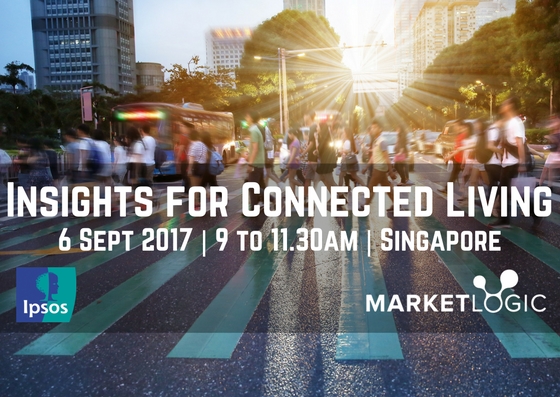 We live in a hyper-connected, high-speed world today which has organizations grappling with more data than we could have ever imagined. The irony is that more information has not meant more insights, often the converse.   When it is too easy to lose sight of the consumer and focus too much on information, will we be left with innovation that is more reaction than inspiration?
Keeping an eye on trends and having a hold on the multitude of data available to us, has never been easier. Join global market research agency, Ipsos and their technology partners, Market Logic Software, as they demonstrate how some of the world's most successful brands today deliver insight-driven marketing and product innovations through cutting-edge management of information and insights.
Event Details: Ipsos & Market Logic - Insights for Connected Living 2017
Jointly presented by Ipsos and Market Logic
Identified as the world's #2 most innovative research company by GRIT, Ipsos is a global market research company delivering information and analysis that makes our complex world easier and faster to navigate and inspires our clients to make smarter decisions.
We help our clients listen to what their audiences are saying, understand what they are thinking and anticipate what they have in mind.  We know how best to determine and measure their views and opinions. But we go beyond delivering data. We analyse it, put it in context, and then let our clients know how they can best translate this understanding into efficient and effective policies, market innovations, communications strategies, and marketing initiatives.
Market Logic is a fast-growing, venture-financed corporation that provides marketing information systems to the world's best marketing and research teams. We use the latest cognitive computing advances to bring the right information at the right time to the marketing community.
Market Logic was selected a winner of the 2017 Red Herring Top 100 Europe award. Our contribution to the field of marketing was also recognized by the German Marketing Intelligence Innovation Award jury, who selected Market Logic as winners of the 2016 Marketing Innovation of the Year.
*Event is by invitation only. For more information, write in using the form below.