Report: Digital Doctor 2020
Ipsos released its latest report, Digital Doctor 2020, which explores opinions from doctors in practice regarding their experiences and attitudes about various aspects of digital and connected health, covering a comprehensive look into the digital transformation of healthcare
While Singapore doctors are knowledgeable about Telehealth, receptiveness is low among Singaporeans. This is despite 41% saying they are concerned about contracting COVID-19 through a visit to the doctor.
Highlights:
41% of Singapore residents say they are concerned about visiting the family doctor or GP for fear of catching COVID-19.
70% of General Practitioners (GPs) are knowledgeable about Telehealth, with only 30% currently using it. This is however an increase from pre-COVID period with 50% knowledgeable and 23% using it at the time.
23% of Singaporeans are likely to use Telehealth after the COVID-19 outbreak but 32% of Singapore residents do not intend to use it. The rest are on the fence.
Singapore, 24th June 2020 – Ipsos released its latest report, Digital Doctor 2020, which explores opinions from doctors in practice regarding their experiences and attitudes about various aspects of digital and connected health, covering a comprehensive look into the digital transformation of healthcare.
The study was conducted over the period of November 2019 to February 2020 and is one of the largest studies of its kind covering 21 countries and interviews with over 1,700 medical doctors. A follow up study with the same doctors were done during the COVID-19 pandemic to supplement insights around the current landscape with what the future may look like after the crisis. In Singapore, the study covered 30 General Practitioners across private and public practices, with 20 of them retained in the follow-up survey.
To provide a perspective from consumers, a separate consumer survey among 500 adult Singaporeans and Permanent Residents was conducted in the end of May, as the country was due to exit from the Circuit Breaker period.  
Attitudes to Telehealth and virtual doctor visits
When asked to what extent they agreed or disagreed, 34% of Singapore residents said they were concerned about visiting a doctor as they feared the doctors could be busier than usual. 41% said they were concerned about visiting the family doctor for fear of catching COVID-19. The number is higher at 50% when asked about visiting a hospital-based doctor for fear of catching the virus. When asked if they were more likely to use Telehealth approaches (either phone or internet based) with their doctors after the COVID-19 outbreak, 23% answered they would be. This is a low figure compared to 32% who has no intention to use telehealth post-crisis. The remaining 45% are on the fence.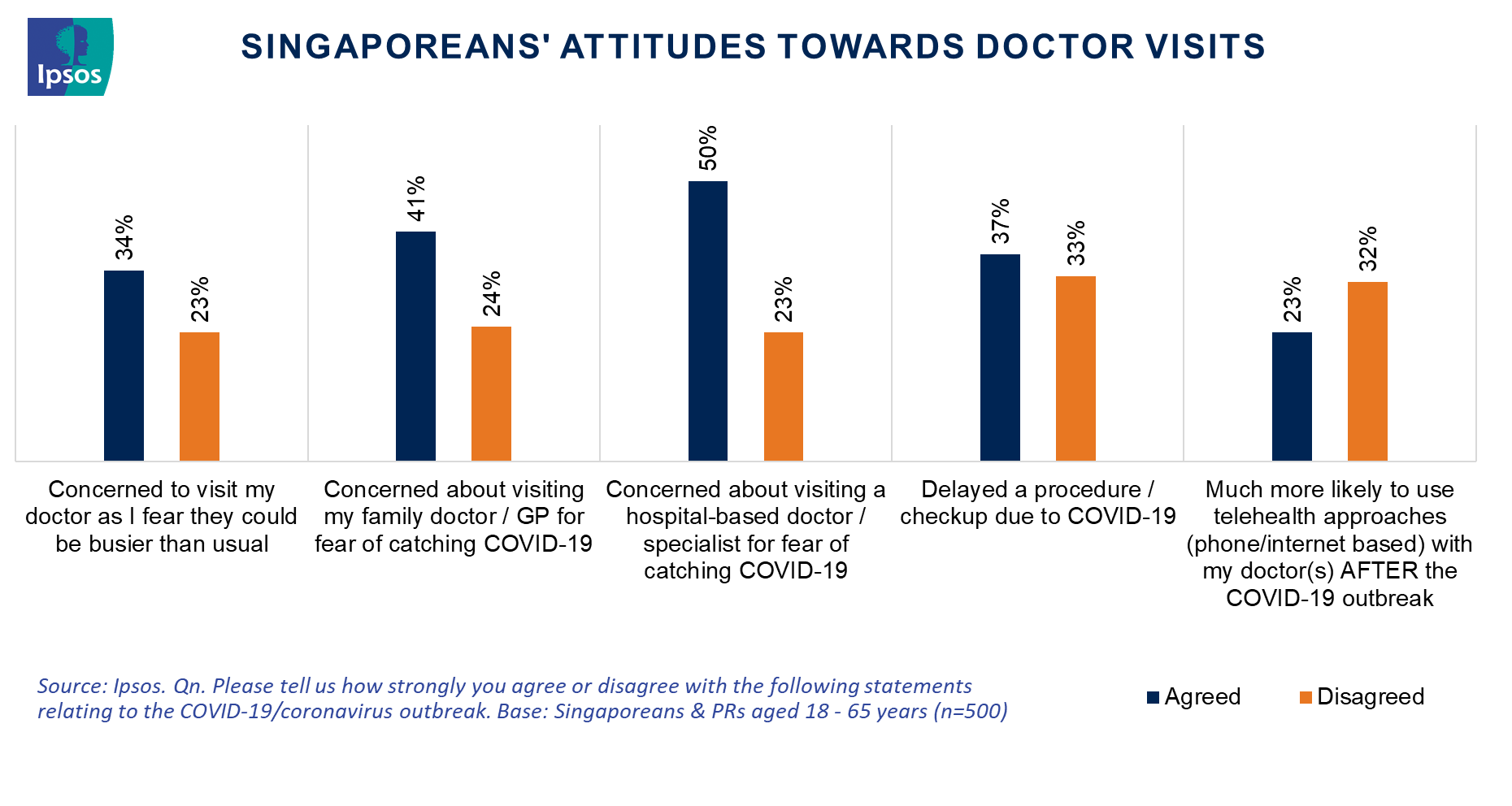 From the point of view of the physicians, 93% of GPs were aware of telehealth but only half said they were knowledgeable about it before the COVID-19 crisis. Since then however, 70% of GPs now count themselves as knowledgeable. While 1 in 4 doctors report using it before the outbreak, the figure similarly increased to 30% during the pandemic.
Drew Norris, Director of Healthcare at Ipsos in Singapore and Malaysia, said, "The reluctance of physicians to increase use of telehealth was previously attributed to a lack of training to practice virtually and the lack of government policy. However, during the Covid-19 Pandemic, we have seen these barriers being overcome permitting a significant rise in the use of telehealth. On the other hand, patients still have a higher comfort level in in-person consultation with their family doctor. Singapore also has one of the highest GP to population ratio so the ease of finding a doctor within walking distance from your home reduces the need for remote virtual consultation."
Connected Health Attitudes and Usage
The study also looked at the attitudes towards the broader category of Connected Health, which includes wearable technology devices that have tracking ability (e.g. Continuous Glucose Monitor, heart rate monitor, closed-loop (automated) insulin delivery etc.) or devices which have a connectivity ability (e.g. body monitoring equipment which links to a mobile app). Mobile smartphone applications can be another form of connected health (e.g. fitness tracking apps, health apps for counting calories). More recently, advanced technology has given rise to the emergence of devices such as implantable, ingestible and wireless chips in devices which are designed to improve healthcare.
The survey found that 2 out of 3 GPs are using Connected Health devices with other doctors in their practice to review patient generated health data. 27% additionally use apps to support a diagnosis. 40% of GPs recommend connected health options to patients, mostly for patients to self-evaluate. COVID-19 however appeared to reduce these instances of GPs recommendations for self-evaluation by nearly half.
Hannah Osborn, Research Director, Medical Devices & Diagnostics APAC at Ipsos comments, "During the pandemic, we have seen a reduction in the number of GPs who recommend that their patient use apps to self-evaluate – likely due to fear of misdiagnosis with a virus that is so new leading to people rushing to get tested or see their doctors unnecessarily and others perhaps not going to seek relevant treatment when they do really need it. On the other hand, there are certain therapy areas that would benefit most from Connected Health such as Diabetes and Obesity. In these cases, these devices and apps can aid in efficiently maintaining patient records and facilitate more regular and timely check-ins with the doctor."
The future of Connected Health
4 in 5 GPs agree that the future is expected to include new data streams such as genomics and connected health data, and that their role will evolve with the emergence of AI (Artificial Intelligence). They also agree that Connected Health tools are expected to become part of treatment plans as a reliable way for patients to better manage their health.
Osborn comments, "GPs are both excited and anxious about AI. The most widely accepted outcomes are patient centric, where patients empowered by better access to their own health information enables more effective consultations with their GPs. The main concern among Healthcare Professionals is patients self-diagnosing without professional supervision, and misinterpreting data.
Before the outbreak of coronavirus, many doctors were starting to adopt some online practices but were generally quite hesitant. It looks like that might change after COVID-19 as doctors are spurred on by a positive experience of various online platforms during the pandemic and so expect a wider and faster adoption and integration of connected health solutions. There will still be some barriers to overcome, specifically around the need to train doctors on these new solutions, regulatory and data security concerns."
---
About the study
Ipsos Digital Doctor 2020 is a 21-country global survey among 1,745 primary care physicians. Countries covered: [Europe] UK, France, Italy, Spain, Germany, Belgium, Netherlands. [North America] USA, Canada. [LATAM] Colombia, Brazil. [APAC] Australia, India, Japan, China, Hong Kong, Malaysia, Singapore, Indonesia, South Korea, Vietnam.
The supplementary consumer survey was conducted online between 22nd and 26th May 2020, among a nationally representative sample of n=500 Singaporean Citizens and Permanent Residents aged 18 and above.

Quotas on age, gender and ethnicity were employed to ensure that the sample's composition reflects the overall population distribution, based on Singapore Department of Statistics population estimates.
The precision of online surveys is measured using a credible interval. In this case, the results reported are accurate to +/- 5 percentage points of the views and perspectives of all Singaporeans aged 18 and above (at 95% confidence interval). Credible intervals are wider among subsets of the population.