We're more than our senses: Taking product development to the next level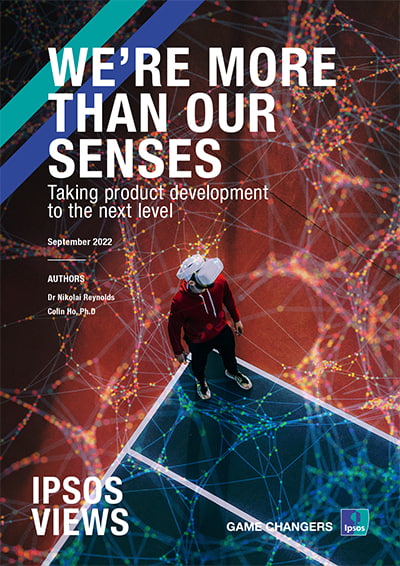 Traditional product testing that focuses purely on product characteristics that are just connected to our senses do not provide accurate market predictions for success. The proven path to success demonstrates that the total product experience is driven by more than just sensory signals. This is where behavioral science comes into play.
Behavioral science shows that by testing a product not only with sensory cues but also with category beliefs or expectations and by the broader context, brands can deliver products that encompass the total product experience.
This Ipsos paper introduces a product testing-centered framework that provides an understanding, and utilization of, product testing processes and results to guide brands along the journey to success.
The three forces of product experience
For the best results, it's important to understand the three forces that influence how a consumer experiences a product:
The sensory inputs we get from using a product (taste, touch, smell, appearance, and sound)
The knowledge we have of a product (e.g., branding, categories, or ingredients)
The context in which a product is used.
Sensory Force
Sensory inputs that are seemingly irrelevant can be very influential to our beliefs and can impact the final evaluation. For instance, the minty sting you might get from using mouthwash is often understood by consumers as an indicator of its efficacy.
Knowledge Force
A consumer's knowledge of a product or category can modify the sensory input from products. An exemplary case of this is Coke being rated higher when consumed from a cup with the brand logo rather than from an unbranded cup.
Context Force
Context might make some needs more important than others and influence evaluation. For example, consumers' beverage needs are different in summer versus winter.
Breaking the status quo
Once someone experiences the three forces, they then need to decide whether they will purchase. This is called market choice: the consumer has broken away, said no to the status quo, and bought a new product.
Ideally, these forces are addressed simultaneously, resulting in a holistic product development, and testing approach.
To learn more and take your product development to the next level, take a look at We're more than our senses.