Ipsos Global Trends 2020: the largest survey of its kind, now available for Romania
At the beginning of April, Ipsos launched the Romanian chapter of Ipsos Global Trends 2020. The study includes extensive information for our country, which enables both a detailed view on Romanians' attitudes, values and perceptions, and a comparison across all other participating countries.
Ipsos Global Trends survey takes place once every three years, based on voluntary subscription across the Ipsos world. The number of participating countries has constantly increased from 20 – in the first edition in 2014, up to 23 countries in 2017 and 33 in 2020, respectively. Countries included in the latest edition cumulate impressive figures in terms of GDP and population. All continents are covered: 6 countries in South America, 7 Asian countries (including China and India), 9 countries in Western Europe and 5 in Eastern Europe, as well as US, Canada, Russia, Australia, New Zealand, South Africa etc.
The main theme of Ipsos Global Trends in 2020 is Understanding Complexity, while in 2014 the first edition revolved around Navigating the New. The mega-trends we identified have not changed much ever since – we were still talking about climate change, technology, data privacy, healthcare and inequity. Two things changed: the magnitude of public perception and the importance of these trends, on one hand, as well as the signals and manifestations of trends at micro, concrete level – from personal, community and social standpoints, on the other hand. Two of the most important examples here are the trends connected with healthcare and technology.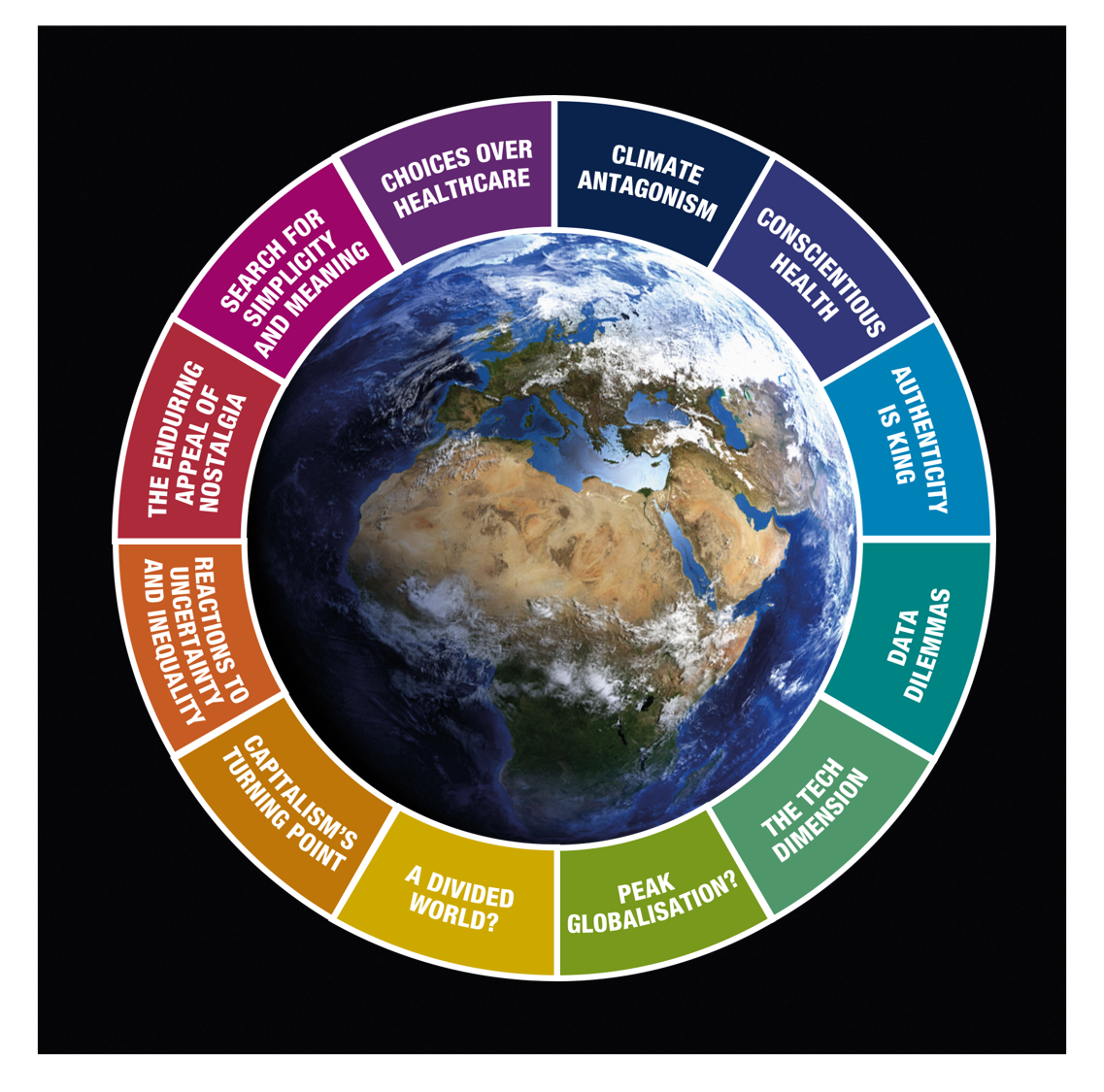 The 2020 edition of Ipsos Global Trends is based on a theoretical model of change, validated by research.
The model recognizes the role of feedback loops in understanding our world. Macro forces have a direct influence on trends and signals – arrows in the top side of the diagram indicate possible directions for change.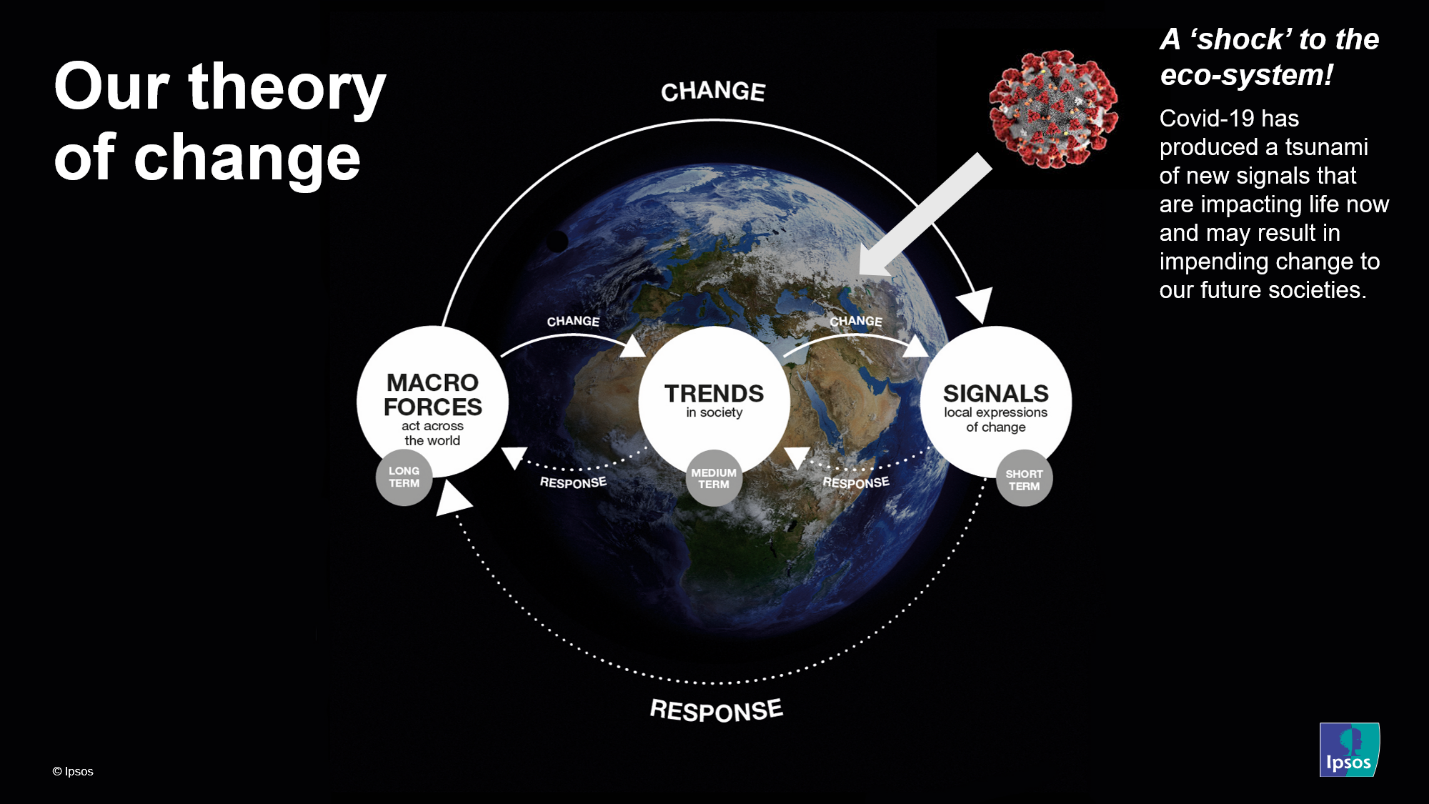 The model includes three components, as detailed below:
MACRO FORCES: The model identifies 6 forces - Dynamic populations, Growing inequality and opportunity, Geopolitical tensions, Fragile planet, Technology tipping points and Data world. For the first time in history, maybe, we are shaping these forces as much as they are shaping us.
SIGNALS: At the other end of the scale, signals are localized expressions, in the short run. They can appear in a single country, in a community or in a group of countries, and will vary depending on culture and its power of manifestation.
TRENDS: Between macro forces and signals lie the trends - the centerpiece of our survey. They represent the cultural attitudes and values resulting from the interaction between people and the world. Trends can appear, become part of popular culture and then fade out as a reaction of macro forces and signals.
The survey, although based on an overall theoretical model, has become truly global in scope by means of participating countries. Therefore, this is not about an abstract global concept; it is rather a global concept made out of various local specifics. The fact that the 6 macro forces we identified and the corresponding 36 values are represented, via different signals, across all investigated countries, indicates that it is still relevant to discuss about those things that people feel and do in a similar manner. If the pandemic is global, why shouldn't connecting values stay as relevant at global level?
Looking at the resulting trends, at first sight one can notice a world dominated by power wars, populist movements, climate change and the rise of technology. At the opposite end, at micro level, we see an increase in satisfaction with living standards and a certain improvement in the self-accomplishment of global citizens.
We are witnessing a rising number of people worried that technology has too much influence over their lives, but also a large proportion of those saying we need technology to answer current challenges. And that's another reason for this year's Ipsos Global Trends edition to bear the title Understanding Complexity.
The results for Romania place us in a group of countries with a particular profile, yet they don't make us stand out so much as compared with other countries.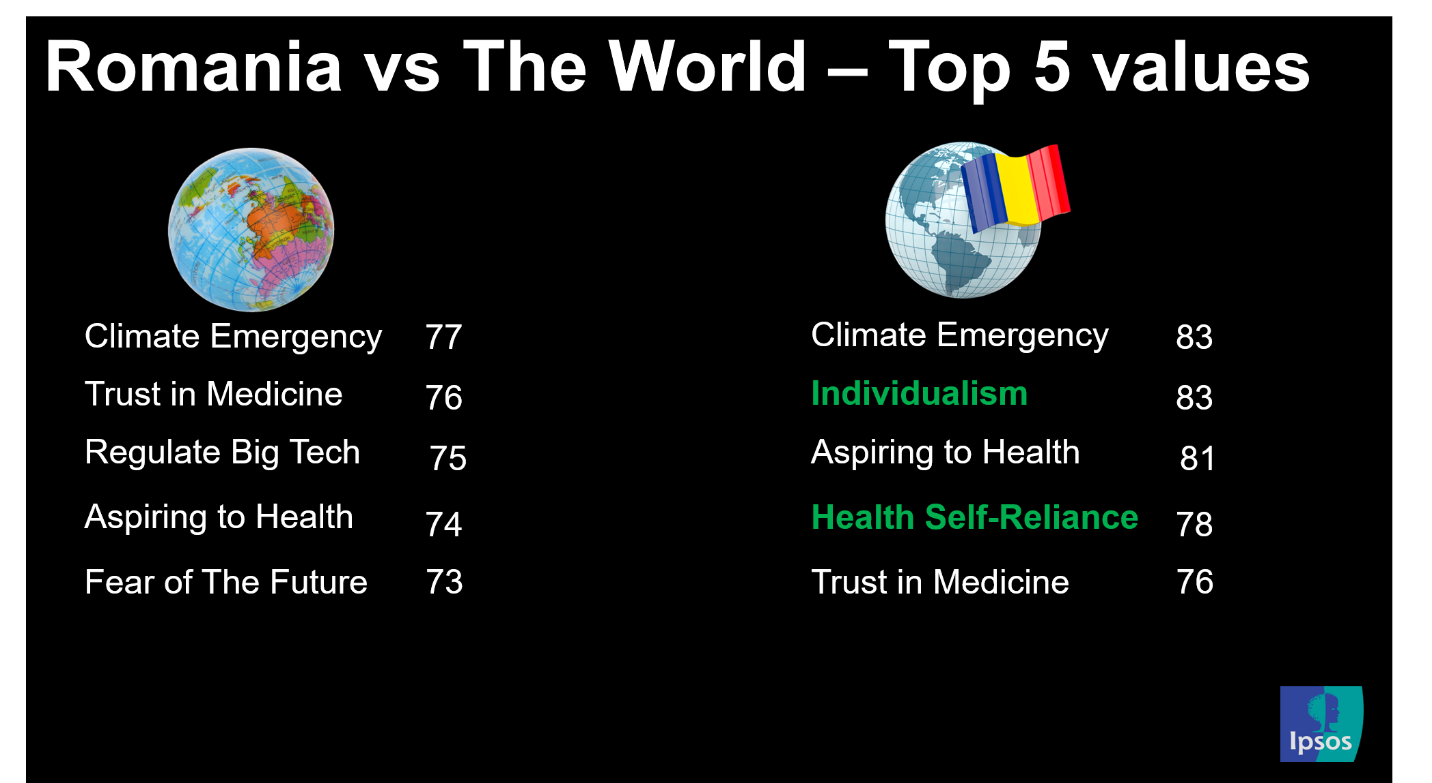 We are attracted more by authority and populism, self-medication and trust in technology. On the other hand, we are more optimistic towards finding the cure for any disease (including the one currently affecting our lives); we believe in 'Carpe Diem' and are more prone to be individualistic.
Here you can find more details about the global survey, while results for Romania are available in various competitive packages, depending on your needs. Additional details regarding our offer are available in the attached file.