Singaporeans' Predictions for 2021
Singapore, 15 Jan 2021 – After a 2020 that is rated as the worst year for some time, people around the world are looking forward to 2021 for their country, their families and themselves, according to a new Ipsos Global Advisor poll in 31 countries. However, worries about the long-term impact of COVID-19 are prevalent, and concerns about the economy, and general tolerance of others have not gone away.
These are the findings from 23,007 interviews conducted online between October 23 and November 6, 2020 in 31 countries. In Singapore, approximately 500 interviews were conducted among adults aged 21-74.
Life with COVID-19 – While most predicted the access to a COVID-19 vaccine, there is fear of a new virus.
Globally, people seem optimistic that a successful vaccine will become widely available in their country in 2021; 60% of people around the world say this is likely to happen. In Singapore, 74% of Singaporeans were accurate in predicting that a successful vaccine would be developed and 68% foresees that it would become widely available in the country this year.
However, slightly over half of Singaporeans (55%) predict that there will yet be another global pandemic caused by a new virus. This pessimism increases to 7 in 10 Malaysians and South Koreans (70% and 69% respectively).
Furthermore, only 42% of Singaporeans say it is likely that life in Singapore will have got back to normal after the effects of the COVID-19 pandemic.
Despite the gloom, 43% of Singaporeans believe the world will change for the better because of the pandemic: those in India (62%) are most hopeful in this respect; meanwhile only 9% of those in France are as optimistic.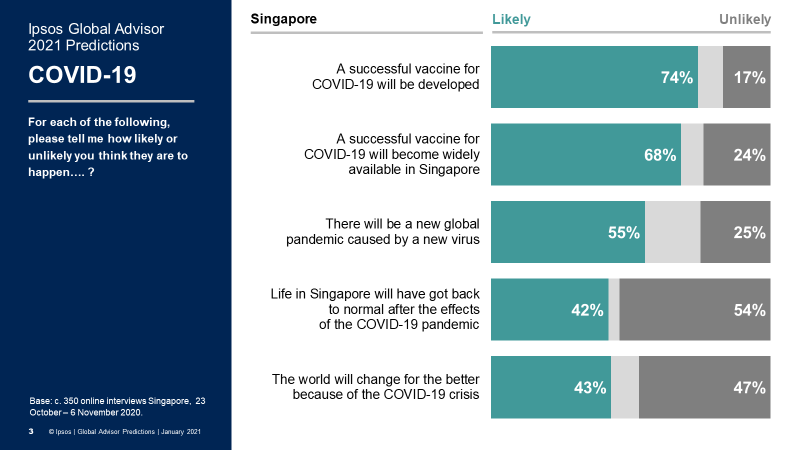 Economic Recovery – Recovery is expected to be slow with income inequality exacerbating.
A clear majority of people in every country view 2020 as bad for their country, including 91% of Singaporeans. While only 38% of Singaporeans feel that the Singapore economy will fully recover from the effects of the COVID-19 pandemic in 2021, 63% agree that the global economy will be stronger in 2021 than it was in 2020.
Two-thirds (68%) expect income inequality in Singapore to increase over the year. Counterparts in South Korea, Malaysia and Hong Kong share this sentiment at 77%, 75% and 72% respectively.
Slightly less than half of Singaporeans (45%) say it's likely the major stock markets around the world will crash. Three-quarters of those in Malaysia (73%) believe it is likely to happen. At the other end of the spectrum, only 2 in 10 (22%) of those in China agree.
7 in 10 Singaporeans expect to spend more money buying things online than spending in store, like their neighbours in Malaysia (71%) and Hong Kong (65%).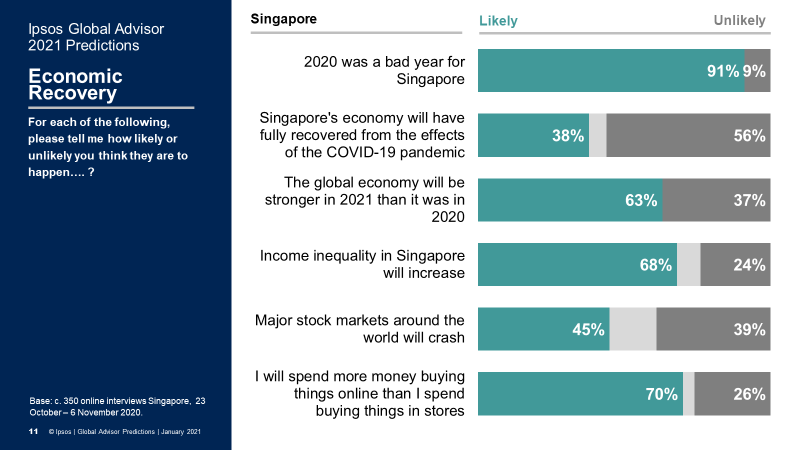 Society and Culture - most predict no improvement in tolerance and loneliness is a concern for nearly two in five.
Only 2 in 5 (40%) Singaporeans expect people in Singapore to become more tolerant of each other. This contrasts with 80% of China and 69% of Malaysia who say it is likely of their countries.  Those in Europe are most likely to say this is improbable, with 80% in Belgium and 81% in France saying so.
Although more than half of Singaporeans (56%) do not expect to feel lonely most of the time, this is a concern for nearly 2 in 5 (38%) Singaporeans.  In another Ipsos survey conducted in Singapore in September 2020, 36% of Singaporeans rated their mental health as fair or poor.
Melanie Ng, Director of Public Affairs at Ipsos in Singapore said, "The disruptiveness of the pandemic has emphasized certain gaps that exist in our society, systems and policies. But the revelation of these gaps has resulted in more public discussion and is also compelling governments to address them. This in turn gives people a sense that we are heading for change to a better world because of the pandemic.
While Singaporeans are relatively more optimistic than other parts of the world, there is significant concern that the local economy will not fully recover in this 12-month period. There is an expectation from Singaporeans for the government to prioritize efforts in protecting jobs along with keeping the people safe from COVID-19."
---
Technical Notes
23,007 interviews were conducted between October 23 and November 6, 2020. This Ipsos survey was among adults aged 21-74 in Singapore, 18-74 in the United States, Canada, Hong Kong, Israel, New Zealand, Malaysia, South Africa, and Turkey, and 16-74 in the 22 other markets.
Each statement was only asked to approximately 2/3 of the sample on rotation (i.e. not all respondents were asked every question). Overall, we conducted 23,007 interviews but c.15,700 saw each statement. In Singapore, a total of c. 500 interviews were conducted with c. 350 seeing each statement.
The data is weighted so that each Market's sample composition best reflects the demographic profile of the adult population according to the most recent census data.
The precision of Ipsos online polls is calculated using a credibility interval with a poll of 1,000 accurate to +/- 3.5 percentage points and of 500 accurate to +/- 5.0 percentage points. For more information on Ipsos' use of credibility intervals, please visit the Ipsos website. The publication of these findings abides by local rules and regulations.