Environmental, Social and Governance (ESG): What Matters to Consumers across MENA
Post-pandemic, a heightened awareness on environmental, social, and governance issues among corporations has been witnessed. While the discussions are happening at the corporate level, we wanted to understand how these issues played out among consumers across MENA and what were the top issues for them from an ESG perspective.
To this end, we conducted a scan of ESG-related topics across MENA, looked at the volume of conversations around these, and how these topics are likely to evolve going forward.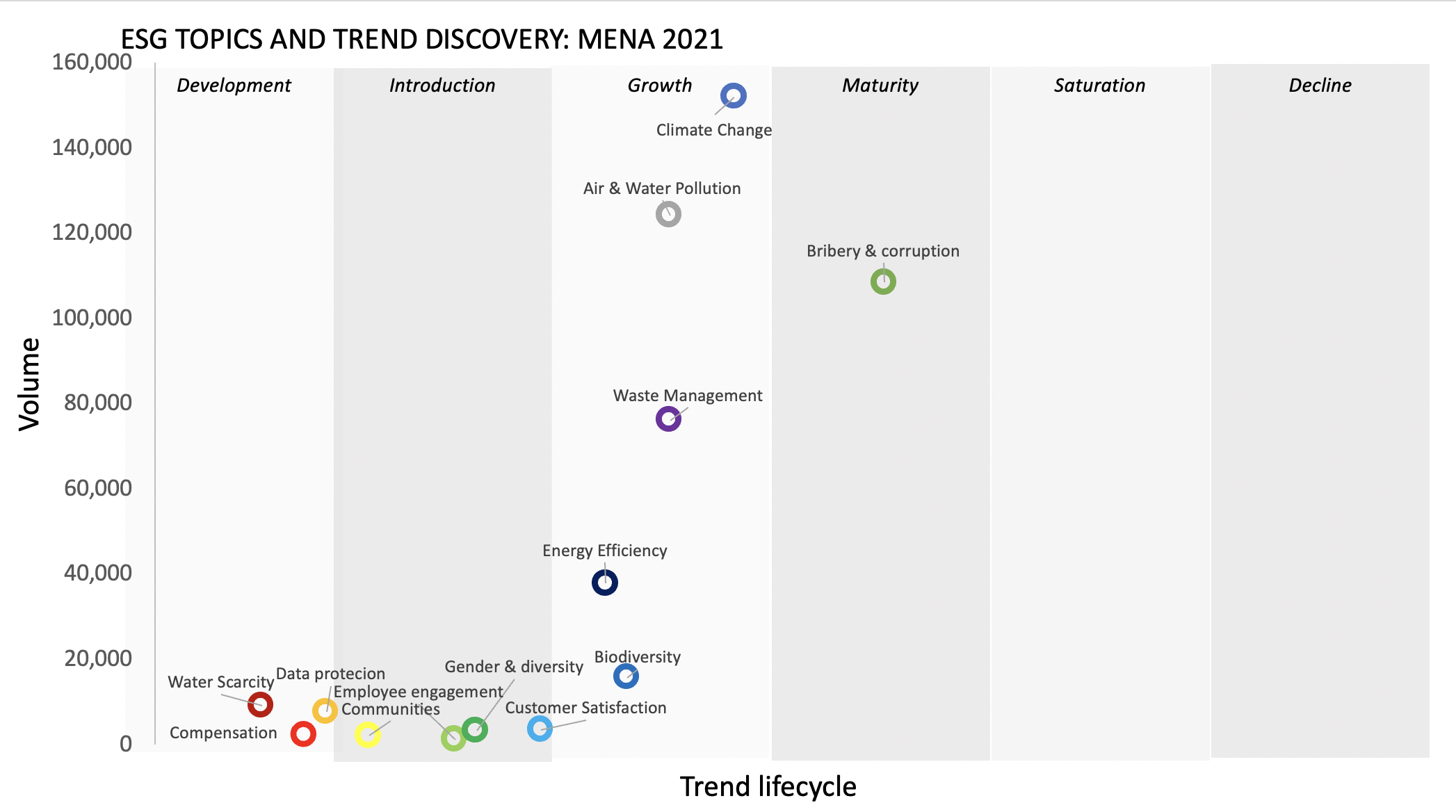 To better assess this topic, we looked at the following broad themes:
Environmental topics: namely climate change and carbon emissions, air and water pollution, biodiversity, energy efficiency, waste management and water scarcity
Social topics: namely customer satisfaction, data protection and privacy, gender and diversity, employee engagement and community relations
Governance: executive compensation, bribery and corruption.
We used our AI driven trends algorithm to understand the direction of travel for these different topics across MENA. In general terms, it was clear that environmental factors were generally those on an upward trajectory, most importantly climate change, followed by air and water pollution and waste management. From a governance perspective, bribery and corruption featured strongly, but can be considered a mature trend rather than growing. Social factors such as customer satisfaction, employee engagement and gender diversity were observed at more of an introductory stage versus the other ESG topics analyzed.
The implications for companies when it comes to managing their reputation across MENA is to ensure attention is paid to communicating their environmental credentials, as these trends take hold across the region.
On a global front, in June this year, the U.S. Securities and Exchange Commission (SEC) made it clear that ESG was its top priority, emphasizing on "disclosure relating to climate risk, human capital, including workforce diversity and corporate board diversity, and cybersecurity risk."
In 2020, the COVID-19 pandemic increased awareness of social and racial justice and created a perfect storm that has emphasized ESG and corporate responsibility at an unprecedented level. In fact, Bloomberg estimates global ESG assets are on track to exceed $53 trillion by 2025, representing more than a third of the $140.5 trillion in projected total assets under management.
These are the top line observations from our scan over the past 12 months. Further details and reporting to help clients navigate risk and opportunity are available upon request.