Corona as the catalyst of transformation
What does this mean for the world of work?
The corona crisis has had a massive impact on all areas of life and seems to massively reinforce already existing trends - this also applies to the context of work. Even before the crisis, digitization and the associated cultural transformation of our working world were in full swing. But the pandemic has forced a radical change of course. The internal work organisation and the interfaces to customers and suppliers had to be adapted within a very short time. A very clear example of this is the sudden switch to home office. But even where home office is not possible, employees were severely affected by changes in processes and protective measures.
What is the effect of this radical disruption? What do we have to prepare for in the future? What opportunities, but also risks, must be considered?
To understand how employees are experiencing the crisis and how HR and communications experts view the current situation, we conducted two international studies in early May 2020: A representative survey of in total of 5,000 employees aged between 18 and 65 in 5 countries and a survey of more than 350 HR and communications experts. We asked questions about the general mood, management assessment and changes due to the Corona crisis (especially regarding home office).
The mood in Swiss companies was positive during the Corona crisis and, of the five countries surveyed, the least affected by negative emotions. The overwhelming majority of respondents are positive about their company's response to the crisis: more than 4 out of 5 employees feel that their company has taken adequate steps to protect the health and safety of employees (82%) and to maintain business activities at the same level (83%). Around 85 percent feel that their company has behaved in an exemplary manner and have confidence in the decisions of their management. Only in terms of job and company security do only 1 in 4 Swiss employees rate the situation as very good and are therefore, together with Germany, behind the Anglo-Saxon countries.
Half of the Swiss workforce was working from home at the beginning of May, which is proportionately more employees than in Germany, but less than in the Anglo-Saxon countries. The vast majority of respondents (84%) rate home office positively. In comparison to the other countries, more employees see a deterioration in their relationship with colleagues (22% vs. 16% on average in the comparison countries) and in their work in a team (28% vs. 22% on average in the comparison countries). Moreover, the assessment of the work-life balance is even more polarised than in the comparison countries. For 27% (23% in the comparison countries) the work-life balance has improved, they enjoy having more time with their family, less time to commute and being able to work in peace. But for 24% (20% in the comparison countries) the work-life balance has worsened, they lack personal contacts, a quiet workplace without distractions and they feel that they are missing information.
All in all, Swiss employees evaluate their changed work experience during the Corona crisis more positively. Nevertheless, significantly fewer experts (66% in Switzerland compared to 90% in Germany) and even fewer employees (45% vs. 57% in the UK and 56% in the USA) expect changes in the way they work together or in their own work. Simply going back to the previous operation will be difficult, however. Employees who have now experienced that more self-organization and flexibility is possible and fundamentally enrich their work and work-life balance will have different expectations of work organization in the future. Management must adapt to these changed expectations and take a corresponding position. To achieve sustainable change, companies must then allow for a profound, long-term cultural change and support it through investments - with a focus on the empowerment of managers, who play an important role in facilitating digital collaboration.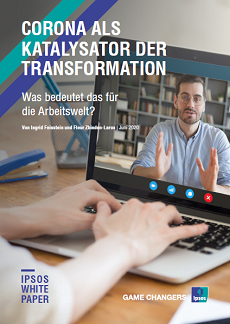 Here you will find further information:
In the whitepaper (not available in English) we go into more detail about the background and our perspective (based on the results in Germany).
In our webinar (in German) we present the results of both studies and share our perspective on the potential and challenges in the current situation. In addition to Dr. Ingrid Feinstein (Ipsos Germany) and Dr. Fleur Zbinden-Laros (Ipsos Switzerland), Prof. Dr. Karsten Müller from the University of Osnabrück will give a scientific perspective. You can find the presentation deck of the webinar (in German) here.
If you would like to the discuss our findings or are interested in details in English, feel free to contact us.