Ipsos Tracks MENA Consumer Sentiment in Light of the COVID-19 Outbreak
What are the changing consumer habits with the COVID-19 Pandemic spreading?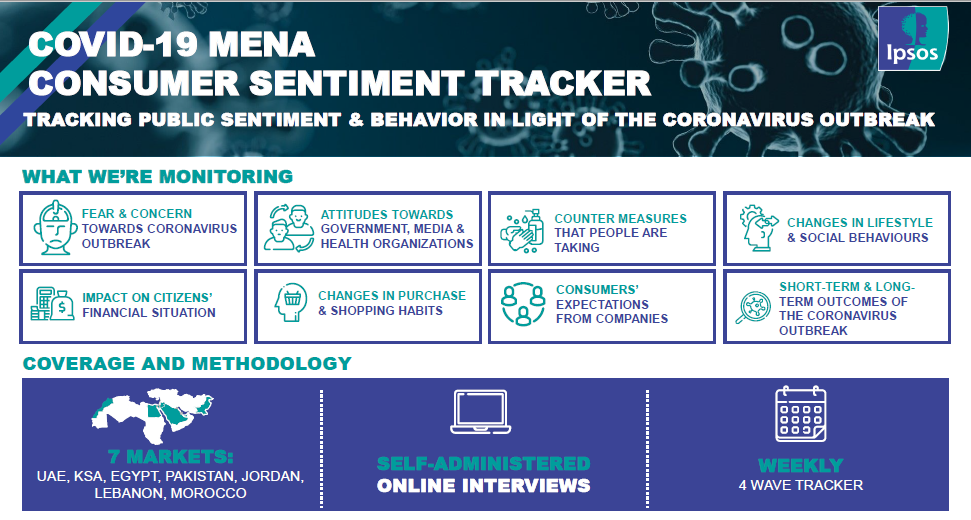 The Coronavirus continues to wreak havoc worldwide, completely disrupting markets, businesses and societies. The pandemic is ever evolving and with-it citizens and consumers opinions and behaviors continuously shifting. It becomes crucial for businesses and authorities to understand the changing attitudes, behaviors and expectations to develop the appropriate actions.
Ipsos launches the COVID-19 MENA consumer sentiment tracker to monitor public opinion and changing social behaviors and over the course of four weeks, between the 18th of March and 16th of April. The poll covers residents of 7 markets across the region, Saudi Arabia, UAE, Egypt, Morocco, Jordan, Lebanon and Pakistan. COVID-19 MENA consumer sentiment tracker monitors the following:
Behaviors – changes in day to day activities and reported shifts in purchase patterns.
Financial impact – rating of personal and global financial measures and impact including trend on perceived threat to personal employment.
Countermeasures - the actions that people are taking including washing hands, wearing face masks, social distancing and modifications to travel plans.
Attitudes and fears – Perceptions of containment and length of impact. Perceived short-term and long-term outcomes of the Coronavirus outbreak.
Download