Global opinion about UN Sustainable Development Goals: A survey on priorities and stakeholder's commitment
In 2015, world leaders agreed to 17 sustainable development goals (also referred to as "SDGs") for a better world by 2030. They engage governments, the private sector, civil society and citizens to achieve a better and more sustainable future for all. Here, you can read the most important results from the latest survey.
The survey we conducted in partnership with the World Economic Forum finds a remarkable consensus among citizens from all regions of the world when it comes to top priorities. However, these are the top 3 ranked goals from the global public: 
Zero hunger - the goal with the highest priority according to the public. The SDG ranks #1 in 20 of 28 countries and is in the top 3 of 6 other countries
No poverty - the #2 priority, globally. The SDG ranks #1 in 4 countries and is in the top 3 of 20 other countries
Good health and well-being - the #3 priority, globally. The SDG ranks #1 in 4 countries and is in the top 3 of 13 other countries
Furthermore, all three of the next priority goals based on the global ranking show in the top 3 of 9 countries:
Clean water and sanitation (goal 6)
Decent work and economic growth (goal 8)
Quality education (goal 4)
All top 3 goals of most countries count among the global top 6. Only 5 other SDGs show in the top 3 of any country:
climate action - #3 in Great Britain
life below water - #3 in Germany
peace, justice and strong institutions - #3 in South Korea
reduce inequality - #3 in Belgium
gender equality - #3 in India.
The global priority ranking based on the average ranking of all 16 goals in the 28 countries surveyed is as follows: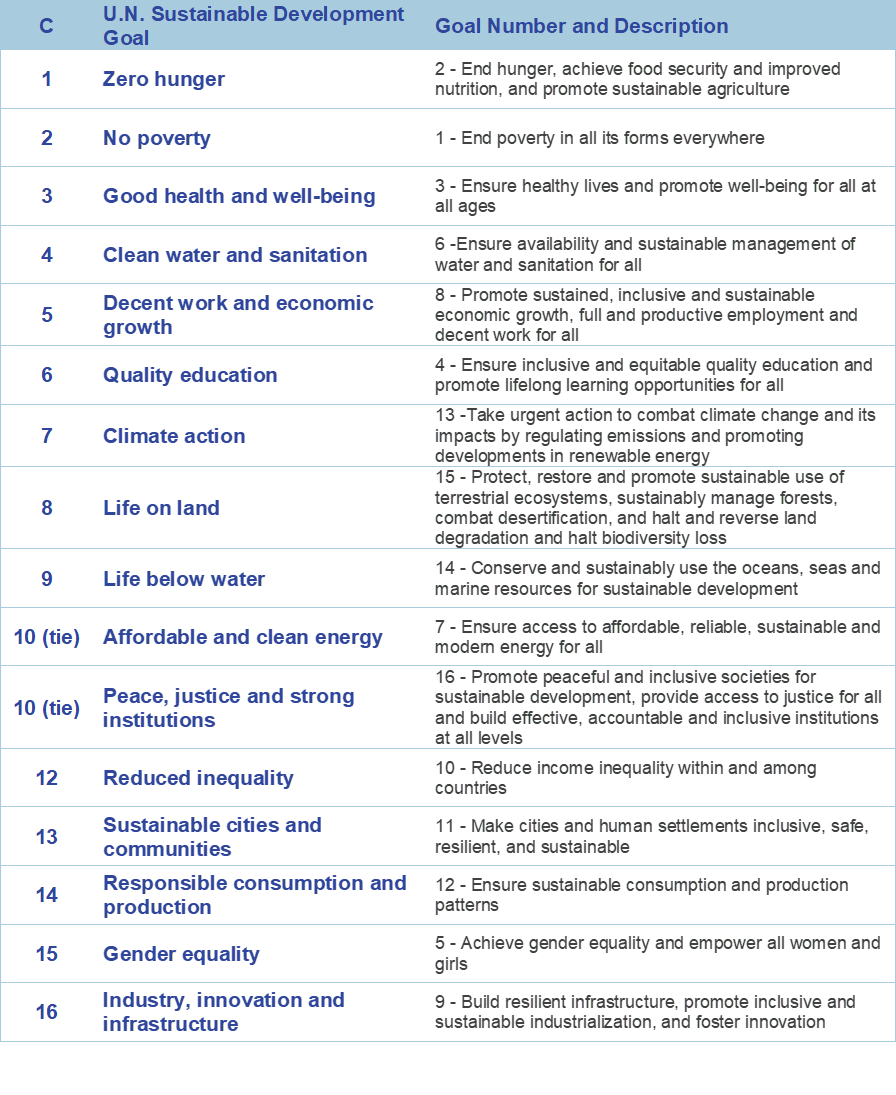 On average across all the countries surveyed, half of those asked say their government is taking less than their share of responsibility for achieving these goals (53%) while about four in ten say so of businesses in their country (42%) and of "most people" in their country (40%). However, for each of their country's governments, businesses and people, an average of 22% say they are taking more than their share of responsibility.
Read the World Economic Forum article.
 
About the Study
These are the results of a 28-market survey conducted by Ipsos on its Global Advisor online platform. Ipsos interviewed a total of 19,585 adults aged 18-74 in the United States, Canada, Malaysia, South Africa, and Turkey, and people 16-74 in 24 other markets between April 23 and May 7, 2021.