As apps become mainstream, what behaviours do they encourage?
Today marks the launch of a new report into apps and behaviour patterns. The report, commissioned by Google and produced by Ipsos, finds that different apps encourage different behaviours. News app users snack on content up to three times a day, whilst entertainment app users immerse themselves in programmes for up to seven hours a day.
Apps breed new behaviours
Focussing on sports, news, entertainment, and games apps, this report identified distinct behaviour categories:
Snacking - News apps encourage snacking. News app usage tends to be frequent and brief, averaging three visits a day at just 8 minutes a session across a small number of apps. This behaviour is the app version of 'snacking', where these users are consuming small amounts regularly during the day.
Immersion - Users are immersed in entertainment apps. As opposed to the 'snacking' culture of news applications, entertainment app users tend to 'binge' content with over twice as much time spent in entertainment apps than in news or sports. Entertainment app users claim to spend an average of 7 hours per week on their chosen services. They visit slightly less frequently than news application users, but for longer amounts of time. Entertainment apps tend to be more immersive experiences as people catch up with their favourite TV shows or binge watch the latest must-see drama.
Seasonal - Sports app usage tends to increase during sporting events. Sports app users are usually a fan-based group and tend to be more affluent males. Like entertainment apps they are used less frequently than news apps (twice a day compared to three times a day for news apps), but they are not used for as intensive periods of time (9 minutes per visit, on average). In contrast to other apps, sports app users tend to have a lower number of apps installed on their device.
It's not just men that play games
Women of all ages are app users – more than 9 in 10 (93%) female smartphone users use apps that they've installed themselves. What stands out, however, is the make-up of games app users. Contrary to popular belief, women play games; half of game app users are women (51%). Furthermore, given the frequency with which women use games and with more than 8 in 10 (84%) identifying as the main shopper within their household, there is a major and largely untapped opportunity for brand visibility and positioning within gaming apps to target these key decision makers.
Overall a third of smartphone users play a games app daily and 96% of app users engage with games apps every week. This engagement tends to be during leisure time when a user is 'taking a break', for instance: 56% of users play whilst relaxing, 30% during their lunch, and 29% while travelling.
Any time or place
Apps don't only reach users at lunch and during their commute, 20% of news app users check the headlines before they get out of bed in the morning. A third (32%) check news apps whilst having their breakfast, and another third (32%) whilst traveling. Perhaps unsurprisingly, apps have become a daily habit for many people and users claim to engage with news, entertainment, games, and sports apps for 50 to 70 minutes a day.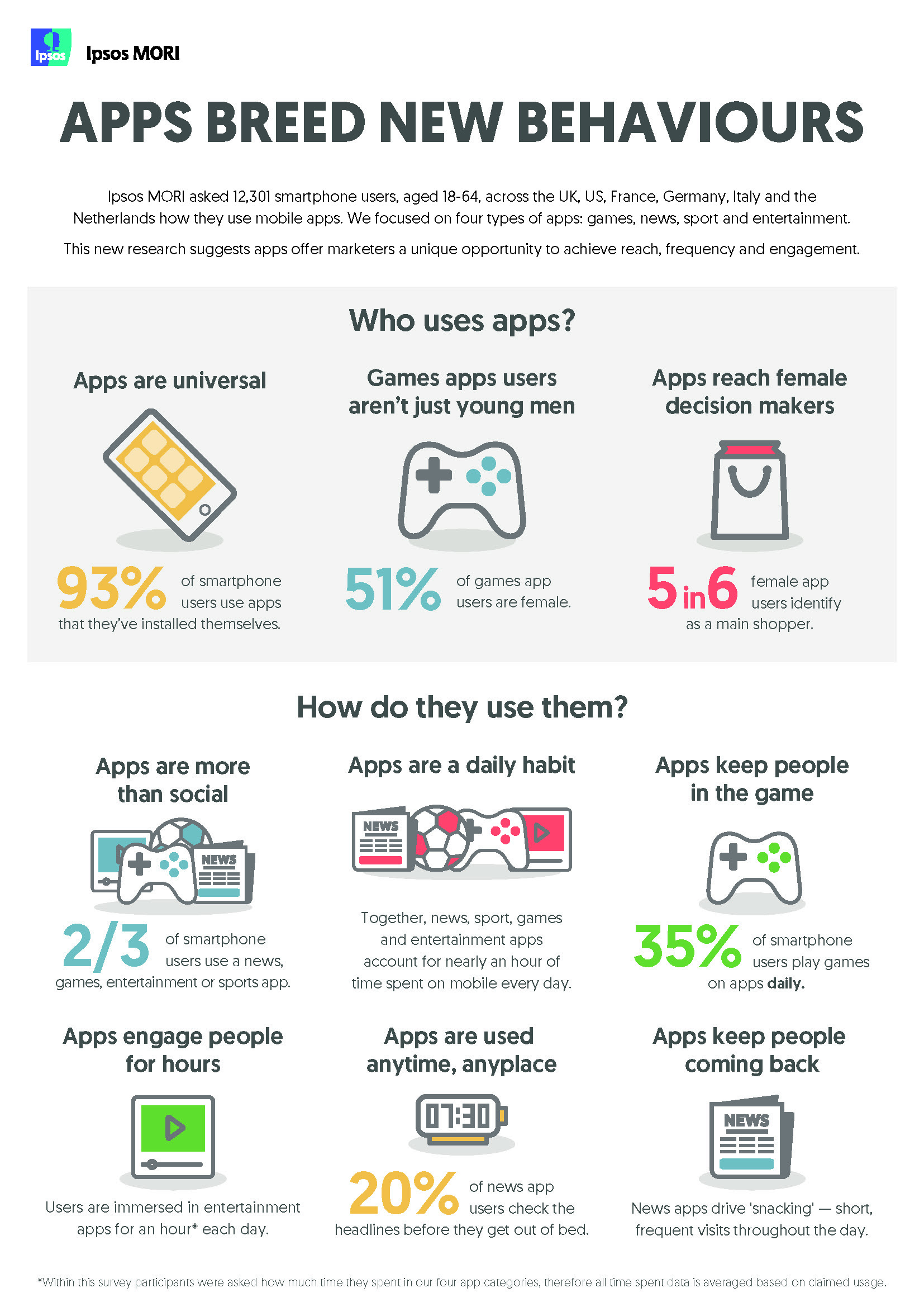 Nick Watson, Research Director at Ipsos Connect said: "It is well known that social media apps have had a profound effect on our social behaviour and relationships. However, until now, there has been relatively little understanding of how other common apps are used and the behaviours they breed. This research suggests that there are three distinct behaviours stemming from the use of news, entertainment, and sporting apps. A full understanding of these behaviours and how they have changed our daily habits is essential for most businesses and an invaluable opportunity to ensure that your brand is reaching the right people."
Thomas Jacques, Director at Google AdExchange EMEA said: "This new research suggests apps offer marketers a unique opportunity to achieve reach, frequency and engagement by offering broad reach across nearly all smartphone users, frequency through return 'snacking' behaviour, unique times of day to reach consumers, and hours-long engagement."
Technical Note
For the purposes of the report and release this is how we defined the following terms:
o   Games Apps - Any type of gaming app including casual gaming (e.g. Candy Crush Saga, Simpsons Tapped Out), puzzle (e.g. Words with Friends), arcade (e.g. Angry Birds), sports (e.g. 8 Ball Pool) or strategy (e.g. Clash of Clans).
o   News Apps - Apps from TV news broadcasters, newspapers, aggregator apps or magazines (e.g. The Guardian, New York Times, Buzzfeed).
o   Sports Apps - Apps to help users keep up-to date with sports news and analysis, including watching games and highlights (e.g. Sky Sports, fantasy league apps, BT Sport).
o   Entertainment Apps - Apps enabling users to watch video content such as on demand or subscription services, streaming through YouTube and downloading TV shows or films.
Ipsos carried out a total of 12,301 online interviews amongst individuals who use their smartphone at least once a week, aged 18-64 via the Ipsos Access Panel. Research was executed across 6 markets: the US, UK, France, Germany, Italy and the Netherlands, with quotas placed on age within gender, region, internet usage and working status to ensure a representative sample of weekly smartphone users. Fieldwork took place mid-April through to mid-May 2017.
Data was weighted to targets obtained from the Connected Consumer Study 2016 and Ipsos Global Trends 2017. All results shown are an aggregate across all markets, unless otherwise stated.
Within this survey participants were asked how much time they spent in our four app categories, therefore all time spent data is based on claimed usage.
Download