Pharma knocks tech off the top spot as most trusted industry in Ipsos' latest global report on Trust
Business leaders are not trusted to tell the truth – yet are seen to have a responsibility to speak out on issues according to the new Ipsos Global Trustworthiness Monitor report.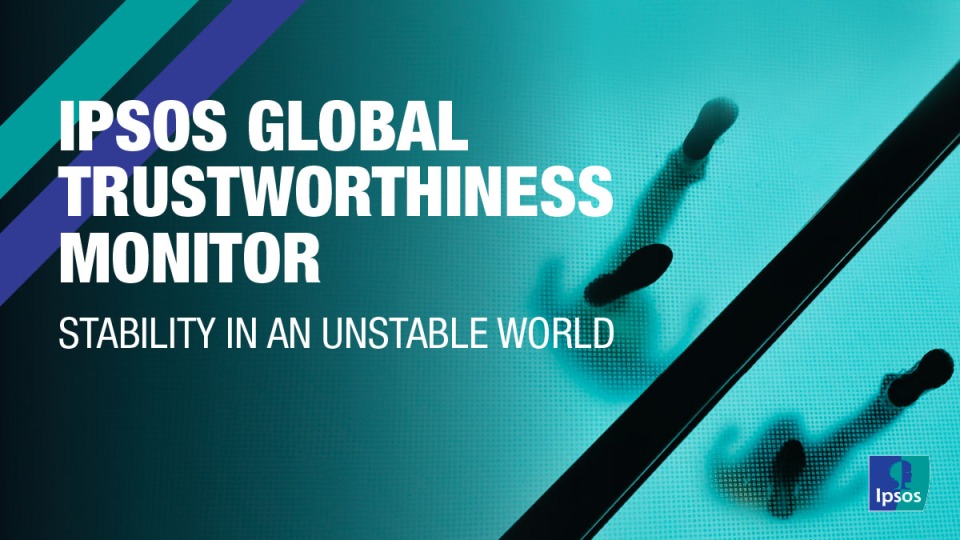 On average across 21 countries, 34% of adults surveyed by Ipsos rate pharmaceutical companies trustworthy, compared to 31% in 2021; a continuation of the trend for the sector over the last few years. A third, 33%, say the same of the tech sector. This is the same as last year but down from 38% in 2018. There is an increase in those who distrust the sector too, with 22% of adults distrusting compared to 19% in 2021. Levels of trustworthiness have increased for Government (22% now from 20% in 2021) and social media[1] (22% now from 16% in 2021).
The findings in this year's data shows that overall, not much has changed and trustworthiness in industries is generally trending upwards. The drivers of trust have remained the same year on year:
Only 3 in 10 among the global public trust business leaders to tell the truth; however, scepticism about business leaders behaving ethically and being a force for good in the world  is far more prevalent in Europe and North America than it is in many countries, including India, China, Saudi Arabia and Japan. 
Across 21 countries, the general public feel that the current levels of regulation for companies across a range of sectors are appropriate.
Ratings of government competence, motivation and values, leadership, responsibility, reliability and transparency, which are the key drivers of trust, are all better than they were in 2019.
Many professions have seen little to no impact on their trustworthiness scores – the world's most trusted professions (doctors, scientists, teachers) are returning to the levels of trust seen before the pandemic and as things return to normal, there may be little to challenge our deeply held pre-formed opinions of how much we trust different professions.
Generational differences are not as important as most people think and the majority of issues and attitudes do not map neatly onto the generation definitions.
The conventional narrative about trust is that it is either in crisis and/or getting worse. In the first wave of the Ipsos Global Trustworthiness Monitor in 2019, Ipsos challenged this viewpoint by looking at a wide range of data sources and trends from across the world. Our main conclusion then was that trust in most institutions, sectors and professions has been stable for a long, long time, and that the changes that have occurred over the last 20 years have been slow and far from dramatic. There is no evidence to suggest that this observation does not still hold true now.
Notable Country Differences
Trust in Government
Across almost every country surveyed, the government has a trust 'deficit' – that is, a greater percentage of the public find the government untrustworthy than trustworthy. Only India shows a trust credit here (52% trustworthy vs 23% untrustworthy). 
Whilst last year only the public in the United States, Australia and Great Britain found technology companies more untrustworthy than trustworthy, this has spread to other countries, with France, Spain, Hungary, Belgium, and Canada now also showing a deficit of trust in technology companies. 
Spain, Belgium, and Great Britain are the three countries showing the highest level of distrust in the oil & gas sector – with over half of the public in each of these countries finding the sector untrustworthy. At the other end of the scale, India, China, and Saudi Arabia are the most trusting of the sector, with around half of the public in each of these countries finding the sector trustworthy and less than 1 in 5 finding it untrustworthy.
Trust across the generations – not so different after all
Contrary to the widely held belief that the different generations are radically different in outlook and belief, analysis of the data from the last few years of the study shows remarkable similarity. Firstly, we see a huge amount of common ground between how different generations prioritise different criteria for judging whether sectors and brands are trustworthy.
While there is certainly some variance in the strength of feeling that different generations have for different criteria. Baby Boomers, for instance, are far more likely to prioritise reliability and openness/transparency than younger generations, while Gen Z and Millennials rate more of the lesser priority issues more highly. Despite these differences, all four generational groups regard the same four trust drivers, reliability, openness/transparency, responsibility, and value for the price, as the most important, and in the same rank order, although the strength of feeling does vary.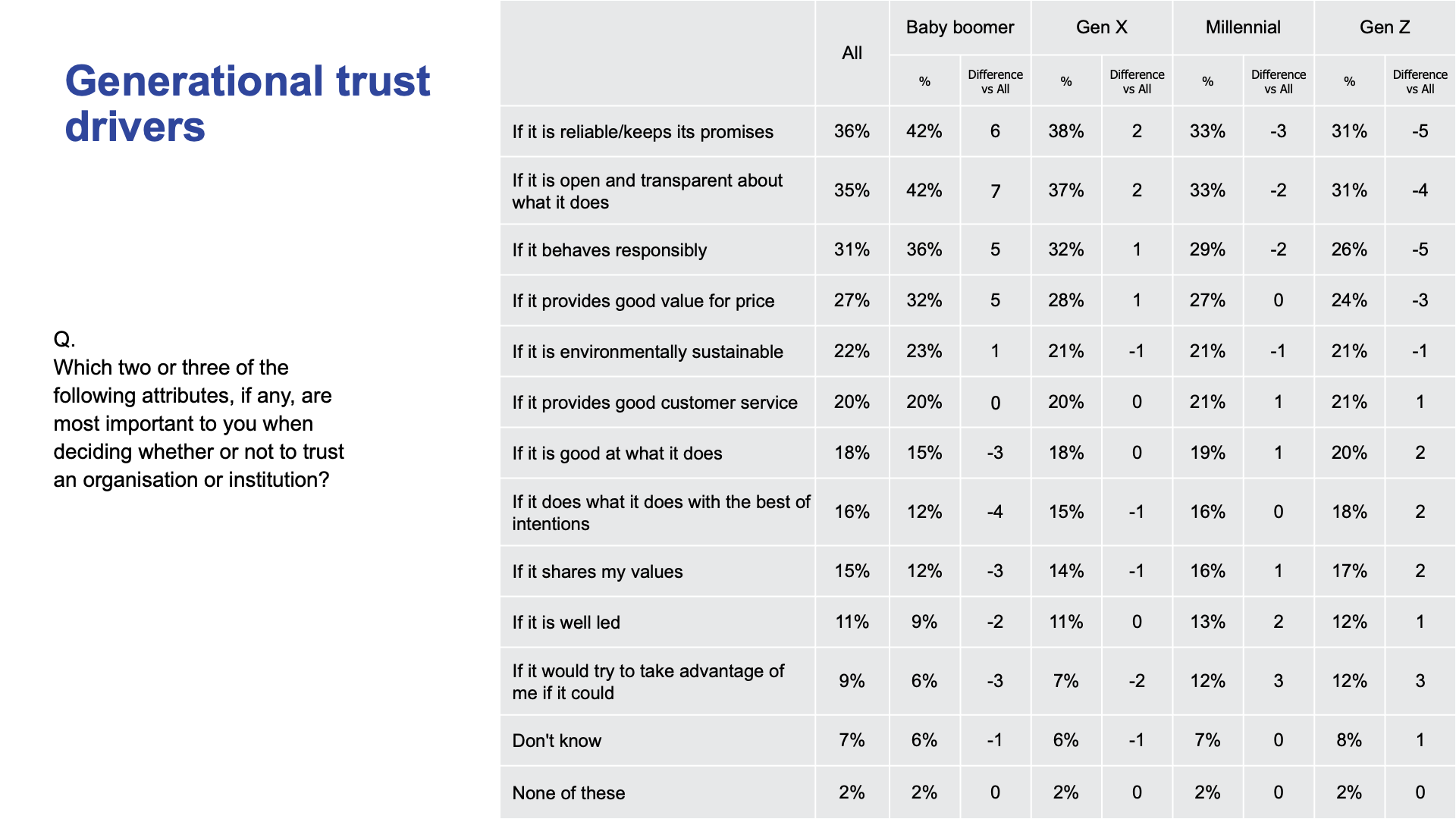 Looking at how the generations judge the sectors on trustworthiness we see that generally, it is the older generations who are more likely to be less trusting of a sector than Millennials and Gen Z. Baby Boomers and Gen X are less likely to trust financial services, energy, oil & gas, banking, social media companies, and consumer-packed goods than those younger than them, with there being significant differences between the elder and younger generations in each case.
For the remaining sectors – technology companies, pharmaceuticals, retail, and the government – there is little variance in levels of trust towards each sector between the generations.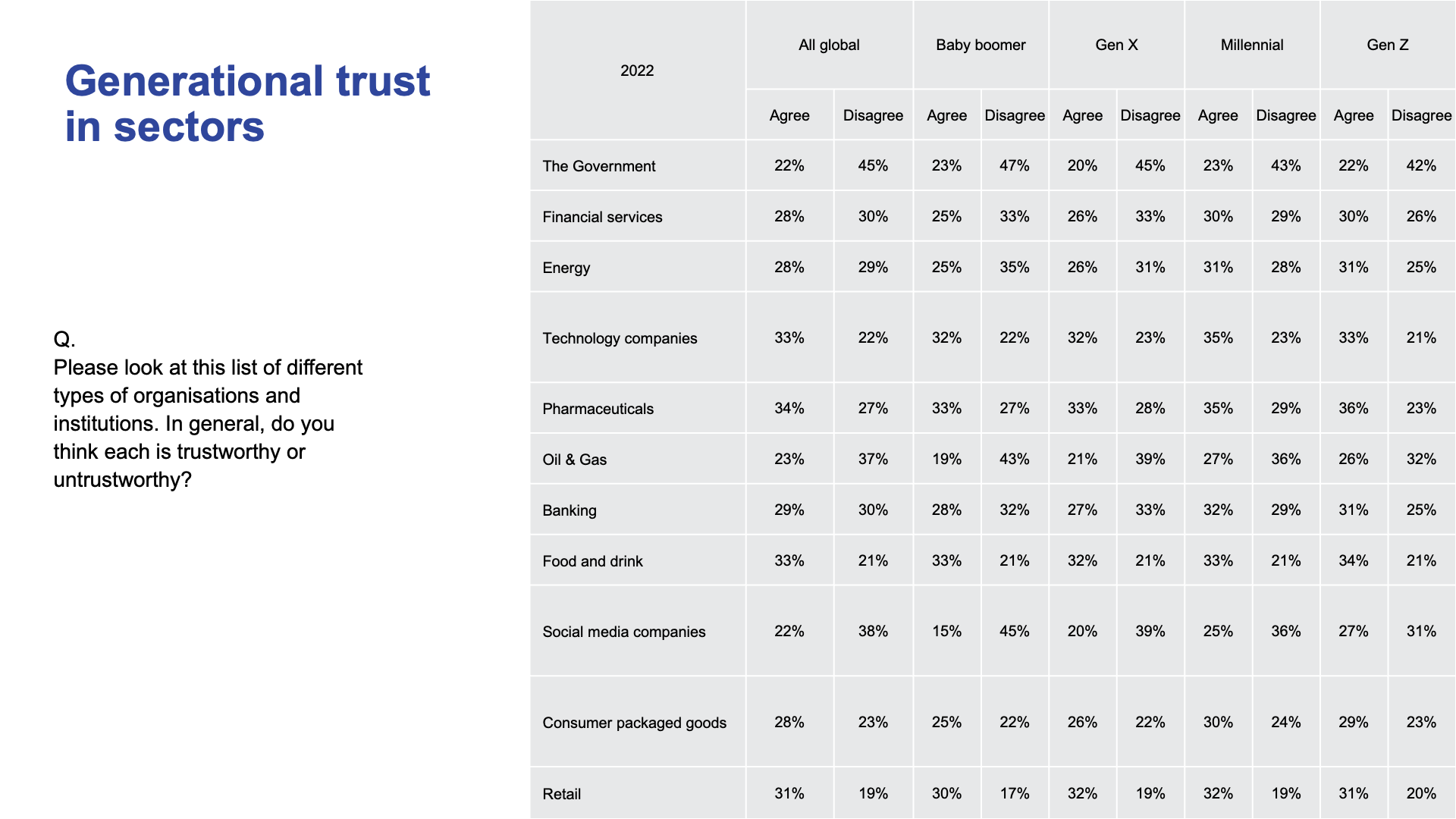 Trust and regulation – sectors are regulated appropriately
It follows that if we are to believe the narrative of trust being in crisis, we should be seeing large- scale concerns about levels of regulation around the globe and calls for greater government intervention. When we ask the public, rather than seeing significant concern about how businesses are regulated, we instead see most citizens from 21 countries feeling companies across a range of sectors are being regulated appropriately.
Of the 10 non-government sectors measured, the regulatory environment is seen to be appropriate for retail, food and drink, consumer packaged goods, and technology companies. These are also the sectors deemed most trustworthy. Where there is some appetite for increased regulation is with social media, oil & gas, and energy companies; some of the least trusted sectors. So, the data does suggest a relationship between being trusted and reduced regulatory risk.
Trust in business leadership – the global landscape is shifting
Sandwiched between lawyers and journalists in our trustworthiness rankings, only 23% of the global population consider business leaders trustworthy - up one point since 2019 and 2018. Only 3 in 10 among the global public trust business leaders to tell the truth. This varies a great deal around the world. In countries including France, Belgium, Canada, and Great Britain the proportion who trust them to tell the truth languishes at around 1 in 5. But in India it's above 3 in 5 – and in Japan and China it's about half, with relatively few actively mistrusting them.
The same picture emerges when we ask people whether business leaders generally behave ethically, and whether they are a force for good in the world. The answers, typically, much more positive in India, China, Saudi Arabia, or Japan, where businesses are more likely to be seen as engines of dynamism and progress, than in many of the more sceptical European or North American nations. And are business leaders over-paid? Again, a majority of the global public (6 in 10) say so.
The question of whether business leaders have a responsibility to speak out on social and political issues affecting their country sees more consistency across the world. Globally, half (50%) express this view – rising to more than two-thirds in South Africa and India – and in each of the 21 countries surveyed there is a plurality in support. So, even where trust is low, business leaders seem to have a licence – or even a duty – to take a stand on the issues that really matter to their compatriots. The trust landscape is changing, and leaders need to be armed with a clear understanding of what creates trust in their company and what their purpose is.
---
About this study 
These are the findings of an Ipsos online survey conducted between 26 August – 9 September 2022.
The survey was conducted in 21 countries around the world, via the Ipsos Online Panel system in Argentina, Australia, Belgium, Brazil, Canada, China, France, Germany, Great Britain, Hungary, India, Italy, Japan, Poland, Saudi Arabia, South Africa, South Korea, Spain, Sweden, Turkey, and the United States. The results comprise an international sample of 16,017 adults aged 16-74 in most countries and aged 18-74 in Canada, South Africa, Turkey and the United States. Approximately 1,000 individuals participated on a country by country basis via the Ipsos Online Panel, with the exception of Argentina, Hungary, India, Poland, Saudi Arabia, South Africa, South Korea, Sweden and Turkey, where each have a sample of approximately 500.
---
Notes 
[1] Fieldwork was carried out before Elon Musk's takeover of Twitter