British public say cost of living concerns a key barrier to foreign travel this year
Around 1 in 7 of Brits not planning on travelling abroad say airport/port delays are putting them off according to a new Ipsos survey
New research by Ipsos shows the rising cost of living to be a key barrier to foreign travel for the British public this year.
When asked about plans for the next 12 months, almost two-thirds (63%) of Britons say they are unlikely to go abroad outside of Europe while 47% say the same for travelling within Europe.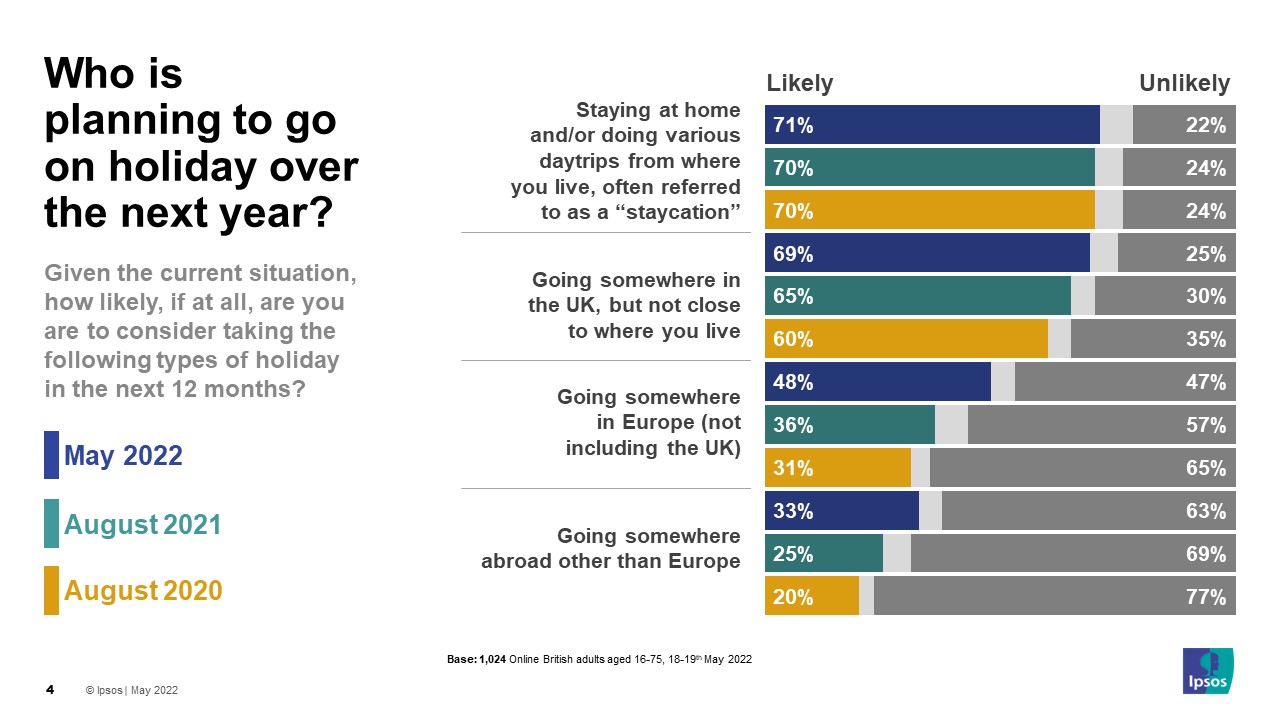 Of those who say they are unlikely to travel abroad, either within or outside of Europe, the top 6 reasons given why include:
49% cite financial concerns / cost of living / too expensive as a reason
25% say they don't have a valid passport
23% say they still have concerns about COVID-19
20% prefer to holiday in the UK
18% say it is too much hassle or inconvenience to travel
15% cite concerns about delays at ports / airports as a barrier to travel.
Seven in 10 Britons (71%) say they are likely to stay at home/do various day trips from where they live in the next 12 months, otherwise known as a "staycation", while a similar proportion are likely to go somewhere in the UK away from their home (69%).
Looking back over the year so far, 4 in 10 (39%) have gone somewhere in the UK where they stayed at least one night while a quarter have been on a "staycation" (26%). Under 1 in 5 (17%) have been on holiday to Europe while only 8% have been away to somewhere outside of Europe. Three in 10 (31%) have been on none of these types of holiday so far this year.
Keiran Pedley, Research Director at Ipsos, said:
We know from other Ipsos research that the rising cost of living is a major concern for the British public at the moment. Therefore, it is no surprise that these concerns are putting some off foreign travel this year.
Technical note
Ipsos interviewed a representative quota sample of 1,024 adults aged 16-75 in Great Britain. Interviews took place on the online Omnibus using the Ipsos.Digital platform between 18th and 19th May 2022. Data has been weighted to the known offline population proportions.