Five years on from Brexit - they think it's all over, it isn't…
5 years on from the Brexit referendum, there are still many important issues to be finalised with the EU, say voters according to our new poll in partnership with UK in a Changing Europe.
New polling by Ipsos, in partnership with UK in a Changing Europe, finds that 4 in 10 (44%) Britons believe that there are still many important issues to finalise with the EU, with Remain voters most likely to feel this way about negotiations (62%).  In contrast, 30% of leave voters say there are still many important issues to discuss.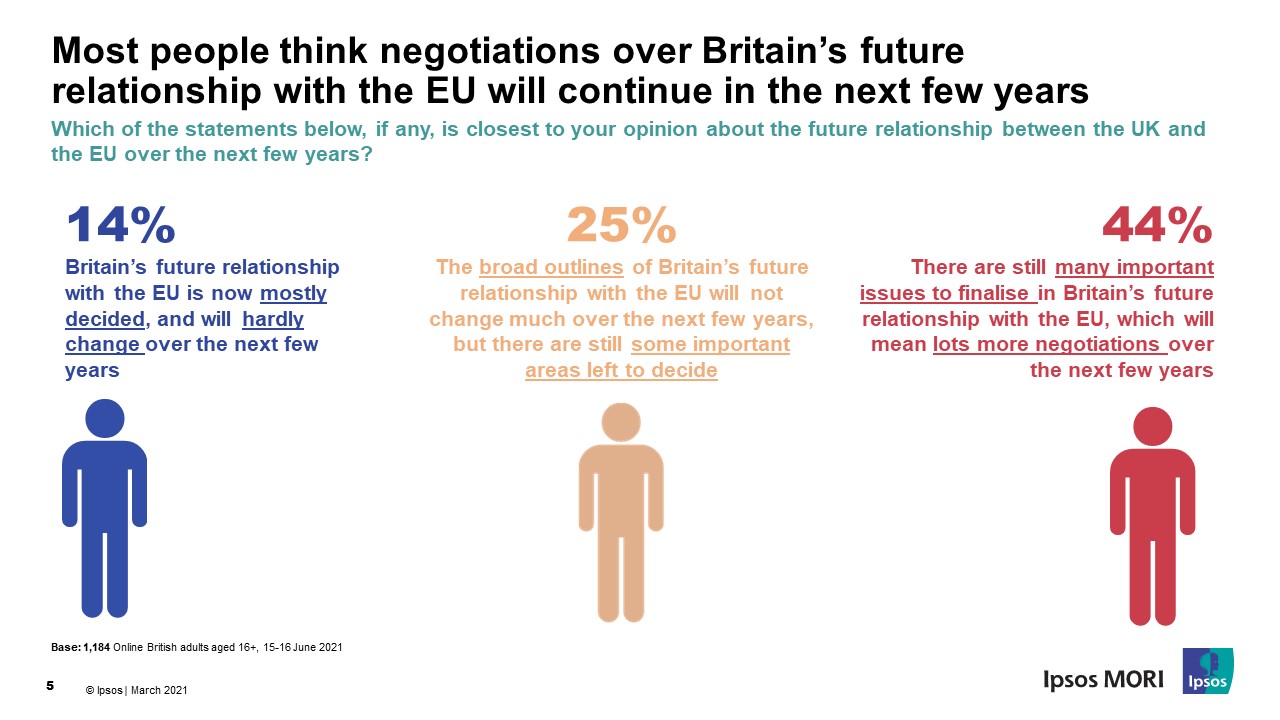 Five years after the referendum, the majority of Britons (56%) say it hasn't made any difference to their daily lives, however there is still a significant split between leavers and remainers.  Remainers are more likely to say it has impacted their lives negatively (51%) and only 5% of remain voters think it has made life better. Whilst only 1 in 10 leave voters say it has impacted them negatively and 7 in 10 (71%) say it hasn't changed anything for them on a day-to-day basis.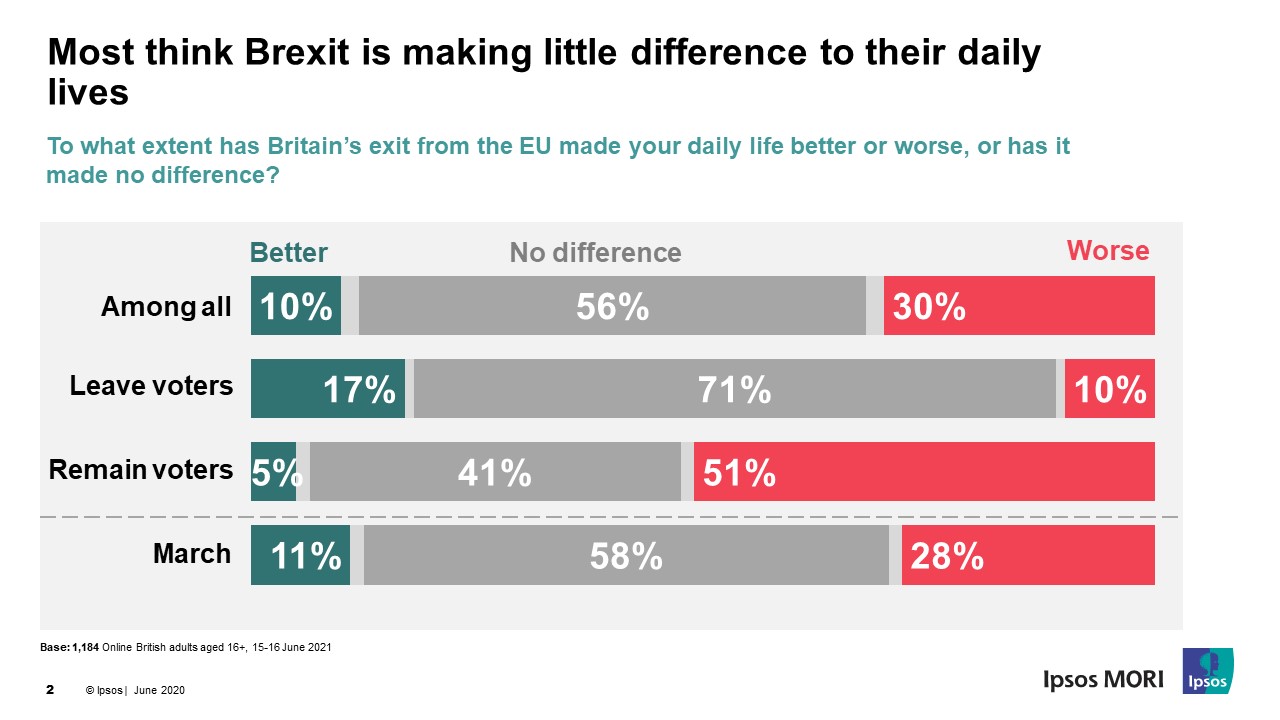 When asked about whether they knew anyone whose job of business had been impacted by Brexit, a quarter (25%) said they did know someone, compared to 8% who said they knew someone that had been positively impacted. The majority (59%) didn't know anyone that had been affected by Brexit.
Nearly half (47%) of people report that Brexit is working out as expected, but unsurprisingly those that voted to remain in the EU are the least positive – 48% of remainers say is working out worse, compared to 10% of leave voters.
Kelly Beaver, MD of Public Affairs, Ipsos, says:
We are now five years on from Brexit and the majority of people say it has no impact on their lives to date, however nearly half of us also feel that we have many unresolved issues to negotiate with the EU.  The public remain divided on Brexit and there is potential for this to become more pronounced when the pandemic ends and the spotlight returns to the issue of Brexit. Will remainers be won over by new trade deals and greater independence?  Or will the reality of red tape on holidays and promises that may not be fulfilled leave the leave voters feeling disenchanted with Brexit?
Paula Surridge, Deputy Director at UK in a Changing Europe said:
The full implications of the decision to leave the European Union are not yet being felt widely among the British public. The wider crisis of the last 18 months - tens of thousands of deaths, an ever-growing health crisis, chaos in the school system, cancelled holidays and lockdowns – may have both masked some impacts and changed what people think is possible. But the Conservative majority is built on high expectations for positive change as a result of Brexit, and it remains to be seen, once other concerns have waned, whether the government is able to convince them that Brexit has delivered.
Technical note
Ipsos interviewed a sample of 1184 adults aged 16+ in Great Britain using its online i:omnibus between 15-16 June 2021.  Data has been weighted to the known offline population proportions for age, working status and social grade within gender, government office region and education.  All polls are subject to a wide range of potential sources of error.