Sexual fantasies: our misperceptions about the sex lives of young people
Young people are having a lot less sex than you think – and men are particularly wrong about the sex lives of young women. People are not honest about their number of sexual partners – and American men think American women have an incredibly high number of partners.
As part of Ipsos' studies on misperceptions, to be released in a new book - The Perils of Perception – Why We're Wrong About Nearly Everything - on 6 September, we asked people in Britain and the US to guess how often people aged 18-29 in their country have sex. And both countries think their young people are much more sexually active than the reality.
The average guess about young men is that they have had sex 14 times in the last four weeks, when the actual number is just 4 times, according to detailed surveys of sexual behaviour. 
Our guess would mean that, on average, young men are having sex every other day, around 180 times a year, compared with the more mundane reality of around 50 times.
But that's not the most remarkable error in our guessing - men are even more wildly wrong when they guess about young women's sex lives, in both the US and Britain.
Men think British and American young women are having an incredible amount of sex – 22 times a month in Britain, and 23 times a month in the US, compared with an actual of around 5 times.
These guesses would be the equivalent of the average young woman having sex every weekday, plus two or three times on one special day each month.
Woman are much closer to reality when guessing about other women's sex lives, with the average guess in both the US and Britain being 12, although this is still much higher than the reality.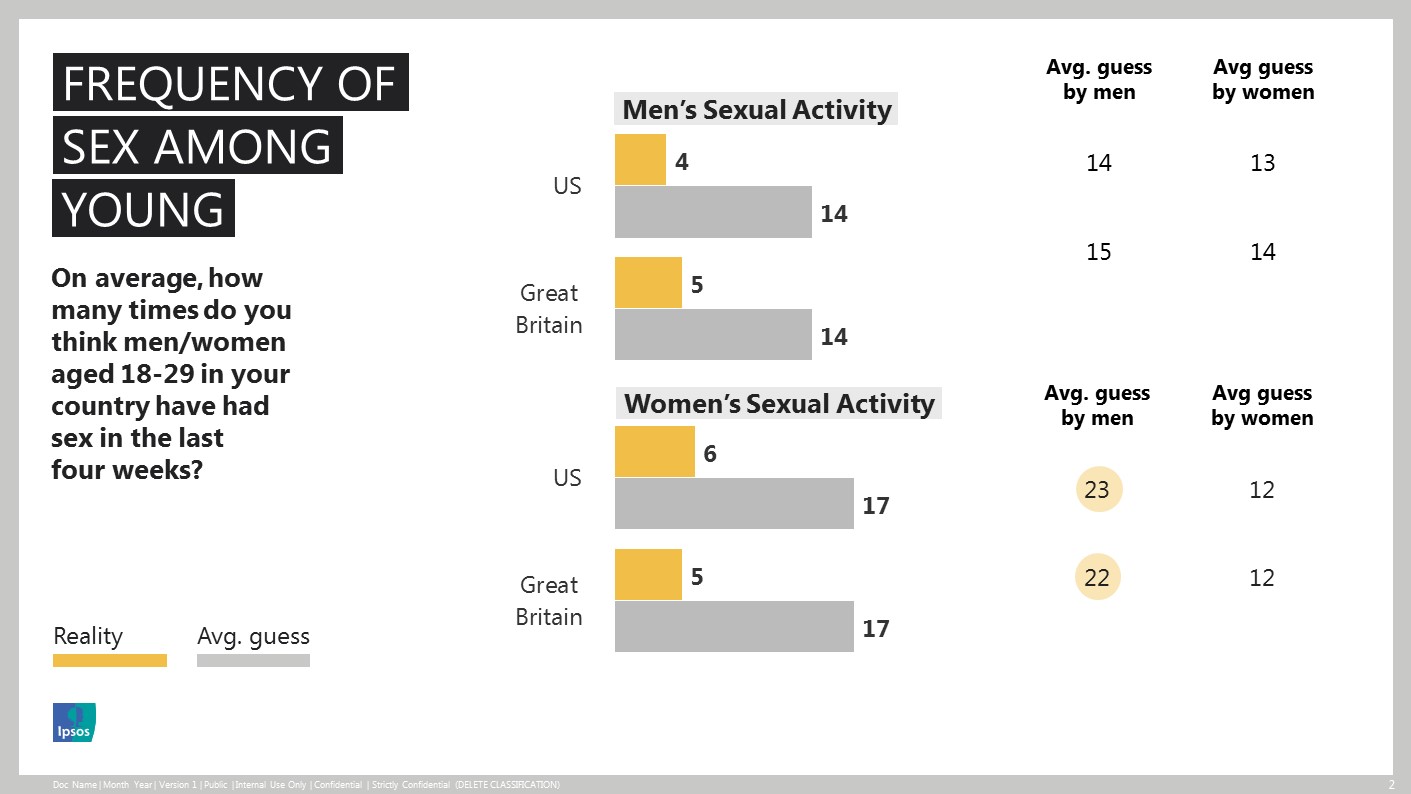 We also asked people to guess another 'what's your number' question, on how many sexual partners people in their country have had by the time they get to 45-54 years old. On this, people are actually very accurate at guessing the average number of partners reported by men, across three countries this time - Britain, the US and Australia.
The actual figure in Australia and Britain is an average of seventeen partners by the time men reach 45-54, and is nineteen in the US- and the average guesses are almost spot-on.
But it gets much more interesting when we compare men and women. First, the standout pattern is with the 'actual' data - that the number of partners claimed by women in surveys of sexual behaviour is much, much lower than the number claimed by men. In fact, women claim to have had almost half the number of sexual partners as men. This is one of the great conundrums of sexual behaviour measurement: it's seen again and again in high-quality sex surveys, but it's a statistical impossibility.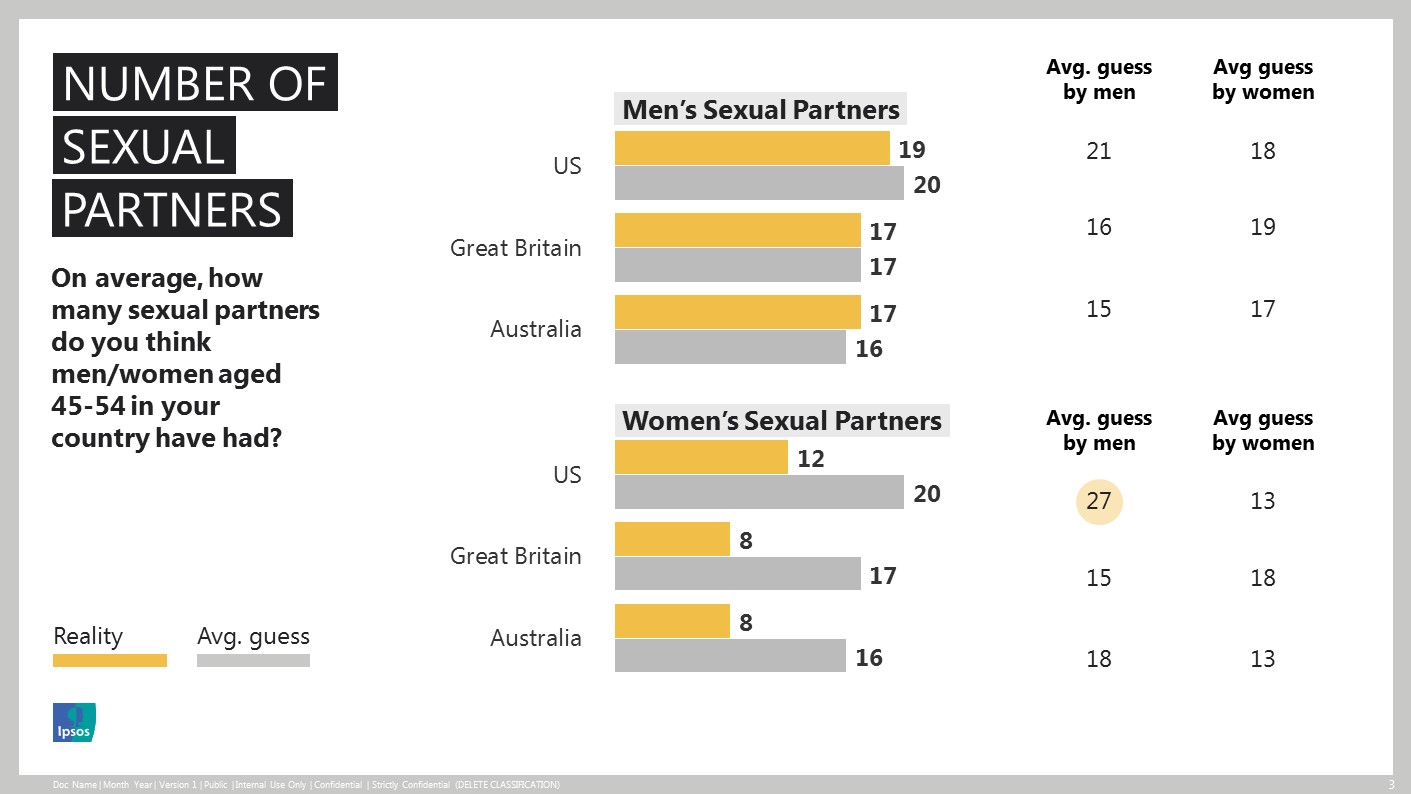 Given that both men and women are reporting heterosexual pairings, and they make up roughly equal proportions of the population, the numbers should roughly match. There are a number of suggested explanations for this - everything from men's use of prostitutes to how the different genders interpret the question (for example, if women discount some sexual practices that men count).
But it seems most likely to be a mix of men's rougher and readier adding up, combined with men's conscious or unconscious bumping up of their figure, and women's tendency to deflate theirs. It seems that the most reasonable conclusion is that men up their number a bit, women downplay theirs a bit more, and we actually reveal something close to the truth when guessing for 'other people'.
There is one final intriguing twist in the US data - where men and women guess very differently for women in the US.
American men think that American women have had 27 partners on average, but American women guess only 13, which is much closer to the figure women claim for themselves of 12.
This new data is included in a book by Bobby Duffy, called The Perils of Perception – Why We're Wrong About Nearly Everything, which is being released by Atlantic on 6th September 2018. He said:
Our misperceptions reveal a lot about how we see the world, and ourselves. We see young people as much more sexually active than they really are, which will be a result of both what we see – the way young people are portrayed in the media and entertainment – but also how we think, where we struggle with estimates, and are drawn to extreme examples. Our misperceptions also give us a clue to how we think about sex – both in assuming others are getting a lot more than us, and our misperceptions of some groups, particularly men's wrong ideas about women, particularly in the US. We're better on guessing at the average number of sexual partners. But the issue here is 'reality' itself, with the likelihood that both men and women are not being entirely accurate when they report their number. There will be all sorts of reasons for this – but part of it seems likely to be 'social desirability bias', where we give the answers we think are socially acceptable, which pushes men to inflate the reality and women to deflate it. But again our guesses show men and women in the US have a very different view of women's sexual lives, with men much more likely to think women are more promiscuous than US women really are.
Technical notes
The Perils of Perception – Why We're Wrong About Nearly Everything is published by Atlantic Books on 6th September 2018 – for more information see perils.ipsos.com.
3,465 interviews were conducted in October 2017. 
The survey was conducted in 3 countries around the world, via the Ipsos Online Panel system in Australia, Great Britain and US. 
Approximately 1000-1500 individuals aged 16-64 or 18-64 were surveyed in Australia, Great Britain and US. 
Take the quiz and test your knowledge of sexual habits in Britain or in the US.