Navigating Social Issues: When and how to speak out
Five pieces of actionable guidance for corporate leaders as they determine what to speak out on and how, with a focus on maximizing opportunity and limiting risk.
KEY FINDINGS:
Just 3 in 10 people around the world trust business leaders to tell the truth, according to the Ipsos Global Trustworthiness Monitor.
Reliability, transparency, and behaving responsibly are the most significant drivers of trust in organizations globally.
Mobilizing stakeholders around an authentic, shared goal is critical to avoiding the perception of empty promises and corporate purpose-washing, Ipsos finds.
In 2023, corporate leaders are finding that "taking a stand" on a range of issues is a high-stakes game. Choosing to stay silent on one issue or overstepping on another can trigger more than a negative media cycle, often resulting in heightened regulatory risk, sales loss and even market cap depreciation.
This year, The Ipsos Reputation Council—an annual study of communications and corporate affairs leaders globally that explores top issues and trends in reputation management—emphasized the clear demand for business to play a societal role beyond management of the bottom line. Building from these proprietary insights, in partnership with The Observatory on Corporate Reputation, our team has surfaced five pieces of actionable guidance for corporate leaders as they determine what to speak out on and how, with a focus on maximizing opportunity and limiting risk.
1. Invest in building a deep understanding of what key stakeholder groups expect of you
Ipsos research shows that trust offers a unique benefit to companies as they take risks and generally eases relations with all types of internal and external stakeholders. Trusted companies rebound from corporate missteps faster, are better defended against regulatory risk, and experience faster adoption of new ideas.
Benchmarking trust, understanding what drives it, alongside other key perceptions, offers a solid foundation from which to build a purpose strategy or master plan for how the organization will respond to key economic and sociopolitical issues.
The Ipsos Global Trustworthiness Monitor, Ipsos's annual study of the state and drivers of trust across key institutions and sectors globally, found that reliability, transparency, and behaving responsibly are the most significant drivers of trust in organizations globally.

While these principles hold true to all types of businesses, it's important to invest in a deep diagnostic of trust as key expectations and perceptions are likely to differ significantly by stakeholder group, by sector and industry, and potentially even within a business' competitive set based on the current reputation, corporate values and strategy, and prior issues trajectory. What drives trust, and in turn stakeholder expectations of its leadership, for example looks quite different in an automotive company as compared to a payments company, and more different still comparing front line employees of the automotive company to its investors and shareholders.
An organic outcome of this type of diagnostic is open discussion about key stakeholder groups, how they should be prioritized, how the organization's purpose and identity relate to them, and definition of how they tie back to business goals. For example, objectives for an employee audience might look like improving employees' trust in leadership, increasing awareness of and resonance with the vision and purpose of the company, and willingness to advocate on its behalf. These stakeholder specific objectives may tie back to an organizational goal of improving talent retention and driving perception externally of the company as an employer of choice in its sector.
2. Ground strategy and communications in authenticity and credibility with an eye on where you can be truly effective
Building from stakeholder insights regarding expectations of the business and its leaders, communications and corporate affairs teams must then translate to what aligns best to corporate strategy, and what they can realistically and successfully tackle proactively.
The Ipsos Global Trustworthiness Monitor shows that while they are seen to have a responsibility to speak out on issues, just three in 10 of the global public trust business leaders to tell the truth.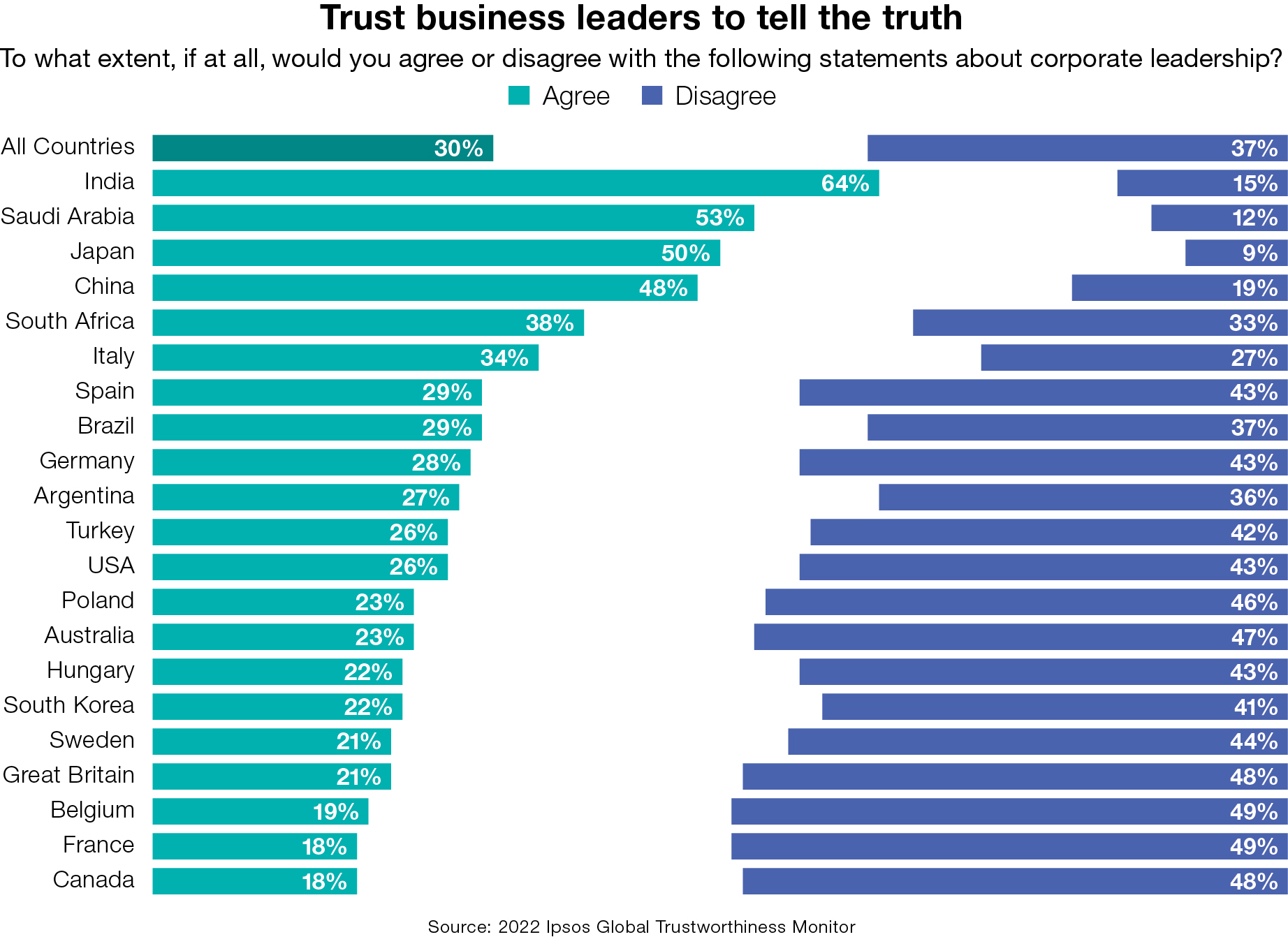 This environment presents an opportunity for business leaders who do have a positive and authentic story to tell. Leaders can't communicate their way out of situations that their bad behavior got them into, but they can certainly marshal public support around the good things they're doing, and how they contribute to wider society.
Ipsos teams frequently refer to the simple and impactful ACE framework to guide business and communications strategy by identifying actions that are authentic, credible and effective:
Authentic:
The action utilizes relevant business know-how to drive change on the issue being addressed
The action is in-line with the company mission and purpose
Credible:
The company's actions are aligned with external realities—addressing a real societal need
The company leverages partnership where appropriate to deliver more meaningful impact in a credible way
Effective:
The action generates goodwill amongst stakeholders—employees, consumers, the public, investors, etc.
The action generates social change
There is business impact, i.e., more efficient operations, more sustainable performance, etc.
The impact of the company's action is measurable and can be communicated over time
Then, teams should map actions back to their understanding of what drives trust in the business with key stakeholders to prioritize initiatives that are most likely to drive positive impact on corporate trust and ultimately business performance.
3. Socialize strategy to ensure buy in, adoption and accountability beyond communications teams
Closing the gap between commitments and actions is critical and requires the support of teams and leaders across the organization. This year, The Ipsos Reputation Council revealed that mobilizing stakeholders around an authentic, shared goal was critical to avoiding the perception of empty promises and corporate purpose-washing. One member noted, "Organizations that just stick with a purpose logo or a purpose statement on their website will no longer cut the mustard. The big challenge now is truly hardwiring purpose and strategy together."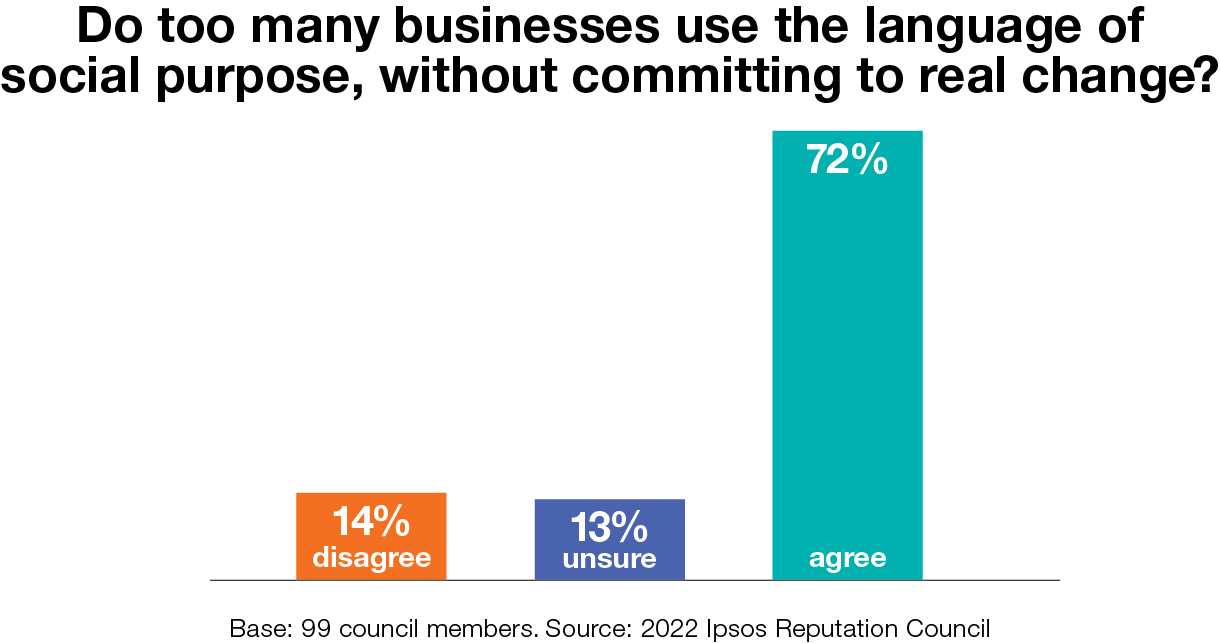 As a first step, socializing key findings from trust and reputation benchmarking and the recommended path forward on proactive ESG-oriented strategy is imperative and drives faster and more consistent decision making in the future. Importantly, it also secures a commitment to time, attention and investment in key issues.

Rooting recommendations in data allows corporate affairs leaders to engage, counsel, and correct top management on the clarity of their purpose, beliefs, and worldviews pertinent to their role and proactively aligns teams around issues they want to prioritize creating a cohesive and public-facing perspective on. Ideally, communications teams and corporate affairs leaders can position themselves as the facilitator, not the author of these perspectives, acting as a connector of teams and steward of key stakeholders' expectations. Groups to seek alignment with should include internal and external communications teams, government affairs teams, executive officers, talent and HR at a minimum.
4. Develop protocols that help guide response when issues arise
As Sally Susman, Chief Corporate Affairs Officer at Pfizer and author of Breaking Through: Communicating to Open Minds, Move Hearts, and Change the World, notes:

As one Ipsos Reputation Council member notes, the current environment often doesn't allow for lengthy alignment and approval periods.

Effective communication on social issues requires careful consideration of not only the message but also the timing and place of its delivery. Being the first to respond in a crisis does not always guarantee success, and companies need to strike a balance between acting quickly and taking the time to respond thoughtfully and strategically. Further, how the message is delivered often matters as much as its timing and the message itself. Strategies to consider in proactive planning and protocol development may include:
Developing a rubric for gauging whether you should respond based on the ACE framework, company values and your understanding of stakeholder trust
Studying the current risk environment, including who and what influences and drives conversation on key topics and the past and expected future trajectory on key issues
Investing in proactive message testing to refine and optimize key messages and delivery formats (channels and spokespersons for example)
Conditioning the environment on issues that matter most to your business and those that present the greatest risk to reputation
By proactively addressing these risks and having clear guidelines in place, companies can navigate the complex sociopolitical landscape while still staying true to their values and engaging with stakeholders in a meaningful way.
5. Establish means for understanding how corporate strategy and communications are performing
Ipsos Reputation Council data shows that expectations around environmental and social issues have a direct impact on the way business operates, and further, poor performance on ESG initiatives has material consequences.
To manage this risk, beyond initial benchmarking, it's important to build a mechanism for evaluating how corporate strategic shifts, ESG initiatives and related communications are performing.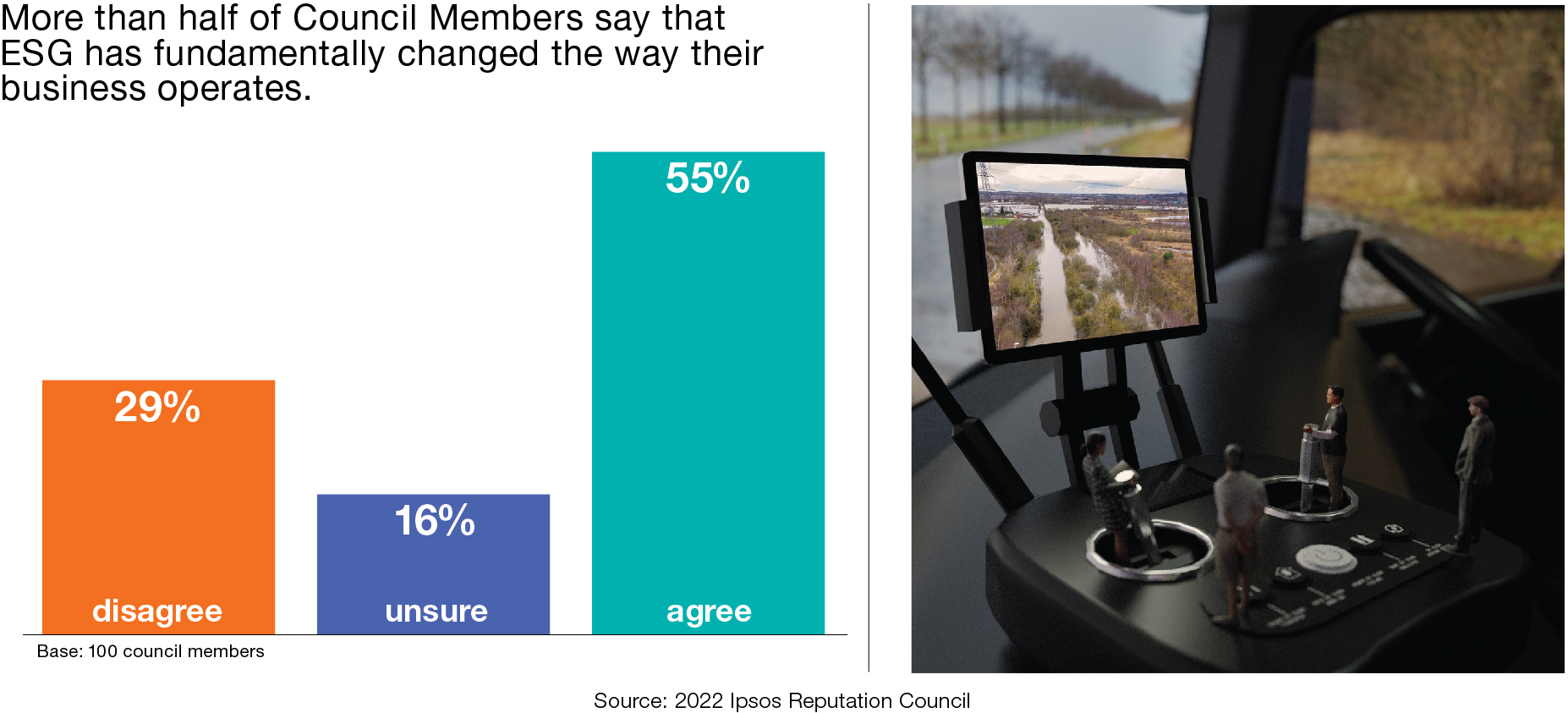 The most effective ESG measurement and monitoring programs build from a deep understanding of the current state and drivers of trust and reputation, to incorporate and integrate multiple data sources and signals that offer more real-time and proactive insights. Considerations for designing such a program might include:
Integrating a broad set of data sources: go beyond classic survey-based tracking of trust and reputation to incorporate signals from social media, online news, and dialogue amongst key opinion formers to offer a more holistic view of how your business and key initiatives are being perceived, and how you're performing in the context of your sector and competitive set.
Adopting a multistakeholder design: consider audiences beyond your core customer; programs that include both internal (employees for example) and non-consumer external audiences (policy influencers for example) offer a more holistic view of performance and the ability to proactively spot emerging risks and opportunities.
Leveraging AI and advanced analytic techniques: the democratization of AI and continuous innovation of large language models like ChatGPT have led to rapid advancement and effectiveness of risk and opportunity sensing, and when implemented thoughtfully can drive meaningful efficiencies in deriving insight from data, allowing human analyst resource to focus on application of insights and strategic counsel.
KEY TAKEAWAYS:
While eradicating risk completely from ESG strategy and communi-cations is likely not possible for most brands and businesses, operating from a deep under-standing of what key stakeholder groups expect, gaining clear consensus and commitment from leaders across the organization, and designing a playbook and toolkit for evaluating your strategy and the broader ESG environment can limit risk, maximize positive outcomes, and enable a more proactive approach.
Should you or your business be interested in exploring what first steps for developing an ESG strategy and communications plans could look like, or to learn more about how best-in-class brands and businesses are tackling related issues—please get in touch.
About the Authors
Craig Carroll, PhD
Executive Director
The Observatory on Corporate Reputation Network
Jason McGrath
US Corporate Reputation Lead
[email protected]
About The Observatory on Corporate Reputation
Founded at the University of North Carolina, Chapel Hill in 2008, the Observatory on Corporate Reputation (OCR) is a research think tank devoted to improving and enhancing the corporate affairs and corporate communications function of the Fortune 500 and Forbes Global 2000. We produce research and supply actionable knowledge that informs and drives the corporate affairs and communications practices.
About Ipsos
At Ipsos we are passionately curious about people, markets, brands, and society. We deliver information and analysis that makes our complex world easier and faster to navigate and inspires our clients to make smarter decisions. With a strong presence in 90 countries, Ipsos employs more than 18,000 people and conducts research programs in more than 100 countries. Founded in France in 1975, Ipsos is controlled and managed by research professionals.