Analysis of interaction between leave/remain and Conservative/Labour supporters
New Ipsos analysis shows Brexit has created new political dividing lines on some issues.
In a new study from Ipsos we shed light on the relationship between how people voted in the EU Referendum and their support for the two main political parties.  The study finds that on some attitudes people are more united by whether they voted Leave or Remain rather than whether they are a Conservative or Labour supporter despite 27% of Labour supporters who voted to leave in the EU Referendum, compared to 60% of Conservative supporters.
The similarities among leavers and remainers across the political divide include: immigration, nostalgia for the past and distrust in globalisation.  However, on a number of other issues, such as whether society should emphasise collectivism over individualism, party political lines are still very strong.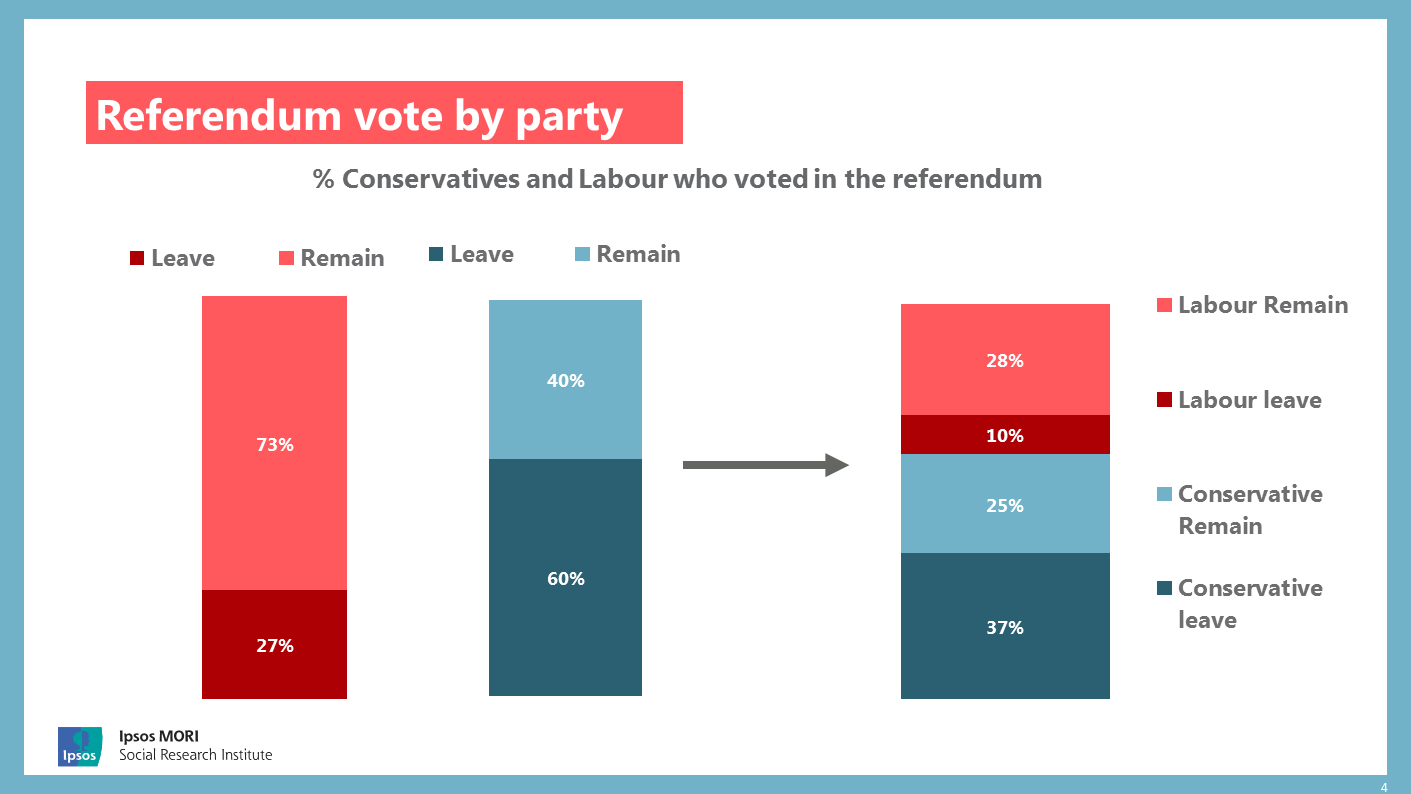 Leavers and remainers demonstrate different views on the current state of the British social landscape. Those who voted leave are more likely to agree to feel nostalgic for the past – across both the "Conservative Leave" and "Labour Leave" groups. Leavers are more likely to agree than remainers that Britain was better in the past, that Britain is changing to fast, and that they feel like strangers in Britain.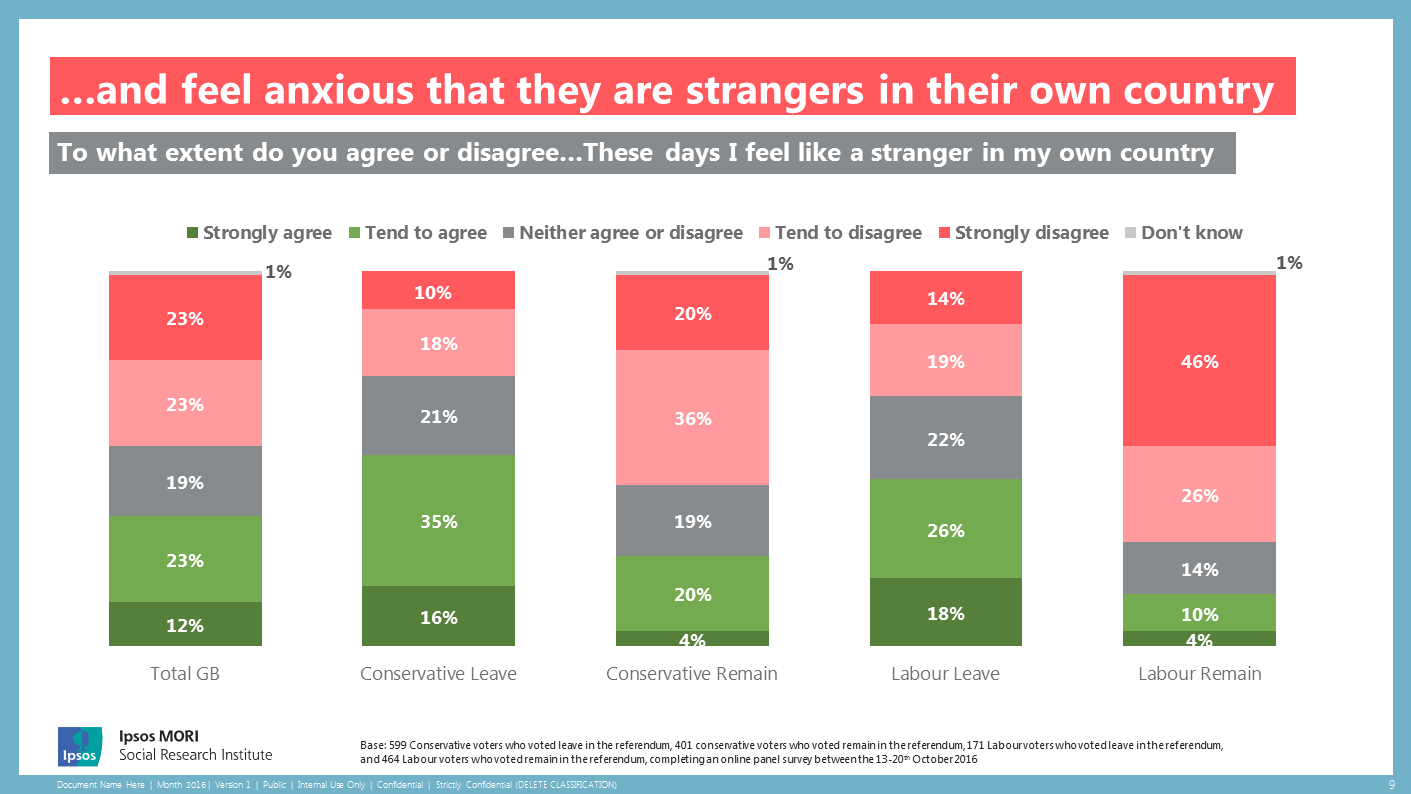 Leavers are also more likely to have a negative view on immigration in Britain. They are more likely than remainers to agree that immigrants take away jobs from 'real' Britons (ConLeave 55%, LabLeave 56%, ConRem 24%, LabRem 14%) and that immigrants take away important welfare services from 'real' Britons. They are also more likely to think that immigration levels should be reduced a lot – whereas Labour remainers are more likely to think they should remain the same, and Conservative remainers more likely to think it should be reduced a little.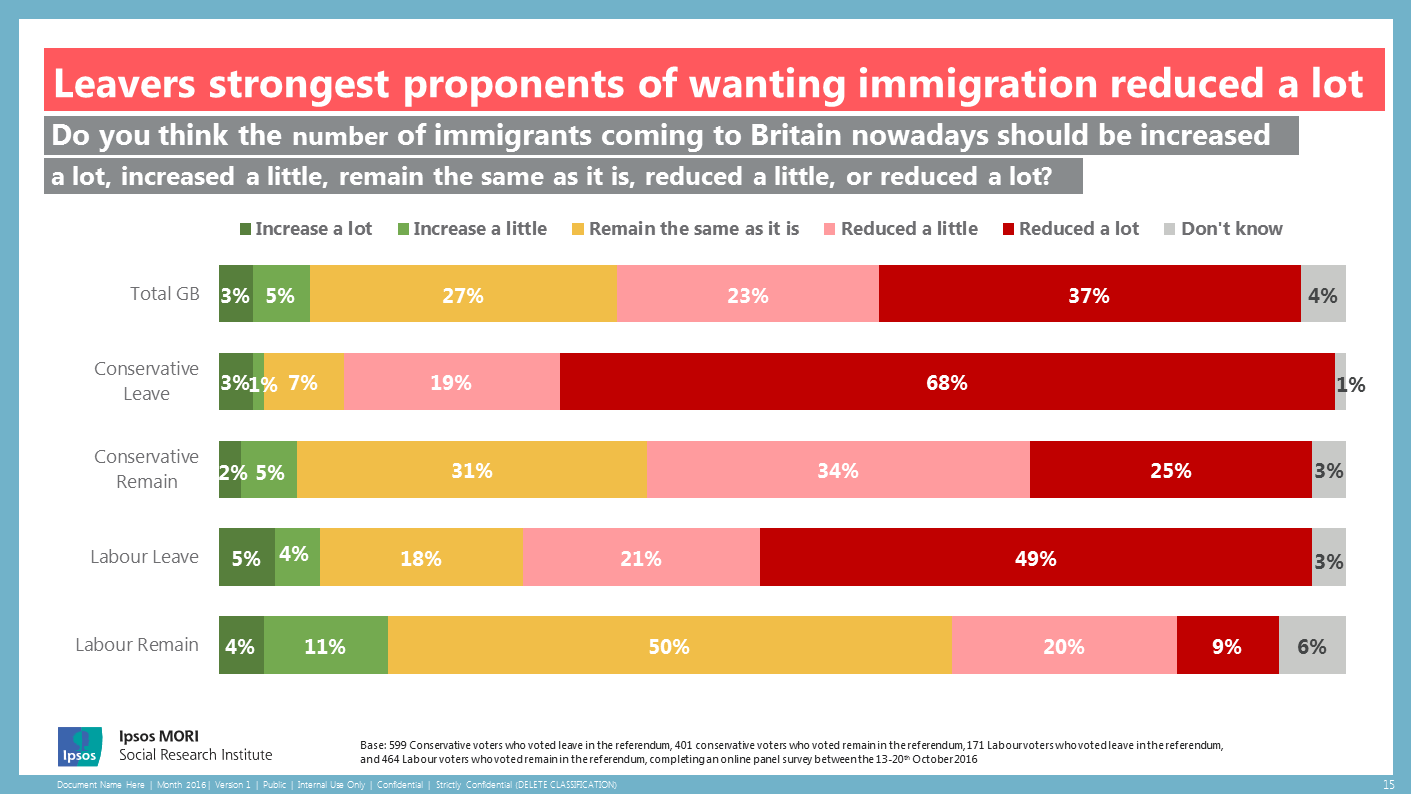 Leavers are more likely to put their trust in ordinary people rather than experts – and to trust the judgement of British people on complicated issues.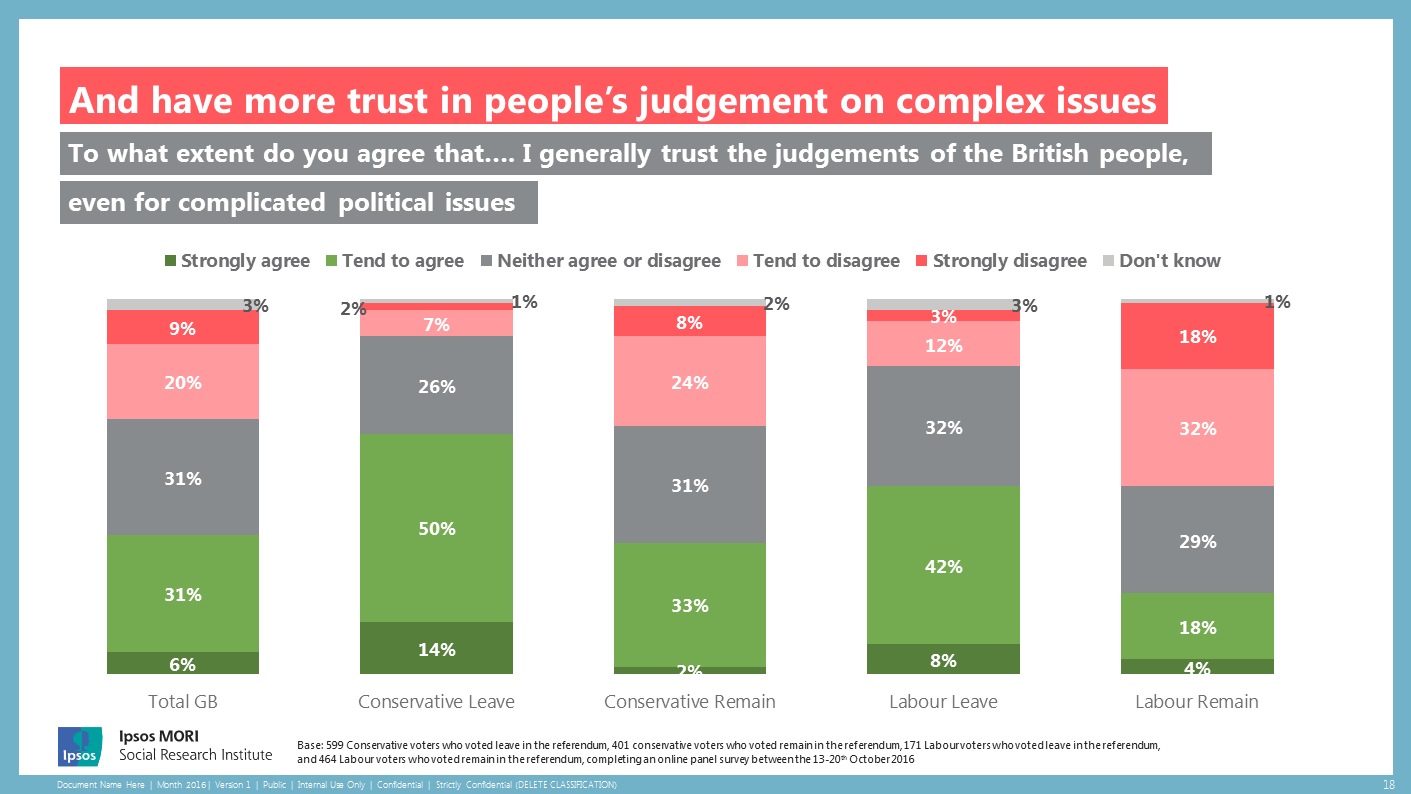 Despite some blurring of party political lines, on issues around welfare and the economy, party lines are still strongly defined. Labour supporters feel they are more economically 'left behind'. They are more likely to have been affected by spending cuts than the Conservatives, and are say they are struggling with financially.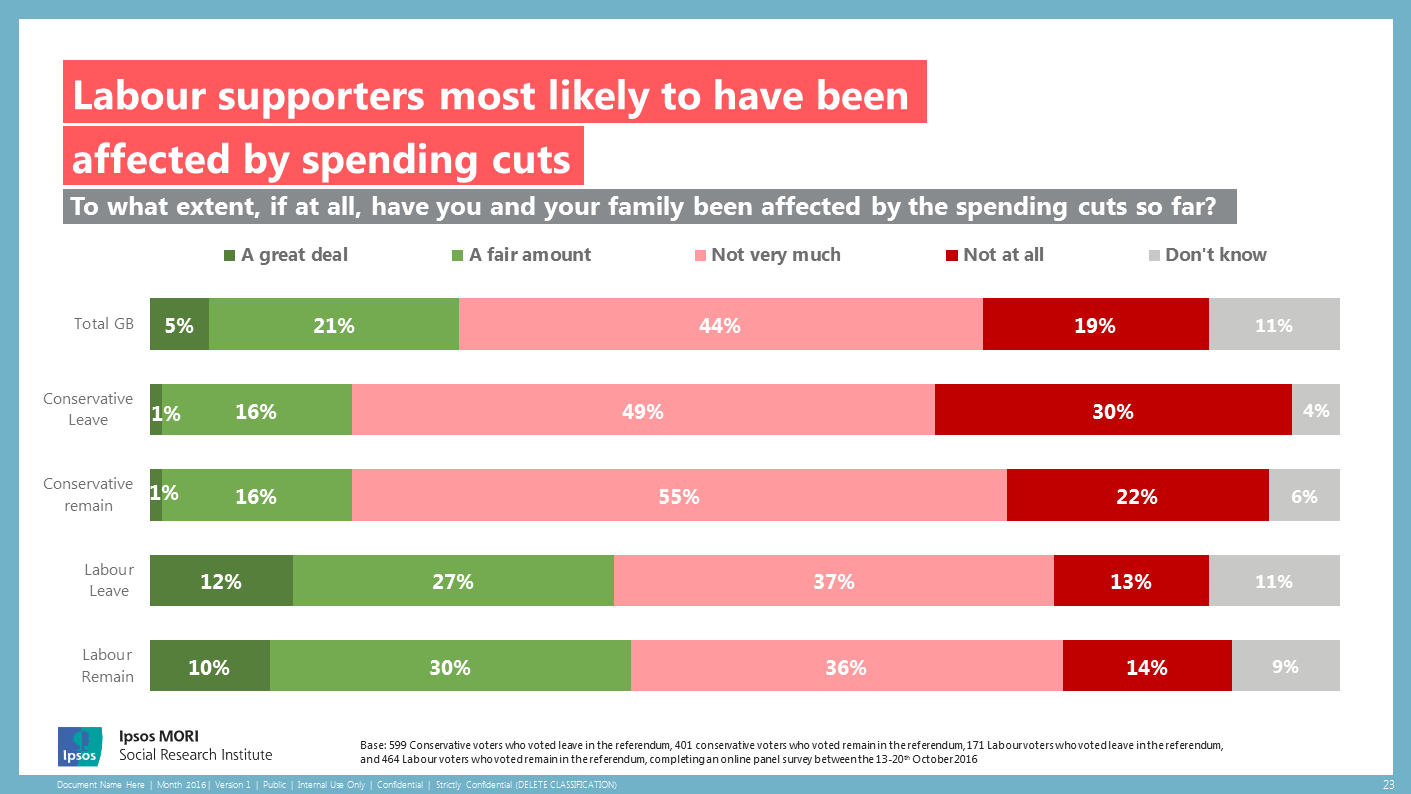 Reflecting their financial situation, Labour voters are also more likely to agree that it is hard for someone like them to get ahead in Britain, and that things are getting worse for people in this country.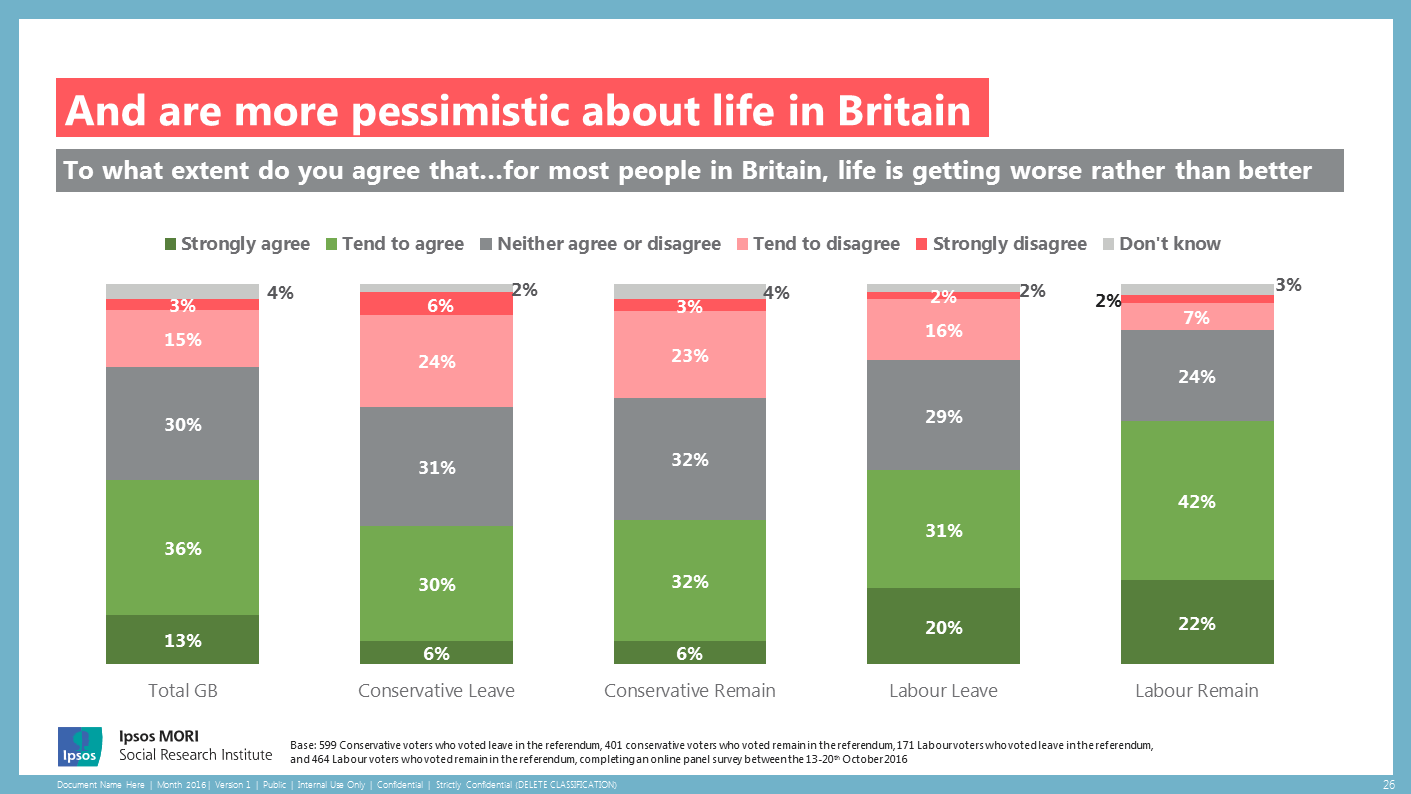 The supporters of the two parties also differ on how they would like the British society to look like. Labour supporters prefer an egalitarian society where differences in people's income are small, whereas Conservative supporters are more likely agree that income differences are an acceptable reward for different efforts and talents.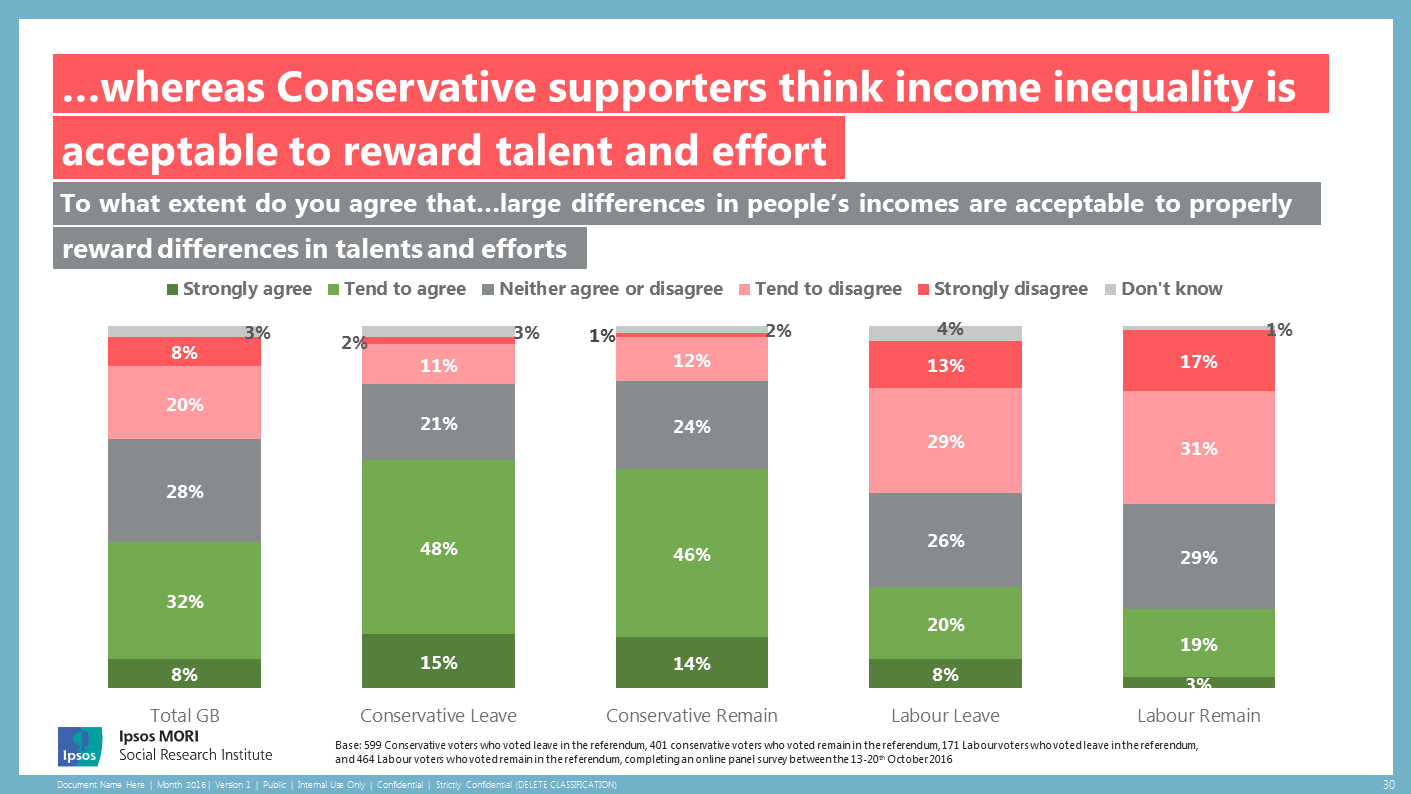 It is no surprise that whereas Labour supporters favour a collective society, Conservative voters would like to live in a society where the individual takes care of themselves.  
But there is a third group where there is an interaction between party support and how people voted in Brexit, where there is a clear gradient that runs from Conservative Leavers to Labour Remainers on support for collective provision of welfare, opposition to political correctness, support for gay marriage,
and opposition to the death penalty.
Kully Kaur-Ballagan, Director, Ipsos, comments:
These findings show that Brexit has created new political dividing lines on some issues. For example, on attitudes towards immigration and globalisation whether people voted Leave or Remain is more of a unifier than whether they support the Conservatives or Labour.  But traditional political party lines still exist on other issues, such as the NHS and income equality.   In the long term - particularly as the decisions leading up to Britain's post-Brexit future get tougher – this will make it harder for both main political parties to find messages that appeal to all their supporters. More immediately, however, these findings present a real challenge for Labour -  where the views of its Leave voters are much closer to the Conservatives on issues such as immigration.
Technical note
Findings are based on 4,071 interviews with GB adults interviewed online between 13-20 October 2016. Data are weighted to be representative of the population of Great Britain.