COVID-19 vaccine trials announcements have lifted the nation's spirits but some concerns remain
Our new poll shows the announcements about the COVID-19 vaccine trials have lifted the nation's spirits, particularly amongst the youngest age groups, but some concerns remain.
New research by Ipsos finds an increase in the number of Britons that think life will return to normal within a year, following announcements about results from the trials of vaccines to combat COVID-19. Almost half now say that life will return to normal within a year (46% compared with 40% the week before). The biggest change has been seen amongst those aged 18-34, with a nine percentage point increase to 57%, compared with 48% before the announcements.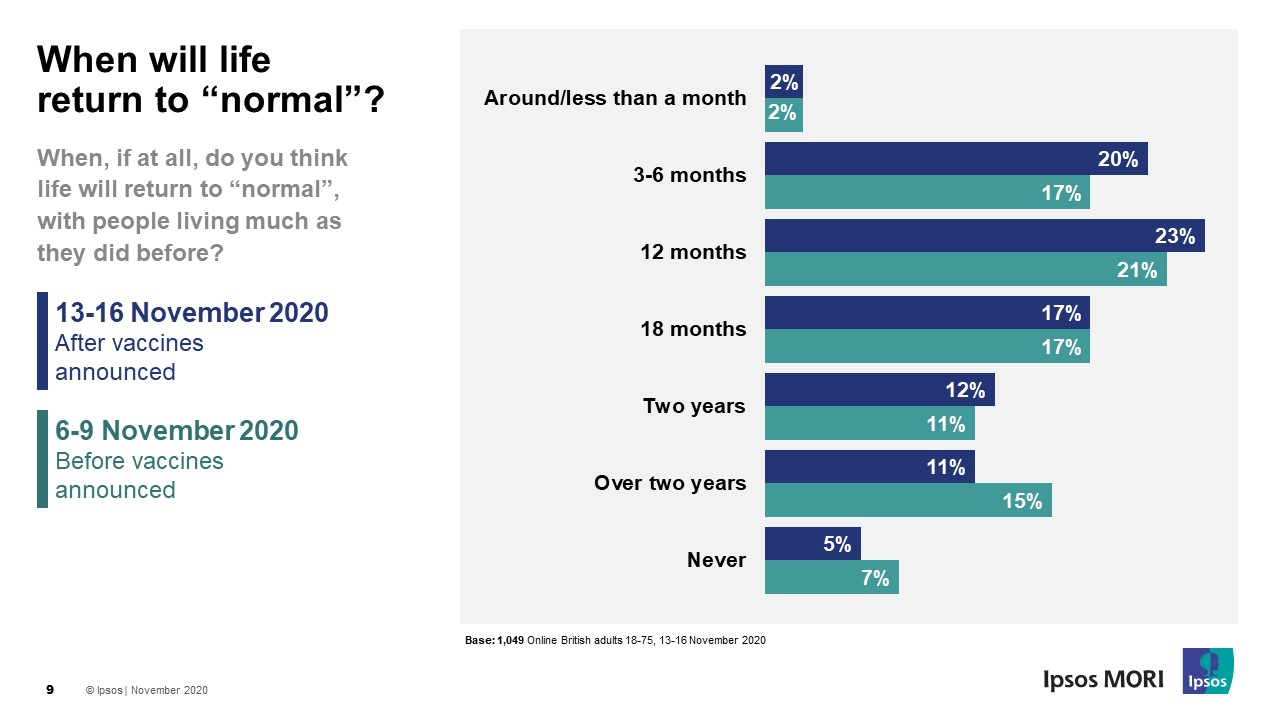 This is despite the fact that this age group is the least likely to say they have heard much about the development of vaccines in the last week. Just over three in four (77%) of 18-34 year olds say they have heard at least a fair amount about it, compared with 80% of 35-54 year olds and 92% of 55-75 year olds.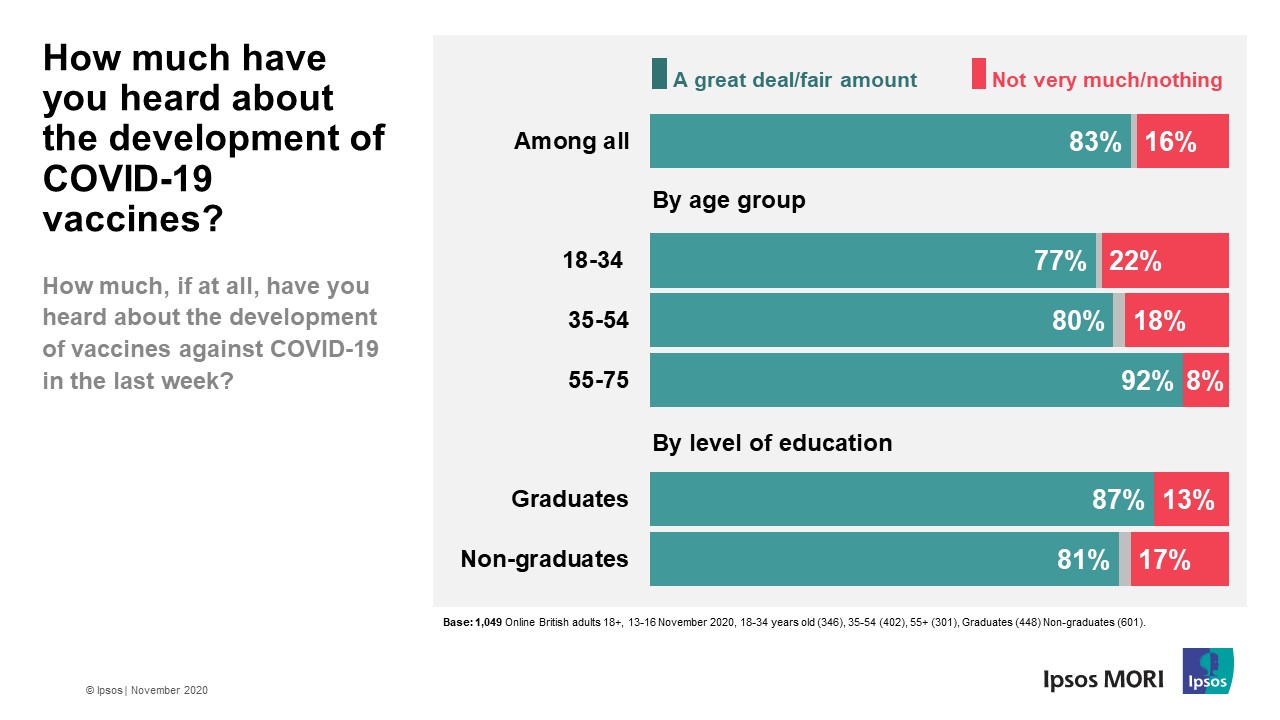 The results also show that the news has given people a reason to be optimistic. Over half (53%) say it has made a positive difference to how optimistic they feel. However, this is much lower than seen back in May when 83% said that an announcement about successful tests of a vaccine would make a positive difference to their feelings of optimism.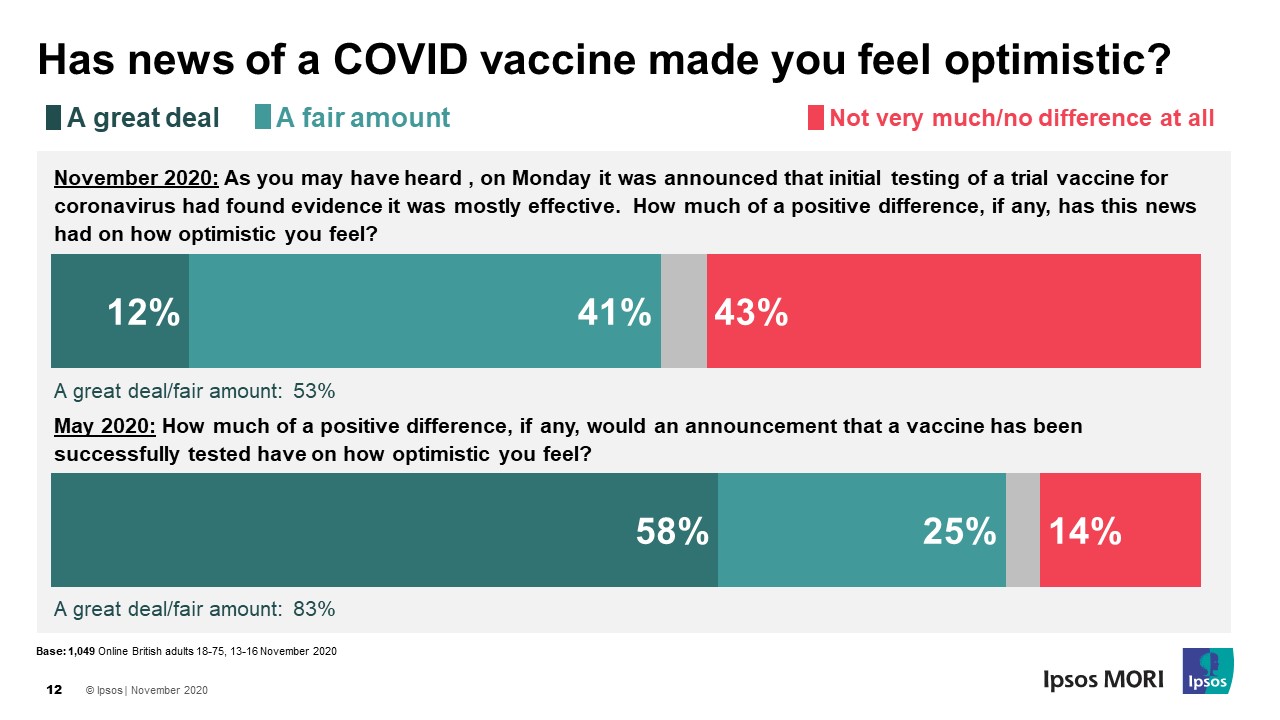 Further, while the news has certainly given some people hope, there are still significant numbers of people who are unsure whether they will take the vaccine if it is made available to them. Almost two in five (37%) say they definitely would take it, with a further 31% saying they would probably take it.  Those in the oldest age groups are the most likely to get vaccinated; 45% of those aged 55-75 say they would definitely take it, compared with 37% of those aged 35-54 and 28% of those aged 18-34.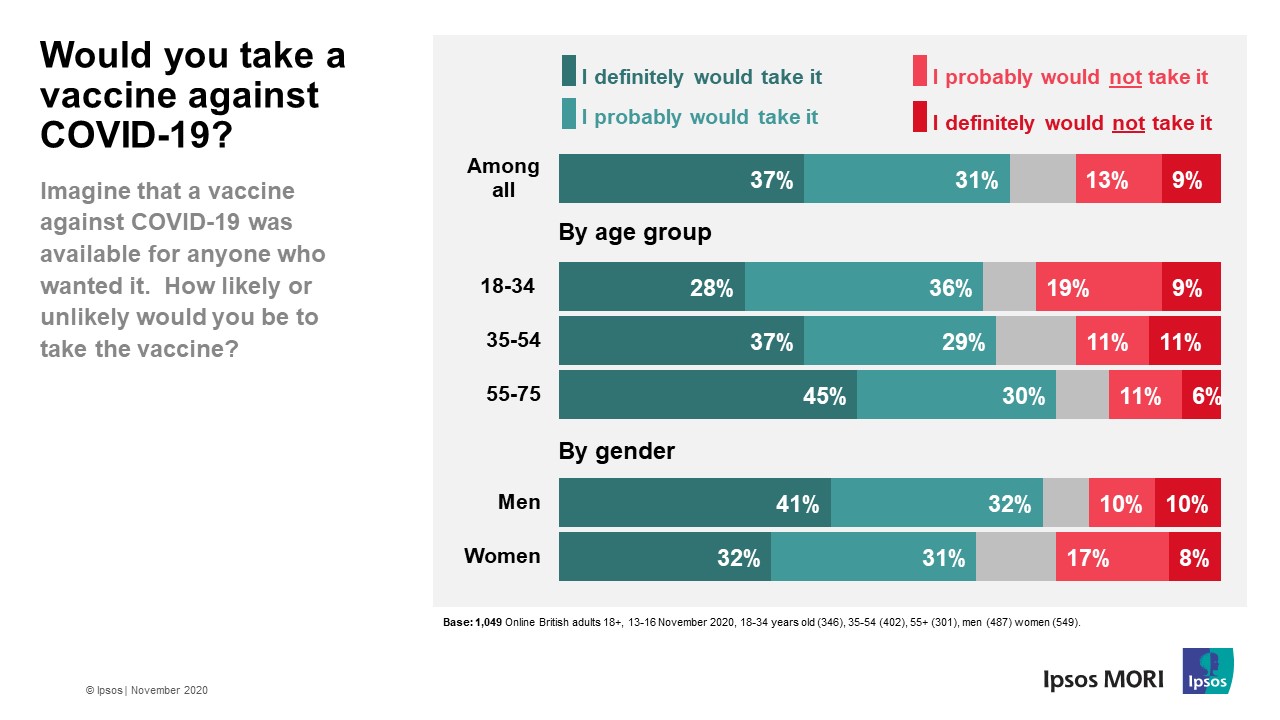 The research also suggests that the benefit to society as a whole and the success of other vaccines are the most convincing arguments to have a coronavirus vaccine according to Britons, alongside the desire to protect themselves from the virus. Around three in four people give the following reasons: to protect other people from catching the coronavirus (77%), because vaccines have been successful against other diseases (77%), to reduce the risk of catching it (76%) and to reduce the risk of becoming seriously ill if they do catch it (76%).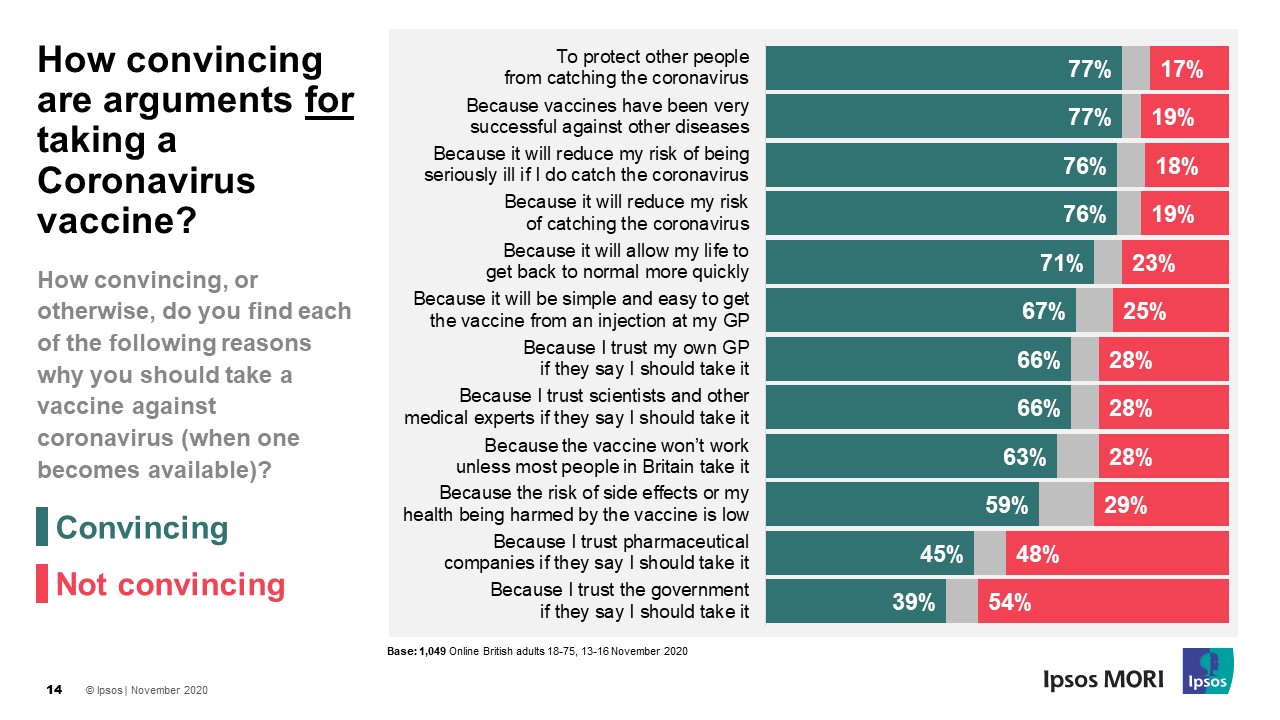 When asked about arguments against taking the vaccine, the most convincing are those relating to the speed of its development and testing. Around three in five say that there hasn't been enough time to see what the side-effects might be (61%) or to test whether it really works (58%). However, this is followed by a more altruistic concern that there won't be enough doses for everyone and other people will need it more (51%).
Kelly Beaver, Managing Director of Ipsos said:
These findings underline the critical importance not only of vaccine development in finding a way out of this pandemic, but of also the fundamental importance of public engagement about any vaccination program the Government intends to run. With over a fifth of Brits either not sure or leaning towards not taking a vaccine, there is a greater need than ever for clear communications from government, targeted at convincing those waverers of the importance of this step in fighting COVID-19.
Technical Note
Ipsos interviewed a representative sample of 1,049 British adults aged 18-75. Interviews were conducted online from 13-16 November 2020. Data are weighted to match the profile of the population. All polls are subject to a wide range of potential sources of error.
Download